India to launch first manned space mission by 2022: PM Modi
莫迪总理称:印度将于2022年首次发射载人航天任务
NEW DELHI/BENGALURU: Prime Minister Narendra Modi on Wednesday, as part of his Independence Day , vowed to put an Indian in space by 2022 + .
星期三,印度总理纳伦德拉·莫迪在独立日发表讲话,承诺在2022年之前将印度人送上太空。
"When India celebrates 75th year of Independence in 2022, and if possible even before, an Indian son or daughter will undertake a manned space mission on board 'Gaganyaan' carrying the national flag," the PM announced from the ramparts of the Red Fort. This would make India the fourth nation to send a human in space after the United States, Russia and .
"当印度在2022年庆祝独立75星期年时,或者在那之前,一个印度的儿子或女儿会携带国旗,在'加加扬'号上执行载人航天任务,"莫迪总理在德里红堡的城墙上宣布。这将使印度成为继美国、俄罗斯和之后第四个将人类送入太空的国家。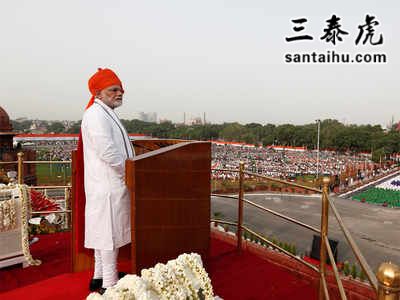 However, the proposed human spaceflight programme (HSP), something that has been on the table since 2004, is still a long way away despite advancements in some critical technologies in the past decade.
然而,计划中的载人航天计划(HSP)——自2004年以来一直被提及——尽管过去十年中,印度取得了一些关键技术的进展,但仍有很长的路要走。
The original plan was realising a Two-Stage-to-Orbit (TSTO) fully reusable launch vehicle, which could carry two-three people into low earth orbit and bring them back. The UPA go nment had sanctioned Rs 145 crore for pre-launch activities and Isro is expected to get more funding in the coming months following Modi's announcement today.
最初的计划是研发一种两级入轨(TSTO)可完全重复使用的运载火箭,它可以将2 - 3人送入近地轨道并将他们带回地球。团结进步联盟政府批准了1.45亿卢比用于发射前的准备工作,在莫迪今天发表宣告之后,预计在未来几个月Isro将获得更多资金。
As of today, there is no actual estimation in public domain, but insiders say that it needs a budget of at least Rs 10,000 crore to Rs 12,000 crore.
截至目前,在公共领域还没有实际的估算,但内部人士表示,它需要至少1亿至1.2亿卢比的预算。
As part of the preparations, Isro has been testing some technologies, an important one involving the crew escape sy em- a key sy em being developed as part of the proposed HSP- was tested on July 5.
作为准备工作的一部分,Isro一直在测试一些技术,7月5日测试了涉及船员逃生系统的一项重要技术——这是HSP中正在研发的关键系统。
The space agency tested the Crew Escape Sy em (CES) for its crew capsule in an emergency pad abort test (PAT) in Sriharikota. The test, which lasted 4.31 minutes, involved aborting the space capsule at launch.
宇航局在斯里赫里科塔进行了宇航员逃生系统(CES)的紧急发射中止测试(PAT)。这次测试持续了4.31分钟,包括在发射时中止太空舱。
The Crew Escape Sy em is an emergency escape measure designed to quickly pull the crew module along with the astronauts to a safe distance from the launch vehicle in the event of a launch abort. The first test (Pad Abort Test) demonstrated the safe recovery of the crew module in case of any egency at the launch pad.
船员逃生系统是一种紧急逃生措施,可在发射中止的情况下,将船员舱和宇航员一起迅速拉到离运载火箭安全的距离。第一次试验(发射台中止试验)表明,在发射台发生紧急情况时,机组舱能安全恢复。
This was a second major test after it successfully launched a crew module with dummy payloads and brought it back on to the Arabian Sea. Isro has already completed successful tests of the scaled down version of the Re-usable Launch Vehicle Technology Demonstrator (RLV-TD), and is preparing for two major experiments in 2019 - one will involve using a helicopter, while the second and major one would be the orbital re-entry test.
这是它成功地发射了一个载有模拟乘员舱并将其带回阿拉伯海之后的第二次重大试验。Isro已经成功完成了可重复使用的运载火箭技术演示器(RLV-TD)的缩小版本的测试,并且正在为2019年的两项主要实验做准备——一项将涉及到直升机的使用,而第二项也是最主要的一项,将是再入轨道的试验。
The space agency has completed the wind tunnel model with landing gear and low subsonic tests at the Indian Institute of Technology-Kanpur (IIT-K). For the orbital re-entry test, Isro has proposed to design and develop a scaled-up version of RLV.
航天局在印度坎普尔理工学院(IIT-K)完成了带有起落架和低亚音速测试的风洞模型。在再入轨道的试验中,Isro提出设计和开发可重复使用的运载火箭的放大版本。
"You must understand that this won't be the actual RLV, but a model," Isro chairman K Sivan said at a press conference he had convened on August 12.
Isro董事长金斯旺在8月12日召开的新闻发布会上表示:"你必须明白,这不是真正的开发可重复使用的运载火箭,而是一个模型。"
Speaking separately with TOI, Sivan said that they are yet to finalise the landing site for the experiment. "There are options in Challakere, one place in Rajasthan and another forward post, there is no final decision yet. The important thing would be to s a place that will have no habitation around the landing site. This is an experimental test and we need to take all precautions," he said.
金斯旺在与《印度时报》的另外一次谈话中说,他们还没有敲定实验的着陆点。"备选地点有查拉凯尔,拉贾斯坦邦某处或和另一处地址,但目前还没有最终决定。重要的是在着陆地点星期围选择一个没有人居住的地方。这是一个实验性的测试,我们需要采取一切预防措施。 "
All these technologies are crucial for the manned mission, and these are just some of the early stage experiments. Sivan has said that Isro was in the process of preparing a revised report on the preparations of the project.
所有这些技术对于载人任务来说都是至关重要的,这些只是早期实验的一部分。金斯旺说,Isro正在编制关于该项目筹备工作的订正报告。
The said report is to be purely an internal document, with no other pential stakeholder involved. "We are making a few changes...it is purely an internal document and there's no other agency involved at this moment," Sivan had said on July 7, at the sidelights of the LM Katre Memorial Lecture.
上述报告只会作为内部文件,不涉及其他潜在利益相关者。"我们正在做一些改变……这将纯粹作为一份内部文件,目前没有其他机构参与。"
Answering a specific question on HSP, Sivan had said: "It is our imagination, our dream that it should happen. But now we are only in the preparations stage where we are demonstrating critical technologies, there's a lot to do."
在回答有关HSP的一个具体问题时,金斯旺说:"这是我们的想象,我们的梦想,它应该发生。但目前我们只是在准备阶段,展示关键技术,还有很多事情要做。"
Stating that Isro always anticipates and develop technologies for the future even before a project is on the cards, he said that the HSP is one such programme.
他说,Isro总是在项目开始之前就预测和研发未来的技术,他说,HSP就是这样一个项目。
Conceding that there is still a long way to go, Sivan had said Isro was yet to even decide which rocket-GSLV MK-II or GSLV MK-III-it will use if the HSP gets the green signal from the go nment.
金斯旺承认还有很长的路要走,他说Isro甚至还没有决定要使用哪种火箭,是GSLV MK-II还是GSLV MK-III。
"We are working on several combinations," he had said. But experts and some Isro insiders TOI has been speaking with suggest that neither of the two rockets are man-rated yet. Insiders say that if India does launch people into space, it can only do it with the GSLV MK-III, and that too an advanced version of it, which the agency must now build and master with virtually no errors.
"我们正在研究几种组合,"他说。但专家和一些Isro内部人士都表示,这两种火箭都还没有达到载人级水平。内部人士表示,如果印度真的要把人送上太空,它只能用GSLV MK-III来实现,而且还必须是升级版本,该机构现在必须在几乎零差错的情况下建造和掌握它。
印度时报读者评论:
来源:三泰虎 译者:Joyceliu
外文链接:https://timesofindia.indiatimes.com/india/india-to-launch-first-manned-space-mission-by-2022-pm-modi/articleshow/65410373.cms
Suresh Kumar
Modi is a very enthusiastic and visionary leader. He inspires common man and instills more confidence and passion in them.
莫迪是一位充满热情和远见的领导人。他激励普通人,给他们灌输更多的信心和激情。
Bharathiya
Arey Feku baba first give me job and 15 lakhs credit in my bank account. We want proper medical, power, drinking water. Then think about space missions.
莫迪显先是说要给我一份工作,然后又说要给我的银行账户存入15万卢比。我们需要适当的医疗,电力,饮用水。然后再考虑太空任务。
Rakesh Goel
Modi has dumped the congress in corner. Congress has nothing to sell except Rahul ji 2019 ion.. But feel difficult get buyers for him.
莫迪把国大党甩在了一边。除了拉胡尔2019年的,国大党没有什么希望了。但我觉得很难找到人买他的帐。
Saltnpepper
modi is trying to take credit over ISRO's work
莫迪试图将ISRO的工作归功于自己
Vijay
Feku on jumla spree again!!! Common citizens waiting to throw him in the gutter he crawl out from.
莫迪又要变戏法了!!!普通市民等着把他扔回他爬出来的水沟里。
Ganesh Kumar
So $1=70.10 INR on the 72nd Independece Anniversary. Way to go!!
在第72届独立纪念日,1美元兑换70.10印度卢比。早着呢!
The Holy Cow
Feku Farrts from the Red Fort after eating Dhokla, releasing poisonous gas polluting the environment of Delhi and Bhak says what a MASTERSTROKE from Modiji. Jai Shri Modiji ki Jai...
莫迪在红堡吃了鹰嘴豆发糕后,释放污染德里环境的有毒气体,印度人民高呼这是莫迪的丰功伟绩。Jai Shri Modiji ki Jai…
Gundchedilaal
send RAGA in it whenever u launch it, and don't allow the reentry to come back to India but instead redirect it to some other planet.
无论何时,发射的时候请把拉贾也一起送上天,不要让他再返回印度,而是把他转移到其他的星球上去。
blohot
Since Feku loves to travel, they should send him upto space as the first bakra.
既然莫迪那么喜欢旅行,就应该把他第一个送入太空。
Fiona Feynman
Nice! Pack the spacecraft with Modi and his chelas and send it off into space.
太好了!把莫迪和他的门徒都塞进飞船,发射到太空吧。
Vivek Sood
Now he will start ion rallies from space
现在他将从太空开始竞选集会
Sasi
Five years of Modi Gt will be remembered for :
lynchings, rapes of kids, absconding defaulters, triple prices of Rafael, Demonetisation, gutter-gas and pakodas.
莫迪政府的五年统治期将因以下事情而被世人铭记:
死刑、强暴幼童、弃保潜逃者、以三倍高价购买飓风战机,废钞令,对了,还有帕可达
ABCD
Feku World tour finished in 5 years ....Next 5 years feku target go to space & watch all world
莫迪的世界巡游将于5年内结束....未来5年莫迪的目标是去太空和守卫全世界
Anil Kumar
feku..pl provide food to all and safety to women first
莫迪,请首先为所有人提供食品,为妇女提供安全吧
Shaikh Shaukat
MODI ATLEAST TODAY YOU STOP TELLING LIE AND FOOLING INDIAN PEOPLE. YOU BETTER GO TO YOUR OLD JOB SELLING TEA AND PAKODA ON ROAD. WE DONT TRUST YOU AND WE DONT NEED YOU.
莫迪,至少今天你停止说谎和愚弄印度人民。你最好回去做你以前卖茶卖帕可达的工作。我们不信任你,也不需要你。
Atilla Hun
And when are we going to get pothole free roads ?
我们什么时候才能有平整的道路呢?
Indian Budy
FEKU
S
Jumlebazi beyond national & international level now, at new extraterrestrial level...
现在已经都超越国家和世界,开始走向外太空了…
Tigrdalit
Jumlas unlimited. Making new promises while previous r left undelivered
戏法一个接一个。不断抛出新的承诺,而之前的承诺依然没有兑现
Manu
Modi just gave his farewell from red fort.
莫迪刚刚在红堡发表了告别演说。
Amar Sheth
He should also go with his ministers and bhakts
他也应该和他的部长们一起升入太空
achan kunju
PM cmed to come from chaiv background, now I think he forget that period and mvning like --- with the fake slogan serve the poor. After seeing his yoga tsha I changed my view on PM
总理自称出身柴瓦拉,现在我想他已经忘记了那个时代,用假口号为穷人服务。看过他的瑜伽表演后,我改变了对总理的看法
aakhan
Modi will be the first man from India into the space.
莫迪将是第一个从印度进入太空的人。
aakhan
Feku World tour finished now He start targeting space Let send hime into space First man From India
莫迪的世界巡游结束了,现在他开始瞄准太空了,让他成为首个从印度升入太空的人吧
Bharat
MODI...M D F C K R and B S T R D
M D C H O D ...have u done anything apart from creating communal differences in Hindu n Mus m.
莫迪…除了在印度教和之间制造公共差异之外,你还做了什么吗?
Mathur
The bigger you dream...the higher you reach.
你的梦想越大……你的成就就越高。
PM Modi the nation stands behind you. Lead us.
莫迪总理,整个国家都支持你。引导我们前行吧。
Ajay Gupta
New ion lollipop
这又是新的棒棒糖
Ankit
Send Pappu and her girlfriend Mamta out of earth into moon...never to return again.....ha ha
把拉胡尔和她的女朋友曼塔从地球送到月球…永远都别回来.....哈哈
Sanjiv Brahmbhatt
Modiji is the Best PM after Independence with great Vision.
莫迪是独立后最好的总理,非常有远见。
Hindustani
Left over of 1947, please choose out of 56 countries and migrate ! Modiji is here to stay ! Long LIVE NAMO ! Jai hind ..Vande Matram
这是1947年遗留下来的,请在56个国家中作出选择,移民吧!莫迪会留下来的!莫迪万岁!印度必胜
Benniel Ganesan
Modji, can you please pre-pond this deadline? Do we have to wait that long to get away from you?
莫迪,这个截止日期能不能提前呀?我们要等那么久才能摆脱你吗?