1 year after Do-m, China intrudes 400m into Ladakh
动郎对峙一年后,中国侵入拉达克400米
NEW DELHI: China continues to needle India at different stretches along the 4,057-km Line of Actual Control (LAC), with People's Liberation Army troops intruding around 300-400 metres inside the Demchok sector of eastern Ladakh and pitching five tents there in the latest such incident last month.
新德里:中国继续在长达4057公里的实际控制线沿线打击印度,上个月中国人民解放军部队侵入东部拉达克德姆丘克地区约300-400米,在那里搭起了5顶帐篷。
Security establishment sources on Monday said the PLA subsequently removed three of their tents in the Cherdong-Nerlong Nallan area after brigadier-level talks between the two armies, but the remaining two tents with "some Chinese troops in civvies" are still present in the area. The Army, on being contacted, refused to say anything about the incident.
安全部门消息人士周一表示,在两军进行了准将级别的会谈后,解放军随后移走了在该地区的三顶帐篷,但剩下的两顶帐篷仍未拆走。军方拒绝对此事发表任何评论。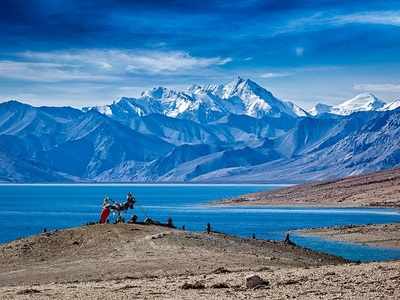 Sources said the PLA soldiers, in the garb of nomads with cattle in tow, had intruded into Indian territory in the first week of July and did not retreat despite Indian troops repeatedly conducting "banner drills" (showing flags to ask them to go back to their own territory) in accordance with laid down protocol to diffuse faceoffs along the LAC.
消息人士称,身着游牧民族的服饰的中国人民解放军士兵在七月的第一个星期侵入印度领土,尽管印度军队反复进行"旗操"(展示旗帜让他们退回到自己的领土)。
"The PLA removed three of the tents only after India pushed for talks between the rival brigade commanders," said a source, adding that the Chinese troops apparently complained against the Ladakh administration's attempt to construct a path in the Nerlong area.
一位消息人士称:"在印度的努力下,双方旅级指挥官展开对话,解放军才拆除了其中的三顶帐篷。"
Demchok is one of the 23 "disputed and sensitive areas" identified on the LAC, stretching from eastern Ladakh to Arunachal Pradesh, which witnesses frequent "transgressions and troop faceoffs" between the two armies due to "differing perceptions" of the unresolved boundary. The other disputed areas in Ladakh include Trig Heights, Dumchele, Chumar, Spanggur Gap and Pangong Tso.
德姆丘克是实控线上的23个"有争议和敏感地区"之一,从拉达克东部一直延伸到"a邦"。拉达克其他有争议的地区包括三角高地、丹姆谢尔、楚玛尔、斯潘格尔峡和左盘龙。
The number of transgressions, which is military euphemism for incursions, by Chinese troops along the LAC has crossed 170 this year. If 273 transgressions were recorded in 2016, the number touched 426 last year in wake of the 73-day troop face-off at the Bhutanese territory of Do-m near the Sikkim-Bhutan-Tib tri-junction.
今年,中国军队在实控线沿线越境的次数已超过170次。2016年有273起越线记录,双方军队在锡金-不丹-xz三线交界处附近的动郎地区进行了73天的对峙之后,去年的越线记录数字达到了426起。
印度时报读者评论:
来源:三泰虎 译者:Joyceliu
外文链接:https://timesofindia.indiatimes.com/india/china-continues-to-needle-india-along-lac/articleshow/65390945.cms
Never
boycott Chinese goods.
抵制中国产品。
Aryan Thakur
Modi ji''s jumela strike being taken for ride by China ? This gujju cant do shyt pther than running his mouth or helping his chor friends to steal more.
莫迪总理被中国骗了?这个古吉人除了满嘴跑火车、帮助他的有钱朋友西街更多钱之外,啥也不会。
Never
hurt them economically
在经济上伤害他们
Asim
The best way is to hit their economy. China's cellphone industry already has got a jolt by Make in India programme.
最好的办法是打击他们的经济。中国手机行业已经因"印度制造"计划而受到巨震。
Vihin
Dear Indian Military...you need to handle this issue on your own but with strong hand. Because Modiji has already surrendered. Proof: Govt already accepted Taiwan as Chinese land.
亲爱的印度军方……你需要自己处理这个问题,但一定要强硬。因为莫迪已经投降了。证据:政府已经接受**为中国领土。
Ankit
China and snakes can't be trusted
不能相信中国和蛇
7Kings
Tomorrow our BJP go nment will give statement that there is no problem at Do-m.
明天,我们的人民党政府将发表声明说,动郎没有问题。
waseem thakur
NO PROBLEM LET THEM CAPTURE DOKLAM, BUT HERE MORE IMPORTANT TO WIN ELECTION OVER HINDU MUSLIMS HATE POLCITIS , FEKU AND TADIPAR CURSED FOR INDIA
让他们占领动郎没有问题,但在这里,更重要的是要赢得选举,战胜印度,憎恨政治,莫迪,诅咒印度
Tigrdalit
Hug policy not working
拥抱政策没效果
Bhupinder Pal Pal
I find the argument of stopping imports from China very absurt.
China is world biggest manufacturer of cinsumables and electronics. Most of American, Canada & UK etc stores & malls are filled with Chinese products.
There is no other contry which manufactures at that scale & prices. If you stop importing from China then from where will you source items if your need, if official imports are stopped somehow then smuggling will start causing further tax revenue loss.
Moreover, India''s own industry will see consequence''s ad most if the bulk of semifinished goods for Indian factories bare sourced from China.
It is an excellent rhetoric to stop importing from China but is it practical ?
我认为停止从中国进口的论点非常荒谬。
中国是世界上最大的五金件和电子产品制造商。美国、加拿大、英国等国家的大多数商店和商场都充斥着中国产品。
没有哪个国家能够以中国的规模和价格生产商品。如果你不再从中国进口,那么当你需要的时候,你要从哪里采购物品,如果官方以某种方式停止进口,将造成走私猖獗,造成进一步的税收损失。
此外,如果印度工厂的大部分半成品完全从中国采购,印度自己的工业将面临最严重的后果。
不再从中国进口是一个极好的辞令,但现实吗?
Samuel
China is learning the dirty tricks of pakistan fast.it is using regular soldiers dressed as nomads.This is dangerous.
中国正在快速学习巴基斯坦的肮脏伎俩。他们把正规士兵打扮成游牧民。这很危险。
Atul Rupani
Get out of World Trade Agreement and start charging tariffs on Chinese goods till our Industry can grow
Now we have a high growth oriented economy and a Governent with pragmatic approach. All we need is the will of existing and probable enterpreneus to make it happen.
退出世界贸易协定,开始对中国商品征收关税,直到我们的工业能够得到发展
现在我们的经济是高增长的,政府是务实的。我们所需要的是现有的和可能的企业的决心,这样工业才有可能发展。
Deepak Mehrotra
The sum total of Modiâ s foreign policy seems to consist of frequent foreign visits by him and his hugging the foreign dignitaries, whether they like it or not. It is completely devoid of substance and has failed miserably even in our immediate neighbourhood, where China is trampling all over interests.
莫迪的外交政策似乎就是频繁的出访,拥抱各国政要(不管对方喜欢与否)。这根本没有实质内容,甚至连我们的近邻也离我们而去。
TIOlet News
If Do-m was such a great victory by India over China, as claimed and believed by Indians, why is China still not afraid of mighty India now? Something is wrong
如果像印度人所宣称和相信的那样,动郎是印度对中国的巨大胜利,那么为什么中国现在还不怕强大的印度呢?哪里出问题了吧。
Jagdish Madan
India needs to adopt an aggressive posture vis a vis the Chinese all along the LAC. Indian troops must also reciprocate Chinese tactics by intruding similar distance into China. It may not push the Chinese back but certainly drive home the point that any such incursion by Chinese troops into Indian territory will invite Indian response that the Chinese may not like.
印度需要在实控线沿线对中国采取咄咄逼人的姿态。印度军队必须也侵入中国同等距离,报复中国。它可能不会将中国击退,但肯定会让中国人明白一点,即中国军队对印度领土的任何入侵,都将招致印度做出中国不喜欢的回应。
Truth
modi uncle every country backstabs India since 2014..kindly step down and start tea business
莫迪大叔,自2014年以来,每个国家都出卖了印度。请辞职卖茶叶吧
Nayana Shah
India is not same as 1963 period. India will retaliate and can take back Tib. We have strong army n technology in terms of defense. And I am sure even Russia and USA and other fareast Asian country will join to combat and get China to knees. Even USA and European country will impose embargo to weaken China strength. This is reality. Nothing to afraid. We should have strong Prime Minister who can take India to be super power.
印度与1963年时不同了。印度会报复,并能收回xz。我们有强大的国防技术。我相信,即使是俄罗斯、美国和其他远东亚洲国家也会加入到这场战争中来,让中国屈服。甚至美国和欧洲国家也会实施禁运以削弱中国的实力。这就是现实。不用害怕。我们应该有一个强大的总理,才能把印度变成超级大国。
KONFUCIUS KEN
The fun is mutual . India needles China and vice versa along Bhutan and Nepal borders. Soldiers of both sides have to be tough and alert for their respective countries. Soldiers are not meant for bollywood or Chinese movie based " love , peace and smoothie cooing". Have fun fellas( both sides) for you can let your standards or guard down. India - China border has always been tense yet more peaceful and disciplined than other borders all over the world. India and China are ageless( historical) and mature civilizations which predate biblical and Islamic times in culture.
这种事都是相互的。印度沿着不丹和尼泊尔边境给中国使绊子,反之亦然。双方士兵必须对各自的国家保持强硬和警惕。士兵不是宝莱坞或中国电影的主角。大家开心点(双方都如此),因为你可以放松你的标准或保护。中印边界一直以来都很紧张,但比世界其他边界更加和平、更有纪律。印度和中国是永恒的(历史的)和成熟的文明,比圣经和ysl时代的文明出现得都要早。
Varadarajan
drops of water makes ocean. China had already attached 250 square km on 1962 war. what is defense minister doing?
水滴石穿。在1962年的战争中,中国的国土面积增加了250平方公里的领土。国防部长在做什么?
Edward
So why do we follow different policies with Pak and China ? When it comes to Pak we speak about retaliation and giving befitting reply and even covert operation. But with China, we hold flag drills. We blames the congress of not doing anything, but what changes have we seen in the past four years expect hug politics.
那么,我们为什么要对巴基斯坦和中国采取不同的政策呢?说到巴基斯坦,我们一边说着报复,一边也给了恰当的反击,甚至是秘密行动。但对中国,我们只会做旗操。我们指责国大党什么都不做,但过去四年,除了拥抱政治,我们看到了什么变化?
Aafreen Sheikh
A day under the Modi rule will come when everyone will see that neither of our neighbours will even think of messing with India, the morons here criticising Modi in the comments themselves are good for nothing, you morons what have you done for the country
在莫迪的统治,早晚一天所有人都发现我们的邻国甚至都不会考虑与印度打交道,在评论中批评莫迪的白痴们,自己一无是处,你们为国家做了什么?
Matteroffact
I'm pretty sure that india can not stand a war with Mighty China for more than 3 minutes.
我很确定印度与强大的中国开战的话,绝对坚持不了3分钟。
Dipak
Now, it's getting clear that India not only had failed in Do-m, in other areas too China continued to intrude and till today doing the same.
现在,很明显,印度不仅在动郎失败了,在其他地区也失败了,中国继续入侵,直到今天仍然如此。
Prashant
Mr. Modi come clean and state the factual position in Do-m issue. It looks you are hiding some hard realities to avoid wrath of Indian common man.
莫迪先生澄清并陈述了在动郎事件中的事实。看来你隐藏了一些残酷的现实,以避免激怒印度普通人。
Rajesh Singh
India should at least make guns.
印度至少应该自己生产枪支。
Roshan
china can never be trusted we should be very careful
中国永远不能被信任,我们应该非常小心
Harsh Aggarwal
A day will come when China will dispute the existence of India itself thanks to our go nments lame duck attitude vis a vis chinese transgressions and one day China will again humiliate India big time which will make 1962 war pale in comparison...Its make my blood boil on reading such news repeatedly with no mention of indian troops having taken decisive or coerce action. As usuall indian go nment is always on denial and chinese meanwhile are happily nibbling away our terrritory on daily basis...!!
总有一天,中国会对印度的存在提出异议,因为我们的政府对中国的违法行为采取投机态度,总有一天,中国会再次羞辱印度,远超1962年的战争……我看到这样的新闻不断重复,却没有提到印度军队采取了什么决定性或强制性的行动,我非常愤怒。像往常一样,印度政府总是拒绝承认这一切,而中国人每天都在愉快地餐食我们的领土…!!