Nasa's Parker Solar Probe launched to take closer look at Sun
NASA发射"帕克太阳探测器"可近距离观测太阳
NEW DELHI: Nasa's Parker Solar Probe was launched today after it was delayed on Saturday due to a technical snag. The probe, a $1.5 billion unmanned spacecraft aims to get closer than any human-made object in history to the centre of our solar sy em.
新德里:当地时间2018年8月12日,NASA(美国国家航空航天局)发射了帕克太阳探测器,由于技术障碍原定在星期六的发射被推迟。该探测器是一艘无人驾驶飞船,耗资15亿美元,其目标是比历史上任何人造航天器都更接近太阳系的中心。
The probe is designed to plunge into the Sun's mysterious atmosphere, known as the corona, coming within 3.83 million miles (6.16 million kilometres) of its surface during a seven-year mission.
在为期7年的任务中,该探测器将进入神秘的太阳大气层,即日冕层,距离太阳表面383万英里(616万公里)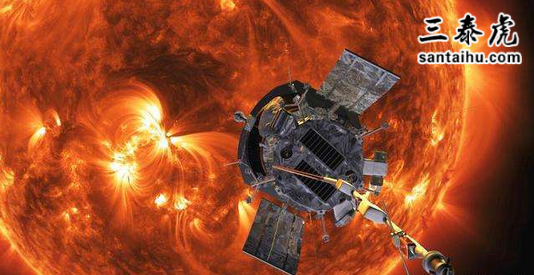 Saturday's scrub was caused by a helium gas sensor that surpassed a launch limit on the Delta IV-Heavy rocket, United Launch Alliance (ULA) said. The weather forecast was expected to be about 60 percent favourable for launch, according to ULA.
联合发射联盟(ULA)表示,上星期六取消发射是由于氦气传感器超过了德尔塔IV重型火箭的发射限制。据ULA称,天气预报预计有60%左右的发射机会。
The corona gives rise to the solar wind, a continuous flow of charged particles that permeates the solar sy em. Unpredictable solar winds cause disturbances in our planet's magnetic field and can play havoc with communications technology on Earth. Nasa hopes the findings will enable scientists to forecast changes in Earth's space environment.
日冕产生了太阳风,这是一种持续的带电粒子流,贯穿太阳系。不可预知的太阳风会对地球磁场造成干扰,并对地球上的通信技术造成严重破坏。NASA希望这些发现将使科学家能够预测地球空间环境的变化。
The project, with a $1.5 billion price tag, is the first major mission under Nasa's Living With a Star program.
该项目耗资15亿美元,是NASA"与星同在"计划下的首个重大任务。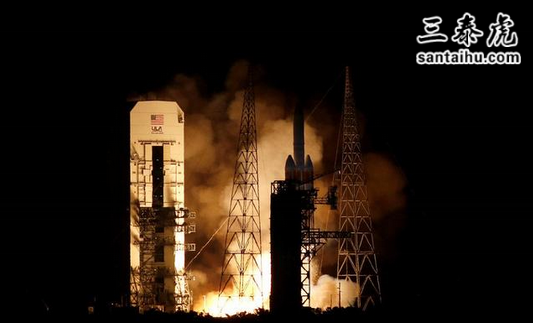 The probe is set to use seven Venus flybys over nearly seven years to steadily reduce its orbit around the Sun, using instruments designed to image the solar wind and study ric and magnetic fields, coronal plasma and energetic particles. Nasa aims to collect data about the inner workings of the highly magnetized corona.
在近7年的时间里,该探测器将借助金星的引力来实现七次减速变轨以逐渐靠近太阳,并利用仪器捕捉太阳风的图像、研究电场和磁场、日冕等离子体和高能粒子。NASA的目标是收集关于高磁化日冕内部活动的数据。
It is prected by an ultra-powerful heat shield that can endure unprecedented levels of heat, and radiation 500 times that experienced on Earth.
该探测器有超级强大的隔热板保护,能承受前所未有的高温,可承受的太阳辐射约是地球附近的500倍。
The car-sized probe is designed to give scientists a better understanding of solar wind and geomagnetic storms that risk wreaking chaos on Earth by knocking out the power grid.
这个汽车大小的探测器旨在让科学家更好地了解太阳风和地磁风暴,它们可能会摧毁电网,给地球造成混乱。
The tools on board will measure the expanding corona and continually flowing atmosphere known as the solar wind, which solar physicist Eugene Parker first described in 1958. Parker, now 91, recalled that at first some people did not believe in his theory.
探测器上的工具将测量不断膨胀的日冕和持续流动的大气,即太阳风。太阳物理学家尤金·帕克在1958年首次描述了太阳风。现年91岁的帕克回忆说,起初有些人不相信他的理论。
The previous closest pass to the Sun was by a probe called Helios 2, which in 1976 came within 27 million miles (43 million km). By way of comparison, the average distance from the Sun for Earth is 93 million miles (150 million km).
距太阳最近的一次飞行是由1976年发射的"太阳神2号"探测器完成的,距离太阳表面2700万英里(4300万公里)以内。相比之下,地球到太阳的平均距离是9300万英里(1.5亿公里)。
"It's of fundamental importance for us to be able to predict this space weather, much like we predict weather here on Earth," said Alex Young, a solar scientist at NASA's Goddard Space Flight Centre in Maryland. "In the most extreme cases of these space weather events, it can actually affect our power grids here on Earth."
"对我们来说,能够预测这种太空天气非常重要,就像我们预测地球上的天气一样。发生最极端的太空天气事件时,实际上会影响地球上的电网。"马里兰州美国宇航局戈达德太空飞行中心的太阳科学家亚历克斯·扬(Alex Young)说到。
The probe, named after American solar astrophysicist Eugene Newman Parker, will have to survive difficult heat and radiation conditions. It has been outfitted with a heat shield designed to keep its instruments at a tolerable 85 degrees Fahrenheit (29 degrees Celsius) even as the spacecraft faces temperatures reaching nearly 2,500 degrees Fahrenheit (1,370 degrees Celsius) at its closest pass.
该探测器是以美国太阳天体物理学家尤金·纽曼·帕克的名字命名的,它必须能承受住恶劣的高温和辐射条件。它配备了一个隔热罩,即使探测器表面温度接近2500华氏度(1370摄氏度),也可使其内部仪器的温度维持在可忍受的85华氏度(29摄氏度)。
印度时报读者评论:
来源:三泰虎 http://www.santaihu.com/45814.html 译者:Jessica.Wu
外文:https://timesofindia.indiatimes.com/world/us/nasas-parker-solar-probe-set-for-todays-launch-all-you-need-to-know/articleshow/65371561.cms
Ajay-21 hours ago
Pappu will now launch his 's made solar probe which is far better then NASA's at midnight today
拉胡尔将在今天午夜发射由其团队制造的太阳探测器,这比NASA发射的要好得多。
Sudhir Kale2555 Sudhir Kale-Centre lle VA-18 hours ago
Heartiest congratulations, NASA! Well done!!
向NASA表示由衷的祝贺!做得好! !
ONE LINER Challenge14387 ONE LINER Challenge-23 hours ago
POSSIBLE THE HOLLYWOOD SET IS NOT READY- FOR ANOTHER FAKE SPACE NEWS FROM USA.
又是美国的假太空新闻,或许好莱坞的片场都还没准备好。
Keshab Paul133 Keshab-17 hours ago -Follow
Excellent Job done by NASA.Congratullations to all Nasa Engineer.
NASA,做得太棒了!。向所有NASA工程师表示祝贺。
Ajay Varma11444 Ajay-18 hours ago -Follow
WTF why did they leave Pappu behind not at all a good decision by Nasa this unique sample would have been a good specimen for them to study and experiment in space
为什么他们不把拉胡尔也带上去?他本可以作为NASA在太空中进行研究和实验的好样本。
SANDEEP GUPTA590 Sandeep-20 hours ago -Follow
NASA, please take ISRO's help
NASA,请接受ISRO的帮助吧。
Subba Iyer Mani10378 Subba Iyer Mani-Chennai-17 hours ago -Follow
After hearing this news, the Gau rakshaks are clamouring to go on the satellite as they believe there are plenty of cows on sun. It is said that the Sun God's chariot is being pulled by seven white horses. If horses can survive in the sun why not cows? The cows need looking after.
听到这个消息后,爱牛人士吵着要登上飞船,因为他们相信太阳上有很多牛。据说太阳神的战车是由七匹白马拉着的。如果马能在阳光下生存,为什么牛不能啊?
Aditya Loha450 Aditya-17 hours ago -Follow
best of luck to NASA
祝NASA好运
Bhagavathy Pil1019 Bhagavathy-Shangli-22 hours ago -Follow
They plan to install American Flag in the burning Sun like they planted American Flag in Moon near Nevada Desert. Sun Landing is at Arizona Desert to withstand the heat. Lol. Trump is going to Witness the Sun Landing & Planting of American Flag.
他们计划在烈日上插上美国国旗,就像在月球上插上美国国旗一样。哈哈,特朗普将见证登上太阳和在上面插上美国国旗。
David Hume4749 David Hume-21 hours ago -Follow
Nobody is going to fall for the lies and deception of NASA after their FAKE moon landing.
在伪造登月之后,没有人会再相信NASA的谎言了。
Francis Bourne9427 Francis-Dubai-21 hours ago -Follow
We proud Isro..
我们以ISRO为荣。
Eland Kumar1809 Eland Kumar-11 hours ago -Follow
Too late NASA!!! Hanuman went to the sun and held it already..
NASA这也太迟了了! ! !哈努曼(印度神话中的猴神)已经登上太阳并占领它了。
Akib Lakhani871 Akib Lakhani-16 hours ago -Follow
Waste of money , 1.5 billon dollar could be used to feed all poor peoples on earth . This research is of no importance to the people leaving on earth. Zero importance
浪费金钱,15亿美元可以用来养活地球上所有的穷人。这项研究对生活在地球上的人来说并不重要,毫无意义。
Vikas Joshi496 Vikas-jaipur-18 hours ago -Follow
it will take 7 years to reach sun orbit .. .a great & long journey ... best wishes to NASA ..
要花7年才能到达太阳轨道。这是一个伟大而漫长的旅程……向NASA致以最美好的祝愿…
Swapan Ghorai705 Swapan-21 hours ago -Follow
Good job, NASA.Human beings is always busy to explore new arena of knowledge from the be very begng of ancient stone age. That trained will be continued for ever so long as this best creature persists on this planet.
干得好,NASA。从石器时代开始,人类就一直忙于探索新的知识领域。只要这个世界上最优秀的生物继续存在,这种探索就会一直持续下去。
Shankar Rmurthy2468 Shankar-New Jersey, USA-14 hours ago -Follow
Great feat by NASA. Congratulations to NASA team. This team includes good Indian brains too! The astonishing part the previous day the launch was abrubtlt stopped due to a snag, which has has been rectified, a sense of focus and responsibility.
NASA的壮举。祝贺NASA团队。这支团队也包括了优秀的印度人才!令人惊讶的是,在发射前一天,由于一个技术障碍,发射被叫停。现在这个障碍已经解决了,这就是专注和责任感。