IKEA's first India store opens on Thursday: 5 things to know
印度首家"宜家"门店周四开业:需要了解的5件事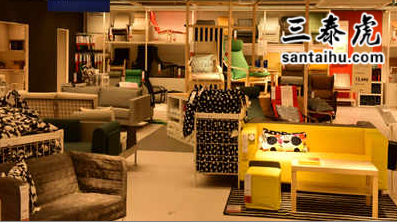 NEW DELHI: Swedish retail giant IKEA opens doors of its first store in India on Thursday in the erstwhile city of the 'Nizams'-- Hyderabad. The outlet is the first of 25 stores the world's largest furniture retailer plans to open in India.
新德里:周四,瑞典零售巨头宜家在印度海德拉巴,开设了其在印度的首家门店。这家全球最大的家具零售商计划在印度开设25家门店,这是其中的第一家。
Here are five things to know about IKEA's maiden store in India:
关于宜家在印度的首家门店,你需要了解以下5件事:
The Swedish multinational has invested more than Rs 1,000 crore on the Hyderabad outlet (including land, construction and capital goods). The Hyderabad IKEA store will have a direct staff strength of 950 employees and additionally 1500 would be employed indirectly in services.
这家瑞典跨国公司-宜家已在海德拉巴门店投资逾1亿卢比(包括土地、建筑和资本货物)。海得拉巴的宜家门店将直接雇佣950名员工,另外1500人将间接提供各种服务。
The four-lakh square feet store is spread across 13 acres and will display nearly 7,500 products. Around 1,000 of those products will be available for under Rs 200, IKEA said in an official statement.
这家占地40万平方英尺的门店,将展示近7500种产品。宜家在一份官方声明中表示,其中约1000种产品的售价将低于200卢比。
20 per cent of the products sold will be locally sourced, IKEA added. The store will exhibit two full homes that reflect 'Life at Home in Hyderabad', besides different room sets based on different parts of the house like bedroom, kitchen, children's room and living room. It will also have a market hall where one will find home kitchen utensils and accessories, textiles, rugs, lighting, decoration, stationary and live plants.
宜家补充称,销售的产品中有20%将来自本地。该门店将展示两套完整的住宅,反映"海得拉巴的家庭生活",根据房子的不同部分,如卧室、厨房、儿童房和客厅进行设计。将有一个大厅,人们可以在这里挑选家庭厨房用具和配件、纺织品、地毯、照明、装饰、文具和盆栽。
The store will stay open through the week from 10 am to 11 pm and the company expects up to 60 lakh visitors in a year. "In terms of the products, the company will be bringing its classic IKEA range along with a small percentage of locally relevant products for the Indian market like masala boxes, pressure cookers, tawas, idli makers, colourful sheets and mattresses made with coconut fibre centre. Customers will also be able to buy global classics like the BILLY bookcase, KLIPPAN sofa, LACK table and POäNG armchair among others," IKEA said.
该门店营业时间从上午10点到晚上11点,周一到周天全部营业。该公司预计,每年将有600万名顾客光顾该店。在产品方面,宜家表示将为印度市场推出经典的宜家系列产品,以及一小部分与当地相关的产品,比如马沙拉香料盒、高压锅、印度锅、印度蒸米糕器具等,以及用椰子纤维制成的彩色床单和床垫。顾客还可以购买比利书架、可莱贝沙发、拉克桌和poang扶手椅等全球经典家具。
IKEA's Hyderabad store will have the company's largest restaurant globally. The 1,000-seater restaurant will have several vegetarian options, including Indian cuisine, on the menu. "The restaurant will offer 50 per cent Swedish specialities like salmon and chicken and vegetarian meatballs and 50 per cent local delicacies like biryani, samosas, dal makhni in the case of Hyderabad," the company said. The Swedish retailer added the food would be "very affordable" -- a plate of samosas will cost Rs 10.
海德拉巴的宜家门店将拥有该公司全球最大的餐厅,内设1000个座位,将提供多种素食选择,包括印度菜。该公司表示:"这家餐厅将提供50%的瑞典特色菜,比如三文鱼、鸡肉和素食肉丸,还有50%的当地美食,比如比尔亚尼菜、萨莫萨炸三角、奶油烩黑扁豆。"宜家补充称,提供的食物将"非常便宜",一盘萨莫萨炸三角只要10卢比。
After Hyderabad, next on the map for IKEA is Mumbai where it is currently constructing its store and hopes to open its doors to the public by next summer. IKEA has been sourcing from India for its global stores for more than 30 years.
继海得拉巴门店之后,宜家在印度的第二家门店将位于孟买,该公司目前正在孟买建设门店,有望在明年夏天之前向公众开放。30多年来,宜家一直寻求在印度开设全球门店。
In India, IKEA will compete with the likes of Future Group's HomeTown, startups Pepperfry and UrbanLadder.
在印度,宜家将与未来集团的HomeTown、印度家具电商Pepperfry和UrbanLadder等竞争。
印度时报读者评论:
来源:三泰虎 http://www.santaihu.com/45779.html 译者:Jessica.Wu
外文:https://timesofindia.indiatimes.com/business/india-business/ikeas-first-india-store-opens-on-thursday-5-things-to-know/articleshow/65321335.cms
I Love My India376 I Love My-17 hours ago

Thank you IKEA. We hope to get better offers with modern furnitures and good service

感谢宜家。我们希望你们能提供优质的现代化家具和服务。
Rajendra Singh629 Rajendra-17 hours ago

good

now the days of the furniture loot are over

很好。现在,家具暴利的日子要结束了
Bhartiya Sach9699 Bhartiya-17 hours ago -Follow

All because of Modi.....Make In India

都应归功于莫迪,"印度制造"
Ragsvan615289 Ragsvan6 -Location-17 hours ago -Follow

Welcome IKEA you ate the best. We have been to your stores in the US of A there is nothing to beat your range & prices too not to speak of quality. Great you have chosen rapidly growing Metro Hyd as your first city.

欢迎宜家,你们是最棒的。我们去过你们在美国的门店,你们的价格和产品类别是最有优势的,更不用说质量了。你们选择了快速发展的大都市海得拉巴开设首家门店,这太好了。
Debu Sen2830 Debu Sen-17 hours ago -Follow

This is a god news. I wish there were one store in Calcutta; but again it is a very very risky proposition.

这是个好消息。我希望你们能在加尔各答也开一家,但这是一个非常危险的提议。
Kumar4433 kumar-mumbai-15 hours ago -Follow

All that they offer is "Bhoosa" (Sawdust) polished to look like teak

他们提供的家具都是"木屑"(锯屑)做的,抛光之后看起来像柚木。
Anonymous Anonymous-bangalore-17 hours ago -Follow

IKEA is a big name in Europe hope they give some competition to Indian player so that the consumer get better option at lower price.

宜家在欧洲是一个大品牌,希望他们能给印度厂商带来一些竞争,让消费者能以更低的价格获得更好的选择。
Judge Dread2322 Judge Dread-16 hours ago -Follow

Why in Hyderabad? So that those Tollywood movie makers can use those cheap furniture in even more ridiculous stunt scenes in their movies?

为什么选在海德拉巴?这样那些好莱坞电影制作者就可以在电影里更荒谬的特技场景中使用那些廉价家具了?
Shashi Kant357 Shashi Kant-Delhi, India-16 hours ago -Follow

hope they open one in Delhi / NCR

希望他们在德里也开一家
Ahmed Aashif887 Ahmed-14 hours ago -Follow

A historical moment for hyderabad.

对海得拉巴来说,这是一个历史性时刻。
Viswanathan Iyer10258 Viswanathan Iyer-Bangalore-12 hours ago -Follow

Congratulations Hyderabad. Hope IKEA will open their branches in all major Indian cities. All the Best.

祝贺海德拉巴。希望宜家能在印度所有主要城市开设分店。愿一切顺利!
Vihin16641 vihin-Nihiv-15 hours ago -Follow

The BJP, while in opposition, was opposed to the entry of foreign companies into retail trade. Now being in government, it has hypocritically reversed its position.

作为反对党时,印度人民党反对外国公司进入零售业。如今执政了,他们虚伪地改变了立场。
Rene Fernandez8138 Rene Fernandez-juffair-13 hours ago -Follow

Congrats to both Hyderabad and IKEA !!!

祝贺海得拉巴和宜家!!!
Babu A Rukmambara46 Babu A Rukmambara-16 hours ago -Follow

it''s good to see IKEA in Hyderabad.I visited the IKEA stores in Houston. Looks like India is becoming GLOBAL VILLAGE

我去过休斯顿的宜家门店,很高兴能在海得拉巴看到宜家。看来印度正在成为地球村。
TCRBabu468 TCRBabu-TCR-17 hours ago -Follow

Malasian Furniture are also good, that also should be made available. IKEA''s ply products, some of them are not strong and won''t last from my experience in Middle East. But some of their kitchen items are excellent and durable.

马来家具也不错,他们也应该供应。从我在中东的经历来看,宜家的某些产品有点不太结实,不耐用。但是他们的厨房用品非常好而且耐用。
Harjot Singh9608 Harjot Singh-15 hours ago -Follow

A very positive entry into the Indian market. This will improve the standard of furniture making in India and will generate exports which will benefit many furniture making units in India.
Roshan Amex1729 Roshan Amex-15 hours ago -Follow

Good news, Indian customer will now have more options to choose now. Interior decoration is becoming a boom and IKEA will capitalize on this boom.

是个好消息。印度客户现在将有更多选择。室内装饰正成为一个热潮,宜家将利用这一热潮。