ON the eastern flank of India, off the Bay of Bengal, is a city that is sinking. Calcutta, or Kolkata as it is now called, has long been notorious for representing some of the world's most egregious problems, scalding poverty of a depth few can imagine, overcrowding on a scale few have considered, with want and need and desire all mangled into a single dwelling place for millions of souls.
在靠近孟加拉湾的印度东侧,有一座正在下沉的城市。加尔各答现在早已臭名昭著,涌现出一些世界上最严重的问题,这里的贫困程度令人难以想象,人口过度拥挤,希望、需要和欲望都支离破碎,拥挤在这个数百万灵魂的居所。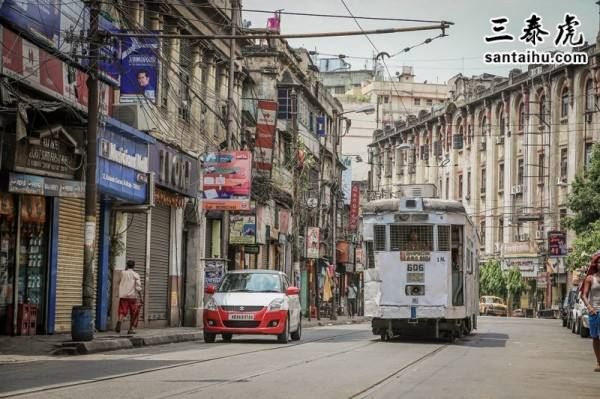 Of late, however, the city has tried to evade all these negative legacies of the past, and has attempted, like so many other cities in India, to rise some more, to transform Cinderella-like into a gleaming metropolis of achievement and promise. Ironically, it is now the foundations of just that growth that are being threatened, the latest of threats to lurk around Kolkata.
然而,最近,这座城市试图逃避过去所有这些负面的遗产,并试图像印度其他许多城市一样,再度崛起,把像灰姑娘一样的城市变成一个辉煌的成就和希望之都。具有讽刺意味的是,现在这种增长的基础正受到威胁。
Recent development in the city has happened as growth often does at its margins, turning over what were once rice paddies and farmland to the service of massive high-rises.
这座城市最近的发展就像经济增长常常会经历的那样,曾经的稻田和农田变成了节次鳞比的高楼大厦。
Some of these grandly named enclaves, which regularly feature words such as 'elite' and 'Beverley' and 'field', house luxury homes for the city's burgeoning middle class. Others house hive-like offices, where the employees working on this or that outsourced project, billing or logistics or something else, sit in conglomerations, their faces focusing on screens for hours and hours each day.
其中一些地名很夸张,经常出现"elite(精英)"、"Beverley(贝弗利)"和"field(菲尔德)"等词汇,为这座城市新兴的中产阶级提供奢华的住所。另一些房子里则是像蜂巢一样的办公室,员工们在那里工作,从事这个或那个外包项目、记账、物流或其他事情,他们坐在一起开会,他们的脸每天都要盯着屏幕数小时。
The job of creating high-rises from rice paddies has involved reclamation, the sucking out of groundwater that can render the earth less marshy and moist, and more conducive to heavy construction work. Here is 'new' land of the sort everyone can build on but that only the fortunate can purchase.
利用稻田建造高楼大厦的工作涉及到填海,抽取地下水可以减少土壤的积水和潮湿,更有利于繁重的建筑工作。这是一块人人都能在其上建造的"新"土地,但只有幸运的人才能购买。
As the seas in the Bay of Bengal have risen, and research shows that they have done so at an inordinately fast rate, the groundwater that has been sucked out of the land to provide for the building of these luxury towers and office complexes is rising again. When the groundwater rises, the land can become soggy and waterlogged, which is not the sort of territory on which one wishes to lay the foundation of any building, let alone a high-rise.
随着孟加拉湾的海平面上升,研究表明,海平面上升的速度非常快,从土地中抽走的用于建造这些豪华塔楼和办公楼的地下水位再度上升。当地下水位上升时,土地就会变得湿漉漉的,这不是人们希望为任何建筑打地基的地域,更不用说高楼大厦了。
Nor is this the sum of the cataclysm to come. The elimination of the rice paddies and the shrinking of the mangrove-laden coastal plain mean that the buffer zone between the sea and its storms and the city has shrunk also. The threat to the city lies not only underneath it, but in the winds and gales and cyclones that can blow their way into this home of many millions, potentially taking the lives of many thousands.
这也不是说大灾难即将到来。稻田的消失和红树林海岸的缩小意味着海洋和风暴和城市之间的缓冲区面积也缩小了。对这座城市的威胁不仅存在于它的地下,而且存在于风、大风和旋风之中,这些风、大风和旋风可能会吹进这个数百万人的家园,可能会夺去成千上万人的生命。
Karachi, which does not have a buffer zone between itself and the Arabian Sea, faces many of the same challenges. For a number of years now, development on the coast has centred on the reclamation of land where the elimination of groundwater is the magic recipe for the production of more real estate to be sold at high prices.
卡拉奇与阿拉伯海之间没有缓冲区,面临着许多同样的挑战。多年来,沿海地区的发展一直集中在开垦土地上,在那里,消除地下水是建造更多房地产并以高价出售的神奇处方。
As in the Bay of Bengal, the waters of the Arabian Sea are also rising. As this water rises, the land reclaimed by the elimination of groundwater is likely to experience new seepage as the water table under the ground rises and the sea comes closer. There is no large-scale cyclone or catastrophic storm that has to happen to set the winds of this kind of change in motion. It is happening, every day, underneath the feet of unsuspecting Karachiites.
与孟加拉湾一样,阿拉伯海的水位也在上涨。随着地下水水位的上升和海平面的上升,通过消除地下水而回收的土地很可能会出现新的渗流。它每天都在毫无戒心的卡拉基人脚下悄悄地发生着。
At the moment, those who live closest to the sea in Pakistan's city by the sea are believed to be the luckiest, the most fortunate, the ones with enough lucre to pad a seaside existence. Even while many of these fortunate ones are educated, even highly educated, they exhibit a sort of wilful ignorance of the threat to which they are most vulnerable. This sort of denial is also not new to the human race. After all, the ruins of Pompeii are full of those who just kept doing what they were doing as the skies darkened, the ash fell and ultimately the eruption happened, engulfing all and destroying all.
目前,那些住在靠海的巴基斯坦城市的人被认为是最幸运的,那些人有足够的钱生活在海边。即使这些幸运的人中有许多人受过教育,甚至受过高等教育,但他们对自己最容易受到的威胁也故意表现出一种无知。这种无知对人类来说也并不新鲜。毕竟,在庞贝古城的废墟里,到处都是那些即使天空变暗、火山灰飘扬、最终爆发、吞没、摧毁一切,仍然不知悔改,肆意任为的人。
One wonders, then, which of the inhabitants of the subcontinent's sinking cities, Kolkata and Karachi and Mumbai and many more, will be the ones whose deaths will be the anathemas of the next age. 'Why didn't they know they were sinking? Why did they build such tall castles on such sinking earth?'Perhaps those future generations will also have the answers to this riddle.
那么,我们不禁要问,南亚次大陆上这些下沉的城市——加尔各答、卡拉奇、孟买以及更多城市中——的居民中,谁的死亡将成为下一个时代的诅咒。"他们怎么会不知道自己在下沉呢?他们为什么要在这么沉的土地上建造这么高的城堡?"也许这些人的后代也会寻找出这个谜题的答案。
巴基斯坦黎明报网友评论:
来源:三泰虎 http://www.santaihu.com/45774.html 译者:Joyceliu
外文链接:https://www.dawn.com/news/1425704/sinking-kolkata
Khaled
That's an alarming situation.
这是一个值得警惕的情况。
vp
thanks to the commies, kolkata has been a sinkhole. and now it is actually happening.
多亏了,加尔各答成了一个沉洞。而现在它真的发生了。
Reader
Wonderful writing and wise thoughts from a delightful writer of the subcontinent,
这是来自次大陆一位可爱的作家的精彩的作品和睿智的思想
Sandeepan Banerjee
Very pertinent thought. It's a classical clash between economic expediency of today and long term well being of tomorrow; between Politics and Science; between Certitude and Possibilities. Sadly, 'Tomorrow' doesn't have the vocabulary to confront 'Today' and have always lost out.
非常中肯的观点。这是当今经济权宜之计与未来长期福祉之间、政治与科学、确定性和可能性之间的经典冲突。遗憾的是,"明天"没有词汇去面对"今天",总是会被遗忘。
Mushtaq
Rafia does it again, the magic with her words and insightful thinking. Drawing parallels with neighboring country shows the broad vision she possess.
拉菲亚又发文了,她用她的语言和富有洞察力的思考创造了奇迹。与邻国的对比显示了她的广阔视野。
I live near Clifton so going towards Sea view beach and surrounding is routine, and always think about burgeoning coastline. And specially all the reclamation activities around Zulfiqar Street, DHA club makes me wonder where the water is going, when sea shore is dumped with sand and stone! Because in the Malir Naadi channel flowing in the Arabian Sea water level is receding.
我住在克利夫顿附近,所以去海滩附件是很平常的事,我总是会想到蓬勃发展的海岸线。特别是在佐勒菲卡尔街附近所有的围垦活动,我想知道当海边被沙子和石头堆满的时候,水会流向哪里!因为在马利尔海峡,流入阿拉伯海的水位正在下降。
Aimal
It is awful to read about the fate of Karachi and Kolkata due to abject disrespect of nature, but hopefully the Netherlands, where most of the country is located actually below the sea level, could offer some solutions even at this late stage.
读到卡拉奇和加尔各答的命运是件很糟糕的事情,因为他们对自然的极度不尊重,但希望荷兰——该国大部分地区实际上都位于海平面以下——能在这个时候提供一些解决方案。
Abhik
Superb writeup by author...points raised which deserve serious thought and action
作者的文章写得真好……一语道破了值得认真思考、采取行动的问题
Rana
Actually, quite on the contrary Kolkata has been improving as a metropolis over the past 20 years while other Indian metro cities (with the exception of Delhi) have been slipping.
实际上,恰恰相反,在过去20年里,加尔各答作为一个大都市的地位一直在提高,而印度其他大都市(除了德里)的地位却在下滑。
citizen
The above article posses a great challenge, do we take it seriously, or wait patiently for the inevitable to happen, and happen it will, the question is when, not if, when the sea rises the existing coastline will be submerged, no use building walls, dykes etc, better to realize, and build away from the sea or build high. D.H.A. and other building authorities which govern the sea front, should realize and confront existing building bye-laws and seek expert opinion on how to deal with this reality.
上面的文章提出了一个很大的之一,我们是否认真对待,或耐心等待这个不可避免的情况,或何时会发生。如果海平面上升,现有的海岸线将被淹没,建筑墙壁、堤坝等也完全没有用,最好意识到并在远离海岸线的地方建楼、不要建太高的楼。D.H.A.和其他负责管理沿海地区的建筑当局应该认识到并面对现有的建筑法规,并就如何应对这一现实征求专家意见。
Wellwisher
Everywhere mad vertical growth is taking place, London or patna
无论在伦敦还是巴特那,疯狂的垂直增长无处不在
Kashif Ali
surprising
令人惊讶
Bill
The deterioration of the wetlands on the coastal plane is a flood problem. The sea will encroach on the land. The sky scrappers, however, will not collapse or sink it they have been constructed on bedrock foundations below the ground water.
沿海地区的湿地退化是一个洪水问题。大海会侵占陆地。然而,摩天高楼不会倒塌或沉没——他们是在地下水下的基岩基础上建造的。
P.Mishra
@Sandeepan Banerjee Excellent comment.
@Sandeepan Banerjee 说得真好。
Lost cause
Look at it like this, we will have three Venice like cities in the sub continent. Good for tourism.
这样看的话,我们将在次大陆拥有三个类似威尼斯的城市。有利于旅游业的发展。
usr
Please include San Francisco to the list with sinking high rises.
请把旧金山列入下沉高楼的名单。
Bhaskar
Very nice and informational write up madam. That's why I love Dawn. I am from India but your newspaper keeps me interested in all a south Asian news
女士,写得非常不错,信息很丰富。这就是我爱黎明报的原因。我来自印度,但是你们的报纸让我对南亚的新闻很感兴趣。
Abhishek
Well written Rafia. An insightful comparative.
Rafia写的真好。这真是深刻的比较。
SHAHID SATTAR
When nature takes its toll, these cities have to sink anyway. Let the warning be clear for all, residents, aspiring to be residents and investors at large.
当大自然付出代价时,这些城市无论如何都要沉没。让这一警告对所有居民,希望成为居民的人和广大投资者来说都足够清楚的。
Tariq khan
I thought we- americans- borrowed from the future ( our kids!) - l was wtong.
我以为我们-美国人-是透支未来的—看来我错了。
Ali Vazir
Seeing and writing beyond boundaries: excellent! We definitely need such writers, columnists, thinkers, scholars, businessmen, politicians and bureaucrats. Make a cartel of saner elements and the change for good will start coming sooner than ever.
超越边界的观察和写作:太棒了!我们绝对需要这些作家、专栏作家、思想家、学者、商人、政治家和官僚。让更理智的人组成一个联盟,就会更早地开始改变。
Vijay B..
In essence, the Earth is already overcrowded (7.5 billion now, to be 15 billion humans (?) in the next 50 years or so,) but mankind's greed spurred by its advanced technical expertise is taking it beyond rational limits. It is like a woman having too many children painstakingly beseeching her husband TO STOP making her have any more, but to no avail.. "Mata pukaar rahi hai tumhe haath jod kar." But is anyone listening at all? When catastrophe strikes, and it is imminent that it will, all we'll be able to do will be to sit and rue being blindsided when we could have paid heed to the numerous indicators that were the harbingers of the ensuing disasters, and taken steps to prevent them, which is now.
从本质上讲,地球已经过于拥挤(现在是75亿,在未来50年左右将达到150亿人),但人类因先进的科技而产生的贪婪正在使其超越理性的界限。这就像一个女人已经有了太多的孩子,她煞费苦心地恳求她的丈夫不要再让她生孩子了,但没有用。
Vijay B..
The Planet Earth is already overcrowded, be creative but not procreative.
地球已经拥挤不堪,要有创造力,不要生殖力。
Mitra
@vp Do you have any knowledge of fluvial geology, soil mechanics, eustatic sea level, subaerial and subaqueous delta plane? What kind of expert are you to comment on whether a group of local political entities can influence a basinal to global geology? Apparently, ignorance is universal.
@vp你对河流地质、土壤力学、海平面升降、陆上三角洲和水下三角洲有了解吗?对于地方政治实体是否会对从盆地到全球地质学造成影响,你算哪门子专家来发表这些评论?很显然,无知是普遍存在的。
Sayyar Khan
Good that will clean Karachi
很好,那就可以清理卡拉奇了
Mvjrao
You forgot Chennai or Madras as it used to be called has already facing the problem mentioned by you. Every year monsoon or cyclone in Bay of Bengal make the city with flitting houses and boat rides in the streets. As you said all becsuse of collusion between politicians, bureaucrats and real estate builders and the nexus.
你忘了钦奈或马德拉斯,因为你之前提到过,它也曾面临这个问题。每年,孟加拉湾的季风或气旋都会让这座城市的街道上到处都是被拔起的房屋和船只。正如你所说,所有这些都是因为政客、官僚和房地产开发商之间的勾结和关系。
rs
The responsibility for this rests with TMC, presently ruling West Bengal. There is not even one big industry or a good IT company having office in the state. Unless the policies change, it will go down further.
目前统治西孟加拉邦的TMC对此负有责任。没有哪个大的行业或好的IT公司在该州设有办事处。除非政策发生变化,否则还会进一步下沉。
karachite
What is the rate at which the level of water along Karachi's coast line is rising, this would be of paramount importance to the city and the country at large.
卡拉奇海岸线的水位以何种速度上升,这对城市和整个国家都至关重要。
Sam
Hello Rafia, i am from Kolkata and is amazed to hear that kolkata is sinking. I feel that may be you are never been to kolkata and have done some research from internet only. Just tell me a place or locality which has submerged in bay of bengal recently. Yes, global warming is happening and its a global phenomenon all the costal cities are endangered which include NY, Rio, Miami also. There may be poverty and overcrowding in kolkata but life is going as usual here and most of people enjoy living in "City of Joy". I would like to invite you here and show you around and i bet you will not feel threatened by waters of bay of bengal.
你好,拉菲亚,我来自加尔各答,听说加尔各答正在下沉,我很惊讶。我觉得你可能从来没有去过加尔各答,只是在网上做过一些调查。请告诉我最近孟加拉湾哪个地方沉没了。是的,全球变暖正在发生,这是一个全球性的现象,所有沿海城市都濒临灭绝,包括纽约,里约热内卢,迈阿密。加尔各答可能是很贫穷、很拥挤,但这里的生活照常进行,大多数人喜欢生活在"欢乐之城"。我想邀请你来这里,带你四处看看,我打赌你绝对不会感受到孟加拉湾水域的威胁。
Rahul Jain
While the rising sea will destroy coast bound cities, deplorable planning will sink the rest. Look around, and each city suffers from chronic problems - dirt, sanitation, traffic and above all water.
海平面上升将摧毁沿海城市,而糟糕的规划将摧毁其他城市。环顾四周,每个城市都有长期存在的问题——肮脏、卫生、交通,尤其是水。
The British left many things for the subcontinent, but alas, town planning (or any form of long term planning) got lost on us.
英国人把很多东西都留给了南亚次大陆,但遗憾的是,城市规划(或任何形式的长期规划)在这里迷路了。
Amir Dewani- U.S.A.
The righter here has so intelligently picked up for discussion this subject relating to 'Rising Sea-levels', with special reference to the two main coastal cities viz Calcutta and Karachi in this part of S.Asia. Higher sea levels resulting from melting 'sea- ice' and expansion of seawater due to the climate change. The need to be vigilant about the risk involved in arctic melting, dramatic change in climate, coastal flooding resulting from global warming, or thermal expansion was never so great as it is today. This must compel our 'sleeping barons' to wake up to do the right things about 'Disaster management'! Note: Time and tides wait for none. Congratulations to you Madam for this thought provoking article!
这里的右翼分子非常聪明地选择了这个话题来讨论"海平面上升",特别提到了南亚这一地区的两个主要沿海城市,即加尔各答和卡拉奇。海平面上升是由于"海冰"融化和气候变化导致海水膨胀造成的。对北极融化、气候急剧变化、全球变暖导致的沿海洪水或热膨胀所涉及的风险保持警惕的必要性从未像今天这样巨大。这一定会迫使我们"沉睡的贵族们"醒过来,在"灾难管理"方面做出正确的事情!注意:时间和潮汐不等人。为这篇发人深思的文章向您表示祝贺!