Money of Indians in Swiss banks rise 50% to over Rs 7,000 crore
瑞士银行中的印度存款增加了50%,高达700亿卢比
ZURICH/NEW DELHI: Money parked by Indians in Swiss banks rose over 50 per cent to CHF (Swiss franc) 1.01 billion (Rs 7,000 crore) in 2017, reversing a three-year downward trend amid India's clampdown on suspected black money stashed there.
苏黎世/新德里:2017年,印度人存放在瑞士银行的资金增加了逾50%,增至10.1亿瑞士法郎(合700亿卢比),扭转了印度三年来打击可疑黑钱导致的存款减少趋势。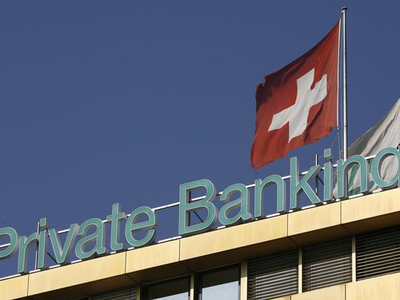 图片来源:印度时报
In comparison, the total funds held by all foreign clients of Swiss banks rose about 3 per cent to CHF 1.46 trillion or about Rs 100 lakh crore in 2017, according to the offi al annual data released today by Swiss National Bank (SNB), the central banking authority of the Ale nation.
据这个阿尔卑斯山脉国家的中央银行机构—瑞士国家银行今天公布的官方年度数据,相较之下,2017年瑞士银行所有外国储户的所有资产上涨了约3%,至1.46万亿瑞士法郎,合100万亿卢比。
The surge in Indian money held with Swiss banks comes as a surprise given India's continuing clampdown on suspected black money stashed abroad, including in banks of Switzerland that used to be known for their famed secrecy walls for years.
瑞士银行持有的印度资金的激增令人意外,因为印度一直在打击藏匿在海外的可疑黑钱,其中就包括了多年来以保密性著称的瑞士银行。
The Indian money in Swiss banks had fallen by 45 per cent in 2016, marking their biggest ever yearly plunge, to CHF 676 million (about Rs 4,500 crore) — the lowest ever since the European nation began making the data public in 1987.
2016年,印度在瑞士各银行的存款资金减少了45%,降至6.76亿瑞士法郎(约合450亿卢比),这是该欧洲国家自1987年开始公开数据后的最低水平。
According to the SNB data, the total funds held by Indians directly with Swiss banks rose to 999 million Swiss franc (Rs 6,891 crore) in 2017, while the same held through fiduciaries or wealth managers increased to CHF 16.2 million (Rs 112 crore). These figures stood at CHF 664.8 million and CHF 11 million, respectively, at the end of 2016.
根据瑞士央行的数据,2017年,瑞士银行中印度直接持有的资金总额增至9.99亿瑞士法郎(合689.1亿卢比),而通过受托人或财富管理公司持有的资金总额增至1620万瑞士法郎(合11.2亿卢比)。而2016年底,这些数字分别为6.648亿瑞士法郎和1100万瑞士法郎。
As per the latest data, the Indian money in Swiss banks included CHF 464 million (Rs 3,200 crore) in the form of customer deposits, CHF 152 million (Rs 1,050 crore) through other banks and CHF 383 million (Rs 2,640 crore) as 'other liabilities' such as securities at the end of 2017.
根据最新数据,2017年底瑞士银行中的印度资金包括4.64亿瑞士法郎(320亿卢比)的储户存款,1.52亿瑞士法郎(105亿卢比)通过其他银行存入,另有3.83亿瑞士法郎(264亿卢比)的"其他负债",如抵押品。
The funds under all three heads have risen sharply, as ag inst a huge plunge across all categories in the previous year, the SNB data showed.
瑞士央行的数据显示,三大机构旗下的资金都出现了大幅增长,而在再上一年度,所有类别的资金都出现了大幅下降。
The funds held through fiduciaries alone used to be in billions till 2007 but began falling after that amid fears of regulatory crackdown.
2007年前,仅通过受托机构持有的资金就高达数十亿美元,但在那之后,由于担心受到监管机构的打压,这些资金开始减少。
The total funds held by Indians with Swiss banks stood at a record high of CHF 6.5 billion (Rs 23,000 crore) at 2006-end, but came down to nearly one-tenth of that level in about a decade.
截至2006年底,印度人在瑞士银行持有的资金总额达到创纪录的65亿瑞士法郎(合2300亿卢比),但在随后大约10年的时间内,这一数字降至仅十分之一的水平。
The latest data from Zurich-based SNB comes months after a new framework having been put in place for automatic exchange of information between Switzerland and India to help check the black money menace.
在总部位于苏黎世的瑞士央行发布最新数据的前几个月,瑞士和印度间搭建了新的信息自动交换框架,协助遏制黑钱的威胁。
While Switzerland has already begun sharing foreign client details on evidence of wrongdoing provided by India and some other countries, it has agreed to further expand its cooperation on India's fight ag inst black money with a new pact for automatic information exchange.
在印度和其他一些国家提供犯罪证据后,瑞士已开始与这些国家共享境外客户信息,瑞士同意通过新的自动信息交换协议,进一步扩大与印度在打击黑钱方面的合作。
The funds, described by SNB as 'liabilities' of Swiss banks or 'amounts due to' their clients, are the offi al figures disclosed by the Swiss authorities and do not indicate to the quantum of the much-debated alleged black money held by Indians there.
瑞士央行称,这些资金是瑞士银行的"负债",或银行客户的"债项",是瑞士当局公布的官方数据,并未提及印度人在那里所持有的大量的引发众多争议的所谓"黑钱"。
Swiss banks have earlier said Indians have "few deposits" in Swiss banks compared to other global financial hubs like Singapore and amid stepped-up efforts to check the black money menace.
瑞士银行早些时候表示,与新加坡和香港等其他全球金融中心相比,印度人在瑞士银行的存款"很少",因为他们正在加大力度遏制"黑钱"的威胁。
On directions of the Supreme Court, India had constituted a Special Investigation Team (SIT) to probe cases of alleged black money of Indians, including funds stashed abroad in places like Switzerland.
在最高法院的指示下,印度成立了一个特别调查小组,调查印度人的黑钱问题,其中就包括了藏匿在瑞士等地的资金。
A number of strategies were deployed by the go nment to combat the stash-funds menace, in both overseas and domestic domain, which included enactment of a new law, amendments in the Anti-Money Laundering Act and compliance windows for people to declare their hidden assets.
政府在国内外采取了许多手段以打击隐匿资金,其中就包括颁布了一项新法律,修订反洗钱法,以及让人们申报隐藏资产的合规窗口期。
The Tax department had detected suspected black money running into thousands of crores of rupees post investigations on global leaks about Indians stashing funds abroad and has launched prosecution ag inst hundreds of them, including those with accounts in the Geneva branch of HSBC.
印度税务部门发现,在对印度人将资金存放在海外的丑闻展开调查后,发现有数千名印度人涉嫌*,并已对其中数百人提起诉讼,其中有人在汇丰日内瓦分行拥有账户。
The issue of black money has always been a matter of big debate in India and Switzerland has been long perceived as one of the safest havens for such funds.
黑钱问题一直是印度和瑞士争论的焦点问题,长期以来,人们一直认为瑞士是这类资金最安全的避风港之一。
Earlier in 2015, the money held by Indians in Swiss banks had fallen by nearly one-third to CHF 1,217.6 million (over Rs 8,000 crore). Prior to that, these funds fell by 10 per cent to CHF 1.8 billion in 2014, after a rise of 43 per cent in 2013 to CHF 2.03 billion.
2015年早些时候,印度人在瑞士银行持有的资金减少了近三分之一,降至12.176亿瑞士法郎(超过800亿卢比)。在此之前,这些资金在2014年减少了10%,降至18亿瑞士法郎,而2013年增长了43%,至20.3亿瑞士法郎。
The total assets of Swiss banks in India, however, fell by about 18 per cent in 2017 to CHF 3.2 billion in second consecutive year of decline. This does not include any tangible assets like real estate and properties.
然而,印度的瑞士银行总资产在2017年连续第二年下降,减少了约18%,至32亿瑞士法郎。其中并未包括有形资产,如不动产和房产。
印度时报读者的评论:
原创翻译:三泰虎 http://www.santaihu.com/45429.html 译者:Joyceliu
外文:https://timesofindia.indiatimes.com/business/india-business/money-of-indians-in-swiss-banks-rise-50-to-over-rs-7000-crore/articleshow/64781907.cms
Jeet
9895
jeet-13 hours ago
Utter failure of demonetization.
这说明了废钞令的彻底失败
Abhijet Singh
1301
Abhijet Singh-Dubai-13 hours ago-Follow
No one can bring back ever the captured BLACK MONEY.........we public are the actual fool as usual
没有人能把这些被发现黑钱拿回来……我们的公众还跟以往一样,都是真正的傻瓜
Santosh
1477
Santosh-13 hours ago-Follow
Instead of bringing back black money from Switzerland, Feku and team started depositing it
莫迪和团队不是把黑钱从瑞士拿回来,而是开始把钱存起来。
Welearnbydoing
2133
welearnbydoing-Delhi-13 hours ago-Follow
Do you think govt will take action ag inst rich friends,
In up coming ions govt will promise 30 lacs instead of 15 lacs and nothing will be given to public.
你觉得政府会对富人朋友采取行动吗?
选举在即,政府会承诺给300万,而非150万,但是最后公众什么都拿不到。
Vikas
3538
Vikas-New Delhi-11 hours ago-Follow
bjp is the only one earning nowdays. other parties have become beggars. lol.
印度人民党是目前唯一有收入的政党。其他政党都成乞丐了。哈哈
RJ KHURANA
522
RJ KHURANA-12 hours ago-Follow
It will be interesting to hear the explanation of the ruling Party.
听听执政党的解释,应该会很有趣。
Santosh
1477
Santosh-13 hours ago-Follow
Now in 2019 ions Feku will say 22.5 lakhs per person k account me daalenge,
在2019年的选举中,莫迪会说给每个人发225万卢比
Arrow
2025
Arrow-11 hours ago-Follow
PM promised to deposit 15 lakhs in 2014, now black money increased by 50%, so can we expect 22 lakhs.
总理2014年承诺发放150万卢比,现在黑钱增长了50%,我们也许也能拿到220万呢
Disque Chat
3380
Disque Chat-13 hours ago-Follow
So normal public suffered wrath of demonetization for no reason???? For whole year Indians couldn't buy vegetables, dowry, water, petrol etc due to demonetization. It is true people from streets are very crockand modi used his smartness to fraud the public. Regardless of if he wins or lose in 2019 modi and his gang made enough money to buy India 10 times.
因此,普通民众无缘无故地遭受了废钞令之苦?整整一年中,印度人因为废钞令无法购买蔬菜、嫁妆、水、汽油等。莫迪用他的小聪明来欺骗公众。不管他在2019年的选举中是赢是输,莫迪和他的团队都已经赚足了钱,可以把印度买下10次。
Our India
585
Our-13 hours ago-Follow
One more Failure. Feku is a born Failure.
又一个失败。莫迪是个天生的失败者。
Jiten
75
Jiten-13 hours ago-Follow
MODI ji Indians are still waiting for 15 lacs each Jo aapne promise Kiya tha, 15 lacs chodo black money is increasing day by day .
BJP govt completely failed in terms of black money.
I also ved for BJP now I think I did a big mistake, false promises.
莫迪,印度人仍在等着你兑现每人150万卢比的承诺,可黑钱每天都在增加。
人民党政府在处理黑钱方面彻底失败了。
我也投了人民党的票,现在我意识到我犯了一个大错,错误的承诺。
Sameer
3242
Sameer-Pune-12 hours ago-Follow
Surprise Surprise... on the Chowkidars watch the money goes abroad....... Lets blame Nehru
意外、惊喜…这些钱流向了海外,让我们指责尼赫鲁吧
Murli
201
Murli-13 hours ago-Follow
blame congress
应该谴责国大党
Varadarajan Sitarn
1944
Varadarajan-Mumbai, Maharashtra, Ind-13 hours ago-Follow
Hope Mody Saab is reading this. He came to power with a promise to bring all black money back. What now? Again he may promise and come back? wah 're wah..
希望莫迪能读到这个新闻。他上台时承诺要把所有的黑钱都追回来。现在呢?他还会承诺追回来吗?
Hopeless
880
Hopeless-10 hours ago-Follow
Indian govt knows where the money is and also where Nirav and Mallya are but whats the use?! Besides DeMo which was a disaster this govt has done nothing but killed all the small fishes and let the sharks escape.
印度政府知道钱在哪里,也知道尼拉夫和马尔雅在哪里,但这有什么用呢?这届政府什么也没做,只会对所有小鱼小虾下手,却让鲨鱼逃脱。
Bharat K
242
Bharat K-11 hours ago-Follow
The PM has to expn this and should be accountable! A miserable failure on all fronts! All rhetoric and no action!
PM必须做出解释,并且负起责任!在各个方面都是可悲的失败!全都是花言巧语,没有实际行动!
Basha Abdul
407
basha abdul-9 hours ago-Follow
Modi''s lies and deceit.No black money came.Instead white money too is going out as black.
全都是莫迪的谎言和欺骗。黑钱没追回来。相反,合规的资金也会像黑钱一样流出去。
Siddhu
53
Siddhu-11 hours ago-Follow
What MODI JI is doing ?? Still thinking how to bring this money from swiss banks ?
莫迪做了啥?还在考虑如何从瑞士银行追回这笔钱吗?
Jittu Mathew
36
Jittu Mathew-9 hours ago-Follow
Get ready Mitroooooo.... we will be credited 30Lac during 2019 ion ...
准备好 ....在2019年选举期间,我们会收到300万卢比哦……
The Game Changer
1285
The Game Changer-Mobai-9 hours ago-Follow
great, now Modi will promise that we will get 30 lakhs in our bank account in his next ion campaign...what a masterstroke
很好,现在莫迪会承诺在下次竞选中,我们的银行账户里会拿到300万卢比……真是个绝妙的主意啊
Tatya
9686
Tatya-11 hours ago-Follow
7000 crores is visible money... invisible money from Rafael deal, NiMo fraud, etc, etc... nobody knows how much has been loed under the BJP... but their leaders point fingers...
7000亿是看得见的钱……还有拉斐尔交易,欺诈等等看不见的资金呢……没有人知道在印度人民党执政期间有多少人被洗劫过。但是他们的领导人却推卸责任……
Dilbag Rai
7661
Dilbag Rai-Chandigarh-13 hours ago-Follow
Swiss banks are prospering on the revenue earned on the Black money deposited by foreigners .Shame for Switzerland to safeguard the illegal money
瑞士的银行靠这外国人存入的黑钱发家致富。真为瑞士保护非法资金而感到羞耻
Shakcrazy1
3859
shakcrazy1-8 hours ago-Follow
It took 70 years for Congress but BJP done just in four years. What a master stroke by Modi
国大党花了70年的时间,但印度人民党只用了4年。莫迪这一招真是高啊
G PAL
847
G PAL-9 hours ago-Follow
BJP supporters have parked money in Swiss banks for 2019 ions
印度人民党的支持者将资金存放在瑞士银行,为2019年的大选做准备
Kaliyan Vengadatthan
2315
Kaliyan Vengadatthan-10 hours ago-Follow
The worst economic offenders in the world reside in India.
世界上最严重的经济罪犯就住在印度。
Seonac Mikhail
306
Seonac Mikhail-9 hours ago-Follow
My first question is :How money went from india to switzerland under chowkidar''s watch?
Answer is:BJP actively support black money hoarders and allows them to transfer money.
我的第一个问题是:钱是如何在监管之下从印度流向瑞士的?
答案是:人民党积极地帮助黑钱囤积者,允许他们转移资金。
AamAdmi
2590
AamAdmi-9 hours ago-Follow
One favour to ask from all sensible Indians. Please send this guy back from Delhi to Vadnagar station where he can do chai pe charcha at his tea stall recounting how he had fooled 31 million people once.
通情达理的印度人有一个请求。请把这个家伙从德里送回到瓦德纳加尔站,在那里他可以在茶摊上煮奶茶,跟大家讲讲他曾经如何骗过3100万人。
Gentleman
14760
Gentleman-11 hours ago-Follow
This 50% belongs to businessmen who is supporting NDA or BJP.
这50%的增长来源于支持全国联盟或人民党的商人。
Satish Sharma
9143
Satish Sharma-11 hours ago-Follow
This shows the failure of Modi govt in dealing with black money parked in Swiss banks .They have done nothing in getting black money from Swiss banks.They should accept it.
这显示了莫迪政府在处理瑞士银行的黑钱问题上的失败。他们没有采取措施,从瑞士银行手里追回这些黑钱。他们应该接受这些钱。
Bharath Reddy
10212
Bharath Reddy-8 hours ago-Follow
BJP became the richest in India in just four years. And we thought corrupt Congress had money. BJP is richer than all the other parties combined.
印度人民党在短短4年内成为印度最富有的政党。我们一直觉得腐败的国大党有钱。现在人民党比其他所有党派加起来还要富有。