Hindi mother tongue of 44% in India, Bangla second most spoken
印地语作为母语占比为44%,孟加拉语尾随其后
NEW DELHI: The percentage of Indian population with Hindi as their mother tongue has risen to 43.63% from 41.03% in 2001, according to data on language released on Tuesday as part of Census 2011. Bengali remains the second most spoken language while Marathi has replaced Telugu in third place.
新德里:根据2011年人口普查星期二公布的语言数据,以印度语为母语的印度人口的比例从2001年的41.03%上升到43.63%。孟加拉语仍然是第二大口语,而马拉地语已经取代泰卢固语位居第三。
Sanskrit was the least spoken of the country's 22 scheduled languages. With just 24,821 persons listing it as their mother tongue, it was slotted below Bodo, Manipuri, Konkani and Dogri languages in terms of number of speakers.
梵语是该国22种语言中使用人数最少的语言,只有24,821人将其列为他们的母语,就使用人数而言,它在博多语、曼尼普尔语、孔卡尼语和多格拉语之后。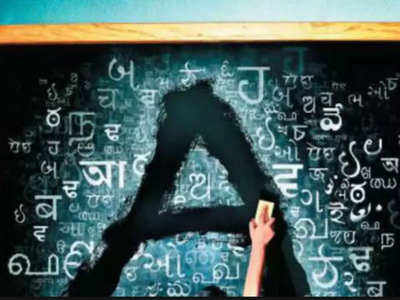 Among the unscheduled languages, around 2.6 lakh people listed English as their first spoken language in the 2011 census, of which 1.06 lakh were in Maharashtra. Tamil Nadu had the second highest number of people with English as their mother tongue, while Karnataka was a close third. Bhili/Bhilodi, spoken in Rajasthan, was the most spoken unscheduled language with 1.04 crore speakers, followed by Gondi with 29 lakh speakers.
在2011年人口普查中, 非常规语言中,约有26万人将英语列为他们的第一语言,其中10.6万人在马哈拉施特拉邦。以英语为母语的人数位居第二位的是泰米尔纳德邦,而卡纳塔克邦则排在第三位。在拉贾斯坦邦使用的必罗地语在非常规语言中使用人数最多,有一千零四十万人,其次是贡迪语有290万人。
While the percentage of people in India who listed Bengali as their mother tongue went up to 8.3% of the total population from 8.11% in the 2001 census, Marathi speakers as a percentage of the population grew from 6.99% in 2001 to 7.09% in 2011. Those returning Telugu as their mother tongue were down from 7.19% to 6.93%.
虽然印度将孟加拉语列为母语的人口比例从2001年人口普查的8.11%上升到总人口的8.3%,但马拉地语人口占比从2001年的6.99%上升到2011年的7.09%,以泰卢固语为母语的人从7.19%下降到6.93%。
Urdu was ranked seventh, down from the sixth slot it occupied in 2001. Urdu speakers were down to 4.34% of the population compared to 5.01% in 2001. Gujarati, with 4.74% speakers, replaced Urdu in the sixth spot.
乌尔都语排名第七,在2001年占据的第六位。乌尔都语使用人数从2001年的5.01%降至4.34%。第四名古杰拉特语以4.74%取代乌尔都语排名第六。
According to Census authorities, mother tongue is defined as the language spoken in childhood by the person's mother to the person or, where the mother has died in the person's infancy, the language mainly spoken in the person's household during childhood.
根据人口普查当局的说法,母语的定义是母亲在孩子的童年时代交流使用的语言,或者如果母亲过世,则是孩子童年期间家庭中使用的语言。
While 96.71% of the country's population returned one of the 22 scheduled languages as their mother tongue in the 2011 census, 3.29% returned other languages as their mother tongue.
尽管在2011年人口普查中,96.71%的该国人口将22种常规语言中的一种作为其母语,但仍有3.29%的人以其它语言作为母语。
印度时报读者的评论:
来源:三泰虎 http://www.santaihu.com/45397.html 译者:天一生水
外文:https://timesofindia.indiatimes.com/india/hindi-mother-tongue-of-44-in-india-bangla-second-most-spoken/articleshow/64755458.cms
Sambha Slayer
BIMARUs have no concept of family planning and the Bong data reflects illegal immigration
印度北方四邦没有家庭计划,这些数据反应出非法移民
Mikallan N
With illegal Bangladeshis and so called Rohingas drop babies twice a year nothing to be surprised. These fellows have already infiltrated all parts of the country.
由于非法孟加拉人和每两年罗兴亚人婴儿出生率降低,没什么好奇怪的。这些人已经渗透到全国各个地区。
Robin Fernando
Thanks to mamta didi for bringing in lots of bangladeshi illegally to ve, Bangla is number 2 !
感谢mamta didi,带了那么多非法孟加拉人参加投票,孟加拉排第二!
Human Being
And this 44% people want to enforce Hindi all over India !
这44%的人想在全印度强化印地语!
Gopal Banerjee
Bangali Zindabaad
孟加拉人万岁
Bi Patil
Bengali language increase ....... because of Begaum Mta imported Bangladeshi Mus m import
孟加拉语人数增加……因为Begaum Mta弄了很从孟加拉人进来
Alex Mothila
Hindi, what a funny uncultured language! Chair is female & table male!
印地语,多可笑,多原始的一门语言!椅子是女性,桌子是男性!
Queen Of Delhi
south Indian mother tongue as English wtf! do they know what mother tongue even means
南印度母语是英语!我勒个去!他们知道母语是什么意思吗
Abc
slowly hindi is going to gulp all non-hindi speaking states because of their high population explosion.
由于人口激增,印地语慢慢会吞噬所有非印地语的地区。
Mohit Aneja
No water to drink no fresh air and they are counting language speakers..... vedic india is dead so no sanskrit
没有水喝,没有干净的空气,他们却在这计算语言使用人数…吠陀印度和梵文都消失了
Siva K
Only 44% .so it is in min ity.
只有44%。所以只是少数了。
Jai Shri Ram
Bengali is 2nd...thanks to imported Bangladeshis.
孟加拉第二……感谢涌入的孟加拉人。
ONE LINER Challenge
What a Fall for SANSKRIT-A Language that built India Morally is becoming extinct.If India has to be UNIFIED- Language is the Biggest Barrier-BRING BACK SANSKRIT TO BIND INDIA-
代表印度精神的梵语正在消失。如果印度想要统一,语言是最大的障碍-把梵语请回,让印度团结起来
Anupam Manda
Hindi Hindu Hindustan... Rest all God''s grace.
印度语 印度人 印度都是上帝的恩赐。
Maneesh Agrawa
All these stats create rift nothing else. What is the use of these kind of census? Efforts should be put towards educating people in whatever language they prefer.
这些数据只会造成。这样的普查用途是什么?应该努力教授人们喜欢的语言。
Rohan
In other words, majority of Indians do not speak Hindi !
换句话说,大多数印度人不会说印地语!
Amit Sharma
Bangladeshis number 1 in Gurgaon
古尔岗的孟加拉人最多
Narendra Bahubali
This will definitely Offend Tamil people as they think their is richest Language and it's widely spoken. Atleast Second spot they would have expected.
You know Tamil Culturam.
这一定会激怒坦米尔人民,他们认为自己的语言排第一位,使用人数最多。或者至少在第二。
你知道坦米尔的文化。
Disque Chat
Hindi will replace all languages in India very soon. Everyone in India speaks or at least understand hindi but no hindi/punjabi speaker understands other Chadi languages of India. This is all due to Mus m influence in India that hindi today is majorly language of India due to Urdu being Mus ms mother tongue.
印地语不久会取代所有的语言。每个印度人说或者至少听的懂印地语,而不是印度的其它语言。这取决于在印度的影响。印地语在今天是印度最主要的语言正是因为乌尔都语是的母语。
Ramesh Babu
Ban hindi. Because It is similar to pak urdu when spoken. Any comments north Indian bhakts?
禁用印地语。因为它和乌尔都语太像了。北印度的爱国者们,有意见吗?
Prempropdna Singh
Our great GANDHI wanted Urdu script ( Hindustani) as national language to appease Mus ms. Thanks to Rajendra prasad Jayakara ,Shyprasad Mukerjee to create heavy ag inst making Hindustani language ( Urdu) as national language.
伟大的甘地希望姿势乌尔都语(印度斯坦语)作为国家的语言来讨好。感谢Rajendra prasad Jayakara ,Shyprasad
Mukerjee
Makkhesh
强烈反对将印度斯坦语(乌尔都语)作为国家语言。
Warning Bangla katmullas growing more. Gift by Mamta Begum...
警告:孟加拉人一直在增长。是Mamta Begum送来的『礼物』
Zubair Ahmed
Hindi lingual breeding like Rats.
印度语的『繁殖』像老鼠一样。
Indian
Bhakt logic in below comments state that rise of Bengali speaking people from 8.15 to 8.3 percentage is due to influx of Bangladeshis. So how do you account for the growth in Hindi and Marathi speaking people? It's a normal thing called population growth, you stupids.
以下评论说孟加拉语使用人数从百分8.15到8.3是因为孟加拉人的大量涌入。所以怎么能计算使用印度语和马拉地语的增长人数?这就是纯粹的人口增长,真愚蠢。