6 countries, 12 months, Rs 26 lakh spent: Journey of an illegal migrant
辗转6国历时12个月,花费260万卢比:一个非法移民的旅程
HIGHLIGHTS
Manpreet, who is from a farming family in Punjab, decided to go abroad just because his relatives were there
Not to be left behind, his family took loans, found an agent, and arranged Rs 26 lakh to fund his trip
But problems arose when agents tried to smuggle him into the US
曼普雷特来自旁遮普的一个农业家庭,决定出国仅仅是因为他的亲戚们已经出国了。
为了不落伍,他和家人申请了贷款,找好中介,并安排好了260万卢比的路费。
但当中介试图将他偷渡到美国时,问题就来了。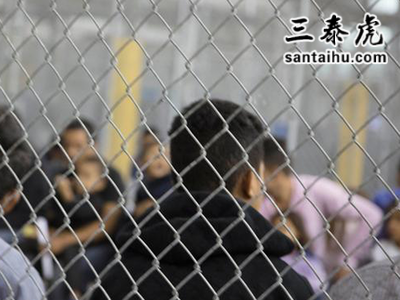 A man goes to the moon, believing he's making history. When he lands, he finds that two Punjabis have beaten him to it. "How did you get here," the flummoxed lunar explorer asks. "Ohji, what do we know, an agent dropped us here," one of them says.
This is an old joke but it reflects the very real Punjabi desire to find a way — any way, no matter how expensive, circuitous or dangerous — to the west. Manpreet Singh, 30, is aware of what it takes to risk everything to make it to the US and the reports from El Paso — in the news for a tent holding children separated from their parents under US Presi nt Donald Trump's zero-tolerance migration policy bring back horrific memories of the time he spent in a detention centre there.
一个登上月球的人,以为自己马上就要创造历史了。但当他着陆时,发现有两个旁遮普人已经抢先一步了。这个困惑的"探月者"问到:"你们是怎么到这儿来的?" "我们也不知道,一个中介把我们丢在这里,"其中一个回答说。
这是一个古老的笑话,但它反映了旁遮普人真实渴望找到一条通往西方的道路——无论花费多少、不管这条路有多么曲折或危险。30岁的曼普雷特.辛格清楚不惜一切去到美国需要承担的风险。厄尔巴索传出的新闻报道,在美国总统特朗普的"零容忍移民政策"下,儿童被安置在帐篷内被迫与父母分开,这让曼普雷特回想起在拘留中心度过的那段可怕时光。
Manpreet, who is from a farming family in a village in Hoshiarpur district, decided to go abroad just because his relatives were there, and he wanted to return with money to flash. Not to be left behind, his family took loans, found an agent, and arranged Rs 26 lakh to fund his trip.
曼普雷特来自霍西亚普区的一个农村家庭,他决定出国仅仅是因为他的亲戚们都出国了,他也想出国然后带着钱回来炫耀一下。为了不落伍,他和家人申请了贷款,找好中介,并安排好了260万卢比的路费。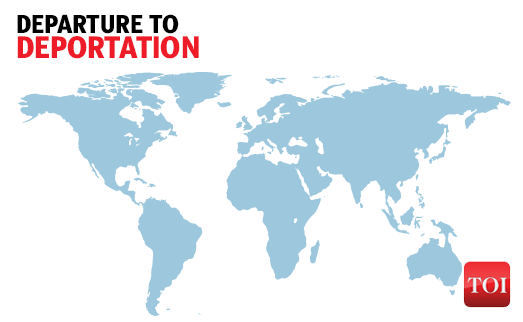 In the summer of 2014, Manpreet flew from Dubai to Russia before being taken to Ecuador. "There was some problem in their plan to smuggle us further and they made us stay there for two months. The wait was unbearable," he says. But the uncertainty of waiting was something he'd have to get used to over the next few months. From Ecuador, the group, which included 30 people from Punjab, was flown to Guatem where they spent nights in a forest.
2014年夏天,曼普雷特从迪拜飞往俄罗斯,然后被带到厄瓜多尔。"把我们偷渡到下个地方的计划出了点麻烦,他们就让我们在厄瓜多尔待了两个月。等待是种煎熬"他说道。但在接下来的几个月里,他不得不习惯这种不确定的等待。来自旁遮普的30个人组成的小团队又从厄瓜多尔飞往了危地马拉,在那里他们在森林里过了几夜。
Some of the travel to Meco was done in vehicles, but for the last two hours, the group went on foot to avoid border patrols and enter Meco, the last stop before the crossing into the US.
前往墨西哥的部分行程他们是坐汽车,但在最后两个小时,为了避开边境巡逻,他们步行进入了墨西哥。这是进入美国之前的最后一站。
In Meco, the group split up and Manpreet ended up in the home of a local policeman, which was a safe house for illegal immigrants. "The house was locked from the outside so that neighbours and authorities wouldn't know that there were occupants," he says. People from different countries but with the same dream wound up at the safe house, sometimes for a night, often for longer.
在墨西哥,这个团队便分道扬镳了。曼普雷特最后住进了当地一名警察的家中,对非法移民来说是个安全的住所。他说:"房子从外面锁上了,这样邻居和当局就不会知道里面有人住。"来自不同国家、但有着相同梦想的人紧张兴奋地待在这个安全的屋子里,有时住一晚,但通常住得更长。
For a month and a half, Manpreet did not see daylight or draw a fresh breath as going outdoors was out of the question. There were no beds, and they slept 10 to a room. Food and other essentials were brought twice a day. A vegetarian, Manpreet was forced to start eating eggs when he could not get vegetables. Through it all, his hope never flagged.
One morning it was time. "We were taken separately to cross the border to Texas," he says. But police pulled him aside. "I had no documents. I was questioned, then body-searched," he says. As he was bundled in to a detention centre, Manpreet could feel the heaviness of a dream lost. Nine months later, in July 2015, he was deported to India.
在一个半月的时间里,曼普雷特没有见到过光,也没有呼吸新鲜空气,因为想出门是不可能的。房间里没有床,10个人住一间。食物和其他必需品,一天送两次。作为一个素食主义者,曼普雷特在没蔬菜吃的时候被迫开始吃鸡蛋。尽管如此,他依然抱着希望。
一天早上,终于到时候了。他说:"我们被单独带到德克萨斯州边境。但是警察把他拉到一边。""因为没有文件,我被询问,然后又被搜身。当被关进拘留所时,曼普雷特感受到失去梦想的沉重感。9个月后,在2015年7月,他被驱逐出境,回到了印度。
Manpreet has no plans to try again, but his travails did not deter his elder brother from using the same agent and a similar route a year later. He is now in the US living the American dream.
Deport
曼普雷特没有再次尝试的计划,但他的痛苦经历并没有阻止他哥哥在一年后通过同一家中介和类似的路线去到美国。他哥哥现在在美国过着"美国梦"式的生活。
Name changed to prect identity
为保护个人身份,文中名字为化名。
印度时报读者评论:
来源:http://www.santaihu.com/45374.html
外文:https://timesofindia.indiatimes.com
Col Avner Mueller-Israel-40 mins ago
Being a dual American / Israeli who now lives in Israel (born in America), I find it so interesting to think that you Indians would be so keen to move out of India. Being a proud Jew and Israeli, I could never think of moving back to the U.S. The pride I feel in being a Jew in Israel is something I can never feel in being a Jew in America. In addition, I wanted to use my skills to make Israel a better place to live. What I see in you Indians is a trend to make other countries better, abandoning India in the process. Don''t get me wrong, I do understand the challenges of living in India, but y''all Indians can overcome the same and work hard to make India like the U.S., can y''all not? Just wondering.
作为一个生活在以色列(出生在美国)具有美国和以色列双重国籍的人,我觉得很有趣的是,你们印度人会如此渴望离开印度。作为一个自豪的犹太人和以色列人,我从来没有想过要回到美国。我能感受作为一个犹太人住在以色列的那种自豪,但在美国却永远感受不到。另外,我想用我的一技之长让以色列成为一个更好的地方。我在你们印度人身上看到的是一种想让其他国家变得更好的倾向,在这个过程中你们抛弃了印度。别误解我的意思,我确实理解在印度生活的难处,但是你们所有印度人可以一起克服这些困难、努力让印度成为美国一样的国家,难道你们做不到?
Max Kulkarni-delhi-43 mins ago
They had 52 lakhs and yet desperate to migrate? So it is not of poverty or the sy em but their own personal ego. What a shame
他们都有520万卢比了,还那么不顾一切要移民?所以这不是贫穷或体制的问题,而是他们自己的个人意识问题。真丢脸!
MAGNIFICENT BIHARi-47 mins ago
How fun***information crazy these Punjabis are to go abroad.in their home state These same guys abuse migrants from UP and Bihar calling them all sorts of names .What a height of hypocrisy.
这些旁遮普人要出国,还真是挺有趣的消息啊。在他们那个邦,这些人虐待来自上北方邦和比哈尔邦的移民,用各种各样的名字称呼他们。太虚伪了!
ANC-52 mins ago
Crazyyyyy and his brother still went anyway after knowing the risks , these animals deserve what they get, you can achieve much more in bharat with this level of dedication and seed funds dude , wake up
太疯狂了,他哥明知道有这些风险还是去了,这些畜生真是活该。在印度能这么拼的话,他们会得到更多,醒醒吧。
1 BAR DANCER 1 FOOL-1 hour ago
Who would not want to leave trash and poverty and shift to heaven where there is no dust and no pollution. Try an experiment. Give control of canada to the italian bar dancer and her charsi son (who only skills are to inhale charas and visit prostitutes in bangkok). Then within few years canada will become a living hell and canadians will start moving to bharat illegally.
谁不想摆脱垃圾和贫穷,走向没有灰尘和污染的天堂。做个实验,让索尼娅甘地和她儿子拉胡尔去统治加拿大(拉胡尔的唯一特长就是吸大麻和去曼谷嫖妓)。几年后,加拿大将变成人间地狱,加拿大人将开始非法移民到印度。
Kajriwal Satywadi-34 mins ago
Its all beacuse of dalit .. no general catageory guy get job .. reservation and co ption is main reason .
都是因为达利特,一般人都找不到工作。预留制和腐败问题是主要原因。
Ekdesi-USA-1 hour ago
We used to crack another joke. When Neil Armstrong landed on the moon, he saw a tea stall. A Nayar greeted him and offered tea.
我们过去常开另一个玩笑。当尼尔·阿姆斯特朗登上月球时,他看到了一个茶摊。一位纳亚尔人(印度南部的)迎了上来,并端上了茶。
Narasarao-Hyd-1 hour ago
With 26 lakhs in his hand, he could have done any good business in India and prospered.
他手里有260万卢比,在印度可以做任何好买卖而且会生意兴隆。
Dean M1-traveller-1 hour ago
why you want to migrate? India provides every opportunity to the deserving. the thing made you migrate is " thought it is better to become to tail of lion than head of s cat!!
为什么要移民?有能力的人在印度什么机会没有。让你移民的想法就是"宁做凤尾不当鸡头"。
Nirvana Nature-41 mins ago
When, i was living in Switzerland and was taking a flight back to India, i seen a Sikh boy wee in departure lounge! He told me, he is being deported back to India, he said the same story of loan and brought by an agent till Switzerland on a false visa ! In plane, i set next to him to console, he said, he is from Jndhar and had no money to take even a bus or train back home from Delhi ! I gave him a thousand Rupees so he can reach home ! This is the daily story of specially youth of Punjab getting in trap of loan and then being deported back to India!
我住在瑞士,有次坐飞机回印度时,看到一个锡克教男孩在候机室哭泣!他告诉我,他正要被遣返回印度,他同样也是贷了款,通过一个中介拿着假签证到瑞士!在飞机上,我坐在他旁边安慰他。他说,他来自贾朗达尔市,甚至都没钱从德里坐公共汽车或火车回家!我给了他一千卢比,让他可以回家!在旁遮普这是很平常的事,特别是旁遮普年轻人陷入贷款陷阱,然后被驱逐回印度!
Valen Hick-Location-6 mins ago
You will be surprised that most of the time these migrants are actually quite well off. They sell off their house and businesses and leave their peaceful towns with feelings of insecurity and hopelessness. And so eager to leave it all and join their sister and settled brothers in law. They leave all their loved ones behind and go for obscure lives never to return. Perhaps too embarrassed to return home and face all those they left behind. Unless they were rich Congress po iticians who get to enjoy expensive lifestyle with their co ption money stashed in shell accounts.
你会惊讶,这些移民其实大多都很富有,他们卖掉了自己的房子和生意,带着不安和绝望的感觉离开了自己宁静的城镇,迫不及待地要离开这一切,去投靠他们已经在那定居的姐姐姐夫。他们把自己所爱的人抛诸脑后,追求默默无闻的生活,而且永远不再回头。也许因为太过尴尬而不能回来面对那些被他们抛弃的人。除非他们是富有的国大党政客,才能拿着*腐败的钱,享受昂贵的生活方式。
Naveen Sharma-New Delhi-21 mins ago
People ready to spent 52L to just adventure...and still our sy em calls them poor farmer...yes...lots of subsidies are still their in Punjab as well...people who have money and can do something here in India are actually desperate to leave country.....then what can you expect from people who are busy in earning two times meals? They can''t change India....i really geel pitty on such mentality !!
花520万卢比去冒险移民……我们这制度下还称他们是可怜的农民…在旁遮普他们还能拿到很多补贴……在印度,有钱又能做出点什么事的人实际上是非常渴望离开这个国家的……对于那些忙于糊口的人,你能指望他们什么呢?他们是无法改变印度的....真心同情这种心态!!
Smoking Kills Weed Doesnt-Weed Republic of India-1 hour ago
Heart wrenching... It's not only about India, the whole of Europe is suffering from migrant refugee crisis. South and central America are even worse when it comes to migrant crisis.
揪心啊…不仅仅是印度,整个欧洲都在遭受移民难民危机。在移民危机方面,美国南部和中部的情况更糟。
Nathan K-1 hour ago
All OECD wealthy countries should send back all refugees, invade and restore order under UN administration, so that people smuggling and refugee seeking asylum dont gives excuses on the pretext of poverty and perse tion. India should send back all the Rohingyas back to Myanmar as they have agreed to back their citizens.
所有经合组织的富裕国家都应该遣返所有难民,在联合国的管理下恢复秩序,这样偷渡客和寻求庇护的难民就不能以贫穷和为借口寻求庇护。印度应该把所有罗兴亚人送回缅甸,因为他们已经同意支持本国公民。
Zubair Ahmed-1 hour ago
Nobody wants to live in India but migration should be legal.
虽然没人愿意待在印度,但是移民应该通过合法的途径。
A Singh-1 hour ago
Spend the same money in education and acquired the required skills then go legally to any country. If one doesnâ t have skills then learn to manage your finance. A Bollywood film â Kafilaaâ was produced somewhere in 2007, highlighting exactly the same illegal immigration racket.
把这些钱花在教育和学习技能上,然后合法地去任何国家。如果一个人没有技能,那就学学理财。2007年在某地制作的一部宝莱坞电影《A Kafilaaa》,重点讲述了跟文中完全一样的非法移民勾当。
The Final Word-1 hour ago -w
Foolish fellow
愚蠢的家伙
Anthony D##Apos##Souza-2 mins ago
"Don't copy the behavior and customs of this world, but let God transform you into a new person by changing the way you think. Then you will learn to know God's will for you, which is good and pleasing and perfect."
- ‭‭Romans‬ ‭
"不要效法这个世界,让上帝通过改变你的思考问题的方式来改变你,叫你们察验何为上帝的善良、悦纳、纯全的旨意"——《罗马书》(《圣经·新约》中的一卷)
Save India-4 mins ago
with this much money he could have started a good business and would have got thousand times better life than illegal immigrants... they do all types of work there and do chest thum in villages.... they can't open tea shop in India but can clean toilets abroad...
有这么多钱,他本来可以做生意,过上比非法移民好上一千倍的生活……在国外他们什么样的工作都得干,在这儿的村子里他们可以夸夸其谈....他们不愿在印度开茶馆,却宁愿到国外清洗厕所…
Logical Thinker-Sweden-5 mins ago
illegal entry should not be encouraged.
不应提倡非法入境。
Mahesh Swaroopan -chennai-6 mins ago
Indians are hopeless and want to et India and reach any other nation. India''s vebank po itics means Dalits and Mus ms get all benefits while rest have to fight like animals to survive.
In coming days, more Dalots and Mus ms produce 6 kids per person and will take India to 3 billion population by 2050. It will be so dangerous a place, that even airports will look like fish market.
印度人绝望了,想要离开印度,去其他任何国家。印度的选票银行政治意味着达利特和都能得到好处,而其他人则必须像动物一样战斗才能生存。
在未来的日子里,更多的达洛人和的人均生育将达到6个孩子,这样到2050印度人口将达到30亿。印度将变成一个非常危险的地方,连机场看起来都像鱼市。
Chourey-Bengaluru-8 mins ago
Now Pappu will say farmers are dying and see this farmer have 52 L which common duty person cannot get in his whole life.
现在拉胡尔会说农民们都快没了。看到这个农民有520万卢比,这可是普通人一辈子都赚不到的。
Vinay Singal-Pune,-15 mins ago
try try again
他可以再尝试一次
WKR85 Wkr-31 mins ago -Follow
he would have made it to Canada
他要是去加拿大的话,说不定就成功了。
Sameer Sameer-34 mins ago
WTF. spent 26 lakh.
居然花了260万卢比
Gurukripa-49 mins ago
how much of people's money was spent by feku?
莫迪花了大家多少血汗钱?
Bharat-50 mins ago
This is the reality here, most of the people (youngsters) wants to go abroad and people who can not go on study or legal basis they try other routes of GULF or Illegal migration. There are reassons for it - farming is in bad situation, un-employment and door k dhole suhavane lagte hai.
这就是印度的真实情况,大多数人(年轻人)都想出国,那些不能以出国学习或合法途径出国的人则会尝试其他非法移民途径。导致这一问题的原因包括——农业不景气,就业机会减少等等
Mangal Mangal-Chinnai-1 hour ago
I think agent was not . Normally they take them to east Europe. From there during peak hrs they take them on counter fit visa to Pan , from there by boat they cross in USA. They r housed in some Gurdwara they survive on free lungar till they get some job.
我认为中介做得不对。正常应该带他们去东欧,从那里,再带着他们在高峰时段拿着假签证去巴拿马,之后再坐船去美国。在那他们得住谒师所(印度锡克教徒的礼拜场所),靠免费的午餐生活直到找到工作。
Rajju-1 hour ago
Why india is not finding and punish the agents who take large sums of black money from innocent people dreaming for easy road to success ..Find the agent and take legal l action on thsee unscrupulous agents
为什么印度没有抓到并惩罚那些中介,他们从那些梦想走捷径的无辜者身上赚了大笔的黑钱?找到这些无良中介并对他们采取法律行动
Tara Chand-New Delhi-1 hour ago
Cheats have no heart.They want money let other rot in jails.These agent must be
骗子没有一点同情心。他们为了赚钱,让其他的人在监狱里自生自灭。这些中介必须受到惩罚。
Balbhadra Dhagat-Bhopal-1 hour ago
Illegal migration is as much nuisence to the US, as is plastic-waste to India. But unlike Indians, US citizens are alive to the nuisence.
非法移民给美国添的麻烦,不亚于塑料垃圾给印度带来的困扰。和印度人不同的是,美国公民对此太过敏感。
Sarada P Sntaray-Mumbai-1 hour ago
at the same time they spoil India's reputation for ever.
同时,他们也坏了印度的名声。