India's exports hit six-month high of $28.86 billion in May
印度5月出口288.6亿美元,创6个月的新高
NEW DELHI: India's exports grew 20.18 per cent to $28.86 billion in May -- the highest in six months, even though the trade deficit widened to a four month high of $14.62 billion.
Imports too rose by 14.85 per cent to $43.48 billion during the month, according to the data released by the commerce ministry.
The previous high growth of exports was recorded at 30.55 per cent in November 2017.
Similarly, in January this year, the trade deficit was at $16.28 billion.
印度5月出口增加20.18%,达到288.6亿美元,创下6个月来的新高,不过印度贸易赤字也膨胀到146.2亿美元,达4个月的最高。
根据印度商务部发布的数据,印度5月进口增加14.85%,达到434.8亿美元。
今年1月份的贸易赤字为162.8亿美元。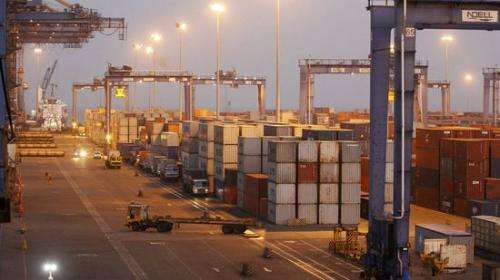 印度时报读者的评论:
来源:http://www.santaihu.com/45290.html
外文:https://timesofindia.indiatimes.com
GulamHunter
4992
GulamHunter - 12 hours ago -Follow
Where are all italian boot lickers are hiding?
Reply 8 2 Flag

那些向意大利人献谄媚的人躲到哪里去了?
No Name
2423
No - 13 hours ago

Now no one will comment on this, Huh?
Reply 8 0 Flag

还没有人评论?
Mco Eugn
609
Mco Eugn - 12 hours ago -Follow

Finally the country is moving to industrial economy from agro based, thanks to Namo, wish we hadn''t lost ten years with waitress rule post Atal era. Hope we don''t go back to similar situation again
Reply 5 2 Flag

这个国家终于从农业经济向工业经济转变了。多亏了莫迪。要是我们没有失去那十年就好了。希望我们别再回到以前那种局面了
Anonymous
Anonymous - bangalore - 5 hours ago -Follow

29 billion a month worth of export and still we are in trade deficit.. we need to seriously curb on gold and gasoline consumption.
Reply 3 0 Flag

一个月出口290亿美元,我们的贸易还是赤字。看来得严格控制黄金和汽油消费了
Souvik Ghosh Dastidar
20353
Souvik - Kolkata - 8 hours ago -Follow

Clearly show our export has risen in outsourcing (IT, Automobile, Chemical, Pharmaceutical etc which are manufactured/processed at low cost here by big MNCs). And indigenous sector is clearly on the back foot be it gems and jewelry, textiles, handicraft. Widening of income inequality with some blips of prosperity and overall suppressed economy and joblessness is where we are heading.
Reply 3 0 Flag

显然我们的出口增加了,比如IT业,汽车业、化工、制药等。

本土产业处于不利境地,比如珠宝业、纺织业、手工艺品等

人们的收入差距越来越大
Nrindianguy
7757
Nrindianguy - New York - 11 hours ago -Follow

Fall in rupee helped to increase exports but trade deficit still record high. If the rupee increased to 60 a dollar like some clamor here for, exports will take nosedive resulting in even higher trade deficit. Pak, Nepal and Lankan rupee all over 100 to a dollar.
Reply 2 1 Flag

卢比贬值了,推动出口的增加,不过贸易赤字仍然高。

卢比要是升值到60卢比兑换1美元,出口就会暴跌,贸易赤字将会进一步增加。

巴基斯坦、尼泊尔和斯里兰卡,都是100多卢比兑换1美元
lallalallalord Lalla
1963
Lallalallalord Lalla - 23 mins ago -Follow

Please cut all the trees and let there be no oxygen to breathe... i would love to see that in the name of industrialization ....
Please increase the gllobal temperature and kill all the innocent animals ... i would love to see that ...
please pollute the oceans, river and seas ... i would love to see that ...
you destructive assshole humans ...
Reply 0 0 Flag

砍光所有的树木,到时候就没有氧气了...我乐意看到有人打着工业化的幌子去这样做

促进全球气候变暖,让无辜动物纷纷灭绝...这是我乐意看到的

污染海洋、河流和湖泊,这些也是我乐见的
Smoking Kills Weed Doesnt
2648
Smoking Kills Weed - Weed Republic of India - 42 mins ago -Follow

The trade deficit is gonna remain forever as we import petroleum. Yes the curb on Gold imports could help narrow the gap but still deficit is gonna remain.
Reply 0 0 Flag

只要我们不停地进口石油,贸易赤字就会永远存在。遏制黄金进口是可以缩小赤字,不过收效甚微