Rampant Russia pummel Saudi Arabia 5-0 in World Cup opener
疯狂的俄罗斯在世界杯揭幕战中以5-0横扫沙特
MOSCOW: Denis Cheryshev struck twice for Russia as the World Cup hosts thumped Saudi Arabia 5-0 in the opening match of the tournament in Moscow on Thursday.
莫斯科:本周四在莫斯科举行的世界杯揭幕战中,丹尼斯·切尔舍夫为俄罗斯攻入两球,世界杯东道主在比赛中以5比0横扫沙特阿拉伯。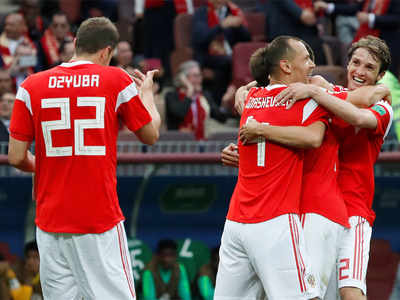 Iury Gazinsky scored after 12 minutes and Cheryshev added a second before the break after coming on as an injury replacement for Alan Dzagoev.
加辛斯基在开场后12分钟后踢进一球,切里舍夫在中场休息前又进了一球。
Artem Dzuyba netted a third before terrific late efforts from Cheryshev and Aleksandr Golovin wrapped up Russia's first win since October to launch their Group A campaign in style.
俄罗斯人阿尔特姆·久巴攻入了第三球,随后切里舍夫和亚历山大·戈洛文在终场前凭借出色的努力为俄罗斯拿下了自去年10月以来的首次胜利。
Russia headed into the curtainraiser at the 80,000-capacity Luzhniki, the crucible of Russian and Soviet sport, without a victory in over eight months and ranked a lowly 70th in the world.
俄罗斯队在能容纳8万名观众的卢日尼基足球场拉开了世界杯的比赛序幕。俄罗斯队在长达8个多月的时间里未曾取得过一场胜利,在世界排名中仅排在第70位。
For Saudi Arabia it was a return to the global showpiece for the first time in 12 years, with their only previous finals wins at the 1994 World Cup.
对沙特来说,这是他们12年来首次重返世界舞台,他们在1994年世界杯中仅踢赢一场比赛。
Only South Africa, in 2010, have failed to advance from the group stage as the host nation and a seven-match winless run had ramped up the pressure on Stanislav Cherchesov's side.
目前仅有南非作为东道主未能在2010年的小组赛中出线,七场连败的结果给切尔舍夫的球队施加了更大的压力。
A lack of an attacking threat in recent outings was a primary concern for Russia going into a group campaign in which they will also face Egypt and Uruguay.
在最近的比赛中,俄罗斯主要的问题在于缺乏进攻威胁,他们还将面对埃及和乌拉圭。
The opening goal came soon after, as Saudi Arabia failed to clear a corner and a curling cross in from the left by Golovin picked out an unmarked Gazinsky to head low into the far corner.
开场后不久,戈洛文从左侧传中,加辛斯基头槌破门。
It was a goal that prompted Russian Presi nt Vladimir Putin to turn to the Saudi crown prince Mohammed bin Salman, seated alongside FIFA chief Gianni Infantino, and shake his hand.
这个进球使得俄罗斯总统弗拉基米尔•普京转向与国际足联主席詹尼•因凡蒂诺同坐的沙特王储穆罕默德•本•萨勒曼,并与他握手。
Russia lost Dzagoev to a hamstring injury midway through the first half, the CSKA Moscow midfielder clutching his hamstring as he crumpled to the turf.
上半场中段,俄罗斯队扎戈耶夫因脚筋受伤下场,这位莫斯科中央陆军队的中场球员紧紧抓住大腿后侧,倒在草地上。
But his replacement, former Real Madrid winger Cheryshev, celebrated his recent recall to the national side with Russia's second goal two minutes before half-time. Cheryshev was still left with plenty of work to do inside the area after a pass from Roman Zobnin, brilliantly flicking the ball past two closing defenders before rifling into the roof of the net.
但是他的替换队员,前皇家马德里边锋切里舍夫,在半场前两分钟用俄罗斯的第二个进球庆祝了他的回归。切里舍夫获得罗曼·佐布宁的传球后,在禁区内漂亮地将球闪过两名近身防守球员,球飞入球门顶部。
Saudi briefly threatened early in the second half when an inviting cross in from the skipped just beyond the reach of Taiseer Al-Jassam.
下半场开场阶段,沙特曾发起过短暂的进攻,右路一个出色的传球越过了塔西埃尔-贾萨姆的控制范围。
Russia then nearly grabbed a third when Abdullah Al-Muaiouf spilled a low drive from Roman Zobnin, the Saudi goalkeeper recovering just time in time to nudge the ball away from Smolov.
随后,沙特队门将阿卜杜拉·阿尔-马约夫将罗曼·佐布宁的低射球扑出后立即归位,将球从斯莫洛夫处推开,俄罗斯队险些射入第三个进球。
The forward was soon replaced by Dzyuba, who struck almost immediately by heading another Golovin cross beyond a helpless Muaiouf in the 71st minute. Cheryshev hammered in a fourth with the outside of his left in stoppage time and Golovin capped a magnificent performance by bending in a last-gasp free-kick.
这名前锋很快被久巴换下,久巴上场后几乎立即进球。第71分钟,戈洛文传中,久巴头球越过无助的马约夫,头槌破门。切里舍夫在伤停补时阶段用左脚外脚背射门打进第四球,随后戈洛文用一记精准的任意球破门,完成了精彩的表演。
Russia meet Egypt in their next match on June 19 in Saint Petersburg, while Saudi Arabia will look to rebound ag inst group favourites Rostov-on-Don a day later.
俄罗斯将于6月19日在圣彼得堡对战埃及,而沙特阿拉伯则将在一天后在罗斯托夫对阵小组热门球队。
印度时报读者的评论:
来源:http://www.santaihu.com/45282.html
P S G
15732
P S G-10 hours ago
Terror sponsor washed out in the first match
活动赞助商在第一场比赛中就被横扫了
Dasdeebee
3581
dasdeebee-10 hours ago-Follow
OMG! Russia just hammered the daylights as well as the nightlights out of a terrible Saudi Arabian football team. 5 - 0, simply unbelievable!
我的天!俄罗斯刚刚把糟糕的沙特足球队打得天昏地暗。5比0,简直难以置信!
Krk
864
Krk-delhi-10 hours ago-Follow
Saudis probably on fast today.
沙特人可能今天禁食斋戒了。
Abhishek Abhishek-Delhi-10 hours ago
Looks like the World Cup is already over for Saudi Arabia....a comeback would be a miracle
貌似对沙特阿拉伯来说世界杯已经结束了....要翻盘恐怕得有奇迹
Final Thought
9399
Dilip Rathod-8 hours ago-Follow
Well begun is half done, congrats Russia.
俄罗斯,良好的开端是成功的一半。
Shudeen Adam
707
Shudeen-9 hours ago-Follow
Look at some people here trolling saudi... They must have not played football in their life... U funny people as long as you are there it is a good entertainment reading ur stupid comments
看看,这里有些人对沙特风言风语的……他们这辈子肯定没踢过足球…只要你们这些搞笑的人在,翻看你们的愚蠢留言就是种娱乐。
Shiva Subrnian
7578
Shiva-Others-9 hours ago-Follow
If Saudis would have played with their traditional dress, easily they would have defeated Russia better than 5-0 margin.
如果沙特人能穿着他们的传统服装踢球,他们能很轻松地以比5:0还高的比分打败俄罗斯。
Anil Dharan
9851
Anil Dharan-New Delhi-10 hours ago-Follow
I would say that SA lost to Russia rather than Russia beat SA. Very poor performance by S. Arabia....disgraced all Asian Teams.
我想说是沙特输给了俄罗斯,而非俄罗斯打败了沙特。沙特的表现真的很差,给所有的亚洲球队丢脸了。
Vijay Raghavan
2804
Vijay Raghavan-8 hours ago-Follow
It was like India ag inst Afghanistan on the first day of test. I pity the poor observers of fast. They must have been weakened so much from lack of food that they could not bring their A game to the table.
这就像印度第一天对战阿富汗时一样。我同情那些可怜的斋戒禁食的人。他们一定是因为吃得太少而体力不支
Guest
85
Guest-9 hours ago-Follow
5-0 what a match!! Good for Team Russia.
5:0,这场比赛太牛了! !俄罗斯队棒棒哒。
Abhijit
2942
Abhijit-Hyderabad-9 hours ago-Follow
Asian teams have been only participants and this time it isn''t different
亚洲球队都只是陪跑的,这次也不会有什么不同
Ramendra Chandra
1338
Ramendra-Kolkata-9 hours ago-Follow
Not only Russia's performance but their eye catching stadium sculpture can also compete with any western or european soccer arena,just zing and beautiful.
不仅是俄罗斯的表现,他们引人注目的体育场雕塑,也足以与任何西方或欧洲的足球场媲美,太令人惊叹、太壮美了。
Honor
1766
Honor-7 hours ago-Follow
if India was in the place of KSA today the scoreline 25:0
如果今天对战俄罗斯的不是沙特,而是印度,那比分会是25:0
Sanjoy Pandey
52322
Sanjoy Pandey-2 hours ago-Follow
Congratulations to Russia. The Arabs were totally outplayed.
祝贺俄罗斯。阿拉伯人完全被打败了。
Tanmoy K
5549
Tanmoy-Maharashtra.-3 hours ago-Follow
Nobody thought Russia will win by such a big margin (5-0).
压根没有人想过俄罗斯能以如此大的优势获胜(5:0)。
Joe Kool Joe-6 hours ago-Follow
Maybe by mistake they sent there netball team.
也许是他们不小心把篮网球队拉来比赛了?
Joe Kool Joe-7 hours ago-Follow
6 Love would have sounded better but we all happy with 5-0. Well done Russia.
本来6:0会更好,但5-0我们也很满意了。俄罗斯做得好。
Abhineet Vyas
1788
Abhineet Vyas-8 hours ago-Follow
What a win! Good start for Russia :D
赢了!对俄罗斯来说,这是一个良好的开端
Bhu Kumar
15217
Bhu Kumar-1 hour ago-Follow
this is just the begng of a fifa world cup more interesting
matches are coming ahead
这还只是开始,国际足联世界杯更多精彩比赛即将上演。
Aryan Thakur
6340
Aryan Thakur-9 hours ago-Follow
Russia opened account in FIFA 2018 with a bang.
俄罗斯在2018年国际足联隆重开张了。
Anil Dit Anil-10 hours ago
Eid gift with love from Russia
这是俄罗斯送上的充满爱意的开斋节礼物
Bhavik K
185
bhavik k-Toronto-3 hours ago-Follow
This world Cup is boring without Italy,Netherland and USA it''s really bad rules for qualifications
这届世界杯没了意大利、荷兰和美国,太无趣了。世界杯对参赛资格的规定太恶劣了。