Jharkhand: Two lynched by angry villagers on allegation of stealing cattle
贾坎德邦:两人因涉嫌偷牛而被愤怒的村民私刑处死
HIGHLIGHTS
The deceased were caught red handed by villagers while driving away 13 buffaloes stolen from nearby Dhulu village.
Police have arrested altogether four people in connection with the lynching.
The incident of cattle stealing from the village had taken place on previous occasions also.
简讯:
两名死者从附近杜鲁村偷了13头水牛,正当他们在赶牛时被村民当场抓住。。
警方已逮捕了四名参与私刑的涉案人员。
偷牛事件此前在村里也时有发生。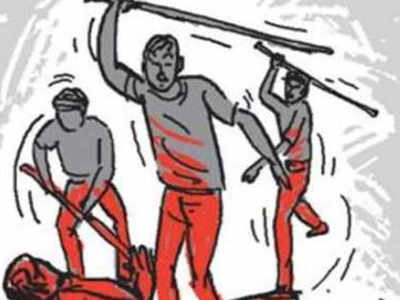 RANCHI DUMKA: In yet another incident of cow vigilantism, a mob lynched two Muslim men on suspicion of being involved in cattle theft at a village in Jharkhand's Godda district early Wednesday morning.
A video showing one of the victims, with injury marks on his head, slung over a bamboo pole and being dragged on the ground went viral on social media.
The victims have been identified by cops as Jirafuddin Ansari (35) and Murtaza Miyan (30) from Taljhari village in Godda, about 300km from Ranchi.
兰契杜卡姆区:周三凌晨,在贾坎德邦戈德达区的一个村庄,又发生了一起暴力护牛事件,一群暴徒以涉嫌偷牛的罪名对两名msl男子处以私刑。
一段视频在社交媒体上疯传。视频中,一名头部伤痕累累的受害者被吊在竹竿上拖行。
经警方确认,受害者是35岁的吉拉夫丁安萨里和30岁的穆塔扎米扬,他们来自戈德达区的塔尔哈里村,距离兰契大约300公里。。
Godda SP Rajiv Ranjan Singh said, "The victims had previous criminal cases of cattle theft registered against them." Bodies of the victims were handed over to their families following postmortem, he added.
Four persons were arrested in connection with the lynching and an FIR was registered against unidentified persons for stealing buffaloes, police said.
戈德达区SP拉吉夫兰詹辛格称:"受害者有偷牛前科,有刑事案底。""尸检之后,受害者的遗体移交给了他们的家人。"他补充道。
警方称,四人因参与私刑被捕,偷牛者身份不明,警方已立案调查。
Five people had gone to Dhulu village in the district to steal buffaloes, and as they entered nearby Bankatti village they were caught by villagers armed with bows and arrows, Singh said. While three of them managed to flee, the two were surrounded and lynched by the villagers.
Godda MLA Pradeep Yadav of JMM said, "There is resentment among villagers about cattle thefts in the area. I am collecting reports about the incident." In March, a fast-track court in Ramgarh setenced 11 cow vigilantes, including a BJP leader, for the lynching of a Muslim man, identified as Alimuddin Ansari, on suspicion that he was carrying beef in his car in 2017.
辛格称,当时有五个人去杜鲁村偷水牛,当他们进入附近的班卡蒂村时,被手持弓箭的村民抓住。其中三人成功逃离,两人被村民包围并以私刑处死。
戈德达区议员普拉迪普亚达夫称:"村民们对这一地区的偷牛案件非常不满。我正在收集有关这一事件的报告。"今年3月,蓝姆伽市一速审法院判处了11名暴力护牛者,其中包含一名印度人民党领导人。他们对一msl男子处以私刑,因怀疑他在车上装了牛肉,死者身份确认是阿利木丁安萨里。
印度时报读者评论:
来源:http://www.santaihu.com/45275.html
外文:https://timesofindia.indiatimes.com
Rajkamal Das-15 hours ago

Nobody has the right to kill anybody....mob lynching has to stop.

没有人有权杀人....暴民私刑必须停止。
Gopi Nath-15 hours ago

Cattle is bred & butter for poor people.. but the anti national forces want to make this as if it is a major incident to mislead the world with agenda & set Narrative..

牛是为穷人饲养的。但是,反国家势力想要把这鼓吹成是一个重大事件来误导世人。
Syed Ali-14 hours ago

See the mentality of many people who have commented... Here also these idiots are seeing Religion... And they are considering Taliban and ISIS to be fanatics...These coward RSS bhakts will later on give rise to Hindu Terrorism...

看了很多评论者的心态……发现这些白痴也看到了宗教……他们认为塔利班和ISIS是狂热分子……这些懦弱的RSS(民族志工组织组织)势必会引发印度教恐怖主义。
Kk10802 Kk-Mumbai-15 hours ago

Just by reading heading only I could guess the names of all thieves.They all are from religion of peace.

看一眼标题,我就能猜出所有盗贼的名字。他们都来自和平宗教。
Guy Max-3rdRockFromTheSun-12 hours ago

Makes, me wonder if Hindus never steal anything?

难道印度教徒就从没偷过东西?
Ankit12 hours ago

We still living in stone age....People being murdered for stealing cattle....What a shame.....Shame on those villagers.... As usual police always reach after crime....Typical Hollywood/Bollywood style....

我们仍然生活在石器时代....人们因偷牛而被谋杀....真丢脸.....这些村民真可耻....和往常一样,警察总是在案发后才赶到....典型的好莱坞/宝莱坞风格....
Shab K-USA-10 hours ago

One more feather added into Gau Rakshak..cap.. Such an instant reaction for stealing buffalo.Where are these so called protecters(RSS/BJP gau rakshas) when there are rapes on women/girls. Are they slee that time. Why such instant action is not taken. Bloody criminals..now justifying themselves. All this is happening under the nose of Feku Chaiwala.

圣牛保护者的又一战绩。对偷牛的反应如此迅速。当发生强奸妇女或女孩时,这些所谓的保护者(民族志工组织和人民党的圣牛保护者)在哪里? 他们那时是在睡觉吗?为什么不立即采取行动呢?残忍的犯罪分子,现在该证明自己了。这一切都在莫迪的眼皮底下发生。
Sathya9774 Sathya-13 hours ago

Congrats Modi and Shah you successfully turned India into a lynch mob.... these murders are on you and define your legacy....sad

恭喜莫迪和沙阿,你们成功把印度人变成暴民。这些谋杀跟你们脱不了关系...悲哀
Dinesh Dave-Nasik-12 hours ago

This is simply not acceptable, hang the culprits. No trials required

根本让人无法接受,不用审了直接绞死凶手。
Secular India-15 hours ago

Kill the main lynchers, then they will understand what the life is, these basstaarrrds are actually rapists and murderers...no one has right to kill any one unless he raped or murdered someone.

杀了主谋,他们就会明白生命有多宝贵,这些混蛋实际上就是强奸犯和杀人犯……没有人有权利杀人,除非他犯下了强奸罪和谋杀罪
Sanjay Chhabaria-Ahmedabad-13 hours ago

India still a country of Medieval Age..

印度仍然是一个中世纪国家
Umesh-Satara-15 hours ago

Deserve punishment given by tribals.

应当审判定罪,受到惩罚
Sridhar Rao15 hours ago

the authorities should have arrested the culprit or should have prevented robbery earlier itself

有关当局本该逮捕罪犯,或者早点阻止盗窃的发生
Deepak Tiwari-Gurgaon-15 hours ago

Mob lynching incident are increasing day by day, government must bring strict laws to punish the Mob, many innocent are being lynched by mob only on ground of suspicion. Plz Modi ji plz, bring some strict rules to manage mobs..

暴民私刑事件日益增多,政府必须制定严格的法律来惩罚暴民,许多无辜的人仅仅因为被怀疑而被暴民私刑处死。莫迪,请制定一些严格的制度来管管这些暴徒。
Raj-12 hours ago

Mob justice is never right .

暴民伸张正义从来都是错的
Ajith Velu-Dubai-13 hours ago

Why the unnecessary attention about the cattle factor. This is a case of theft and action taken by the villagers as previous instances have not been attended by the officials. I''m not defending the actions of the villagers by taking the law into their hands but the media attention on the cattle/cow factor is what i object to. This would spread the wrong message.

为什么对牛有这些不必要的关注。这是一起盗窃案,村民采取行动是因为以前案发时也没有官员参加。我不是为村民的行为进行辩护,而是反对媒体对牛的关注。这样会传播错误的信息。
Vidrohi-13 hours ago

modi the protector of cattle has made india no 1 beef exporting nation so he himself sells beef to make money but tells his goons to lynch once a while some related to cattle what a nautanki chor dil suwar this modi is

护牛队员莫迪让印度成为第一大牛肉出口国,所以他自己卖牛肉是为了赚钱,但偶尔也让他的暴徒对偷牛者处以私刑。腐败的莫迪。
Kanshi-14 hours ago

North India.. Land of zero law. Land of riots, lynching, intolerance, rapes and murder. It is a land where people have replaced their human mother by a cow. North Indians can't survive even one day without violence.

印度北部那块儿没有法律,充斥着暴乱、私刑、偏执、强奸和谋杀。在这片土地上,人们用一头牛取代了他们的人类母亲。没有暴力,北印度人一天也活不下去。
James Bond -15 hours ago

Being from Godda, I must agree that the lynchers are real tribes and they know no mercy if they get to know that they have been fooled else they are the most innocent creature in the state.

我来自戈德达,这些滥用私刑者真是部落群体,如果他们发现自己被愚弄了,他们就不会仁慈,否则他们就是这个国家最无辜的人。
Asha Hope -Pune-15 hours ago

ye bhi koi news hai..what do u wants to suggest or air that current govt is pro rich and less attentive to poor...this is just incident and mob has no rules

这新闻想暗示什么或者是想说现在的政府是只关心富人,不关心穷人……这只是偶然事件,暴民没有章法的。
Mohd.Ismail .-9 hours ago

No one has right to kill anyone.....

没有人有权利杀人
Henjakai Chongloidimapur-11 hours ago

Many part of the people of our country need to know how to live in a civilized world. No one has rights to take law ⚖ in their own hands and no one has rights to take life as well.

我们国家的许多人都需要知道如何在一个文明的世界里生活。没有人有权利滥用法律, 没有人有权利剥夺他人的生命。
Uday Gohil-Gujrat-13 hours ago

Religion has became harmful for national health!!

宗教已经对国民健康有害了!
Aj Practica-6 hours ago

Mob lynching is in fashion in our country now. Vigilantists who attack in groups are not humans! The least said, the better.

暴民私刑在我国现在很流行。群体袭击的自发执法者真不是人! 少说为妙。
Dalit GareebWindsor Park-10 hours ago

Another achievement of BJP

印度人民党的又一杰作。
Khandaker Mohitul Islam-Dhaka, Bangladesh-13 hours ago

Handing to the police was the perfect job. But taking law in own hand is never appreciated.

最好还是交给警察处理。私自执法不妥。
Aditya S13 hours ago

They were stealing for the festival... its ok to steal in their religion

他们是为了过节而偷东西……他们宗教是允许偷窃的。
Vivek Saxena-New Delhi-14 hours ago

See what Modi gives to India

看看莫迪给印度带来了什么
Manu Mitra-15 hours ago

Lynching & fake encounters are a regularity in BJP ruled states.The party thrives in anarchy & fatricide which boosts their effort of majoritarian consolidation.

在印度人民党的统治下,私刑和杀良冒功案是司空见惯的。人民党在混乱和残杀中兴盛,更加促进他们巩固多数主义。