TCS: First $100 billion Indian company and more
首家市值1000亿美元的印度公司——塔塔咨询服务公司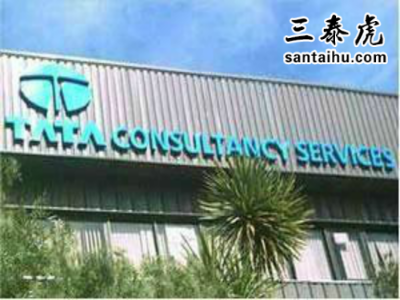 TIMESOFINDIA.COM | Updated: Apr 23, 2018, 19:46 IST
NEW DELHI: On Monday, Tata Consultancy Services (TCS) was in the news by becoming the first Indian company to breach market capitalisation (m-cap) of $100 billion. However, this is not the first or only cm to fame that the company can boast of. Here is a list of TCS's achievements:
新德里:星期一,塔塔咨询服务公司(TCS)成为首家突破1000亿美元市值的印度公司。然而,第一或唯一的名声并不是公司吹嘘出来的。TCS的成就如下:
1) Valuation of $100 billion
1) 市值突破1000亿美元
By definition, market capitalisation is the value of a company that is traded on the stock market, calculated by multiplying the total number of shares by the present share price.
市值的定义是指公司在股票交易市场上的价值,其计算方法为每股股票的市场价格乘以发行总股数。
TCS went past the $100 billion m-cap milestone after the company's scrips gained more than 4 per cent to hit an all-time of Rs 3,557. Last week, when the markets closed on Friday, the company was at the verge of the milestone as the m-cap stood at slightly above $99 billion. TCS stock had surged more than 6 per cent on Friday. The rise in the TCS scrip's fortune came after the it posted a rise of 4.5 per cent in its Q4 net profit. In the January-March quarter, the company reported a net profit of Rs 6,925 crore, up 4.57 per cent ag inst Rs 6,622 crore posted in the same quarter last year. On top of that, the company announced a 1:1 bonus for its shareholders.
此前TCS的股价一度涨幅超过4%,创下了3557卢比的历史新高,公司市值突破了1000亿美元的里程碑。上星期五收盘时,该公司处于里程碑式的转折点,市值略高于990亿美元。TCS股价上星期五飙升逾6%。TCS的财富增长是在其第四季度净利润增长4.5%之后出现的。今年1 - 3月,该公司公布的净利润为6925亿卢比,较去年同期的6,622亿卢比增长4.57%。除此之外,该公司还宣布对其股东发放1:1的奖金。
2) India's largest IT outsourcing company
2) 印度最大的IT外包公司
TCS is the country's largest IT services company, top rival Infosys. In the fourth quarter of the 2017 fiscal, TCS dollar revenue increased 3.9 per cent (2% in constant currency terms) to $4.97 billion. Dollar revenue, as the term suggests, is revenue earned by Indian firms by outsourcing services in foreign countries. At a time when most IT companies are feeling the heat, TCS's performance beat the Street expectations. Speaking on TCS's innovations, the company's CEO Rajesh Goathan, in an interview to TOI said, "TCS is uniquely positioned to offer a combination of services from core tech transformation all the way to front-end digital technologies. The full spectrum of services is what is positioning us beautifully in this space."
TCS是印度最大的IT服务公司,超过了其竞争对手印孚瑟斯(Infosys)。2017财年第四季度,TCS美元收入增长3.9%(汇率浮动2%内,固定汇率不变),达到49.7亿美元。美元收入,顾名思义,是印度公司通过外包服务在国外获得的收入。在大多数IT公司都感到压力的时候,TCS的表现超出了人们的预期。在TCS的创新中,该公司的首席执行官Rajesh Goathan在接受印度时报采访时表示,"TCS具有独特的定位,可以提供从核心技术转换到前端数字技术的各种服务。全方位的服务是我们在这一领域的完美定位。"
3) Cash cow for Tata Group
3) 塔塔集团的摇钱树
TCS has proved to be the flagship company for Tata Group, accounting for 85 per cent of the group's profit. The company reported a revenue growth of 8.2 per cent at Rs 32,075 crore for the three months to March. TCS's contribution to the Tata Group can be gauged from the fact that excluding IT bellweather, Tata group companies' m-cap is down almost 6 per cent since the turn of 2018. TCS also played an instrumental role in hel Tatas enter the elite league of Rs 10 trillion market capitalisation.
TCS是塔塔集团的旗舰企业,占集团利润的85%。该公司报告称,截至今年前3个月,该公司收入增长8.2%,达到320.75亿卢比。TSC对塔塔集团的贡献,不单单是以IT行业领头羊的身份来衡量,塔塔集团公司的市值自2018年以来已经下跌了近6%。TCS为塔塔集团进入市值10万亿卢比的精英联盟发挥了重要作用。
4)Largest private sector employer in India
4)印度最大的私营企业
With almost 4 lakh employees representing 131 nationalities, across 46 countries, TCS is India's largest private sector employer. With 35.3 per cent women employees, the company can also boast of a respectable gender ratio in its workforce.
TCS是印度最大的私营企业,有近4万名员工,来自46个国家,131个民族,其中35.3%为女性员工。
5) Long serving top bosses
5) 公司一直很稳定
Founded in 1969, TCS is celebrating its golden jubilee year. However, the company has had a stable run as far as the top bosses of the company are concerned. Quite astonishingly, TCS has had only four CEOs so far, with F C Kohli, the first CEO, serving from 1969 to 1996.
TCS成立于1969年,目前正值它的金禧年。然而,该公司一直很稳定。令人吃惊的是,到目前为止,TCS只有4位CEO,第一任首席执行官F C Kohli从1969年任职到1996年。
印度时报网友评论:
来源:三泰虎 http://www.santaihu.com/44782.html

Shashikant Gupte
527
Shashikant-16 hours ago
It has become bigger than Pakistan's economy.
Congratulations.
市值已经超过了巴基斯坦经济规模。
祝贺。
Anonymous
1981
Anonymous-14 hours ago
TCS employees are made to work for long hours not commensurate with the sries and allowances. Only the big bosses take a good share in the company's profits and others are made to struggle to prove their merits for promotions and annual appraisals. Though for name sake there is no bell curve but appraisals are done with predecided ratings and bands so the cream can be enjoyed by sed few at top level.
TCS员工的工作时间与薪水和津贴不相称。只有大老板拿的钱才多一点,而其他人要努力证明自己,才能获得晋升和年度考核的肯定。
Allauddin Modi
11445
Allauddin Modi-Bhaktanchal-16 hours ago
Strict warning to bhakt gang.. this is not Modi effect
严重警告:这并不是莫迪效应
5 Riya Gupta
3957
Riya Gupta-12 hours ago
nice, this one is a really good news, but TCS should respect their employees
太好了。不过,TCS得尊重员工