Go nment inks Rs 639 crore deal for 1.86 lakh new bullet-proof jackets for infantry soldiers
印度政府签署63.9亿卢比的协议,为步兵购买18.6万件防弹衣
Rajat Pandit| TNN | Updated: Apr 10, 2018, 12:53 IST
NEW DELHI: The Army's ordinary infantry soldiers are now finally going to get some desperately-needed modern bullet-proof jackets + under a Rs 639 crore contract inked on Monday, even though they remain some distance away from getting new assault rifles, close-quarter battle carbines and light-machine guns.
新德里:政府星期一签署一份总值约63.9亿卢比的合同,步兵终于可以获得急需的现代防弹衣了,尽管离获得新的突击步枪、卡宾枪和轻机枪还需要再等上一段时间。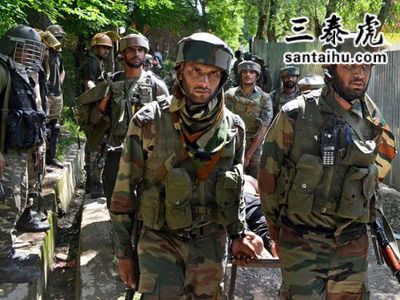 The Army said the major contract for procurement of 1,86,138 bullet-proof jackets(BPJs) has been signed with domestic private company SMPP Pvt. Ltd after successful conduct of stringent field evaluation trials.
陆军表示,进行了严格的实地评估试验后,已与国内私营公司SMPP Pvt. Ltd签订了采购1 86,138件防弹衣的主合同。
"The contracted BPJs have contemporary and state-of-the-art specifications with added prection level and coverage area. These ergonomically designed BPJs have modular parts, thereby providing immense prection and flebility to soldiers operating in different operational situations ranging from long-distance patrolling to high-risk room intervention scenarios," said an officer.
一名表示,"采购的防弹衣具有时下最先进的规格,增加了防护等级和防护面积。这些防弹衣符合人体工程学设计,具有模块化的组件,从而为远程巡逻、高危的室内干预等在不同作战环境下的士兵提供了巨大的保护和灵活性。"
"The new BPJs will provide 360 degree prection to soldiers in combat, including from latest hard steel core bullets," he added. As per the contract, SMPP will start the supply of the BPJs within the next few months and complete the entire order within a period of three years.
"新的防弹衣将为作战中的士兵提供360度的保护,包括防护最新的硬钢核心子弹,"他补充说道。根据合同,SMPP将在未来几个月内开始供应防弹衣,并在3年内完成整个订单。
"The new jackets meet the most advanced GSQRs 1438 (technical parameters) standards of the Indian Army. These BPJs have `Boron Carbide Ceramic', which is the lightest material for ballistic prection," said SMPP chairman S C Kansal.
SMPP主席S C Kansal表示:"新防弹衣符合印度军队最先进的GSQRs 1438(技术参数)标准。这些防弹衣含有"碳化硼陶瓷",这是最轻的防弹材料。"
The 1.3-lakh strong Army's overall requirement for 3,53,765 new BPJs has been hanging fire for almost a decade now, while its soldiers make do with old bulky ones that provide poor prection and are near the end of their operational life.
近10年来,13万陆军所急需的353765件新防弹衣一直悬而未决。士兵一直使用的是笨重、防护力差的老家伙,且这些旧防弹衣也快过期了。
Several parliamentary committees have taken an extremely dim view of this "critical shortage" of BPJs, s mming the go nment for "playing with the lives" of soldiers.
一些议会委员会对防弹衣的"严重短缺"持非常悲观的看法,抨击政府"不将士兵的性命当回事"。
As was first reported by TOI, the earlier proposed contract for new 1.86 lakh modular BPJs was scrapped in October 2015 because the samples offered by six vendors "failed" to clear the field trials.
正如印度时报之前的报道,2015年10月,由于六家供应商提供的样品现场实验"不合格",先前的18.6万防弹衣采购合同被取消。
The Army, in March 2016, had then gone in for the Rs 140 crore "emergency" procurement of 50,000 BPJs with older technical parameters from Tata Advanced Materials Limited.
2016年3月,军方向Tata Advanced Materials Limited"紧急"采购了价值14亿卢比的50000个旧款防弹衣。
This time, the contract for BPJs with advanced technical parameters has been inked. The Army wanted the new light-weight jackets to adequately prect the head, neck, chest, groin and sides of the foot-soldiers as well as allow them to move with greater agility during counter-insurgency operations in "unfriendly terrains".
此次,已经签订先进技术参数防弹衣的合同。陆军希望新款轻型防弹衣能充分保护士兵的头部、颈部、胸部、腹股沟和脚部,以便他们在"不友好的地形"的平叛行动中活动自如。
译文来源:三泰虎 http://www.santaihu.com/44666.html
印度时报网友评论:
N Renganathan
30640
N Renganathan-Location-1 day ago
kudos !!!
what could not be fulfilled by ILKP (Italian led Khat Party ) has been met now.
at every stage ILKP remained as a hurdle even on matters connected to defence !!!
荣誉! ! !
ILKP(意大利领导的Khat党)做不到的,现在已经实现了。
ILKP真是碍手碍脚的!!
Somnath DasGupta
11994
Somnath DasGupta-Calcutta, India-1 day ago
Another great victory for Mr.Modi''s "make in India" narrative. That will give a great fillip to the safety of our soldiers and defence indigenisation.
莫迪先生的另一个伟大胜利就是印度制造。这将极大地加强士兵的防护,促进印度国防装备的本土化。
Hs
950
Hs-1 day ago
Now that's what you call Party for nation and only nation building..Thanks to the Leadership
这才是真正的人民政党,感谢印度人民党
Sankar Km
4308
Sankar Km-San Francisco, CA-1 day ago
Made in India Bullet Proof Jackets for the safety of our great Jawans. Great deed from the Central Go nment. Jai Hind.
印度制造的防弹衣保护士兵的安全。印度中央的一大丰功伟绩。。。