Mysian tycoon's $7 billion wipeout turns his India dream into nightmare
马来西亚大亨巨亏70亿美金,梦碎印度
NEW DELHI: It was supposed to be the crowning achievement of Mysian tycoon T Ananda Krishnan's five-decade career.
新德里:马来西亚大亨阿南达克里斯南在商场驰骋50年,本该功成名就、达到事业顶峰。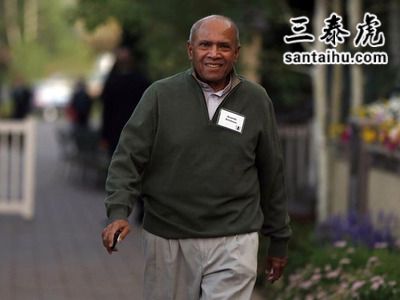 But his $7 billion bet on mobile carrier Aircel + Ltd may instead go down as one of the biggest-ever flops by a foreign investor in India, a stark reminder that doing business in the world's fastest-growing major economy is often a lot tougher than it looks.
但他在通信运营公司埃尔塞投入的70亿美金投资遭遇滑铁卢,这可能是印度引进外资投资历史上最大的失败案例,这也再次提醒世人,在印度这个全球增长速度最快的经济体进行商业投资,远比想象中困难。
Krishnan's holding company stands to lose all the money it poured into Aircel over the past 12 years, people with knowledge of the matter said, after the carrier filed to start bankruptcy proceedings this week. Buffeted by intense competition and regulatory uncertainty, Aircel is the latest in a long list of casualties in an Indian telecom market that only a few years ago was luring foreign entrants in droves.
知情人士称,在该运营商本星期已提交启动破产程序,这意味着克里斯南控股的公司在过去12年中对埃尔塞的投资全打了水漂。市场竞争的激烈和方面的的不确定性,使得埃尔塞成为印度通讯行业的又一受害者,早在数年前,该公司还是外资竞相投资的对象。
While international companies have fared much better in India's buoyant consumer products and financial services industries, the turmoil in telecom is unlikely to help Prime Minister Narendra Modi's campaign to lure more foreign capital. In January, his go nment eased restrictions on foreign direct investment in several sectors, including single brand retail, real estate brokerages and power exchanges.
对比跨国企业在印度活跃的消费品和金融服务行业中经营得风生水起,印度通讯行业的混乱基本无法帮助总理莫迪引入外资。1月份,莫迪政府放开外资在若干行业的直接投资管控,包括单一品牌零售业,房地产经纪业和能源转换业。
"India has always been a difficult market, even as it offers the prospects of great demographics and a billion-plus population," Sampath Reddy, chief investment officer at Pune-based Bajaj Allianz Life Insurance Co, said by phone. "The Aircel episode definitely has lessons in the offing for anyone who starts a business in the country."
巴贾杰安联人寿保险公司的首席投资官山帕斯在电话采访中称,"即使受益于巨大的人口红利,拥有十多亿人口的印度市场历来就是一块硬骨头。埃尔塞事件绝对会给未来打算在印度投资的人一记警钟。
Krishnan, 79, spent about $800 million to purchase Aircel in 2006, when less than 10 percent of India's 1.1 billion people owned a mobile phone and the scope for growth looked nearly limitless.
克里斯南,现年79岁,2006年花费8亿美金购买埃尔塞,当时印度11亿人口中拥有手机的比例仅不足10%,市场增长想象空间无比巨大。
By that time, the Harvard Business School graduate had already established himself as one of Mysia's most powerful billionaires, with controlling stakes in the country's biggest mobile-phone and pay-television operators and close ties to former Prime Minister Mahathir Mohd.
现如今,这位哈佛商学院毕业生已成为马来西亚最有权势的亿万富翁,在马来西亚最大的手机制造企业和付费电视运营企业均拥有控股权,与前总理马哈蒂尔关系密切。
India Allure
【印度的吸引力】
Faced with lackluster growth at home, Krishnan saw India's booming market as key to his empire's future. And he was willing to invest big to make Aircel a success.
面对增长乏力的本国市场,克里斯南将印度蓬勃发展的市场视为他商业帝国未来的发展动力。因此他决心向埃尔塞投入巨资,以期取得成功。
Over the years, Mas Communications Bhd, the holding company in which Krishnan owns a 45 percent stake, made about $3.4 billion of shareholder advances to Aircel, one of the people with knowledge of the matter said. Mas Communications also bought $1.2 billion of common stock and subscribed to $1.6 billion of redeemable preference shares, the person said.
知情人士称,过去数年中,克里斯南持股45%比例的麦克西斯通讯有限公司,购买了埃尔塞34亿美金的优先股。麦克西斯通讯有限公司同时还购买了12亿美金的普通股,人够了16亿美金的可赎回优先股。
While he had deep pockets, Krishnan failed to anticipate how cutthroat India's telecom market would become. With nearly a dozen players jockeying for market share, call rates in the country plunged to some of the lowest levels worldwide. Competition has only intensified since 2016, when Reliance Jio Infocomm Ltd., owned by India's richest man, stormed into the market and offered free calls.
尽管克里斯南财力雄厚,他也无法预料到印度通讯市场竟会如此残酷。将近12家企业激烈地竞争市场份额,话费费率几乎跌至全球最低水平。2016年以来竞争愈演愈烈,印度首富拥有的瑞联信息通讯公司,在市场中掀起腥风血雨,甚至提供了免费通话服务。
Aircel made a last-ditch effort to gain scale by attempting a merger with Reliance Communications Ltd. A setback came in January 2017, when India's highest court barred Aircel from selling or leasing its airwaves amid a broader graft lawsuit. The deal eventually col psed in October last year.
埃尔塞最后放手一搏,打算与信实电信有限公司合并,扩大规模。但2017年1月,印度最高法院因埃尔塞卷入*要案禁止其出售或出租电视广播业务。同年10月,该笔意向交易最终失败。
After Aircel, Krishnan is likely to spend more time focusing on his other businesses, which include Mysian carrier Mas Bhd. and pay-TV operator Astro Mysia Holdings Bhd, the person with knowledge of the matter said. Both companies are still profitable, though their stock prices have dropped by an average 10 percent over the past year, versus a 9.6 percent gain in Mysia's benchmark equity index, according to data compiled by Bloomberg.
知情人士称,埃尔塞破产后,克里斯南将重心转向他旗下其他商业领域,包括马来西亚运行商马克西斯公司和付费电视云营商阿斯托。虽然在去年马来西亚基准股票指数涨幅9.6%的背景下,这两家企业股价平均跌幅10%,但公司经营状况良好盈利。
That doesn't mean Krishnan is giving up on India entirely. He still controls a stake in South Asia FM Ltd, a radio broadcaster, and TV service provider Sun Direct. The businesses are performing well, and Krishnan currently has no plans to sell, the person said.
克里斯南并未全盘放弃印度市场。他还控股了一家无线广播电台,南亚FM有限公司,以及一家电视服务供应商,直日公司。该名知情人士称,这些企业运营良好,克里斯南目前并无出售意愿。
印度时报网友评论:
译文来源:三泰虎 http://www.santaihu.com/44343.html

Dilip Thorat
9038
Dilip Thorat-Mumbai, Maharashtra-1 day ago
He took help of wrong scamgress to enter India. Result was obvious.
他进入印度市场是错误的,结果显而易见。
Sohail Choudhary
740
Sohail Choudhary-1 day ago
By allowing JIO to Practice UnFair Trade Practices the GOI has Dest yed the Indian Telecom Market...
印度政府放任不公平贸易,摧毁了印度的通讯市场。
Rohan
22040
Rohan-india-1 day ago
"Ease of doing Business" is the exclusive privilege of Gujju Business men and not Foreign Investors ! This is the GujaRat model of Modi !
经商便利度是古吉拉特人的特权,外商投资者没份的。这就是古吉拉特的莫迪模式。
Gstmd Kc
2455
Gstmd Kc-1 day ago
Only gujarati cartel will rule this country. JIO will start looting consumers after finishing all telcos.
只有古吉拉特的卡特尔在我国称霸。他们会在终结所有通讯企业后将消费者洗劫一空。
Govind Sarda
1966
Govind Sarda-1 day ago
Krishnan forgot to understand that Indian po iticians can change rules to favor any person , He should have learnt the art greasing of hands before entering India
克里斯南忘了印度政客总是会为了讨好某些人随意更改规则。他应该在进入印度市场前了解这些手段。