外媒:印度一家医院供氧设备中断 致30名儿童死亡
GORAKHPUR: At least 30 children died in the state-run Baba Raghav Das Medical College here during the last 48 hours, district magistrate Rajeev Rautela said on Friday, but gave no reasons for such a large number of deaths. Rautela was qued by PTI as saying that 17 children died in the neo-natal ward, five in the AES (acute encephalitis syndrome) ward and eight in the general ward.
戈勒克布尔:印度某国营医院在过去48小时内造成至少30个儿童死亡。当地法官表示,并未找出大量死亡的原因。
An inquiry committee has been set up to ascertain the exact causes of the deaths and it has been asked to submit its report by tomorrow evening. Sources said the supply of oxygen to the hospital was stopped on Thursday night due to non-payment of dues to the firm engaged in supplying oxygen to the hospital. But offi als said there was nothing extraordinary about the outstanding amount and the hospital, the biggest in Purvanchal, is not facing any fiancial crunch.
调查委员会已经成立,以确定该事件原因,并被要求在明晚提交报告。消息人士称,星期四晚上向医院供氧的公司由于缴费问题中断。但表示,并没有此类问题。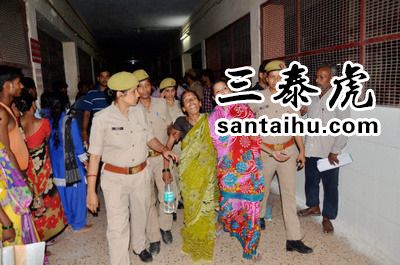 UP director general, medical education, K K Gupta told TOI, "Prima facie, the deaths did not take place due to problem in oxygen supply. Back up cylinders were available. The BRD Medical College is the biggest in Purvanchal, and six-seven deaths a day are normal during the peak encephalitis season, when the casualty rates are normally high."
When asked about the dues to the firm, he said, "Such dues are normal. There is no shortage of funds."
医学教育总监告诉印度时报:死亡并非由于供养问题,备用气瓶是可用的。脑炎高发季节,一天6~7个人的死亡是正常的。
Minister for medical education Ashutosh Tandon ruled out disruption in oxygen supply as the reason behind the deaths. He said he had announced a magisterial probe into the deaths.
But, as per hospital sources unwilling to be named, there was a sudden drop in the oxygen supply pressure around 8pm on Thursday, and the situation worsened by 11.30pm same day. Around 1.30am Friday, the oxygen supply was resumed with the help of cylinders but it proved inadequate.
医学教育部长排除了供氧中断作为死亡的原因,并宣布对死亡人员进行调查。
据不愿透露名字的医院称,星期四晚八点左右,供养压力下降,并恶化到下午11点30分,星期五凌晨1点半恢复。此说法证据不足。
注:Yogi Adityanath-约吉·阿迪亚纳斯,北方邦领导人,曾多次演讲提出全国范围内禁止牛。
译文来源:三泰虎 http://www.santaihu.com
【评论】
-Romeo Prasad507 Romeo Prasad-3 hours ago
Nobody care about normal human beings life in india. There will be investigations to cover up the things. Normal norm in corrupt india
没人关心印度正常人的生活,调查真相会被掩盖。这是的印度正常的模样。
-Manzoor Hussain336 Manzoor-3 hours ago
I'm surprised that these uneducated po iticians are controlling well educated youth . just playing card hindu-mus m, gau mata, vande mataram, mandir
我震惊,未受教化的家操控着受教育的青年,只要打着印度各种教的名头。
-Goprathnam Krishna Prasad-Hyderabad-3 hours ago
All netas will join to cover up the cause of death...while they and their family will get best treatment in beat Hospitals... only poor''s life has no value ... is it because of 1.3 billion population and at least 70% are poor and no voice but only ves, which they sell during ions... But feel very sorry for the children and their poor parents.
印度网民会加入掩盖真相的行列,而他们和家人们会住着最好的医院。
只有穷人没有活着的价值,13亿人口至少70%的穷人,不能发声,只有期间会被卖出的。
同情那些可怜的孩子和父母们。
- Hassam Jussab-3 hours ago
And modi wants cow prection
而莫迪只保护牛!
-Chakra-3 hours ago
Guys oxygen supply was diverted to save GAU MATA
供氧被省去救母牛了!
-Stud Baker-3 hours ago
5-6 deaths in a day, and that too everyday, due to encephalitis alone is normal? In one state alone? In one hospital alone? Is it really normal? OMG. What a casual attitude towards infants death in rising India. Yet they dont try to findout and cure the reason behind so many encephalitis cases. Indian infant health is in dire state and medical institution are in pathetic state as well.
每天5~6个死亡人数正常?仅仅是脑炎的死亡?在一个国家?一家医院?这真的正常吗?天啊!国家对死亡的态度为何如此马虎?
然而他们不会寻找脑炎治愈的原因。印度婴儿健康状况恶劣,医疗机构也很弱。
- IQ Man-3 hours ago
Why Yogi group is silent now.
Today they have time for testing nationalism but not for these kids.
为什么Yogi沉默了?
今天他们还有时间检验民族主义,但不是为了这些孩子。
-Rajesh-36 mins ago
Jungle Raj is still there in UP. Between Yogi & Akhilesh there is no diff. Both are same. Inefficient & Useless.
Jungle Raj还在上级中,Yogi 和Akhilesh没有区别,效率低下又无能。(都是政府。)
-Devender Singh-Gurgaon-48 mins ago
Modi Bhakt are destroying this country by covering up from truth . Now more than 30 kids die. Whole sy em started lipa poti... Same is happening in Haryana .
莫迪要掩盖真相毁掉国家。现在死了超过30个孩子了。