版权所有:http://www.santaihu.com
原文标题:World's longest bullet train service begins in China
原文链接:http://timesofindia.indiatimes.com/world/china/Worlds-longest-bullet-train-service-begins-in-China/articleshow/17764285.cms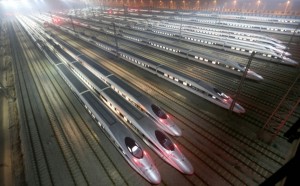 BEIJING: China started service on Wednesday on the world's longest high-speed rail route, the latest milestone in the country's rapid and -- sometimes troubled -- super fast rail network.

The opening of the new 2,298-kilometre (1,425-mile) line between Beijing and Guangzhou means passengers will be whisked from the capital to the southern commercial hub in less than a third of the 22 hours previously required.



北京:12月26日,中国开通世界运营里程最长的高铁,这是中国快速发展却有时遇麻烦的高速铁路网的最新里程碑。





京广高铁连接北京和广州,长达2298公里(1425英里),此前需要22小时才能从首都到达南方商业中心,该条高铁的开通意味着如今只需不到三分之一的时间就能飞驰于两地之间。



China Central Television broadcast the departure of the first train live from Beijing West Railway Station. It also carried live reports from inside showing passengers toting cameras to apparently snap commemorative photos.

Trains will travel at an average speed of 300 kilometres per hour over the line, which includes 35 stops in major cities such as Zhengzhou, Wuhan on the Yangtze River and Changsha.



央视现场直播了首列高铁驶离北京西站的场景,还现场报道了车内的情况,乘客正手拿相机抓拍下纪念照片。





京广高铁平均运营时速300公里,途经几个大城市,共计35个站,比如郑州站、长江边上的武汉站以及长沙站。






State media have reported that December 26 was chosen to start passenger service on the Beijing-Guangzhou line to commemorate the birth in 1893 of revered Chinese leader Mao Zedong.

The Beijing-Guangzhou route was made possible with the completion of a line between Zhengzhou and Beijing. High-speed sections linking Zhengzhou and Wuhan and Wuhan and Guangzhou were already in service.



据官媒报道,选择12月26日开通京广高铁是为了纪念已逝领袖毛的诞辰。





郑州至北京段完工后,京广高铁正式全线贯通。此前,郑州至武汉段、武汉至广州段已经在运营。



China's high-speed rail network was established in 2007, but has fast become the world's largest with 8,358 kilometres of track at the end of 2010. That is expected to almost double to 16,000 kilometres by 2020.

The network, however, has been plagued by graft and safety scandals, most notably a deadly bullet train collision in July 2011 that killed 40 people and sparked a public outrage.



中国高铁网始建于2007年,但已经快速发展成世界最大的高铁网络,2010年底通车里程达8358公里,预计到2020年将翻番至16000公里。





然而,中国高铁饱受贪污和安全问题困扰,最显著的例子是2011年7月发生的一起致命相撞事故,导致40人丧生,激起了公众愤怒。



The accident was China's worst rail disaster since 2008 and caused a torrent of criticism aimed at the government amid accusations that authorities compromised safety in their rush to expand the network.

Authorities said they have taken steps ahead of the new line's opening to improve maintenance and inspection of infrastructure, including track, rolling stock and emergency response measures.



这起事故是中国自从2008年以来发生的最大一起铁路灾难,引来了一连串对政服的批评,人们指责当局匆忙扩大高铁网络,牺牲了安全标准。





当局称,京广高铁开通前已经采取措施,加强基础设施的维护和检查,其中包括铁轨、机车车辆以及紧急应对措施。



"The emergency rescue system and all kinds of emergency pre-plans are established to improve emergency response ability," according to a ministry booklet.

Still, safety concerns remain.

The Global Times newspaper, with close ties to China's ruling Communist Party, on Wednesday quoted a Ministry of Railways official acknowledging continuing problems despite intense efforts to solve them during trial runs.



"建立紧急救援系统和各种应急预案,是为了提高紧急应对能力。"铁道部一本小册子写道。





然而,安全问题仍然令人担心。





26日,《环球时报》援引铁道部一名官员的话承认,尽管试运行中各种问题得到不懈地努力解决,但问题犹存。



"We can't make sure it's error-proof in the future, and we have been subject to a lot of pressure from the public," Zhao Chunlei, deputy chief of the ministry's transportation department, told the paper.

The train's opening means that the train will be in service over China's Lunar New Year holiday period, which falls in mid-February next year.

Hundreds of millions of people travel across the country during that period to visit their ancestral hometowns in the world's largest annual migration.



"我们无法确保未来不会出错,我们遭受了强大的公众压力。"铁道部运输局副局长赵春雷在接受《环球时报》的采访时称。





中国的农历新年是在明年的2月中旬,京广高铁的贯通意味着高铁可以服务于春运。





春运是世界上最大的一年一次的人口流动。期间,数以亿计的乘客回家过年。




以下是印度网民的评论:




nickynarwani (hongkong)
hope every country will have bullet train as it is good , faster and safer



高铁是好东东,速度快,又安全,希望每个国家都有高铁。
Appa Durai (Coimbatore)
It is all because chinese railways are not administered by people like, Lallu and Mukul Roy



(中国之所以有高铁),是因为铁道部不是由拉鲁、穆克尔·罗伊之流管理。




Vivan Arya (Shenzen) replies to Appa Durai
we as indians are getting what we deserve as we voted for a party who is responsible for all the mess in the country.! Congress party has been in power for majority of times at the center and see they have converted indian economy into anarchy.!!
Agree (1)Disagree (1)Recommend (1)




我们印度人罪有应得,选出了对国内一切混乱难辞其咎的政党!大部分时间是国大党在执政,看看,把印度经济搞得一片混乱!!




Vivan Arya (Shenzen) replies to Appa Durai
and their country is ruled by single party which is not at all like congress.!!
Agree (2)Disagree (1)Recommend (2)




他们国家是一党执政,与国大党完全不一样!!



Kumar(Mumbai)

China has bullet trains, We have bullets flying. Trains crawling. But alas no bullet-trains.



中国有子弹头火车,我们有子弹横飞,火车爬行,就是没有子弹头火车。



原创翻译:三泰虎  http://www.santaihu.com

Dinesh Prabhakar (delhi)
Had Britishers not laid down strong foundation of Railways in India, we would have been living in bullock cart age! just one PPP metro project to airport is an example how we fail in good projects!



要是英国人没有为印度奠定坚实的铁路基础,我们可能要生活在牛车时代!通往机场的地铁工程就是一个例子,真是好失败!
goelmg (India)
can our govt learn something from them?
Agree (1)Disagree (0)Recommend (0)



我们的政服能从他们那学到一些东西吗?
Susnatha Nath (Silchar)
The Bullet train is the pride for Chinese people !
Agree (3)Disagree (0)Recommend (1)



高铁是中国人民的骄傲!
ravindrasharma0951 (patna)
And in India ? You have to spend 52 hours from PATNA TO BANGALURU.



印度呢?你从巴特那到班加罗尔得花52小时。
Maria (China)
llove to travel in this, have travelled before at the speed of 250/km
Agree (0)



我喜欢坐高铁,以前坐过250公里时速的。
Bhupinder Singh (ludhiana)
I wish India could have bullet trains and dependability on planes reduces



我希望印度能拥有高铁,减少对飞机的依赖。
Mallu (Kerala)
Kudos to communist parties.. Hope Kerala communist party also will start bullet train from Trivandrum to Kasrgod very soon...



向共产党致敬....希望喀拉拉邦的共产党也能很快开通从特里凡得琅到Kasrgod 的高铁.....
chef (New York)
China has bullet trains all in one, we have bullets and trains - separately. Some day the people need to realize that we are falling behind in infrastructure - from roads, to railways, to power to education.



中国有"一体化"的子弹头火车,我们有"散装"的子弹和火车。总有一天,人们会意识到,我们在基础设施上落后了,从公路到铁路,从电力到教育,概莫能外。
Susnatha Nath (Silchar)
It is a great news & a memorable day for the people of China !
Agree (4)Disagree (0)Recommend (1)



很棒的消息,值得中国人民纪念的一天!
Vivan Arya (Shenzen)
although being indian i must be ashamed but yes china is way ahead in all thing when compared with india.! Democracy does not feed poor or develops infrastructure.!!
Agree (3)Disagree (0)Recommend (1)



作为一名印度人,我感到羞愧,中国各方面遥遥领先印度!皿煮养不活穷人,皿煮不会开发基础设施!!
sankar (pune)
We are not asking 300/200 KMPH speed trains bcoz we know very well this is India not china but at least increase the speed of trains running to/in south India from 48-51 KMPH to 70-75KMPH. The fact in alomost 95% of the people buy the ticket for Journey. Trains from Mumbai, Ahmedabad and Delhi to Bangalore, Chennai and Hyderabad should run at least @ 70 KMPH speed. It is amazing to know they need only 7 1/2 hours for 2298 KM voyage where in India it takes minimum it takes 40 Hours. Congrats to Chinese Govt.
Agree (2)Disagree (0)Recommend (1)



我们不是要300/200时速的高铁,因为我们深知这是印度,不是中国,但至少得把开往印度南部火车的时速从48-51公里提高至70-75公里。从孟买、阿默达巴德和德里,开往班加罗尔、钦奈和海德拉巴的火车应该至少跑70公里每小时的速度。好吃惊地获悉中国只要7个半小时就跑完2298公里,在印度至少需要40小时。向中国政服祝贺。
nkrauta (haridwar)
we dream for that since long.



很久以来,我们就梦想着拥有高铁。
iqbal Hussain (Riyadh Saudi Arabia)
nice, china too advance then India



不错,中国比印度先进多了。
manoj (kerala)
& india has not yet thought about it...... just imagine travelling to chennai from delhi in 7 hours by training!!!! we can only dream it.. though the cost of constructing such a rail would be less than money which the country lost through last few scams!!! though i am not a supporter of Modi, i think leaders like him can only make such things happen.



印度都还没敢想过....想象一下,乘坐火车从钦奈到德里只要7个小时!!!!虽然建造这样一条高铁所需的钱比过去几个丑闻吞噬的钱更少,但我们也只能做做梦而已.....我不是穆迪的支持者,但我认为他这样的领导人才能让高铁成为现实。
Sunny (India)
Bangalore to Delhi is almost the same distance 2200 Kms. Presenty the fastest train is Rajdhani which takes around 36 hrs. China presently have trains covering the distance within 22 Hrs & the latest would cover in 1/3 of the same time taht is around 7 hrs. OK let us be practical we dont want train to cover the distance in 7 hrs atleast can we expect a train to cover the distance within 24 hrs. Hope we see this only 2100. Shame on us. we say we are densly populated country, hence all poverty, illiterate, corruption etc etc china is more poulated that us but still we can see lot of development there. They are way ahead & we are no competitors to china in any way i feel.
Agree (8)Disagree (0)Recommend (2)



班加罗尔到德里是2200公里,距离差不多,目前最快的列车Rajdhani需要大约36小时,中国同样的距离需要22小时,最新的高铁耗时三分之一,大约是7小时。好吧,实际点,我们不奢望7小时跑完,但希望能把时间限制在24小时内。真丢脸,我们说印度是人口稠密的国家,所以会有贫穷、文盲、腐败等各种问题,但中国人口比印度更多,却仍然取得了颇大发展。我感觉中国遥遥领先,我们在任何方法都没得比。




Umesh Rai (Noida) replies to Sunny
Right. It will never happen in India as hundreds of parties are there to grab the tax payers money which is not in lacs or crores, its in hundreds/thousand of crores. So there wont be enough fund to build high speed railway network from delhi to all major south Indian states. They will have to spend hell lot of money for such infrastructure to build as the current infrastructure can't be used for the purpose of high Speed rails.




说得对,印度永远不会有高铁,国内有几百个政党在争着抢纳税人的钱,不是几十万或几千万的抢,而是数以亿计的抢,当然就没有足够的资金来修建从德里通往南方各大邦的高铁了。印度当前的铁路基础设施不符合高铁标准,要修建高铁就必须花一大笔资金。



GAURAV KUMAR GOEL (HYDERABAD)
india should also try to make this possible in our country..!!!!!!!!!!!!
Agree (1)Disagree (1)Recommend (1)



印度也应该试着在国内让高铁成为可能!!!!
Left (Bengal-Kerala-Thripura)
Only communist party can bring changes in India...Next time vote for a change..
Agree (5)Disagree (3)Recommend (3)



只有共产党才能为印度带来改变....下次投票要注意一下....
Mark (Mumbai)
Worlds slowest train is in INDIA - Janta Express.
Agree (10)Disagree (0)Recommend (2)



世界最慢的火车是印度的Janta特快。
manmohanbhamra Bhamra (Los Angeles)
This will bring SHAME to Indian Railways with largest rail network in the world and still far from bullet trains concept.
Agree (6)Disagree (0)Recommend (1)



印度拥有世界最庞大的铁路网,但与高铁的概念扯不上关系,中国高铁让印度铁道部蒙羞。
Bakul Bhatt (Rajkot)
China is far ahead of India in every respect. India is quagmired in its dirtiest politics and hence, lagging behind.
Agree (8)Disagree (0)Recommend (1)



中国各方面遥遥领先印度,印度陷入肮脏政治的泥潭,所以会落后。
Indian (Mars)
WOW!! Just amazed at the length of that rail project. While China is making big leaps in infrastructure project, our govt is busy in corruption.
Agree (7)Disagree (0)Recommend (1)



哇!单单这条高铁的长度就令我吃惊。中国在基础设施方面取得巨大飞跃的同时,我们的政服忙着各种腐败。
Nilabhra Banerjee (Chennai, Tamil Nadu)
"World's longest bullet train service begins in China" while India stares at the news and continue to daydream !



"世界最长高铁在中国开通"





——与此同时,印度只能盯着这条新闻,继续做白日梦!
Hemant Sane (Mumbai)
Mind boggling. Now wonder China is miles ahead of the world. Their infrastructure makes you drop your jaw in awe.
Agree (1)Disagree (0)Recommend (0)



不可思议!难怪中国大幅领先世界,中国的基础设施会让你惊掉下巴!
paresh (Hyderabad)
When we will get India's first high speed train which can run at 200km/hr ??
Agree (0)



印度什么时候会有首列能跑200公里时速的高铁?
Derrick Dias (Goa)
Safety should go along speed



安全也应该跟上速度。
satish (coimbatore)
Is it possible for us to see bullet train in India atleast in our generation...???
Agree (0)



我们这一代人是否能在印度看到高铁?
Janab Bande Nawaz (bombay)
CHINESE THE MOST HARDWORKING PEOPLE ON THE FACE OF EARTH, WE ARE PROUD TO HAVE HARDWORKING NEIGHBOURS LIKE CHINA.
Agree (1)Disagree (0)Recommend (1)



中国人是地球上最勤劳的民族,我们为拥有中国这样的勤劳邻居而自豪。
Bangalorewala (Bangalore)
What a contrast. The world's dirtiest trains run in MY INDIA.



多么大的反差啊,世界最脏的火车运行在我的祖国印度。
Fariyal Ali (Fiji )
Wowww China is a great country. The people there are soooooooo hard working. All beautiful clothes are made in China. Their clothes are very well sewn. Every garment I wear is MADE IN CHINA....



哇.....中国是伟大的国家,中国人民非常勤劳,漂亮衣服都是中国产的,衣服做工讲究,我穿的每一件衣服都是中国产的.....
Nan Ksn (Pune)
Does anyone from Indian Railways / Railway Ministry/ Railway Board read this and decide to hang themselves out of sheer shame.. !! Have traveled in some of these fast trains and it is an experience to remember..They may have many issues but their planning and execution skills are just superb..



印度铁道部/铁道局的官员看了这则新闻后是否会羞愧得上吊自杀!!我坐过几次这样的高铁,值得记住的经历。他们或许面临许多问题,但其规划和执行能力是超一流的.....
dada (bangalore)
Such high speed rail is not appropriate for India given the costs involved. India should focus more on metro trains in urban areas, expanding the electrification of the present system and upgradation of the present system.



高铁太昂贵,不适合印度。印度应该更多地关注市内通勤的地铁,扩大电气化铁路网,升级当前铁路系统的设施。
Harin Bansal (New Delhi)
wow.. China is too fast.. Why cant India be :(



哇,中国太快了,为什么印度快不起来 :(




mukesh (Vadodara) replies to Harin Bansal
Having gone through the comments below, I feel the quality of Life in India is much better than that of China as I have read articles about how Chinese Government treats their people. But I too wish India has its own Bullet train soon




看了下面的评论后,结合我看过的有关中国政服如何对待其人民的文章,我感觉印度的生活质量比中国的好得多,但我也希望印度能很快有高铁。



Kumar(india)
china, you go too fast, please stop for a moment to wait for india.



中国,你太快了,请停下来等一等印度。
Pratap (Qatar)
The bullet train of China is so fast that when brakes are applied in China it will stop in Arunachal Pradesh



中国高铁太快了,以致于一刹车,要在"阿鲁纳恰尔邦"才停得住!
Padmesh Kumar Varma (India.)
Dear Sir, It is a great achievement of China. The Chinese people and engineers deserve a huge basket of greetings. At present, China's railway network is third longest in the world. The USA's net work is the first and that of the Russia second. But, china may soon become the second longest network in the years to come. India has the fourth longest rail network.



这是中国伟大的成就,怎么祝贺中国人及其工程师都不为过。目前,中国铁路网长度排世界第三,美国排第一,俄罗斯第二,但中国可能会在未来几年跻身第二,印度排第四。
Mukund Sharma (Lucknow)
In the month of October, I was in China and had an opportunity to travel between Beijing and Nanjing. The distance between these two city is 1032 Km. I travelled on the Bullet Train (Gao Train as they are known in China) that covered the distance in 3:45 hrs with only one stoppage in between. I have no hesitation in accepting that we are far behind in providing the transportation services to our peoples. There is no excuse and no hindrance by people's representatives to stop the train at everyones door step to show their strength. Not only trains but their railway stations are like Airport in facilities and services. I wish that such services can be offered to our peoples also. May God give wisdom to our leaders that they are doing great disservice to the nation by not providing enough budgetry support for up gradation of the Railways and introducing new technologies for this sector. They want just cheap popularity by not enhancing the fares and introducings more and more stoppages even for Superfast Express.
Agree (1)Disagree (0)Recommend (1)



10月,我在中国有幸乘坐高铁从北京去南京,两地的距离是1032公里,全程耗时3:45小时,途中仅停一站。我坚定地认为,我们在为人们提供出行服务方面远远落后了。中国不会有"人民代表"以各种理由和各种障碍阻止火车运行,从中显示其威力。中国不仅火车很棒,而且火车站的设施和服务堪比机场。我希望印度人也能享受到此类服务。愿上帝给予我们的领导人智慧,他们极大地伤害了国家,没有为铁路升级和引进新技术提供足够预算资金。他们不提高票价,让特快列车停越来越多站,无非是为了讨一些选民喜欢。
Loves India (India)
Only 40 people died in Bullet train collision in China. China is far behind India. More than three times of this dies during collision of simple trains.
Agree (1)Disagree (0)Recommend (0)



中国高铁相撞事故只死了40人,落后印度太多了,印度随便一碰就死三倍不止。
Shah Shahi (Dammam)
India will have it in the next century...



印度在下个世纪也会有的.......
Amrita (Kolkata)
Everything is possible in China..................
Agree (3)Disagree (0)Recommend (0)



在中国,一切皆有可能......
indian (India)
and we say we will beat them. I have been to few chinese cities and trust me we dont stand anywhere close to them in infrastructure and facilities.
Agree (6)Disagree (0)Recommend (3)



我们说印度可以打败中国,我去过一些中国城市,相信我,在基础设施和配套方面,我们连他们的边都沾不上。
India talks big (India)
wow yaar... I am studying in bangalore.. if we could have this train service in India i can travel to delhi every month... what's the fare?
Agree (3)Disagree (0)Recommend (1)



哇呀.....我在班加罗尔读书.....如果印度也有高铁,我就可以每个月回德里一次....票价多少?
Kumar (India)
Thank God....... we don't have such a adventurous RAILS system.................. At least thousands of lives are saved.
Agree (0)Disagree (5)Recommend (1)



感谢上帝......我们没有如此危险的铁路系统......至少保住了几千条生命。
stishuk (atlantic ocean)
We will hear lots more ...fastest, highest, richest, biggest etc from country like china...however china cant compare with india in the number of rapists...
Agree (0)



我们还会从中国听到各种之最,比如最快、最高、最富、最大......然而,在强奸犯数量方面,中国与印度没得比.......
Influencer
Amazing!! That is like Delhi to Bangalore in less than 7 hrs.. Time to Ape the Chinese!!!! wake up India!!!



令人惊讶!!差不多相当于不到7个小时就从德里到班加罗尔.....印度是时候向中国人学习,该醒了!!
Umesh C (Delhi)
On 23Dec.2012 I traveled from Lucknow to Delhi by Shatabdi Express. The 500 Kms. journey took more than 20 hours (yes, there was fog). We are living in stone age.



2012年12月23日,我乘坐莎塔布迪特快从勒克瑙去德里,500公里的路程花了20多个小时(没错,有雾),我们生活在石器时代。
Thamizhan (Chennai)
Indian trains are infested with rats. Indian trains are toilets on the rails.
Agree (17)Disagree (1)Recommend (8)



印度火车上的老鼠多得成灾,印度火车是铁轨上的厕所。
Indian (India)
What is the use of such materialistic achievements in long-term? Most of the Chinese are atheists, they have no idea of spiritual well-being. India is a great culture where all religions like Hinduism, Sikhism, Buddhism, Jainism, Islam and Christianity mingle and live in peace. We are a spiritual superpower.
Agree (2)Disagree (31)Recommend (2)



长远来看,这样的物质成就有何意义?大多数中国人是无神论者,没有感受过心灵幸福,印度拥有伟大的文化,印度教、锡克教、佛教、耆那教、伊斯兰教和基督教等各种宗教和谐地混合在一起,我们是精神超级大国。
G srinivas (Bangalore)
good thing but china you are too much excessive infrastructure destroying forests, agri lands, etc. is very dangerous, you have become over greedy
Agree (1)Disagree (17)Recommend (1)



不错,但中国过度迷恋基建,破坏了森林、农田,很危险,中国变得太贪婪。
世界上运营里程最长的高速铁路——京广高铁全线正式贯通。印度人评论京广高铁开通!三泰虎(santaihu.com)12月26日译文:印度时报原题《世界最长高铁在中国开通》。据报道,京广高铁12月26日全线贯通,北京至广州的最快运营时间从20多个小时缩短到8小时左右。京广高铁的全线贯通意义重大,不仅将成为拉动沿线区域经济发展的新引擎,还将对航空运输业、快递物流业产生重要影响,同时也会促进"高铁游",推动沿线地区旅游市场的发展和转型。