译文来源:三泰虎 http://bbs.santaihu.com/thread-6718-1-1.html
外文标题:Why India trails China in economic growth
外文地址:http://timesofindia.indiatimes.com/business/india-business/Why-India-trails-China-in-economic-growth/articleshow/20688453.cms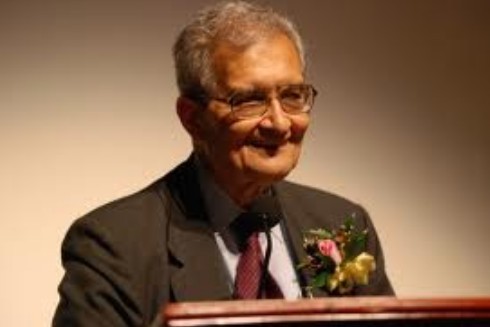 阿马蒂亚·森

Modern India is, in many ways, a success. Its claim to be the world's largest democracy is not hollow. Its media is vibrant and free; Indians buy more newspapers every day than any other nation. Since independence in 1947, life expectancy at birth has more than doubled, to 66 years from 32, and per-capita income (adjusted for inflation) has grown fivefold. In recent decades, reforms pushed up the country's once sluggish growth rate to around 8 percent per year, before it fell back a couple of percentage points over the last two years. For years, India's economic growth rate ranked second among the world's large economies, after China, which it has consistently trailed by at least 1 percentage point.



现代印度在许多方面是成功的,世界最大皿煮国家的口号并非是空喊的。印度媒体充满活力、不受约束;印度人每天购买的报纸比其他任何国家都要多。自从1947年独立以来,印度人出生时预期寿命从32岁上升至66岁,翻了一番多,人均国民收入(扣除通胀因素)增长了5倍。近几十年来,改革将曾经缓慢的经济增长速度推高至大约8%,但在过去两年里回落了几个百分点。多年来,在世界各大经济体中,印度经济增长速度跻身第二,仅次于中国,印度始终落后至少1个百分点。



The hope that India might overtake China one day in economic growth now seems a distant one. But that comparison is not what should worry Indians most. The far greater gap between India and China is in the provision of essential public services — a failing that depresses living standards and is a persistent drag on growth.

Inequality is high in both countries, but China has done far more than India to raise life expectancy, expand general education and secure health care for its people. India has elite schools of varying degrees of excellence for the privileged, but among all Indians 7 or older, nearly one in every five males and one in every three females are illiterate. And most schools are of low quality; less than half the children can divide 20 by 5, even after four years of schooling.



印度经济增长也许总有一天会超过中国似乎是一个遥远的期望,但这种对比不应是印度人最担心的,印度和中国之间更大的差距出在基本公共服务的提供上——这一短处压低了印度人的生活标准,始终拖累印度的经济增长。





两国的收入不平等都挺高的,但中国在提高预期寿命、扩大基础教育以及为国民提供医疗保险方面远比印度做得好。在不同层次的教育中,印度拥有为特权阶层服务的精英学校,但是在所有7岁以上的印度人当中,几乎每五名男性或每三名女性中就有一位是文盲,而且大多数学校的教学质量很低,读了4年下来,不到一半的孩子会算20除以5



India may be the world's largest producer of generic medicine, but its healthcare system is an unregulated mess. The poor have to rely on low-quality — and sometimes exploitative — private medical care, because there isn't enough decent public care. While China devotes 2.7 percent of its gross domestic product to government spending on health care, India allots 1.2 percent.

India's underperformance can be traced to a failure to learn from the examples of so-called Asian economic development, in which rapid expansion of human capability is both a goal in itself and an integral element in achieving rapid growth. Japan pioneered that approach, starting after the Meiji Restoration in 1868, when it resolved to achieve a fully literate society within a few decades. As Kido Takayoshi, a leader of that reform, explained: "Our people are no different from the Americans or Europeans of today; it is all a matter of education or lack of education."Through investments in education and health care, Japan simultaneously enhanced living standards and labor productivity - the government collaborating with the market.



印度也许是世界上最大的药品生产国,但它的医疗系统不受监管,处于混乱状态。由于公共医疗设施不足,穷人只好依靠低质的——有时具有剥削性的——私立医疗。中国把2.7%的GDP投入医疗开支上,而印度的这一数据是1.2%。





追根溯源,印度的表现不佳算得上是失败,可以从亚洲经济发展例子上得到借鉴。在这种发展中,人的能力的快速提高是目标本身,也是实现快速发展不可或缺的因素。日本开创了这一方法,从1868年开始了明治维新,当时日本决心在几十年内实现全民受过教育的社会。正如改革的领导者木户孝允所说:"我们的人民今天与美国人或欧洲人无异,完全是人们是否受过教育的问题。"通过教育和医疗方面的投资,日本同时提高了生活水平和劳动生产率——政服的做法响应了市场需求。



Despite the catastrophe of Japan's war years, the lessons of its development experience remained and were followed, in the postwar period, by South Korea, Taiwan, Singapore and other economies in East Asia. China, which during the Mao era made advances in land reform and basic education and health care, embarked on market reforms in the early 1980s; its huge success changed the shape of the world economy. India has paid inadequate attention to these lessons.

Is there a conundrum here that democratic India has done worse than China in educating its citizens and improving their health? Perhaps, but the puzzle need not be a brainteaser. Democratic participation, free expression and rule of law are largely realities in India, and still largely aspirations in China. India has not had a famine since independence, while China had the largest famine in recorded history, from 1958 to 1961, when Mao's disastrous Great Leap Forward killed some 30 million people. Nevertheless, using democratic means to remedy endemic problems - chronic undernourishment, a disorganized medical system or dysfunctional school systems - demands sustained deliberation, political engagement, media coverage, popular pressure. In short, more democratic process, not less.



尽管日本战时遭受大惨败,但它的发展经验在战后仍然被韩国、台湾、新加坡以及东亚其他经济体效仿。毛时代的中国在土地改革、基础教育和医疗方面取得了进步,并于1980年代初开启市场经济改革;中国的巨大成功重塑了世界经济,但印度并未足够重视这些经验。





这里是否出现了一个难题,即皿煮印度在给公民提供教育以及改善人民健康状况方面比中国做得更差?也许是个难解之谜,或许也不算什么谜。皿煮参与、言论自由和法制在印度的存在很大程度上是现实,这些仍然是中国人的主要愿望。印度独立后从未发生过大饥荒,而中国在1958年至1961年出现了历史上最大的饥荒,当时的大跃进导致3000万人死去。然而,使用皿煮手段治疗当地顽疾——慢性营养不良,混乱的医疗和教育体制——需要持续的审议、政治参与、公众压力。简言之,(皿煮)需要更多而非更少的皿煮过程。





【三泰虎注:作者阿马蒂亚·森是印度著名的经济学家,1933年出生于印度孟加拉湾,1959年在英国剑桥大学获得博士学位,其后先后在印度、英国和美国任教。1998年离开哈佛大学到英国剑桥大学三一学院任院长。他曾为联合国开发计划署写过人类发展报告,当过联合国前秘书长加利的经济顾问。他因为在福利经济学上的贡献获得1998年诺贝尔经济学奖——摘自百度百科】




以下是印度网民的评论:




本文论坛地址:三泰虎论坛 http://bbs.santaihu.com/thread-6718-1-1.html




Jasvir Singh (San Francisco CA US)
Because corrupt and selfish blood running virtually in each Vein though China is no better in corruption index than India but selfish attitude of nation and corrupt politicians are major hurdles.
Agree (1)Disagree (2)Recommend (0)



因为印度人的每一根血脉流淌着腐败的血液,不过中国在腐败方面也是不遑多让,印度政客的自私和腐败是主要障碍。
ConversionIsCrime (New York)
This man is paid chinese stooge. During Indo-China war he sided with Chinese. PS: He also Hinu-Hating SCUM.
Agree (2)Disagree (7)Recommend (0)



这个人是被中国人收买的走狗。印中战争期间,他站在中国人那一边。
Defeat devil Italian (Truth Prevails)
Nehru, Indira, Rajiv, Sonia, and Rahul Ghandhi dynastic incompetence is the reason for India lacking China.
Agree (17)Disagree (1)Recommend (9)



尼赫鲁、英迪拉、拉吉夫、索尼娅和拉胡尔甘地等的无能是印度落后中国的原因。




mohansingh chawla (leicester ,uk) replies to Defeat devil Italian
China does not have habbit of exporting illegal citizens to other countries. This is our special right given to indians by lord brahma
Agree (1)Disagree (6)Recommend (1)




中国没有向其他国家出口非法移民的传统,这是梵天给印度人的特权。




Defeat devil Italian replies to mohansingh
Dead Wrong. There are China Towns in almost all major US metroes. In 90s, US customs and border patrol used to unearth containers full of Chinese folks. What did you mean by illegal citizens? Before Hong Kong was taken over back by Chinese, tens of thousands of Chinese used to enter Hong Kong illegally. In 17th and 18th centries, several thousands of Chinese entered Japan illegally.




大错特错。美国各大城市均有中国城。1990年代,美国海关和边境巡逻队经常发现装满中国人的集装箱。难道这些不是你所说的非法移民?香港被中国人收回之前,成千上万的中国人非法进入香港。17世纪和18世纪期间,有几千中国人非法进入日本。



raju.87 (India)
Because we have most corrupt government in power.
Agree (11)Disagree (1)Recommend (9)



因为我们执政的政服是最腐败的。
Avtaran (India)
The monstrous dam China has built can be the cause of a major catastrophe in the event of a massive flash flood and can bring the death toll to nearly half a billion and damage to unimagined height. I had once expressed that apprehension in New York Times when the dam was operational.
Agree (1)Disagree (5)Recommend (1)



中国修建的(三峡)大坝可能引发洪灾,造成一场大灾难,导致近5亿人死亡,损失将达到无法想象的高度。当大坝投入发电时,我就曾在《纽约时报》表达过此忧虑。




PunebetterthanMumbai (Mumbai) replies to Avtaran
what about the massive black out India experienced last year. If India's electric grid is so easy to collapse then Pak Army can attack out blind spot. We need a dam like this in India.




印度去年经历的大停电又怎么说。如果印度电网如此轻易就奔溃,那么巴基斯坦军队就可以攻击我们的盲点。印度需要类似的大坝。



kris (Hyderabad)
India is a typical democratic banana republic.
Agree (3)Disagree (2)Recommend (0)



印度是一个典型的皿煮香蕉共和国。
Sathian Thazhathidath (dxb)
Only one reason it is the rule or miss rule of successive congress government.
Agree (1)Disagree (0)Recommend (0)



唯一的原因是历届国大党政服的管理不善。
Sumit Agarwal (Gwalior)
The reason why India is trailing China is because of our Inertia & inability to forget the "Glorious" Past Democracy is bound to be a bit slower The people who say "ye galat ho raha hai" are the reason behind this statement
Agree (2)Disagree (0)Recommend (0)



印度落后中国的原因是我们无力或无法忘记辉煌的过去。皿煮必定会拖慢些速度........
LS2014- Indology Vs Genealogy (India)
Date analysis aside. Japanese learned good things from all over the world, but they dint change their culture & traditions, they changed their habits. Whereas Indians (specially a political group), since post independence has been giving blind efforts to westernize their land. Indians adopted western cultures, but dint change their habits. Indians have got to relearn lot many things from its ancient wisdom, than from China.
Agree (3)Disagree (0)Recommend (0)



数据分析先搁在一边。日本吸收世界各地好的方面,但拒绝改变自身文化和传统,改的是生活习惯。而印度人(特别是政治群体)独立后盲目地西化,他们接受了西方文化,但并未改变生活习惯。印度人该从古代智慧中学习的要比需要向中国学习的要多得多。
sloth_therancid (USA)
Let's not forget that the Chinese love their people and country. Without that, you have nothing.
Agree (5)Disagree (0)Recommend (0)



别忘了中国人爱国爱人民。否则,一切都是扯谈。




Ray (chile) replies to sloth_therancid
where did you read that the chinese love their people , the people have been oppressed for over 100yrs
Agree (1)Disagree (3)Recommend (1)




你从哪里知道中国人爱人民的,人们已经被压迫了100多年。




sloth replies to Ray
Sorry, I should have made that clearer. I wasn't suggesting that their "government" loves them...........




抱歉,我应该说清楚些。我不是说他们的政服爱人民.......



MSCN (Chennai)
The article omits to mention Infrastructure - Roads, Expressways, Railways, Electricity and water supplies. We are decades behind China.Our biggest asset is also our biggest liability - being a democracy which has been prostituted by politicians
Agree (5)Disagree (0)Recommend (1)



文章把基础设施略去不提——公路、高速路、铁路、电力和水供应,我们落后中国几十年。我们最大的资产也是我们最大的负担——皿煮被政客滥用了。
BLR Vasant (BLR City)
The simplest, one-sentence answer to WHY is: China is NOT ruled by rotten third rated, spine-less, vote-bank, caste-religion, and mochi/muzzy class appeasing parties that we have in plenty and counting! Jai Ho PLA!
Agree (8)Disagree (1)Recommend (1)



用一句话来给出最简单的答案:中国并非由印度大量存在的三流、没有骨气、玩弄票仓、种姓、宗教政治、讨好穆斯林的政党统治!PLA胜喽!
aSDFG (ny)
INDIA DOES NOT TRAIL CHINA. IT IS STUPID TO EVEN COMPARW THEM. THOSE WHO TRY TO DO THAT KNOW NOTHING ABOUT CHINA. IS IS LIKE A COMPARISON OF A MOUSE WITH AN ELEPHANT.
Agree (9)Disagree (2)Recommend (3)



不能说印度落后中国,将两者进行比较是愚蠢做法,那些人根本就不了解中国,这样比较类似把老鼠和大象进行比较。
Rajiv (Toronto)
China is ruled by technocrats such as engineers. India, on the other hand, is ruled by politicians. This is one reason why things in China are done with technocratic efficiency. India, on the other hand, is chaotic and unplanned.
Agree (28)Disagree (0)Recommend (12)



统治中国的是技术专家,比如工程师,而统治印度的是政客,这就是中国如此高效运转的一个原因。相较之下,印度一团混乱,毫无规划。
Gopan (London)
This guy should go for a long extended holiday in Antarctica. He is not relevant anymore and better for him to be in cold storage.
Agree (2)Disagree (7)Recommend (1)



这个家伙应该去南极洲度长假,他不再那么重要了,最好冷藏起来。




PunebetterthanMumbai (Mumbai) replies to Gopan
i agree this guy is Indian and supports china. F him!




擦,这个家伙倒是印度人,但他支持的是中国。




brahmavishnumahendra (Hastinapur) replies to Gopan
learn to accomodate critisism, you may not like it, does not mean, he is wrong. remeber he is nobel lauret in economics.
Agree (9)Disagree (1)Recommend (3)




要学会容忍别人的批评,你也许不喜欢,但这并不意味着他是错的。记住,他是诺贝尔经济学奖得主。



dinesh121 (uk)
bcz the country has been led by congress donkeys since 1947, till this monstrous party is kicked out india is going to leg behind countries like brazil, mexico,south africa and so on
Agree (8)Disagree (1)Recommend (1)



因为印度自从1947年独立以来一直受国大党那帮猴子统治,除非把这个政党赶下去,否则印度将会落后巴西、墨西哥、南非等国家。
American desi (NYC)
For folks who have had a chance to travel to Mainland China especially Shanghai - don't feel bad if u don't come to NYC ever. There is no comparison. Shanghai is way cleaner, prettier and with modern transportation system. I am saying that only because NYC is falling way behind in upgrading infrastructure though I luv my city. For those who think India can overtake China in next 100 years, keep having the nightmares.
Agree (12)Disagree (2)Recommend (4)



你要是有幸去中国大陆走一走,特别是去上海——那么不要为你没有去过纽约感到难过!两者根本就没得比。上海干净多了,漂亮多了,拥有现代化的交通系统。我之所以这样说,是因为纽约在基础设施升级方面远远落后了,虽然我热爱这座城市。那些认为印度可以在未来100年里超过中国的人就尽管做梦去吧。




Subash Kumar (Hyderabad) replies to American desi
Everyone is running from China to the West as they are starving, no one from Europe or Japan Or Korea going to China. Most Chinese coming to North America collect the garbage here or work in the oldest profession. Chinese often drown to make it to the West. They are so deperate.
Agree (3)Disagree (12)Recommend (1)




中国人饥肠辘辘,争着去西方,压根就没有人会从欧洲、日本或者韩国跑到中国的。大多数中国人来北美捡垃圾为生,或者靠最古老的职业为生。中国人做梦都想去西方,他们太渴望了。




PunebetterthanMumbai (Mumbai) replies to Subash Kumar
Subash, ppl in China and India immigrate to the west because of better standard of living. However the emigration rate in China is lower than India.
Agree (1)Disagree (0)Recommend (0)




中国人和印度人移民西方是为了追求更高的生活水准,但是中国的移民率比印度更低。




M (INDIA) replies to American desi
did you ventured beyond pudong?? I guess not. Get onto the city bus going thru the under belly of Shanghai some time and witness the truth! Also, did you had any chance of interacting with the workers in any of those fast-coming-up sky scrappers? I guess not.
Agree (1)Disagree (8)Recommend (1)




你有离开浦东吗?我猜没有。登上一辆城市大巴,去上海腹地亲眼目睹下真相!此外,你有没有机会与那些快速拔地而起的摩天楼里的工人交流?我想也没有吧!




siva (out of India) replies to American desi
That is not at all true . India will overtake China as the worlds most populous country. It will also be the most corrupt country.The population will ensure that occurring.
Agree (4)Disagree (1)Recommend (3)




不完全正确。印度将会超过中国成为世界上人口最多的国家,还会成为世界上最腐败的国家。印度庞大的人口将确保其发生。



Manish Gupte PhD (Nashua, NH)
India has good domestic consumption. china relied heavily on exports and manipulated currency. So their economy is wound up. Boycott china! Swadeshi! That will create employment and wealth! Markets and democracy is the best way!
Agree (3)Disagree (6)Recommend (0)



印度国内消费旺盛,中国严重依赖出口和货币操纵,所以他们的经济饱受压力。抵制中国货!此举可以创造就业和财富!市场经济和皿煮体制才是王道!
sundon79 (MANSAROVAR, HIMALAYA)
NOT BECUASE OF US. IT IS BECUASE CHINESE ARE SMARTER AND BETTRE THAN US.
Agree (2)Disagree (4)Recommend (0)



问题不出在我们,关键是中国人比我们更聪明和更优秀。




Dr K (Canada) replies to sundon79
Wrong... its because Chinese are strictly told what to do and their politicians have a desire to improve the lot of their people. Indian politicians are corrupt and add to that regionalism... doesnt help. Sometimes I wonder how much time Indian ministers/MPs and govt. babus actually spend doing their work rather than fighting with each other.... very little to none I suppose. Chinese are not better at all as people, their governing system is efficient. That's all!
Agree (5)Disagree (1)Recommend (1)




错!因为中国人按严格要求行事,他们的政客渴望改善人民的生活。相比之下,印度政客非常腐败,外加地区主义.....一切无济于事。我有时候纳闷,印度的部长们有多少时间不内斗而是在办事的,我猜几乎没有!中国人没有更优秀,关键是他们的管理体制高效运转。就这样!



KKR (delhi)
You can replace India with any other country like Uganda, Rwanda or Bangladesh, it would be about the same analysis!
Agree (4)Disagree (1)Recommend (1)



用乌干达、卢旺达或孟加拉国等其他国家替代印度,得出的分析将大致一样!
印度诺贝尔经济学奖得主阿马蒂亚·森撰文:为什么印度的经济增长落后中国?三泰虎6月22日译文,文章称,现代印度在许多方面是成功的,世界最大皿煮国家的口号并非是空喊的。印度媒体充满活力、不受约束;印度人每天购买的报纸比其他任何国家都要多。自从1947 年独立以来,印度人出生时预期寿命从32岁上升至66岁,翻了一番多,人均国民收入(扣除通胀因素)增长了5倍。多年来,在世界各大经济体中,印度经济增长速度跻身第二,仅次于中国,印度始终落后至少1个百分点。