原文标题:What China can learn from India
原文链接:http://business.rediff.com/slide-show/2010/jun/04/slide-show-1-what-china-can-learn-from-india.htm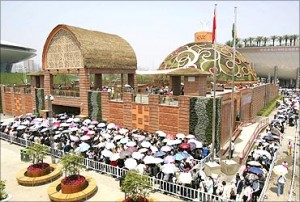 A

s the world's largest growing economy that has set its eyes on catching up with the United States and Japan, has China got a lesson or two to learn from its Asian neighbour and old-time 'guru' India in building a modern economy?

A new book written by a veteran Chinese entrepreneur, who has spent years on job in Indian cities, says it might be the case.



世界最大的发展经济体正着眼于追上美国和日本。在建设现代经济中,中国是否有从亚洲邻国和古时候的"师傅"印度那里学到一些东西?





一名资深的中国企业家在印度城市工作了几年。他在自己的新书中称,这是可能的。



Pan Song, author of 'What Can China Learn From India..', says India may surpass its neighbour as the fastest growing country in the near future, and it is time the dragon recognises the elephant as a competitor and learns from the old "shifu" (master) a lesson or two.

"China always keeps its eyes on catching up with the US, UK and Japan. But it has yet to realise that its Asian neighbour India, whose year-on-year economic growth has averaged 8-9 per cent in the last decade, is actually becoming China's largest competitor," said Pan Song.



《中国可以从印度那里学到什么》的作者潘松称,印度可能在不久的将来超过领国,成为发展速度最快的国家。中国龙是该认识到大象将是一名竞争者。中国应该从古时候的"师傅"那里学一些东西。





潘松称:"中国总是着眼于赶上美国、英国和日本。但是中国没有意识到,过去十年平均年经济增长率为8%到9%的亚洲邻国印度才是中国最大的竞争者。"





"C

hina must have a sense of urgency as well as a sense of crisis from today and Chinese enterprises must try their best to learn as much as possible from the experiences of their Indian counterparts," he said, citing recent studies that projected the likelihood of India's growth rate surpassing China's by 2020.

Pan, who worked as the regional director of a Chinese company in Indian cities like New Delhi, Mumbai, Bangalore, Chennai, and Hyderabad for more than a decade compiled his experience in his book making a strong case that "astounding" performances being posted by Indian private sector offered greater lessons for China.



他援引的最新研究显示印度的发展速度将在2020年前超过中国。"中国从今天开始必须有一种紧迫感和危机感。中国企业必须尽可能从印度同行那里学习经验。"





潘是一家中国公司的区域总监,在新德里、孟买、班加罗尔、钦奈和海德拉巴等城市工作了10多年。他将自己的经历写成书。在书中,他强调印度私营部门"令人震惊"的表现更值得中国学习。





T

he book launched in Beijing on Thursday is the first Chinese book entirely devoted to the managerial practice and operational experience in India.

"Indian gurus commanded high respect in China - when the country was learning Buddhism more than 1,500 years ago. But do the Chinese still have anything to learn from their old shifu (Chinese term for master) when it comes to building a modern economy? Pan Song says Yes," a feature in the state run China Daily on his book said.



这本书星期四在北京推出,是首本专门介绍印度管理实践和运营经验的中国书。





在有关他这本书的专题报道中,中国日报称,"1500年前,当中国正在学习佛教的时候,印度大师在中国享有崇高威望。但是,就建设现代经济而言,中国人是否仍然需要向老师傅学习呢?潘表示肯定。"



The core advantage of India are its private enterprises, which contributed over 85 per cent to the economy. India currently has 33 world-class private enterprises, it said.

"Their astounding performance is the best lesson for Chinese enterprises," he said in an interview with the China Daily.



中国日报称,印度的核心优势是占了经济超过85%的私营企业。印度当前有33个世界级的私营企业。





在接受中国日报的采访时,潘称:"他们令人震惊的表现是最值得中国企业学习的。"





A

ccording to Pan, Chinese enterprises should learn from their Indian counterparts' innovative spirit, experience in global operations, skills in mergers and acquisitions, and the unique way of training managerial elites in the era of globalisation.

Since the process of economic liberalisation began in 1991, the leaders of India's private businesses have articulated inspiring visions and mobilised their enterprises to achieve internationalisation.

Pan focuses on three Indian sectors that have made great progress in the last two decades -- IT, pharmaceutical industry and financial services. He also points out success stories in each of the sectors that Chinese companies can learn from.



根据潘的话,中国企业应该从印度同行那里学习创新精神、全球运作经验、合并收购能力和全球化时代培养管理精英的独特方式。





自从1991年经济自由化进程开始以来,印度私营企业领导人显示了鼓舞人心的远见,充分调动企业力量,取得国际化目标。





潘主要关注过去二十年里取得巨大进展的三个印度行业——IT、制药业和金融服务。他也提及了每个领域里值得中国公司学习的成功故事。





I

nfosys, which started with only $250, has now become the so-called Indian Microsoft, while Ranbaxy is the first Indian multinational pharmaceutical company, it cites. It also cites the example of ICICI Bank which is the largest private bank in India with the largest market value.

With strong support from the government and banks, an increasing number of Chinese enterprises are looking beyond their horizon to invest.

Soon many of them could join the "going global" race, but they still lack experience in internationalizing operations and management.



印度信息系统技术公司刚成立时只有250美元。如今已经发展成印度的微软。兰伯西是第一家印度国际制药公司。印度工业信贷投资银行是印度市场份额最大的私营银行。





许多公司在拥有政服和银行的强大支持后,如今目光看得更远,正寻找投资机会。





很快,许多公司将加入到"全球化"的竞赛中。但是,他们仍然缺乏国际化运作和管理的经验。





"T

hat's why we should learn from Indian private enterprises, as they did a commendable job in the journey of internationalisation," he said.

Ramakrishna Velamuri, an Associate Professor at the China Europe International Business School, said the new book is "very timely", and "imperative for policymakers, businessmen and the general public of both China and India to have a deeper understanding of each other," the Daily said.



他称:"那就是我们应该向印度私营企业学习的原因。他们在国际化进程中值得表扬。"





中欧国际商业学校副教授Ramakrishna Velamuri称,这本新书是"非常及时"的。中国日报则称:"对于中国和印度的政策制定者、商人和普通大众之间的彼此加深了解,这本书是必要的。"




以下是印度网民评论




China...
by Samar Singh (View MyPage) on Jun 23, 2010 08:25 AM

We Indians are fascinated by our glorious past..how we were a "shifu" to china...
the days when other nations could preach or dictate terms to China are gone and gone for good...
we need to learn from china...
our corrupt politicians could learn about honesty and integrity to start with...



我们印度人迷恋辉煌的过去...我们怎么会是中国的"师傅"呢...其他国家可以任意欺负中国的时代已经一去不复返了...我们需要向中国学习...我们腐败的政客应该从诚实和正值开始学起...





原创翻译:三泰虎 http://www.santaihu.com
Other way..
by Michael Angelo (View MyPage) on Jun 22, 2010 08:37 PM

India has nothing to teach China. Maybe in the past India was China's Guru. Indian teachers like Buddha, BoddhiDharma etc. had a powerful impact on Chinese culture. Modern India cannot teach China. In fact China can teach India about infrastructure development.



印度没有什么可以教中国的。印度也许过去是中国的师傅。佛陀、菩提达摩等印度大师对中国文化影响深远。现代印度没有什么可以教中国的。事实上,中国可以在基础设施发展上教印度。
china should learn hindi
by pankaj K (View MyPage) on Jun 20, 2010 01:53 PM

china shud learn hindi. their language is of no use. hindi has great history and good knowledge. and great movies.
what chinese langueag have ?? chin chin fu.

if it was hindi they wud have developed more.



中国人应该学习印地语。他们的语言没有用。印地语拥有伟大的历史、丰富的知识和很棒的电影。中文有什么?...如果中国人说的是印地语,他们会更发达。
joseph gunnil
India wil never be a developed country
by joseph gunnil (View MyPage) on Jun 20, 2010 07:51 AM | Hide replies

India can develop only if v have a communist rule one leader who rules,
In India the politicains are the king.
I hate to be a Indian



如果共产领导人统治我们,印度就能够发展。在印度,政客是国王。我讨厌做印度人。
comedy article
by Kumaran Babu (View MyPage) on Jun 08, 2010 03:35 PM

Really do not know how this author hsa written such a funny article so seriously



真不知道作者怎么会如此严肃撰写这么可笑的文章。
A Rosy picture presentation to please Indians.
by Rahul Singh (View MyPage) on Jun 08, 2010 02:22 PM | Hide replies

The day China starts tutoring from India, we will witness the down fall of that nation. Rather China has to teach India about its success story. Inspite of massive population it has progressed on a fast track. See India, we are where we were 65 years back, except that every tom-dick and harry Indian on the road boasts of possessing a chune ki dabbi (cellphone). Other than this change I don`t see much change in this country. With population growth, there is spurt in corruption, crime rate growth in cultural degradation or call it moral bankrupsy among the Indians.



中国开始学习印度的那一天,我们将见证中国的没落。相反的是,中国应该将成功的经验教给印度。尽管人口众多,中国进步非常快速。看看印度,我们仍然停留在65年前。除了路上的每个印度人都有了手机,我在这个国家看不到任何改变。随着人口增长,印度人的腐败、文化衰退带来的犯罪或者说道德败坏等都在加剧。
What China Can learn from India???
by nandha C (View MyPage) on Jun 08, 2010 02:16 PM | Hide replies

Here It is...
1) Corruption
2) Vote Bank Politics
3) Mockery of Justice
4) Family First Then Country Second.

jai Hind



(中国可以从印度那里学到什么?)





以下就是...




1、腐败




2、票仓政治




3、漠视公正




4、家族第一,国家第二





胜利属于印度
sdfsf
by Arun Premraj (View MyPage) on Jun 08, 2010 01:03 PM

please delete this article .. its almost embarrassing in today's context..



请删掉这篇文章...在当今背景下,这几乎是让人尴尬的。
China can leann...
by ravinder khatana (View MyPage) on Jun 08, 2010 12:43 PM

What a rubbish, What India can teach to anyone...corruption?, worst infrastructure?, Reservation?, false owner killing or how to build statues by public money? I think this author got kick from China or China paid him to write this kind of book just to misguide people. I feel sad but India need to learn from world...we don't have anything to teach.



真是垃圾文章。印度有什么可以教别人的...腐败?最差的基础设施?预留制?如何用公共资金建立自己的地位?我想作者从中国那里获得了好处,或者中国为了误导人们而雇佣他写这种书。我感到伤心,但印度需要向世界学习...我们没有任何东西可以教别人。
What China can learn from India ?
by Vasanth K (View MyPage) on Jun 08, 2010 12:19 AM

Mmm... "What China can learn from India?" - My goodness, what an attitude problem we have. Historically a civilization that has learned from others has prospered and moved forward. While Chinese learned from others and have some inventions attributed to them, Indian civilization, in spite of all its shortcomings, ironically, maintained this attitude of superiority. One of the main reasons for India's backwardness is this attitude and failure to learn from others. On what basis can we claim we are superior to any? What has India achieved in world stage?



Mmm..."中国可以从印度那里学到什么?"——天啊,我们的态度真是个问题。历史上,向别人学习的文化都是繁荣和进步的。中国人向其他人学习,并赋予了一些创新。令人讽刺的是,印度文化尽管有许多缺点,却仍然秉持优越性的态度。印度落后的其中一个主要原因就是态度和没有向别人学习。我们凭什么声称优越于别人?印度在世界舞台上取得过什么?
All the Indian Commie traitotrs are not going to like it
by Calspadeaspade (View MyPage) on Jun 07, 2010 05:34 PM | Hide replies

Though this article is a bit far fetched. One thing with chinese. No matter how much better they are from others , they never under estimate others. They are good learners. They are truly humble when it comes to learning unlike Indians. Indians think they know it all and they dont need to learn from any one except the west.



这篇文章有点牵强。中国人的一个优点是:不管自己比别人好多少,他们从不低估其他人。他们非常善于学习。就学习而言,他们真的很谦虚。印度人认为自己什么都懂,认为不需要向除了西方外的任何人学习。
what is this ?
by RR (View MyPage) on Jun 07, 2010 10:22 AM | Hide replies

what bull shit topic is this ? "china learn from india" ?... change the heading for this article. we should learn a-z from china ...



这是什么狗屁话题?"中国向印度学习"?...把这篇文章的标题改了。我们应该向中国学习ABC那样基础的东西...
There is nothing for china to learn from india.
by Guest (View MyPage) on Jun 06, 2010 12:52 PM | Hide replies

One thing china can learn from its old shifu is how to piss on the sides of the roads without feeling ashamed about the passersby. China will no longer consider india as a shifu (chinese term for master). China has better role models now. Its a super-power on its own.



中国可以从"老师傅"那里学的就是,在公路边上当着路人的面小便而不感到羞耻。中国不再会认为印度是师傅。中国现在有更好的榜样,它本身是个超级大国。
We will be ahead of China in coming years
by Tushar Gokhale (View MyPage) on Jun 06, 2010 10:14 AM | Hide replies

What everyone is seeing here is China as a big brother to India and India is way to behind. I do agree but you all missed the point. The author is saying India is behind right now but in future it will be ahead. I do agree to this point as time passes we will progress and we are showing strong consistent economic growth. Unlike China's govt funded industry. There currency value and market value is not real and is determined by Govt.



大家在这里看到的是中国是印度的老大哥,印度远远落后。我同意你们的看法,但有一点遗漏了。作者说的是印度现在落后,但将在未来领先。我同意这点。随着时间流逝,我们将进步。我们的经济一直强劲增长。而中国的产业是政服资助的。他们的货币和市场价值不是真实的,是由政服决定的。
Is this a classroom to learn?
by Mossad Krishna (View MyPage) on Jun 06, 2010 09:56 AM

There is nothing in India that China can learn from and there is nothing in China that India has to learn from. Stop writing such defeatist and pessimistic articles! All that India and China need to do is to have a healthy competition in development and maintain a diplomatic and strategic relationship with each other. Stop writing such comparative, exaggerated, our of context and defeatist articles. PERIOD.



印度没有什么值得中国学习的,中国也没有什么是印度必须学习的。停止写这种宣扬失败主义和悲观主义的文章!印度和中国所要做的就是在发展上健康竞争,相互保持外交和战略关系。不要写这类比较性、夸张性、不符合背景和宣扬失败主义的文章。就这样。
a lot more
by Desert Line (View MyPage) on Jun 06, 2010 08:32 AM | Hide replies

China can learn a lot more from Indian; how to corrupt the system, how to loot public money and stock in swiss banks, how to harass public in the name so called democracy.



中国可以从印度那里学到很多东西——如何让体制腐败,如何抢劫公众资金,如何在在瑞士银行存钱,如何以所谓的皿煮的名义骚扰公众。
It's wrong to compare China to India
by Asim Jena (View MyPage) on Jun 06, 2010 02:17 AM | Hide replies

It's wrong to compare China to India. China is at least 30 years ahead of India in development. The media coverage that you get in India is biased. Seeing is believing. Unless one goes and experiences the developments in China, he/she will not realize this. I am telling this because I was also thinking that India is comparable to China before actually visiting and seeing China.
My appeal to my fellow countrymen in India, please don't try to over-estimate India's growth. Try to develop India economically, politically, and socially. India has a log way to go.



将中国和印度进行比较是不对的。中国在发展上至少领先印度30年。你在印度看到的媒体报道是有偏见的。眼见为实。除非去中国亲身体验那里的发展,否则你认识不到这点。我之所以这样说,是因为在我访问中国并亲眼所见之前,我也是认为印度和中国是可以比较的。





我对印度国民的呼吁是,请不要试图高估印度的发展。努力发展印度经济、政治和社会。印度还有一段很长的路要走。





原创翻译:三泰虎 http://www.santaihu.com
hahahahahahahahahahahahahahah
by SUDHIR RAO M (View MyPage) on Jun 05, 2010 11:27 PM | Hide replies

China hahahahahahhaha learning from India hahahahahahahahahahahahahah. Joke of the year. hahahahahahahahahahahah



中国学习印度。哈哈哈......本年度笑话。哈哈哈......
BULLSHIT
by kavish agrawal (View MyPage) on Jun 05, 2010 09:59 PM | Hide replies

Is this a joke??
Shouldn't it be the other way round..!!
Its a shocking article..and whoever the writer is!!



这是笑话吗??不是应该反过来吗...!!这是令人震惊的文章...作者是谁!!
nothing to learn from india
by J J (View MyPage) on Jun 05, 2010 09:42 PM

there is nothing that china needs to learn from india.the fact is that it is india which need to learn a lot from the chinese. china will be ruined if they start taking lessons from india.



印度没有什么值得中国学习的。事实上,印度需要向中国学习很多东西。如果中国开始学习印度,中国将会受到破坏。
India has lower IQ
by AMIT SEN (View MyPage) on Jun 05, 2010 09:41 PM | Hide replies

Indians have lower IQ than Chinese,so we have lot to learn from them



印度人的智商比中国人更低。所以,我们必须向他们学习很多东西。
Nice
by Raj Gupta (View MyPage) on Jun 04, 2010 06:21 PM | Hide replies

US Education Secretary Arne Duncan told Indians that "From India, we have much to learn",

Now a Chinese businessman said Chinese should learn from India?

Who will be the next? A Japanese? A BT man? A Germany?

Nice to hear this kind of words.



美国教育部秘书阿恩·邓肯告诉印度人:"我们需要向印度学习很多东西。"





现在一名中国商人称中国需要学习印度?





谁将是下一个?日本人?德国人?





听到这类话很高兴是吗。
一名在印度工作了10来年的中国人写了一本书《中国可以从印度那里学到什么》。他在书中提到了印度私营企业在全球值得称赞的表现。他称中国企业应该从印度同行那里学习国际化管理和运作经验。印度人如何看这个问题呢?许多印度人认为印度远远落后中国,应该是印度向中国学习。