版权所有:http://www.santaihu.com
原文标题:Vietnam warns China after survey ship sabotaged in South China Sea
原文链接:http://timesofindia.indiatimes.com/world/rest-of-world/Vietnam-warns-China-after-survey-ship-sabotaged-in-South-China-Sea/articleshow/17487460.cms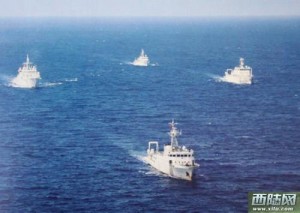 HANOI: Vietnam has warned China to respect its sovereignty after accusing Chinese ships of sabotaging a Vietnamese survey vessel in the disputed South China Sea.

A foreign ministry statement late Tuesday said the incident last week and two other administrative measures by China recently related to its claims in the sea had "complicated" the dispute.



河内:在指责中国船只在有争议的南海破坏越南调查船后,越南对中国发出警告,要求中国尊重其主权。





4日,越南外交部的一份声明称,上周发生的事件和中国最近两个有关南海主权的行政措施让争议变得"复杂化"。



China believes most of the South China Sea is its own, overlapping with claims of Vietnam, the Philippines, Malaysia and Taiwan in parts of the gas and oil-rich region.

Vietnam said Friday that two Chinese ships intentionally cut the cables of a seismic ship off the central coast.

The foreign ministry said China must respect Vietnam's sovereignty and "immediately stop all this wrong actions and make sure they are not repeated."



中国认为南海的大部分区域属于自己拥有,与越南、菲律宾、马来西亚和台湾所主张的区域出现部分重叠。





30日,越南称,两艘中国船只故意切断其一艘震波测绘船的电缆。





越南外交部称,中国必须尊重越南的主权,"立即停止一切错误行动,确保类似事件不再重演"。




以下是印度网友的评论:




SCL Premi (India)
China relishes to bully its neighbours with territorial claims. The neighbors will have to unite and resist unitedly. Vietnam should not be left to be merrily twisted by the ear by China.



中国坚持其领土主张,津津有味地欺负领国。领国必须团结起来抵抗中国,不应坐视越南被中国欢快地拧耳朵。
BlueHorse (Canada)
China has its own modified maps to follow. It doesn't need to follow other countries' maps.
Agree (2)Disagree (8)Recommend (0)



中国遵照自己修改的地图行事,不必顾及其他国家的地图。
MP Abraham (Chennai)
Chinese played some tricks to intimidate India earlier and India kept quiet. Let our Foreign policy block-heads learn something from this tiny state of Vietnam!
Agree (8)Disagree (0)Recommend (4)

中国以前耍花招,恐吓印度,印度保持沉默。我们的外交蠢蛋应该向弹丸小国越南学习!


Sirius Sam (Kolkata)
Well, I don't think Vietnam or any other country will ever do that with China alone. Because everyone fears the might of China (That's the truth). But if the mighty China attacks any of its neighbour, then only I think the Chinese could be taught a lesson to remember. The Chinese are aware of their weakness more than they are aware of their strength. They are well aware that India, Asean, Central Asian Nations, Japan and Taiwan are getting closer to each other and collaborating not only economically but militarily as well. It is definitely giving the goose bumps to the Chinese Communist party, who have long ruled the Chinese people on their own terms. The last thing the Chinese would want is a joint millitary force of its neighbors, esp. with Taiwan, to ensure regional safety. So China is just acting like a primary school bully, who thrives on others fear and always ensure that others won't unite against him.
Agree (0)Disagree (0)Recommend (0)




我认为越南或者其他国家不敢单挑中国,大家都害怕强大的中国(这是事实)。我认为,只有强大的中国攻击任何一个领国,中国人才会被教训。中国人对自己的弱点再清楚不过了。他们很清楚印度、东盟、中亚各国、日本和台湾的关系变得更密切,不仅在经济上而且在军事上有展开合作,肯定会让长期按照自己方式统治中国人民的共产党起鸡皮疙瘩。中国人最不愿意看到的是邻国组建军事联盟保障地区安全,特别是与台湾。所以,中国就像是小学恶霸,其繁荣建立在其他国家的恐惧之上,总是确保其他国家不会联合起来对付他。



Suresh Singhal (India)
The word 'respect' does not find place in the dictionary of Chinese Establishment.
Agree (8)Disagree (0)Recommend (4)



中国人的字典里找不到"尊重"这个词。
mahistuffs (Chennai)
China is known for its aggression and it has its own World map.
Agree (10)Disagree (0)Recommend (1)



中国以好斗著称,遵守的是自己的世界地图。
jimgautam (India)
People blame India of not getting along with it's neighbors. China is actually the country which doesn't get along with anybody except begger Pakistan. Pakis Kiss a lot of chinky A$$. Then Pakis get on Indian websites and try to blame India for everything. What a bunch of losers.
Agree (22)Disagree (0)Recommend (4)



人们怪印度不与领国好好相处。其实,中国才是不与领国好好相处的国家,巴基斯坦乞丐是个例外。巴基佬经常拍中国佬的马屁,然后上印度网站,把一切归咎于印度。真是一群失败者。
Nashikanta Irom (Bangalore)
After South China Sea, China would say the entire world is under its sovereignty ..... Why dont they just happy with what they have right now.... If you want too much, you end up losing everything u have... Mind it ....
Agree (9)Disagree (0)Recommend (4)



搞定南海后,中国可能会说整个世界在其主权范围内.....为什么不满足于现在所拥有的。如果太过贪心,到头来会一无所有.....
raju.87 (Pune)
India ,Japan South Korea, Vietnam, Taiwan ,etc. should unite and fight China.
Agree (13)Disagree (1)Recommend (4)



印度、日本、韩国、越南、台湾等应该联合起来对抗中国。




Let Me Die (New delhi) replies to raju.87
They will. China Loose for sure.
Agree (3)Disagree (0)Recommend (2)




会的,中国输定了。



Bhaskar Mittal (Canada)
Good to see a tiny fly, raising voice against a big dragon. Make dragon fire on it's own tail.
Agree (15)Disagree (0)Recommend (5)



乐见一只苍蝇对巨龙提出意见,让龙的尾巴着火吧。
madireddi (usa)
In a former conflict, when China invaded Vietnam, Vietnam crapped the Chinese to defeat, something that not even the US was able to accomplish. I think a coalition of Vietnamese, Indian, Filipino and Japanese vessels should patrol the China seas, and sink any Chinese ship that bullies any of them, shoot first and talk later.
Agree (12)Disagree (2)Recommend (3)



中国以前入侵越南,被越南打败,连美国都没有办到。我认为,越南、印度、菲律宾和日本联合起来的舰队应该在(南)中国海巡逻,击沉任何胆敢挑衅的中国船只,先打再谈。




KC and Jojo (United States) replies to madireddi
The US has never directly faced China. Only when Chinese wore Korean uniforms in the Korean war. And then the only thing going for them was pure numbers.
Agree (1)Disagree (0)Recommend (1)




美国没有与中国直接交手过。只有朝鲜战争时中国穿朝鲜军装那次,中国唯一占优势的是数量。



Derrick Dias (Goa)
If it was not for gas and oil-rich region. no one would be fighting for this area !
Agree (3)Disagree (1)Recommend (0)



要不是为了争夺该地区丰富的天然气和石油资源,没人会在那里斗得死去活来!





版权所有:三泰虎 http://www.santaihu.com
Mamidi Suresh (Tirupati)
Slowly gettign in to Arunachal Pradesh..one fine day they will release the Map by saying Arunachal is there in their province..............
Agree (2)Disagree (0)Recommend (1)



慢慢渗透入"阿鲁纳恰尔邦",晴朗的一天,他们会公布一张把"阿鲁纳恰尔邦"划为其省份的地图......
omprakashacharya460 (jodhpur)
To contain agrssive dragon which is threat to peace in the region India should stand with vietnam a country of brave people.
Agree (3)Disagree (0)Recommend (0)



中国龙好斗,给该地区的和平带来了威胁,印度应该与勇敢的越南人民一起围堵中国。
Let Me Die (New delhi)
Why China not protecting International maritime law here. Irresponsible Country.
Agree (5)Disagree (0)Recommend (2)



为什么中国不在这里保护国际海洋法的施行,不负责任的国家。
Ashok Krishnatry (USA)
China is supper power... warning by Vietnam , what it's value/effect ? who cares ?
Agree (1)Disagree (6)Recommend (0)



中国是超级大国,被越南警告,有什么用?谁会在意?
manoj (Dhule)
China wil be germany of next world war.....
Agree (8)Disagree (0)Recommend (2)



中国会是下一场世界大战的德国.......




KC and Jojo (United States) replies to manoj
Indeed. Hitler used similar tactics, saying his invasions were reclaimation of land already his..




确实,希特勒利用类似策略,称德国的入侵是为了收复领土。



Ravi (Kuwait)
When Vietnam can stand upto China, why should not India? We have had enough of Chinese hegemony in the region India should show its leadership now with all of these smaller countries supporting it
Agree (2)Disagree (0)Recommend (1)



既然越南敢挑战中国,为什么印度不敢?我们已经受够了中国在该地区的霸权,印度应该在众多小国的支持下展现其领导力。
navinder_khurana (nagpur)
China says that South China Sea belongs to it.. Tomorrow India will say that whole of Indian Ocean belongs to it and the Arabs will say that the Arabian Sea belongs to them!!!!!!!!!! FUNNY.



中国说南海属于他的,印度明天会说整个印度洋是自己的,阿拉伯会说阿拉伯海属于他们的!有趣。
《印度时报》5日报道,在指责中国船只在有争议的南海破坏越南调查船后,越南对中国发出警告,要求中国尊重其主权。4日,越南外交部的一份声明称,上周发生的事件和中国最近两个有关南海主权的行政措施让争议变得"复杂化"。中国认为南海的大部分区域属于自己拥有,与越南、菲律宾、马来西亚和台湾所主张的区域发生重叠。30日,越南外交部称,两艘中国船只故意切断其一艘震波测绘船的电缆,要求中国必须尊重越南的主权,"立即停止一切错误行动,确保该事件不再重演。"