原文标题:Toxic milk whistleblower thrashed to death in China
原文链接:http://timesofindia.indiatimes.com/world/china/Toxic-milk-whistleblower-thrashed-to-death-in-China/articleshow/17331058.cms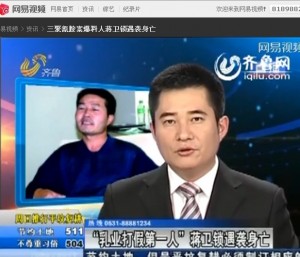 BEIJING: The man who exposed the illegal deeds of the Chinese dairy industry, resulting in a countrywide scandal in 2008, and the subsequent exposure of other incidents of milk contamination was beaten to death. The milk contamination had caused sickness to an estimated 300,000 people and resulted in the death of six infants in 2008.

Jiang Weisuo, the whistleblower (44), died on November 14 but the official media released information about his death only now. He was attacked by unidentified suspects on November 2 and succumbed to injuries 12 days later, the Southern Metropolis Daily reported.



中国乳业爆料人蒋卫锁(44岁)遇袭身亡。蒋卫锁举报中国乳业存在的非法行为,导致2008年发生轰动全国的三聚氰胺事件,以及其他奶制品污染事件被曝光。2008年,受污染奶制品导致大约30万人患病和6名婴儿死亡。





蒋卫锁死于11月14日,但官方媒体现在才披露消息。本月2日,蒋卫锁遭不明嫌犯袭击,身受重伤,因伤势过重而离世,南方都市报称。



The attack took place on his way back after attending a meeting at a dairy company in Xi'an city of Shaanxi province, where he worked as general manager.

Police have detained a suspect, but the motive of the attack remains unclear, according to the report. There is a suspicion that powerful people may be involved in organizing the attack because it is unusual for the police to take such a long time to hunt down suspects in a local area.

Jiang began exposing milk contamination way back in 2006 by writing to the local government in Shaanxi. He became well-known in China after the scandal concerning the use of the melamine, a chemical used in the plastic industry, which helped dairies push up the fat content in milk artificially. The melamine contamination caused sickness to thousands of people, who developed kidney complications.



蒋卫锁是陕西省西安市一家乳品公司的总经理,袭击发生在他出席公司会议后的回途中。





据报道,警方已经逮捕了嫌疑犯,但袭击的动机尚不明确。警方在当地搜寻很长时间才发现嫌犯是不寻常的,所以人们猜测有大腕涉嫌策划了这起袭击。





2006年,蒋卫锁开始向当地政服举报奶制品污染事件。三聚氰胺事件曝光后,他成为中国众所周知的人物。三聚氰胺是塑料工业使用的一种化学制品,可以提高牛奶中的蛋白含量。受三聚氰胺污染的奶制品导致数千人患病。




以下是印度网民的评论:




mangomansingh (bananaland)
Going by this news, I think Kejriwal needs to wear vests and helmet next time he goes to any corrupt CONgress leader's constituency.
Agree (1)Disagree (0)Recommend (1)



看了这则新闻,我觉得凯吉利瓦尔下次去腐败国大党领导人的选区时,需要穿防弹背心和戴头盔。





【三泰虎注:凯吉利瓦尔(Arvind Kejriwal)是印度反腐斗士】
Kyon (India)
this is the cost we pay for exposing the truth !! tsch tsch ...i happy that kejriwal is still able to move about freely ...
Agree (1)Disagree (0)Recommend (1)



这就是披露真相所要付出的代价!!高兴地看到凯吉利瓦尔还可以自由活动........
Johnson (Singapore)
He must have been killed and bumped off by the chinese security apparatus for exposing the dirty deeds in China. They never tolerate dissent or bad publicity. Its shameful and disgraceful that such a thing could happen to someone who saved the chinese people from all this bad practices and corruption



揭露了肮脏行径,肯定被安全机构干掉了。从来不能容忍异议或者负面宣传。拯救中国人于腐败和不良做法之中的人却落得如此下场,真是可耻。
catindia (Hindustan)
Greed of money is every where including India too!!! There is no proper machinery or law to control it!. We also need some actions!! May be some whistle blowers. Greedy farmers and milk man add many additives in milk to get more fat. They even inject some hormones on daily basis to cows (so called Holy Mothers huh!) which are very dangers to health of infants.



到处存在对金钱的贪欲,包括印度!!!没有合理的监管机制或者法律!我们也需要采取行动!也许是需要一些爆料人。为了提高牛奶的蛋白含量,贪婪的农民和牛奶工人往其中加入许多添加剂,甚至每天给奶牛注射一些对婴儿身体非常有害的荷尔蒙。
Dipta Das (World)
I never expected China to become such a dangerous place.
Agree (3)Disagree (0)Recommend (1)



从来没聊到中国会变成一个如此危险的地方。
KK (Hyderabad)
Didnt know that CHINA too is a corrupt and weak state in terms of social security. I personally looked high on CHINESE Govt for building a strong and financially wealthy nation. I wont be surprised to see China crippled down with corruption and mafia in the near future.
Agree (5)Disagree (0)Recommend (2)



以前不知道中国社会安全也如此脆弱。个人高估了中国政服打造强大富裕国家的能力。未来因腐败和黑手党而奔溃,不会令我感到意外。




catindia (Hindustan) replies to KK
it happens largely in India too so don't be surprise with china's news! we are being pumped in toxic foods, artificial flavors, beverages including milk on daily basis.




印度也发生许多这样的事情,所以别对中国的新闻感到吃惊!我们每天也被"灌进"有毒食品、人造香味剂,包括牛奶在内的饮料。



Akhill K Singgh (Jazan, Jizan, Saudi Arab)
Any Chinese who raise the finger against inferior products will have the same fate



任何对劣质食品指指点点的中国人会落得同样下场。
dv1173 (New Delhi)
Soon CHINA.... technology will be copied in India.... after all we found people making milk with Urea & synthetic materials here....
Agree (2)Disagree (0)Recommend (1)



中国"技术"很快在印度得到复制.......我们发现人们往牛奶掺入尿素和合成物......
Ashish Reloaded (pune)
Chinese Media is strictly censored by government to see that names of powerful people dont come up.Same is with innocent Tibetans who set them ablaze protesting against government but Chinese media didnt give a hint of whats happening in china!



中国媒体受严格审查,大腕名字不会出现。自焚抗议政服的无辜藏人也是如此,媒体不会暗示国内发生了什么!
Carrion Eater (MAH)
China is growing ecomically just like Gujarat. Similarly, Gujrat Government also believes "A good RTI Activist is a - Dead One"
Agree (1)Disagree (5)Recommend (0)



与古吉拉特邦类似,中国经济快速发展。同样类似地是,古吉拉特邦主张:"只有死了的人才是好的活动分子"。
Deepak (Bangalore)
Now these people who thrashed the whistleblower to death are caught, will definitely hang on the gallows very soon!. But in India they will join politics, win elections and finally sit in.......!!!!. What a contrast sirji!
Agree (3)Disagree (2)Recommend (3)



打死爆料者的人被抓了,很快会上绞刑架!但在印度,罪犯会加入政界,赢得选举,最终上位!!!多么强烈的反差!
raj.dada (Calcutta)
China is a huge rotten monolith waiting to crumble...all it needs is a kick at its door.
Agree (2)Disagree (1)Recommend (0)



中国是一个等待奔溃的庞然大物.....只要"临门一脚"就.......
Dinesh Prabhakar (delhi)
contaminated milk powder from China is finding way to other countries of world too, like any other counterfeit and spurious Chinese product!



同其他仿造和假冒中国货一样,受三聚氰胺污染的奶粉找到了前往其他国家的通路!
Pallavi (Port Louis)
So much so for the openess of the communist China
Agree (2)Disagree (0)Recommend (1)



共产中国的开放就到此为止吧。
John (chennai)
And they say Communistic China is far better than the rest of the world... Its kinda dictatorship, if am not wrong.... Such a sad state... surprised, such news even come out of the nation...
Agree (6)Disagree (2)Recommend (4)



他们说共产中国远比其他国家好。没说错的话,其实有点专政。如此糟糕,吃惊,居然会出这样的新闻。
Mike (UAE)
China is a country like India of a billion plus population, however, unlike India, ruled and abused by a few, in India, its reverse, we are ruled and abused by many.
Agree (14)Disagree (0)Recommend (4)



中国与印度类似,人口十多亿。然而也有不同,中国人被少数人统治和虐待,印度人被大多数人统治和虐待。




unknown Indian (India) replies to Mike
It is really sad to see China go the India way.. We look upon China as an example, where, even authoritarian govts care for their people and give them more rights than a "democratic" India..




伤心地看到中国在步印度后尘。我们把中国看做范例,专制政服关心人民,给予人民的权利比"皿煮"印度给的更多。



Victor Martel (KALAPET)
Is China going the India way? Crime, lawlessness, politicians doubling as criminals, rule of law violations, human rights abused. I am extremely disappointed to read this.
Agree (6)Disagree (1)Recommend (1)



中国在步印度后尘?犯罪、违法、政客兼饰罪犯、践踏人全。看到这个新闻,我感到极度失望。




Dipta Das (World) replies to Victor Martel
Thanks Sir, you have woke up finally.
Agree (1)Disagree (0)Recommend (0)




谢谢先生,你最终觉醒了。



badegg (US)
The suspect is his own wife. Who knows what happened. Indian media should tell the whole story
Agree (3)Disagree (1)Recommend (2)



嫌犯是他的妻子。谁知道发生了什么。印度媒体应该完整报道。




Dipta Das (World) replies to badegg
It seems like this, "Kill a man and put the blame of the killing on his wife."




似乎是这样,"杀其人,嫁祸于其妻"。



devadhodhan (Sa)
May his soul rest in peace. is this the fate of anyone who dares to speak the truth.



愿逝者灵魂安息。这就是胆敢说出真相的下场?
Kaushik Duttgupta (Sohar, Oman)
Wish more such brave and honest guys existed. Wish someone could expose chinese reverse engineering and their sinister plans to ruin world economy.



希望有更多勇敢和诚实的人存在。希望有人能揭露中国人的逆向工程及其毁灭世界经济的阴险计划。
Influencer
Mafia style silencing of dissidents has at long last reached China.



压制异议人士的黑手党式手段最终到达了中国。
Sushil (Lucknow)
Toxic milk causing sickness to more than 300000 lakh people .I thought the news is about our country & by mistake the name of China have been printed?



有毒牛奶造成30多万人患病。我以为这条新闻讲的是我们国家,只是误把中国的名字印上去了。
印度时报23日报道,据南方都市报消息,三聚氰胺爆料人蒋卫锁遇袭身亡。报道称,11月2日,在出席了公司本年度经销商订货会议后的第二天,蒋卫锁遭人袭击,身受重伤入院治疗,但终因伤势过重,于11月14日下午不幸离世,终年44岁。2006年,身为奶站老板,蒋卫锁向官方举报当地奶源掺假一事,并将其获得的奶源掺假资料于媒体上公开。两年后,三聚氰胺事件轰动全国,蒋卫锁才开始被更多的人所理解。为此,有媒体称蒋卫锁为"乳业打假第一人"。