译文来源:三泰虎 http://bbs.santaihu.com/thread-6654-1-1.html
外文标题:The 'world' wants to buy this China-Pak fighter jet
外文地址:http://www.rediff.com/news/slide-show/slide-show-1-the-world-wants-to-buy-this-china-pak-fighter-jet/20130527.htm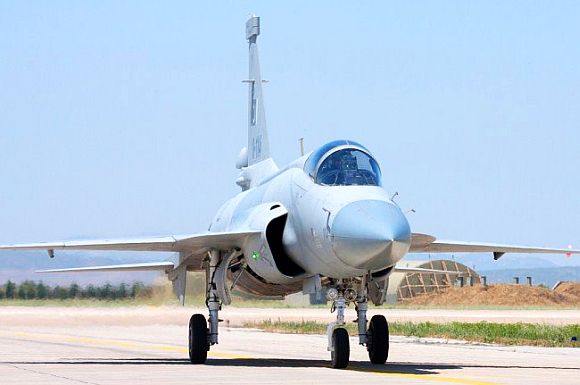 A

s Chinese Premier Li Keqiang wrapped up his "impressive" visit to Pakistan to firm up their economic and military ties, a Pakistan official said "numerous countries" are interested in obtaining JF-17 Thunder fighter jet jointly developed by both the countries.

"We've been receiving inquiries and expressions of interest on the JF-17 Thunder from many countries in the Middle East, Africa and even as far as South America," Air Marshal Sohail Gul Khan, the chairman of the Pakistan Aeronautical Complex, told state-run China Daily.

The JF-17 Thunder -- or the FC-1 Fierce Dragon as it's known in China -- is a third-generation multipurpose combat jet co-developed by Aviation Industry Corp of China and the Pakistan Aeronautical Complex, which is in charge of manufacturing and maintaining the Pakistan Air Force's aircraft.



随着中国总理李克强结束对巴基斯坦"令人印象深刻"的访问,稳定了中巴经济和军事关系,一位巴基斯坦官员称"许多国家"有兴趣购买两国联合研制的JF-17雷电战机。





巴基斯坦航空工业公司主席Sohail Gul Khan空军中将在接受《中国日报》的采访时称,我们已经收到了来自中东、非洲乃至南非的许多国家对JF-17雷电战机的询问和意向书。





JF-17雷电——在中国被称为FC-1枭龙战机——是中国航空工业集团与负责生产和维护巴基斯坦空军飞机的巴基斯坦航空工业公司合作开发的第三代多用途战机。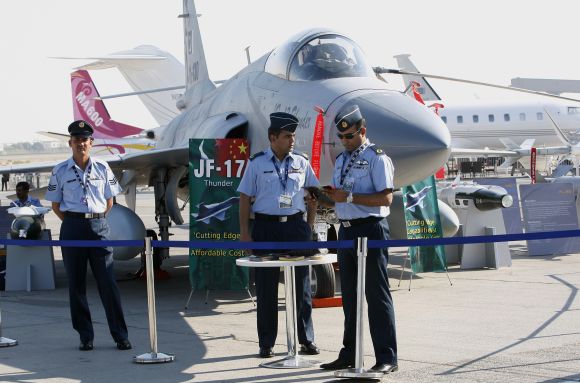 T

he joint venture has produced substantial number of aircrafts already with engine supplied by Russia.

"During my trips to many countries, almost everyone I've met asked me about the plane and many countries said they want to join the project," Khan said.

The JF-17 is an "extremely capable aircraft" and its manoeuvrability and avionics are excellent, he said.

"The JF-17 is one of our top lightweight fighters, comparable to any advanced aircraft in the Pakistan Air Force," said Air Vice-Marshal Javaid Ahmed, chief director of the JF-17 project.



在俄罗斯提供发动机的前提下,中巴合资企业已经生产了大量的战机。





Khan说,我访问过许多国家,几乎碰到的每个人都会向我问及这款飞机,许多国家称他们想加入这个项目。JF-17雷电战机是一款"能力非常强的战机",它的机动性很棒,航空电子设备很先进。





JF-17项目总监Javaid Ahmed空军副中将称,JF-17是我们的其中一款顶级轻型战斗机,能够媲美巴基斯坦空军中的任何先进飞机。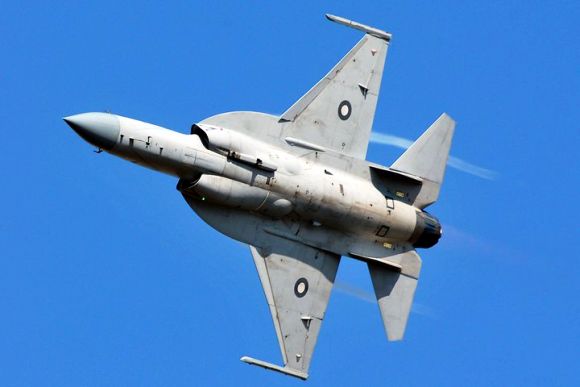 T

he Pakistan Aeronautical Complex has already produced more than 40 JF-17s, he noted, adding the cooperation project between China and Pakistan on the aircraft is still under way with technicians from both nations focusing on the upgrading of weapons and avionics.

In addition, Khan said the Pakistan Air Force has also been eyeing other Chinese military planes and may take part in the development of other aircraft in the future.



他指出,巴基斯坦航空工业公司已经生产了超过40架JF-17战机,中巴有关这款飞机的合作项目仍然在进行,来自两国的技术员正集中于升级武器和航空电子设备。





此外,Khan称巴基斯坦空军还看上了中国其他军用飞机,未来也许会参加其他飞机的研发。




以下是印度网民的评论:




本文论坛地址:三泰虎论坛 http://bbs.santaihu.com/thread-6654-1-1.html




Who had the guts to test fly them
by Head Ach

imagine you boarding a passenger jet and you told that those are made by china



想象一下,要是你登上一架客机,然后被告知飞机是中国造,你会作何感想?
Paper Planes are better that this
by gagan chadha

Wot Say



纸飞机都比这款飞机更好。
JF - 17 Air craft
by surinder singh

don't worry it is Russian make Engine fatal to their pilots.



别担心,发动机是俄罗斯造,对飞行员是致命的。
JUNK AND PAKISTANI AIRFORCE
by ashok yadav

PAKISTAN HAS ALWAYS BEEN A JOKE IN CLASS...COLLECTING JUNK IS A SPECIAL QUALITY FOR THEM..AND SELLING AND BOASTING OF JUNK HAS BEEN THE CHINESE QUALITY..WHEN TWO PERSONS MEET WITH A ITCHING..THIS IS WHAT HAPPENS



巴基斯坦向来就是一个小丑.......收集垃圾是他们的特殊能力。把垃圾货拿出来吹嘘并用于贩卖是中国人的本领。当两人碰在一起就会出现这样的事。
how many countries are aligned with china?
by Abjini Sagar

pakistan, north korea. which are other countries?



有多少国家与中国结盟的?





巴基斯坦、北韩,还有哪个国家?
junk fighter
by srivathsaa Infotech

Russian engine, 3rd rated chinese material and Hardware, no quality EW and total junk = Junk Fighter

If is this good why is china buying su 35



俄罗斯引擎、三流的中国材料和硬件、无质量保证,完全是垃圾——垃圾战机





如果真有这么好,为什么中国要买苏35战机。
china pak russian engine 3rd gen - even copycat chinese never use
by Mar Thoma

vs indian US engine LCA 4th gen.

only when kaveri enigine replaces american one-india could call it indigenous. india should export LCA



中巴采用俄罗斯发动机的第三代战机VS印度采用美国发动机的LCA第四代战机





只有印度卡韦里(kaveri)发动机取代美国发动机后,印度才能称LCA是国产战机。印度应该出口LCA战机。
What happened..
by Ramdev baba

What happened to the flying Nano -- Tejas "aircraft"...double quotes on purpose here...



那个会飞的Nano——光辉"飞机"怎么样了.....这里是故意加双引号的......
Who?
by ashok kumar

Middle East, Africa and even as far as South America....Who? These resource rich but industrial strength lacking countries will buy all cheap products from their Banker-Maibaap China....including this plane!!!

This is no match for American F-35, Russian Su-30, French Rafale!!!
Some good news for us(India) there!!!



中东、非洲乃至南非?这些资源丰富但工业实力缺失的国家会从中国买各种廉价货,其中包括这款飞机!





这款飞机与美国的F-35、俄罗斯的苏-30、法国的阵风战机没得比!





对于我们印度来说也是好消息!
Its an aircraft of the last century!
by Grizzly

As you can see from the list of "buyers", they are all third class countries who dont have anything else.

this pourrk-chini aircraft is a failure!

Nobody wants it and it will fail in the battlefield!



这是上世纪的飞机!





你看买家的名单,统统是一无所有的第三世界国家。





巴基佬和中国佬合作研制的这款飞机是个败笔!





没有人会要的,它会在战场上落败!
Sub:Pak- China nexus

The only alternative available to India now is to build a close contact both militarily & politically with Israel. This will demolish Pak-China nexus.



唯一可供印度替代的选择是与以色列打造亲密的军事和政治关系。此举能破坏中巴关系。




Re: Sub:Pak- China nexus
by gonsalves
I love this Idea! Jai Hind




这个主意我喜欢!印度必胜。



China pak Nexus
by Ram Niwas

We have to be careful of nexus which is not good for us. China has been helping Pakistan in all the fields and has even helped them establish Nuclear Plants , develop missile systems. This is all to embarrasss india



我们必须小心这种不利于我们的中巴关系。一直以来,中国在各领域帮助巴基斯坦,甚至帮助他们建立核工厂,发展导弹等。这些都是为了让印度难堪。
Best Aircraft
by Ramesh

This dirt cheap 3rd gen Chinese maal is best for African & Middle east countries to fight among themselves or to suppress rebels with rudimentary weapons!!



中国廉价的三代机最适合非洲和中东国家打内战,或者充当镇压反叛者的简陋武器!




Re: Best Aircraft
by vijayan nair
J-17 is now not preferred by the chinese themselves for thier air force and hence they are trying to jump the junk......




中国空军不喜欢JF-17战机,因此他们试图把这些垃圾拿出去倾销........



Now IAF
by aditya ravindra kudchadkar

Now IAF, Get ready to be F**ked by PAF (Pak Air Force) and PLAAF (Chinese Air force).

Sukhois and MiGs won't save you. LCA ? Forget it.



印度空军现在要做好被巴基斯坦空军和中国空军狂扁的准备。





苏霍伊和米格战机救不了你们的?LCA就更别提了。




Re: Now IAF
by Ramachandra AN
appears u are a product of the F**ked between PAF (Pak Air Force) and PLAAF (Chinese Air force).




看来你是巴基斯坦空军和中国空军结合的产物。




Re: Now IAF
by Ramesh Monde
china product is known to malfunction after few months. These aircraft would fall mid air befor actual fight !




众所周知,中国货用了几个月就会失灵。这些飞机还未开战就会从半空中掉下来。



unity
by mohd khan

one should not make nay hue and cry. it is their matter let hem do whatever they like. we should concentrate our job. just maintain unity among all indian..///



大家没必要大呼小叫,这是他们的事,他们爱咋地就咋地,我们应该专注自己的工作,大家有保持团结。
JF 17

The Chinese sold the Mig 19 derivative(Shenyang) to a number of countries because it was dirt cheap.Not for its quality(PAK was a customer) that is true for this also. The Chinese are inducting only limited numbers of this A/c into their own military. That shows the quality of their product.Reporter should do some background reading before publishing such articles



中国人把一款模仿米格19的(沈飞造)战机卖给了许多国家,卖得出去是因为非常便宜,而不是因为质量好,巴基斯坦也是其中一位客户。中国空军只服役少量这款飞机,此举表明飞机质量不咋地。记者在报道之前应先了解下背景。




Re: JF 17
by MANISH BAGDI
F-17 is based on MiG31 air frame which was rejected by russia as the fighter didnt proov to be successful, chineese buy from them and reconstructed or reengeeniered the old air frame and is selling to countries ike pakistan




JF-17仿制的是米格31,后者被俄罗斯淘汰,因为它被证明不成功。中国人买了一些,经过改造后卖给了巴基斯坦等国家。



MANISH BAGDI

We all know that india is producing LCA TEJAS on its own and pakistan and china wamts to match that , but the fact lies that the pakistan don't have any technology and thay only assemble the parts given by the china.

The interesting part is that the world is going for fifth generation fighter or the advanced fourth generation fighter which are near to fifth generation fighter, how other country demand for a third generation fighter. COUNTRY LIKE INDIA ARE planning to removing the obsolete third generation fighter from there air force then how efficient this fighter will be in future against the fourth and fifth generation fighter , these F-17 will not stand against the forth and fifthe generation fighter at all.



众所周知,印度在自主生产光辉战机,巴基斯坦和中国想要研发一款能匹配光辉的战机,但巴基斯坦没有任何技术,他们只是组装中国提供的零件。





有趣的是全世界都在努力获取五代机或者接近五代机的高级版四代机,怎么会有国家想要三代机呢。印度空军打算淘汰过时的三代机,JF-17战机未来在对阵四代机和五代机能起什么作用,根本就没有胜算。




Re: does it really works?
by Kiran
all attempts to make an indigenous engine have gone naught.




印度旨在生产国产发动机的一切尝试都失败了。




Re: Re: does it really works?
by shamprasad
it is useless to reinvent wheel. why cant india buy one American/russian super class jet in its class & try to copy the technology like the way chinese do.




重新发明轮子是无意义的,为什么印度不买美国或俄罗斯的超级飞机,然后像中国人一样试图仿制其技术呢。



dunno about this fighter jet
by Kiran

but india wont be able to make it.



不了解这款战机,但印度造不出来。




Re: dunno about this fighter jet
by MODI PHENKOO
The idiots can't make a match box even!




那些白痴连火柴盒都造不出来!




Re: Re: dunno about this fighter jet
by Samir Padhi
May be you don't know, India has already made a light combat aircraft,Tejas,which mysteryously is not being inducted to service.Probabky Air force top brass are not interested as there is no comission for them.




也许你不知道,印度已经造了一款叫做光辉的轻型战机,还未正式服役,可能是印度空军高官没有收到佣金,所以不感兴趣。




Re: dunno about this fighter jet
by MANISH BAGDI
we r far ahead in the terms of technology the tejas is far ahead then this chinese fighter and is close to standard of rafale and the other advanced fourth generation fighters in the world where as the F-17 is the best only with pak air force which does not have any reputation in the world




我们的技术遥遥领先,光辉战机比这款中国战机先进多了,接近法国阵风战机以及世界其他先进四代机的水平,而JF-17仅在毫无名气的巴基斯坦空军才是最好的。




Re: Re: dunno about this fighter jet
by Kiran
how far ahead is it? do we have indigenously made engines?




有多领先?我们有国产发动机吗?




Re: Re: dunno about this fighter jet
by indianguru
Manish u have a big ego, we are nowhere close to the standards of Rafale or advance fighter jets. The Tejas was technology developed 50 years ago.




Manish,你太自我感觉良好了,光辉战机连阵风或其他先进战机的边都沾不上,它用的是50年前的技术。



guptaapsn

Americans learned lessons from Pakistan and now this is Chines term.



美国人在巴基斯坦身上得到了教训,现在轮到中国人了。
Jointly developed?
by Aviram Vijh

Like nuclear technology? Gift wrapped and proliferated by China!



联合开发?类似中国打包好送给巴基斯坦的核技术吧!
Joshua John

Someone said, Pak's role in the joint-production was limited to serving tea, snacks, noodles, etc. to the Chinese who were involved in Design, manufacture & testing of the aircraft!!! Lols...



有人说,巴基斯坦在联合开发的角色仅限于给负责飞机设计、生产和测试的中国人端茶、送零食、面条等!LOL......
Congrats

Wah Pakistan ji & China Ji. Well done guys, glad to know that there are countries interested in looking at the flying objects that you created. At my home, none of the chinese made thing works, i wonder what fighter jets they're creating after using the pakistani engineering talents.



干得好,高兴地获知有一些国家看上了你们造的飞行物。我家的中国货没一样能用的,不知道巴基斯坦工程师造出来的这款战机怎么样。




Re: Congrats
by apurva singh
JF17 could be useful in jehadiSuicideMissions




JF17战机在圣战分子发动自杀性袭击中能派上用场。




Re: Congrats
by shankar banerjee
China Made item is available in India ,which is spacialy made for Indian Market,But other product like Back berry Sony HP Appele ect. also made in China If you have check it




印度国内卖的中国货是专供印度市场的,但如果你细心看下,黑莓、索尼、惠普、苹果等产品也是中国产。



三泰虎6月11日译文,印度Rediff网文章《"世界"想要购买这款中巴战机》。据报道,一位巴基斯坦官员称"许多国家"有兴趣购买两国联合研制的JF-17雷电战机。巴基斯坦航空工业公司主席Sohail Gul Khan空军中将在接受《中国日报》的采访时称,我们已经收到了来自中东、非洲乃至南非的许多国家对JF-17雷电战机的询问和意向书。JF-17雷电——在中国被称为FC-1枭龙战机——是中国航空工业集团与负责生产和维护巴基斯坦空军飞机的巴基斯坦航空工业公司合作开发的第三代多用途战机。