原文标题:Tensions flare over Diaoyu islands as Japan detains Chinese activists
原文链接:http://timesofindia.indiatimes.com/world/china/Tensions-flare-over-Diaoyu-islands-as-Japan-detains-Chinese-activists/articleshow/15511031.cms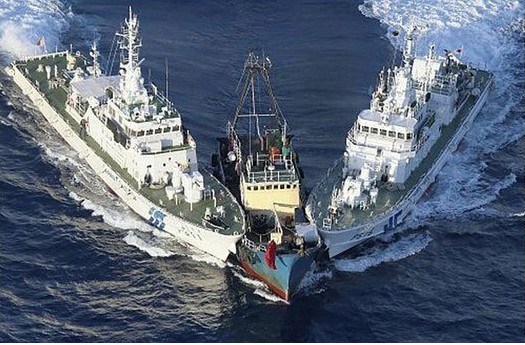 BEIJING: The war of nerves between Japan and China over the disputed Diaoyu Islands in East China Sea took a serious turn on Wednesday with Tokyo detaining 14 Chinese activists who, Tokyo said, made an "illegal entry" in the islands.

The Chinese foreign ministry responded with loud protests that now threaten to snowball into a major controversy as both countries claim ownership to the islands. "The activists ignored warning from Japan before landing. But none of the arrested was hurt," the police in Japan's Okinawa island said. The arrested activists will be transferred to the city of Naha, which is the capital of Okinawa.



北京:星期三,随着东京以"非法登陆"岛屿名义逮捕14名中国人,东海钓鱼岛争端形势急转直下,中日战争神经绷紧。





中国外交部大声抗议,威胁称两国声张主权的岛屿可能升级为重大争议。"活动分子在登岛前无视日本的警告,但被捕的人中没有人受伤。"日本冲绳县警方称。被捕的活动分子会被转移到冲绳县首府那霸市。



"They may be transferred to the Immigration Bureau of Japan later and sent back to Hong Kong," said a spokesman from Japan coast guard quoted by Chinese news agency, Xinhua. China has asked Japan to do nothing that would endanger the safety of the lives and property of Chinese citizens going to the Diaoyu Islands, Chinese foreign ministry spokesman Qin Gang said.

"China is paying close attention to the developments of relevant issues, and it has expressed its serious concerns over the issues to the Japanese side," Qin said. China's position on the Diaoyu Islands issue remains "clear and resolute".



新华社援引日本海上保安厅发言人的话:"他们可能被转移到日本移民局,随后遣返回香港。"中国外交部发言人秦刚要求日本不能威胁登岛中国公民的生命和财产安全。





秦刚说:"中国密切关注相关问题的事态进展,就该岛问题向日方表达了严重关注。"中国在钓鱼岛问题上的立场仍然是"明确和坚决"的。




以下是印度网民的评论:




Jim (Manila) 2 days ago
As China is becoming richer and richer, her people are no longer (and ever) satisfied with one party politics. So Chinese community party needs to defuse people's frustrations. How? - by having a common enemy? Who is the most convenient common enemy? -- JAPAN. Hope people here are well aware of this trick.
Agree (6)Disagree (6)Recommend (2)



随着中国变得越来越富,人们不再满足于一党政治。所以中国共产党需要平息人们的失望。怎么做?竖立一个共同的敌人?谁是最合适的共同敌人?——日本。希望人们能充分意识到这种伎俩。
Bhaskar Mittal (Canada)
What is there on that island.? China is big and should be able to gift this island to Japan, without really loosing anything.
Agree (8)Disagree (4)Recommend (2)



那个岛上有什么?中国很大,应该把这个岛当做礼物送给日本,不会有什么真正损失。




kumar (japan) replies to Bhaskar Mittal
China and Japan has a long and rough history. It is a hair trigger and all out war is possible with two top nations in world. further more Japan/China is not like India who happly gave most of Kashmir and Northeast away to Pak and China.
Agree (7)Disagree (3)Recommend (3)




中日之间的历史悠久又坎坷。世界上两个位居最前列国家之间的全面战争可能一触即发。更重要的是,印度乐意将克什米尔大部分地区和东北地区送给巴基斯坦和中国,而中日两国不会这样做。




rick (usa) replies to kumar 2 days ago
Isn't Japan committed to "no war" policy? What a hypocrite country and people! Maybe in the near future Japan will again be "forced" to attack China, or Korea, like what they did at Pearl Harbor.
Agree (4)Disagree (5)Recommend (0)




日本不是奉行"不战"政策吗?多么伪善的国家和人民。日本可能不久会"被迫"攻击中国或者韩国,就像他们在珍珠港所做的一样。




girish (uae) replies to rick 1 day ago
USA is firmly behind Japan, in their defence after WW 2. This issue cannot be easily sorted out unless China backs out.
Agree (1)Disagree (0)Recommend (0)




二战后,美国坚定保护日本。除非中国退出岛屿争议,否则这个问题无法轻易解决。




rick replies to girish 1 day ago
Give me one reason why China should back out. Don't give me your wishful thinking.
Agree (1)Disagree (0)Recommend (0)




给我一个中国应该退出争议的理由。别把你那一厢情愿的想法搬出来。




girish replies to rick 1 day ago
"Might is right" holds only as long as you dont encounter someone(s) mightier. Through ages, viciously ambitious super powers have been tamed by seemingly weaker nations. If you want to enjoy your wealth, you cant keep fighting with your neighbours. All those who start considering that they are invincible dig their own grave and then it is just a matter of time. Sorry to say, China is moving the same way.




只有你没有遇到更强大对手时,"强权即公理"这句话才正确。纵观历史,野心勃勃的邪恶超级大国总是被看似较弱的国家驯服。如果你想要享受财富,那么你不能老是和领国打仗。那些认为自己不可征服的国家实际上是在自掘坟墓,只是时间问题而已。遗憾地说,中国正朝这条路迈进。




kumar replies to rick
No Nation can have "no war" policy when faced with aggression and advance in territory. every diplomatic dialogue is nothing but hypocrisy.
Agree (5)Disagree (1)Recommend (0)




当面临被侵略和领土被蚕食时,没有哪个国家能够恪守"不战"政策。每一句外交语言仅仅是伪善之词。




rick replies to kumar 1 day ago
Please check facts before assign 'aggression' to China. Fact 1, this island is a disputed area. Fact 2, Japanese politicians routinely land in this island to show off.
Agree (2)Disagree (2)Recommend (0)




在搞清事实前,请先别说中国是在"侵略"。




事实1:这个岛属于争议地区




事实2:日本政客常常上演登岛秀。



M.A.LALWANI. (USA) 2 days ago
CHINA HAS STARTED SLOWLY BUT SURELY GRABING LANDS BELONGING TO OTHER NATIONS IN ORDER TO EXPAND MARKETS TO DUMP THEIR PRODUCTS. THIS IS WHAT HAD HAPPENED IN NAZI GERMANY WHEN THEY STARTED EXPANSIONISM TO ENCROACH UPON THEIR NEIGHBOURS TO GET MARKETS FOR THEIR INDUSTRIES. THIS SHOULD NOT BE ALLOWED AND IT IS TIME THAT UNITED NATIONS RAISE VOICE AND PUTS THEM ON THE SPOT OTHERWISE IT IS GOING TO BE TOO LATE.
Agree (9)Disagree (5)Recommend (5)



中国开始缓慢蚕食其他国家的领土,目的是为倾销产品扩大市场。这种事情曾经在纳税德国上演。当时,为了给国内工业产品获得市场,德国开始扩张领土。这是不应该发生的,联合国该出面干涉,并让中国难堪,否则就太迟了。




Wilde (The Pacific) replies to M.A.LALWANI. 2 days ago
China buys land and farms in Australia but the Aussie government begins to fight back. Australia builds for a resistance to a future PLA incursion but many politicians still sleep. Wake up woprld. China desires to eat nations.
Agree (10)Disagree (10)Recommend (3)




中国在澳大利亚购买土地和农场,但澳大利亚政服开始回击了。澳大利亚构建阻力,力阻PLA的未来入侵,但许多政客仍没有意识到这点。醒醒吧,世界,中国渴望吞并各国。



Pradosh (India)
The Chinese are always very much aggressive regarding the issues of border disputes or their claim over a region. This kind of attitude towards its neighbours would rally the opinions of all the Asian nations against China.
Agree (10)Disagree (8)Recommend (4)



在边界争端或者地区主权声张中,中国人总是咄咄逼人。中国人对领国的这种态度会让亚洲各国舆论一起声讨中国。




Nara (India) replies to Pradosh 2 days ago
African leaders have already leased out their countries to China and are now silently watching how their natural resources are being looted for peanuts.Money and power is all that politicians want and need to grab to power. Who cares for the common people and the country?
Agree (4)Disagree (3)Recommend (1)




非洲领导人已经把国家出租给中国,如今为了几个小钱而默默看着自然资源被中国人掠走。资金和权利是政客所需要的,谁会在意老百姓和国家?



myalmightygod (India)
Chinese agression should be controlled.
Agree (11)Disagree (10)Recommend (5)



中国人的侵略应该得到控制。
critics (goa) 2 days ago
as long as crook like Bush, blair, Modi persist in this globe so called jehadis , talibanese are indeed there. First cahnge the policies against the world muslims and then everything will be peace. mind it very well
Agree (2)Disagree (11)Recommend (3)



只要布什、布莱尔和穆迪仍然存在于这个地球上,那么所谓的圣战分子和塔利班分子就会继续存在。首先改变世界反穆的政策,然后一切就会重归和平...
paul_ani (kolkata)
Whole world should act against Chinese aggression....
Agree (5)Disagree (11)Recommend (4)



全世界应该起来反抗中国人的侵略...
Prasanjit (Kalyan)
We all know CHina is a great country capable of great things..but threatening other nations is simply not a great thing to do...pls dont follow the US way...they have been doing that for centuries and now they are hated by each and every other nation...China should realize this and should try to win more friends than foes if it wishes to become super power in real sense...bcoz the world seeks a super power in the disguise of a problem-solver and not problem-seeker..
Agree (3)Disagree (3)Recommend (0)



我们都知道中国是能创造奇迹的伟大国家,但威胁其他国家不是什么值得做的伟大事情。请不要效仿美国,美国此种行径已经历时几百年,如今备受各国讨厌。如果中国想成为真正意义的超级大国,那么中国应该认识到这点,应该努力结交更多朋友,而不是惹上更多敌人。因为世界需要一个解决问题的超级大国,而不是需要一个麻烦制造者。
Dharmendra Gupta (Mumbai)
The 2 greatest threat to world peace are China and Islamic terrorists, wonder wheter China will be able to stand up to the Islamists? It breathes fire on everyone else but cowers under them
Agree (3)Disagree (9)Recommend (2)



世界和平的两个最大威胁是中国和伊斯兰恐怖分子。想知道,中国是否有能力抵抗伊斯兰武装分子?中国到处给别人制造事端,却在伊斯兰武装分子面前退缩了。
fdsa (dsfa)
japan done good
Agree (4)Disagree (7)Recommend (2)



日本做得好
suresh sheth (ahmedabad) 1 day ago
Sooner or later Japan has to develop nuclear weapons against Chinese threat just like India if Japan wants freedom of action in its dealings with China because it can not rely on nuclear protection of United States. US will always preach peaceful resolution of disputes because US does not want a direct Chinese nuclear attack on US homeland.
Agree (8)Disagree (3)Recommend (2)



如果日本想要像印度一样在和中国打交道时能自由应对,那么日本迟早得发展核武器,因为日本不能依靠美国的核保护。美国不想中国直接核袭击美国本土,所以美国总会诉诸和平解决争议的手段。
Syed Abdulmuqtadir (Jeddah, Saudi Arabia)
Almost every country has this territorial problem with its neighbours, the best is to negotiate and finish off the problem, don't drag like stupid leaders did in India, we Indians have territorial problems withh almost all our neighbours. Our leaders never try seirously solving the problem, instead they jsut pass the time and go for next election.
Agree (6)Disagree (0)Recommend (0)



几乎每个国家和领国之间存在领土问题,最好的解决办法是协商,不要像印度的愚蠢领导人那样办事拖拉。我们印度人几乎和所有领国之间有领土争议。我们领导人从来没有试图严肃解决这个问题,而是消磨时光,为下一次选举做准备。
vamsi (India)
Another incident on ownership of the islands between China and Japan !!!
Agree (0)Disagree (0)Recommend (0)



又一起中日之间有关岛屿主权争端的事件!
Simon Lee (India)
Japan has teritory disputes with Russia, China and Korea even though it is an island state. During second war worlds it soldiers kill millions in Asia and still refuse to apologise even today! Because Japan is hiding behind the US and refuse to confront its past, it is foreign policies are basically ran by the US.
Agree (6)Disagree (1)Recommend (2)



虽然日本是个岛国,但日本和俄罗斯、中国和韩国之间都有领土争议。二战期间,日本士兵在亚洲杀了数百万人,直至今天仍然拒绝道歉!因为日本躲在美国背后,拒绝面对过去,日本的外交政策基本上是美国在主导。
Chen Yong (Sydney)
I'm very disappointed by the lack of action from the Chinese government against the Japanese invasion in Diaoyu islands.
Agree (2)Disagree (3)Recommend (0)



中国政服没有对日本入侵钓鱼岛采取行动,对此我感到非常失望。




WWW (Asia) replies to Chen Yong 1 day ago
Mr. Yong, We shall not underestimate how smart Chinese government is. They will not attack Japan for the dispute as PRC knows that general public in the whole world, except Korea, is on the side of Japan. The second reason is that Japan will quickly develop nuclear capability if PRC attacks Japan. China obviously does not want Japan to do it.
Agree (0)Disagree (2)Recommend (0)




Yong先生,我们不应该低估中国政服的智慧。中国不会为了该争议而攻击日本,因为中国知道除了韩国之外,全世界都会站在日本那一边。第二个原因是如果中国攻击日本,那么日本会快速开发核武器。中国明显不希望日本这样做。




原创翻译:三泰虎 http://www.santaihu.com



Natarajan (doha) 1 day ago
China is a rogue state with strained relations with all neighbours. This monster needs to be tackled before it becomes a global headache. We only hope that your iron curtain collapses and people breath freely in this rogue nation
Agree (4)Disagree (4)Recommend (0)



中国是流氓国家,和周边各国关系紧张。在成为令全球头疼的问题前,需要妥善解决这个怪物。我们只希望这个流氓国家的铁幕奔溃,人们变得自由。
WWW (Asia) 1 day ago
I hope Japan and China find ways to co-exist and create a new version of co-prosperity sphere. The two countries achievements are truly impressive and why can't they pursue a win-win situation? Look what France and Germany can do so many things together after many years (centuries) of fights between them. To do this, the both countries need to respect each other. Japan has apologized their past mistakes (in word, through compensation, and behavior) so many times and China is the one who uses the Japanese mistake some 60 years back as a means of justifying their expansionism. China says look how Germany apologizes to other Europeans but this rhetoric is grossly exaggerated by China who wishes to justify their ongoing imperialism. In my view, if Japan and China work together, they can actually lead the world. So, China (the communist party) needs to stop anti-Japan campaign to create an environment where Chinese people can like Japan while Japan to stop buying the land of Senkaku since this is too provocative to China. The islands can actually be co-owned by the both countries. This is what Japan has been proposing in fact....
Agree (2)Disagree (2)Recommend (1)



我希望中日能够找到共存的方法,创造一个新的共荣圈。两国的成就真的令人印象深刻,为什么彼此不能追求双赢局面?看看法国和德国打了几百年还不是走到了一起。为此,两国需要互相尊重。日本已经许多次(在口头上、赔偿和行为上)为其过去行为道歉了,中国是唯一利用日本人60年前的错误为自己的扩张主义辩护的国家。中国会说,看,德国是如何向其他欧洲国家道歉的。但这只是被中国过度夸张的言辞而已,目的是为自己正在进行的帝国主义辩护。在我看来,如果中日齐心协力,他们实际上可以领导世界。所以,中国需要停止反日宣传,为中国人喜欢日本创造环境,而日本应该停止购买钓鱼岛,因为此举过于挑衅中国。实际上,该岛可以中日共同拥有。这就是日本的实际提议...
随着东京以"非法登陆"岛屿名义逮捕14名中国香港保钓人士,钓鱼岛争端形势急转直下。中国外交部大声抗议,威胁称两国声张主权的岛屿可能升级为重大争议。被捕的活动分子会被转移到冲绳县首府那霸市。新华社援引日本海上保安厅发言人的话:"他们可能被转移到日本移民局,随后遣返回香港。"中国外交部发言人秦刚要求日本不能威胁登岛中国公民的生命和财产安全。秦刚说:"中国密切关注相关问题的事态进展,就该岛问题向日方表达了严重关注。"中国在钓鱼岛问题上的立场仍然是"明确和坚决"的。