原文标题:Punjab MLA: Send stray dogs to north east, China
原文链接:http://timesofindia.indiatimes.com/india/Punjab-MLA-Send-stray-dogs-to-north-east-China/articleshow/14482154.cms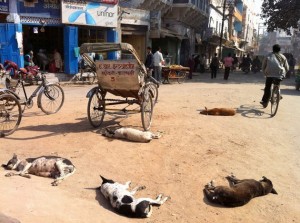 CHANDIGARH: Congress legislator Ajit Singh Mofar moved a resolution in the Punjab assembly on Thursday seeking to tackle stray dogs in the state by sending them to China, Mizoram or Nagaland, for "whatever they do to them".

"We can make arrangements to catch the dogs, put them in jungle or zoos or maybe send them to China, Nagaland and Mizoram where they are more needed. Stray dogs are a big nuisance now, even going on an evening walk has become dangerous because of them."

The state has witnessed an increase in dog bites with an estimated 15,000 such cases reported annually.



昌迪加尔:国大党立法员阿吉特·辛格·莫法尔在旁遮普召开的议会上推动一项决议,旨在把流浪狗赶到中国、(印度东北部的)米佐拉姆邦或者纳格兰邦并任由其处置,以解决该邦的流浪狗问题。





"我们可以安排人去抓狗,把它们丢进丛林、关进动物园,或者送到中国、纳格兰邦和米佐拉姆邦等更需要狗的地方去。流浪狗现在是一大麻烦,连夜间行路都因其而变得危险。"





旁遮普邦的狗咬人事件在持续增多,据称,每年有1.5万例这样的事件发生。



Mofar's suggestion was accepted much to the amusement of the House. "People in China and the northeast have their own ways of using the dogs. We cannot be really bothered with that. We have to solve our problem first. Stray dogs are killing children, attacking the elderly," Mofar told TOI.

But Mofar's leader in the house, Sunil Jakhar, disagreed with him. "Dog is considered to be a man's best friend and even Mahatma Gandhi felt so and advocated care for stray dogs. Saying things like these trivializes the issue and is not in good taste at all. I am personally against this kind of attitude," he told TOI.



阿吉特•辛格的提议大多被议院当做消遣娱乐。"中国人和印度东北人有他们自己养狗的用途,我们不必真正为此费心。我们必须首先解决自己的问题。流浪狗咬死了孩子,攻击老人",莫法尔对《印度时报》如此表示。





但是莫法尔的议会领导人苏尼尔·贾克哈尔不同意他的看法。贾克哈尔告诉《印度时报》:"狗被认为是人类最好的朋友。连圣雄甘地也是如此认为,并建议善待流浪狗。说这样的话会让问题变得更琐碎,并不是一个得体的做法。我个人反对这种态度。"



The resolution has angered animal rights groups. "This is an inhuman thought and completely against ethics. Dogs have a right to live. If the state government attempts any thing on these lines, we will take them to the court," People for Animals president Saurabh Gupta said.

Ruling Shiromani Akali Dal legislator D S Cheema also opposed the suggestion. "There are scientific means of controlling dog population. We should explore advanced techniques now available and sterilize these dogs and put them back in their own territory."



该决议激怒了动物权益保护组织。"这是不人道的想法,完全违背道德。狗有生存的权利。如果邦政服做出任何这样的尝试,我们会把他们告到法庭。"一个动物保护组织的负责人古普塔说





执政的阿卡利党立法员琪玛也反对该建议。"我们有控制动物数量的科学方法。我们应该探索现有的先进技术,让这些狗绝育,然后放生到其领地上。"




以下是印度网民的评论:




Aceee (Singapore) 2 days ago
"Dogs have a right to live"...agreed.. How about giving the same right to cockroachs, flys and mosquitos..lol
Agree (12)Disagree (1)Recommend (1)



"狗有生存的权利"...同意...给蟑螂、苍蝇和蚊子同样的权利怎么样...哈哈




Natarajan (Chennai) replies to Aceee 2 days ago
Dogs are the source of sex education in India. But of late, people like Abhishek Manu Singhvi have encorached into Dog's domain.
Agree (2)Disagree (0)Recommend (1)




狗是印度性教育的一个来源。但最近,辛维那样的人侵犯了狗的领地。




(三泰虎注:辛维是国大党发言人)



sushil verma (kolkata)
This is an ignorant and boorish comment from a supposedly educated man who has been elected representative of the people. It is insulting to the people of the north-eastern part of India. Mizoram and Nagaland are as integral to India as Punjab is. What this man is saying is that those people are less civilized than the people of his state.
Agree (5)Disagree (8)Recommend (3)



这是来自一名据称是受过教育的民选代表的无知和粗鲁评论,是对印度东北部人民的侮辱。同旁遮普一样,米佐拉姆邦和纳格兰也是印度完整的一部分。此人是在说那些人没有其所在邦的人那么文明。




vanlalfaka147 (Mizoram) replies to sushil verma
You interpret 'eating dog meat' to mean 'less civilized'? Shame on you! What about China and Japan? South Korea? They eat dog more than we do in Mizoram. India is the stupidest country ever. It will dissemble soon.




你把"吃狗肉"解释为"没那么文明"?你太无耻!那中国和日本呢?韩国呢?他们吃狗肉比我们米佐拉姆邦人民吃得多。印度是最愚蠢的国家...



P.S.Panwar (Raj)
am also a dog lover, but stray dogs can't be permitted to harass and bite the citizens, if the people for animals feel strongly; should take these stray dogs and maintain at their home. The suggestion by MLA is very good as Chinese and our northeastern cousins like the dogs best and serve it as delicacy and in some rituals too .



我也是一名狗狗爱好者,但是不能允许流浪狗骚扰和咬伤市民。如果保护动物的人反应强烈,那么可以把流浪狗带回家养。议员的建议非常好,因为中国人和我们东北部的兄弟姐妹最喜欢狗了,将其作为美味,在一些仪式上也是少不了的。
kaur khan (india) 2 days ago
it seems like punjab belongs to pakistan....north east is a part of India,,,u say sent to china,,,chinese people treat the dogs like u treat ur wife,,sons,,daughters...they love animals...keep them in their house like u live in highly decorated building...its not like dirty mind like u...they have good ways to treat dogs ,,love them,,give them food...etc..if u r kind to the dogs,,treat the dogs as u treat ur wife,,sons,,daughters,,,then dogs will never do anything,,bite u,,,..just remember that human being is also an animal which has higher power of thinking,,nothing more then that u have like what dogs have...
Agree (4)Disagree (2)Recommend (1)



旁遮普等地方似乎属于巴基斯坦...东北部是印度的一部分...你说把狗赶到中国去...中国人对待狗就像你们对待妻子、儿子、女儿那样...他们喜欢狗...把狗养在你所住的那种高级公寓里...同你那样有肮脏思维的人那样...他们对狗非常不错...喜欢狗...给狗吃东西等...如果你对狗友善,那么请像对待妻子、儿子、女儿那样对待狗吧,这样的话,狗永远不会咬你...记住:人类本身也是动物,只不过拥有高级思维能力...其余同狗没什么两样...
Rehan (Chandigarh)
before you all call this guy ignorant, please be aware that it's a fact that they DO eat Dogs in N.E and China. In fact, he missed out on pointing out Korea ;-) It's more a case of truth hurting than someone making an insensitive remark!
Agree (0)Disagree (6)Recommend (0)



在你们称这个家伙无知前,请先意识到一个事实,即中国人和印度东北部的人确实吃狗肉。事实上,他忘记提到韩国了;-) 这更多是一个令人伤心的事实,而不是说某人发表了不友善评论!




Shekharjyoti Gogoi (US) replies to Rehan
Do you even know how many states are there in the NE and out of them which communities consume dog meat. Also dog meat is BANNED in china and Korea. Get the facts straight instead of posting junk. Just think for a minute before posting such a comment and indirectly declaring yourself an ignorant!
Agree (1)Disagree (0)Recommend (0)




你知道东北部有多少个邦吗,其中有多少个群体吃狗肉?此外,狗肉在中国和韩国是被禁止的。把事实搞清楚,不要胡乱评论。在发表这样的评论前稍微思考下,不要间接地显示你的无知!



? (Kerala, India) 2 days ago
Why does this Moron put China and North East Together?.This is the intellect of Indians and Indian MLAs on display.Wow, India is really in a bad state of affairs.
Agree (18)Disagree (1)Recommend (7)



为什么这个傻瓜把中国和印度东北部放在一起说?这就是印度人和印度议员所展示的智商。印度真的是处在一个糟糕状态。
Bull-T (Bangalore)
Nice suggestion !!!!!!!!!!!!!!!!!!!!!!!!! Send unwanted dogs to DOG-EATERS … Kind of dog-poultry business for free !!!!! LOL LOL LOL LOL !!!!!!
Agree (0)Disagree (8)Recommend (0)



不错的建议!把不要的狗送到吃狗肉的人那里去...有点儿像免费提供狗的家禽业!哈哈!
Anupam (Manhattan, NY) 2 days ago
The comments here show how much the so called "educated Indians" know their own country. Firstly, the NE India is not a single state like Punjab - it consists of 7 states (excluding Sikkim, which is now being incorporated into the definition of NE India) with hundreds of communities belonging to Hinduism, Buddhism, Christianity and Islam. Out of all these states Dogs are eaten or used to be eaten only in Nagaland or Mizoram. So, why to stereotype the whole of north-east India? Ain't you hurting the vegetarian Hindus and Buddhists of the region with your insanely ignorant views? Secondly, dog meat is legally banned in China and Korea... so people get your facts straight. I am sure you won't feel comfortable if a westerner says "outsource all our dirt to India... they like it there."
Agree (33)Disagree (0)Recommend (12)



这里的评论显示所谓"受过教育的印度人"对自己国家才了解多少。首先,印度东北部不是像旁遮普那样是一个邦,而是由7个邦组成(不包括锡金邦,该邦已经被纳入印度东北的范畴),有数百个分属于印度教、佛教、基督教和伊斯兰教的群体。在所有这些邦中,只有纳格兰邦和米佐拉姆邦的人吃狗肉。所以为什么要把其套在整个印度东北?难道你不理智的无知观点不会伤害到该地区素食的印度教徒和佛教徒?其次,狗肉在中国和韩国是被法律禁止的...所以还是先把事实弄清楚吧。我确信要是一个名西方人说"把所有肮脏的东西出口到印度...那里的人喜欢这些",你也会感到不舒服的。





原创翻译:三泰虎 http://www.santaihu.com
Hari Prahlad (Chennai)
We equate Nagaland and Mizoram with China and then we feel offended when China claims Arunachal? Ironic!
Agree (31)Disagree (2)Recommend (15)



我们把纳格兰邦和米佐拉姆邦等同于中国,可当中国声张阿鲁纳恰尔邦主权时,我们却又感到被冒犯。真是讽刺!




SUDIP DEB (Singapore) replies to Hari Prahlad 1 day ago
Most of uneducated Indians ( read ministers) treat NE and people from NE as outsiders. People from Nagaland or Mizoram are asked to show their passports in a place like Delhi. I bet 90% Indians cannot name 4 of the 7 NE states leave alone understand them
Agree (4)Disagree (0)Recommend (2)




大多数没有受过教育的印度人把东北人看做是外来人。来自纳格兰邦和米佐拉姆邦的人在德里等地方被要求出示护照。我敢打赌印度人说不出7个东北邦中的4个,更不用说理解他们了。




Ranita (Delhi) replies to Hari Prahlad
We have very ignorant MLAs and Corporators. In Delhi newly elected mayor Savita Gupta (originally from Jammu)thinks Tripura is in China. These morons should be be banished to China.
Agree (2)Disagree (1)Recommend (0)




我们有非常无知的立法院议员和社团成员。在德里,新当选市长古普塔(原本来自查馍)认为特里普拉在中国。这些傻子应该被流放到中国。




Hari Prahlad replies to Ranita
We treat our northeastern brothers and sisters with utter contempt and then act surprised when secessionist movements start there. This is also one of the main reasons why Christian missionaries target the northeast.
Agree (2)Disagree (0)Recommend (1)




我们完全轻视东北部的兄弟姐妹,当那里爆发分裂活动时,我们却感到吃惊。这也是基督教传教士瞄准印度东北各邦的其中一个主要原因。



jagdish.urfriend (Delhi)
Why not send all the MPs and MLAs to China and North-east.. they will love the taste. I find stray dogs more harmless and humane than these morons.
Agree (10)Disagree (1)Recommend (2)



为什么不把国会议员和立法院议员派到中国和印度东北...他们会喜欢这个滋味的。我发现流浪狗比这些傻瓜更无害、更人道。
Ranita (Delhi)
Stray dogs are a nuisance but to say that send them to Nagaland or Mizoram is down right rude and insensitive. I'd say send them to China to make India on par on exports.
Agree (4)Disagree (2)Recommend (1)



流浪狗是个危害,但要是说把流浪狗赶到纳格兰邦或者米佐拉姆邦,那么完全是粗鲁刺耳和麻木不仁的。我还会说为了让印度出口能够等同中国水平才把流浪狗赶到中国去呢。
Kalyan Chakravarthy (Hyderabad, Andhra Pradesh)
if this is the solution for stray dogs Mr. politician where do we send our politicians to.... you should tell us how can we get rid of you ppl..worse than stray dogs
Agree (9)Disagree (0)Recommend (1)



如果这是流浪狗的出路,那么政客先生,我们要把政客送到哪里去呢...你们应该告诉我们如何摆脱你们这些人...比流浪狗还糟糕。
Logical (Cuttack) 1 day ago
Is this united India, which British and Sardar Petel united??? This MLA thinks Mizoram and Nagaland are more close to China than India??? What is his educational background? Harvard? Ivy Legue? how was he elected? by buying electorates? Howcome fake Gandhis gave him ticket for cong? This shows how Northest Indian people are disceremeneted in mainstream India. I am just surprised, this is 2012, howcome people think like this???? I boast always, India has Indo-Aryans, Dravidians, Aboriginies/tribals (like me) and Mongoloids in the federations. How ignorant people are are to make this type of statements???
Agree (15)Disagree (1)Recommend (7)



这就是英国和萨达尔·帕特尔团结起来的印度?这名立法院议员认为米佐拉姆邦和纳格兰邦跟中国更亲近?他是什么教育背景?哈佛?常春藤联盟?他是如何当选的,通过购买选票?冒牌的甘地怎么会给他进入国大党的门票?此举显示印度东北部人民是如何受到主流印度人的歧视。我只是吃惊,现在是2012年,人们怎么能这样想?我总是如此自夸,即印度联邦有印度雅利安人、德拉威人、土著人、蒙古人种。怎么无知的人会发表此类声明?
Ing (Kolkata) 1 day ago
The MLA should be made aware that many people from his state are working in different parts of the NE and China. The dogs will bite his own people there. The remarks had been made in a very poor taste and with an utter disrespect for the NE'ers. No wonder why NE'ers are always alienated.
Agree (5)Disagree (2)Recommend (1)



应该让这名立法院议员意识到许多来自其所在邦的人在印度东北和中国各地工作。狗会在那里咬他的人民的。这个评论太没水平了,是对东北人民的大不敬。难怪东北人民总是那么疏远。
noble citizen (india) 1 day ago
Forget that chinese eat dog meat or not....developement in china is far ahead than india.remember they sent space mission thrice carrying men
Agree (8)Disagree (0)Recommend (1)



别提中国人吃不吃狗肉了...中国的发展遥遥领先印度。记住,他们已经搞了三次载人航天任务。





原创翻译:三泰虎 http://www.santaihu.com
zonuna (Aizawl) 1 day ago
Nobody eat stray dogs in north east india, we only eat domesticated dogs unlike your punjabi unhealthy infected dogs.Someone eat dogs and someone eat fish what the difference its their personal choice.Muslim eat beef and Hindu eat mutton so why not dog?
Agree (17)Disagree (2)Recommend (7)



印度东北没有人吃流浪狗,我们只吃家养的狗,它可与你们旁遮普不健康的感染狗是不同的。有人吃狗肉,有人吃鱼肉,不同之处在于各自的选择。穆斯林吃牛肉、印度教徒吃羊肉,所以为什么不能吃狗肉呢?




hrishidesai (Mumbai) replies to zonuna
The question is why eat a dog at all whether they are domesticated or wild? ... Dog's are the man's best friend and they are not meant to be eaten. As far as human anatomy is concerned humans are not designed to eat red meat like lions or tigers but they are made to eat fish.
Agree (0)Disagree (7)Recommend (0)




问题是不管是家养的还是野外的,为什么要吃狗肉?...狗是人类最好的朋友,它们不是拿来吃的。从人类解剖学来看,人类天生就不是吃红色肉类的那块料,比如狮子或者老虎的肉,而是适合吃鱼肉。




indira (kolkata) replies to hrishidesai 1 day ago
Even mutton, lamb and beef are red-meat. for me goats are my best friend. and sheep are the cutest animal on earth. but i would not comment or stop u or anyone from eating whatever they like, because i am not uncivilized to comment on people's habits
Agree (1)Disagree (1)Recommend (0)




连羊肉和牛肉也是红色肉类。对于我来说,羊是我最好的朋友,是地球上最可爱的动物。但是我不会去评论或者阻止你或者其他人吃任何喜欢吃的肉,因为我没那么不开化到会去评论别人的习惯。




laldinliana (bangalore) replies to hrishidesai 1 day ago
Dogs are men's best friend!!!! If dogs are men's best friend why do they harm men? Also what is the difference between fish and other meat? because they are all living things..
Agree (2)Disagree (2)Recommend (0)




狗是人类最好的朋友!如果够是人类最好的朋友,为什么它们要伤害人?此外,鱼肉和其他肉类之间有什么区别?它们都是生物...




Upasana (Assam) replies to hrishidesai 1 day ago
You know wht we can get into ds debate of what should be eaten n wht shouldnt be eaten. The thing is u should be tolerant about ppl's culture. Learn about India, all its states not just Mumbai.
Agree (2)Disagree (2)Recommend (1)




知道了吧,我们在应该吃什么和不应该吃什么陷入了争论。问题是你应该容忍别人的文化。多了解印度各邦吧,别只局限于孟买。




vanlalfaka147 (米佐拉姆邦) replies to hrishidesai
You are simply ignorant! I will forever eat dogs. Yummy food. Do you know that China which is a much more developed country than India consumes tons of dog meat per week? Eat only fish if you want. I will forever eat beef, pork, chicken, mutton etc. You have to respect other people's culture.
Agree (4)Disagree (3)Recommend (1)




你简直是无知!我会一直吃狗肉吃下去,那可是美味可口的食物。你知道吗,比印度发达得多的中国每周消耗数吨狗肉?如果你想的话,那就只吃鱼肉吧。我会一直吃牛肉、猪肉、鸡肉、羊肉等。你必须尊重别人的文化。




Arun (Bareilly) replies to hrishidesai
What to eat and what not to eat is personal discretion. There is nothing called a 'taboo food'. Every food is divine.
Agree (9)Disagree (1)Recommend (1)




吃什么和不吃什么是个人全利。没有什么叫做"食物禁忌"的东西。每种食物都是极好的。



Siddhartha (New Delhi) 1 day ago
Actually the Congrss MLA wants to visit China and nort east with his whole family ... so he said this ... plz dont misunderstand him
Agree (7)Disagree (3)Recommend (0)



这名国大党立法院议员实际上是想携全家访问中国和印度东北...所以他会这样说...请不要误解他。
Zuala Hlondo (艾藻尔) 1 day ago
I am from Mizoram and i my family and many more doesnt take beef, pork or dog meat. I do respect if someone wants to have dog meat, beef etc.. But the fact is that we should not think that what a person does, everybody is doing. Much of the population in aizawl are very health concious people. sometimes my family dont even take meat for a week. we would feed only on veggies. I though Punjabis are the best and most kind people... now we can see that the ministers in Punjab may have a very less education.
Agree (13)Disagree (1)Recommend (0)



我来自米佐拉姆邦,我的家人和许多其他人不吃牛肉、猪肉或者狗肉。如果有人吃狗肉、牛肉等,我会确实表示尊重。但事实是我们不应该去想大家在做什么。 艾藻尔的许多人是非常健康的清醒人(三泰虎注: 艾藻尔是米佐拉姆邦首府)。我的家人有时候一个星期都不吃肉,只吃蔬菜。虽然旁遮普是最棒的,大部分是友善的人...不过我们现在看到了,旁遮普的部长们可能受到的教育少了点。
Lai Lai Khuhly (Aizawl) 1 day ago
I just want you guys to know that we eat dog meat but not stray dog. That stupid MLA should show some respect to the people of Mizoram and Nagaland. We don't need your stray dogs, we have ours. We also knew how to insult, but we won't cause we are not like them.
Agree (11)Disagree (0)Recommend (3)



我只是想让你们这些家伙知道,我们是吃狗肉,但是不吃流浪狗的肉。那个愚蠢的立法院议员应该对米佐拉姆邦和纳格兰邦人民显示一些尊重。我们不需要你们的流浪狗,我们有自己的狗。我们也知道如何侮辱别人,但是我们不会那样做,我们同他们不一样。




Wtf (India) replies to Lai Lai Khuhly 1 day ago
This is disgusting man. Eat dogs....you guys are low life scum.
Agree (0)Disagree (10)Recommend (0)




你是个令人厌恶的人,敢吃狗肉...你们这些家伙是低级人渣。




vanlalfaka147 (Mizoram) replies to Wtf
I love dog meat, so do the Japanese, the Chinese and the Koreans. India will be developed only when all Indians learn to eat dog meat. Thank you.
Agree (4)Disagree (1)Recommend (1)




我喜欢吃狗肉,日本人、中国人和韩国人也喜欢吃。只有所有印度人学会吃狗肉的时候,印度才会变得发达。谢谢。




Robert Lhungdim (delhi) replies to Wtf
well we might eat dogs meat who are you to judge..did someone make u the food police..? atleast we dont kill our daughters
Agree (3)Disagree (0)Recommend (0)




我们是可能吃狗肉,你是要来裁决谁...有人让你当食物警察吗?至少我们不会杀害自己的女儿。




Raj Das (New Delhi, India) replies to Wtf
if butter chicken is a valid dish, what's wrong with dog meat?
Agree (6)Disagree (2)Recommend (2)




如果奶油鸡是一道合法的菜,那么狗肉又有什么错呢?




Nagaboy (Nagaland) replies to Wtf 1 day ago
What is so disgusting about eating dog meat? You eat other things that we don't eat, but we don't say it is disgusting. Why, we understand people have different food habits. Grow up dude and get a life. In China dog is a rare delicacy and is darn costly. In Nagaland we consider dog meat as medicine. You'd probably say eating chicken is disgusting too. Again grow up before calling anyone 'low life scum.' About the stray dog from Punjab, no thanks! We are satisfied with out supply chain.
Agree (9)Disagree (1)Recommend (0)




吃狗肉有什么令人恶心的?你会吃些我们不吃的东西,但是我们不会说那样是令人厌恶的。为什么?因为我们理解人们有不同的饮食习惯。成熟点,别呆头呆脑的。在中国,狗肉可是个稀罕美味,价格死贵。在纳格兰邦,我们认为狗肉有药效。或许你也会说吃鸡肉是令人厌恶的。再说一遍,说别人是"低级人渣"前,请成熟点好不。至于旁遮普的流浪狗,不用了,谢谢!我们的供应足够了,挺满意的。



rajiv sukla (Ranchi) 1 day ago
Its a insult to people of North east..
Agree (8)Disagree (0)Recommend (1)



这是对东北人民的侮辱。
Mr.India (India) 1 day ago
this just shows that his mind is worst than a stray dogs.
Agree (12)Disagree (1)Recommend (1)



此言只显示他的思维比流浪狗的还糟糕。
tadar (Bangalore)
biggest joke of the year.
Agree (3)Disagree (0)Recommend (0)



本年度最大笑话




Manu bhai MMBS (Delhi) replies to tadar 1 day ago
No Joke, Actually he had bitten by a dog and not get vaccinated.
Agree (7)Disagree (0)Recommend (3)




不是笑话,他实际上已经被狗咬过了,还没打(狂犬)疫苗呢。



Vanlal (Hyderabad)
Haha let them send to Mizoram, i think it would'nt need much time,they are not requiring to send in China and others, we eat dogs i know but we don't eat stray dog. Think about your even most develop country like Japan, China and korean also eat dog.
Agree (9)Disagree (1)Recommend (2)



哈哈,让他们把狗送到米佐拉姆邦去吧,我认为要不了多久就会被吃光,不需要送到中国和其他地方去。我们吃狗肉,但是不吃流浪狗的肉。想想吧,连日本、中国和韩国等最发达的国家也吃狗肉。
Sarita (Atlanta, GA) 1 day ago
What's wrong with most of you? Just because the population of one specie increases, we should start getting rid of them and kill them?? Shame on you! How about killing you folks who have so many kids and have made India the 2nd largest populated nation in the world?? Should I just take my gun and start shooting unwanted people to reduce population? If you cannot give life, don't take them. Respect & help all lives, just like you would like to be treated. Have a heart and don't be selfish!
Agree (7)Disagree (3)Recommend (3)



你们大部分人怎么了?仅仅因为一种动物的数量增多了,我们就开始杀掉它们吗?你们太无耻了!你们这些生了那么多孩子并让印度成为世界第二人口大国的人,要是把你们这些家伙杀了,怎么样?我可以为了减少人口而端起枪击毙不需要的人吗?如果你们不能赋予生命,那也别夺走生命啊。尊重和帮助所有生命,就像你们所期望的待遇一样。发发善心,别太自私了!




renuka sen-gupta (delhi) replies to Sarita
One has heard of dogs that can do arithmetic, and of talking dogs. Now we have a stray dog that can post comments in ToI. How wonderful!




人们听说过会做算术的狗,也听说过会说话的狗。现在,我们在印度时报上有一只会发表评论的流浪狗。多么神奇啊!




原创翻译:三泰虎 http://www.santaihu.com




USGuy (Tampa, Florida) replies to Sarita 1 day ago
looks like you don't know the difference between the dogs and the humans. You are treating both the same. Looks like you have lot of strays in Atlanta.
Agree (0)Disagree (3)Recommend (0)




你似乎不知道狗和人类的不同之处。两者你都同样对待了。看起来你们在亚特兰大有许多流浪狗。



INDIAN (INDIA) 1 day ago
CHINESE PEOPLE ARE EATING DOGS!!!
Agree (1)Disagree (1)Recommend (1)



中国人吃狗肉!




vanlalfaka147 (Mizoram) replies to INDIAN
Yes they do. And they are much more civilized than you smelly Indian.
Agree (32)Disagree (0)Recommend (5)




是的,他们确实吃狗肉。而且他们比发臭的印度人文明得多。



blabkla (earth) 1 day ago
give free candoms to stray dogs.candoms are available for free at the nearest health centre.thank you.



给流浪狗发放免费的安全套。在最近的康体中心就可以免费获得安全套。谢谢
don bok (meghaya) 16 hrs ago
I know Indian lookdown NE people. Do you know really we are eating dog or you just want to insult. The time will come for us to join with china, India is a hopeless country.
Agree (2)Disagree (0)Recommend (0)



我知道印度人看不起东北人民。你们真的了解我们吃狗肉,还是只想要侮辱我们。我们加入中国的时候迟早会到来,印度是个没有希望的国家。
lalnunmawia pachuau (Aizawl) 12 hrs ago
I'm opposed from Mizoram..



我在米佐拉姆邦表示反对...
印度人素食者多,吃肉的少,吃狗肉的更少,因而流浪狗数量可观,狗咬人的事件持续增多,这种现象在旁遮普邦特别显著。为了解决该邦的这个问题,印度国会议员阿吉特·辛格·莫法尔在旁遮普召开的议会上推动一项决议,旨在把流浪狗送到中国、印度东北部的米佐拉姆邦或者纳格兰邦并任由其处置,以解决该邦的流浪狗问题。但是有议员表示反对,称狗被认为是人类最好的朋友,连圣雄甘地也是如此认为。该决议也激怒了动物权益保护组织,称这是不人道的做法,完全违背道德。