原创翻译:http://www.santaihu.com
原文标题:Saudi teen hides on wedding night to avoid 90-year-old 'husband'
原文链接:http://timesofindia.indiatimes.com/world/mad-mad-world/Saudi-teen-hides-on-wedding-night-to-avoid-90-year-old-husband/articleshow/17929316.cms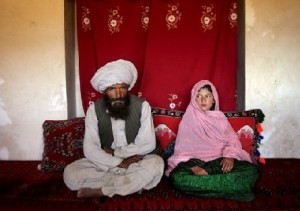 LONDON: A 90-year-old Saudi Arabian is suing his 15-year-old child-bride's family because she hid herself in the bedroom on their wedding night.

The terrified teen locked the door from the inside so that her new husband could not enter on their first night as a married couple. Two days later she fled back to her parents' home, Daily Mail reported.



伦敦:沙特一名90岁男子起诉15岁小新娘的家庭,因小新娘新婚之夜躲在卧室里。





新婚之夜,为了不让新婚丈夫进来,受惊吓的少女把自己反锁在房间里。两天后,她逃回了父母家里,每日邮报报道称。



The elderly man now wants his money back as he claims he paid the parents 10,767 pounds (about $17,500) for the teenager for the marriage.

According to Al Arabiya TV channel, the man said he paid the dowry to the young girl's Saudi mother and Yemeni father, making the marriage "legal and correct".

The 15-year-old's arranged marriage sparked outrage and widespread condemnation in Saudi Arabia where activists took to Twitter calling it child trafficking and prostitution.



这名老人现在想要回其支付给女方父母的10767英镑彩礼(大约17500美元)。





据半岛电视台报道,这名男子称其向女孩的沙特妈妈和也门爸爸支付了彩礼,让这门婚姻变得"合法和正当"。





这名15岁女孩的包办婚姻在沙特激起了愤怒和广泛谴责,有活动分子在Twitter上称这是拐卖儿童和组织卖淫。



A member of the Saudi National Association for Human Rights (NSHR), Suhaila Zein el-Abedin urged authorities to "save this child from tragedy", adding that marriage in Islam must be based on mutual consent.

She also blamed the girls parents for accepting the dowry and marrying off their daughter to such an old man, underlining the importance of establishing a minimum age of 18 for marriage in Saudi Arabia.



沙特国家人全协会(NSHR)的一名成员Suhaila Zein el-Abedin督促当局"将这名孩子从悲剧中拯救出来",并补充说伊斯兰的婚姻必须建立在双方同意的基础上。





她还指责女孩父母接受彩礼,将女儿嫁给这么老的男人,同时强调沙特规定结婚至少要满18岁的重要性。




以下是印度网民的评论:




k12345 (earth)
Where are our dear islamic friends today to talk about the high status of women in Islam? About how much they respect their mother and all that bull?
Agree (31)Disagree (5)Recommend (22)



那些大谈特谈女性在伊斯兰中享有崇高地位的伊斯兰朋友去哪了?他们吹嘘其多么尊重母亲等胡说八道的话。




fact (India) replies to k12345
Islam is not to be blamed for this. Don't blame Islam for the acts of few so called muslims. In Islam a bride is first asked whether she accepts the marriage if she says yes then groom is asked. If she refuses then there cannot be marriage. Such traficking is also done by Hindus in Haryana. Does that mean that we should blame Hinduism? As per a report every 3rd house in Haryana has bought a girl through Human Traficking.
Agree (5)Disagree (3)Recommend (1)




不能将此事怪罪于伊斯兰。不能因少数所谓的穆斯林的行为而怪罪伊斯兰。在伊斯兰婚姻中,先问新娘是否接受这门婚事,如果同意,就问新郎是否愿意,如果拒绝,那么婚姻就泡汤。哈利亚纳邦的印度教徒也会贩卖人口。难道要以此责怪印度教吗?有份报告称,哈利亚纳邦每三个家庭,就有一个通过贩卖人口买女孩。




Rahul (India) replies to fact
Hindus should be blamed if they r quoting their religion to justify their act.
Agree (3)Disagree (0)Recommend (1)




如果他们援引宗教来证明其行为是正当的,那么就应当归咎于印度教。




k12345 replies to fact
Difference is that vast majority of hindus condemn such practices, vast majority of muslims accept and want such practices. Vast majority of muslims want sharia law where 4 women's testimony in court is counted as equivalent of one man. Vast majority of muslims want man to be able to dump his wife by simply uttering three words and then not pay any money to support her. Vast majority of muslims don't educate their daughters and treat them like breeding cows. Vast majority of muslims don't allow their wife to drive. Vast majority of muslims are basically slave owners, who treat the female members of their family like slaves.
Agree (9)Disagree (1)Recommend (5)




不同之处在于大多数印度教徒谴责这样的行为,而大多数穆斯林接受和期盼这样的行为;大多数穆斯林喜欢伊斯兰教法规定的4个女人在法庭上的证词相当于一个男人的证词;大多数穆斯林喜欢男人只要说三个词就可以休了妻子,而不用支付钱去供养她;大多数穆斯林不让女儿接受教育,将其当做繁殖的母牛;大多数穆斯林不允许妻子开车;大多数穆斯林从根本上说是奴隶主,将家里的女性成员当做奴隶。




译文来源:三泰虎 http://www.santaihu.com




Manu (Mumbai)
90-15=75,........I wonder what was the girl scared for, she should have killed the old as* and claimed that he died of heart attack. She would have been the owner of all his wealth,.....or some part of his wealth.
Agree (8)Disagree (0)Recommend (0)



90-15-75......!不知道女孩怕啥,她可以杀了这个老头,然后说他死于心脏病发作,这样就可以拥有其全部财富......或者部分财富。
robust (Delhi)
Is there no punishment in Sharia for such a brutal marriage ?
Agree (10)Disagree (0)Recommend (2)



伊斯兰教法是否没有惩罚如此残酷婚姻的规定?




psunv (YQB) replies to robust
It is not crime and also encouraged in religion
Agree (3)Disagree (0)Recommend (0)




在宗教里,这不是犯罪,而是受到鼓励的。




Sid (India) replies to robust
Forced marriage is not allowed in Islam. There indeed a severe punishment in Shariah.
Agree (0)Disagree (3)Recommend (0)




强迫婚姻在伊斯兰是不被允许的,伊斯兰教法确实有相应的严厉惩罚。



Mallya (London)
This girl was not aware of the benefits of marrying a 90 year old man. Even if she had slept with him, she would have remained a virgin. Further this man would have died within a year or two, leaving her lot of wealth and her virginity intact.
Agree (16)Disagree (4)Recommend (5)



女孩没有认识到嫁给90岁老头的好处。即便和老头睡了,她也还会是处女。老头会在一两年内死去,会给她留下许多财富,而她的贞操还是完好无损的。




Sid (DBX) replies to Mallya
Good one! Maybe this was exactly what girls parents planned but poor girl could not execute.
Agree (2)Disagree (1)Recommend (1)




不错!也许女孩父母就是这样计划的,但可怜的女孩拒绝执行。



Mike (UAE)
This is one of the 1000's of girls who get married at a very tender age, the Saudis are very well known in going to Pakistan and buying women, who are then made slaves.
Agree (9)Disagree (0)Recommend (2)



在女孩幼年结婚的众多案例中,这只是其中一例。众所周知,沙特人喜欢去巴基斯坦买女人,然后将其当做性奴。
Vijay Tiwari (Darjeeling)
I am wondering what he would have done, if permitted by bride to sleep with her on wedding night.
Agree (3)Disagree (0)Recommend (0)



我想知道,如果新娘允许其在新婚夜同睡,他会怎么做。




swanand kannur (Pune) replies to Vijay Tiwari
1 bottle Viagra...




先来一瓶伟哥.....



JCMI (India)
OMG!! These kind of parents are no less than monsters. This groom must be old than this girls parents itself...
Agree (5)Disagree (0)Recommend (2)



哦,天啊!这样的父母就是怪物。新郎肯定比女孩父母更老......
psunv (YQB)
When their prophet done it to 6 years old girl than it is automatically encouraged in the religion. Poor girl's life is ruined by this old man for which he will get 72 virgins in heaven............Come on guys wake up
Agree (15)Disagree (3)Recommend (5)



他们的先知就是这样对待6岁女孩的,宗教当然就会鼓励这样的行为。可怜的女孩被老头毁了,他能因此在天堂获得72个处女........
yawikiller (new dehli)
A Saudi royal travelling in Air India flight to New Delhi saw an air hostess and asks his henchman to get her for him, to which he replies she is property of Air India so he cannot do. Buy Air India asks the prince angrily. I cant, henchman answers back very politely saying, Air India is property of Ministry of civil aviation. Go and buy that bla blah ministry, royal fires back, to which henchman again pleads his inability to do the needful saying ministry of civil aviation is property of Govt of India . " GO AND BUY GOVT OF INDIA U B*STARD , I want her at any cost. LITTLE DID THAT POOR SPOILT BRAT ARAB KNEW THAT GOVT OF INDIA WAS ALREADY SOLD TO BOFORS BY THEN.
Agree (10)Disagree (1)Recommend (4)



沙特一皇室成员乘坐印度航空的航班去新德里,看上一名女空乘员。他要求随从人员帮其搞到手,随从人员说她是印度航空的财产,不能那样做。





王子生气地说:"把印度航空买下来。"





"不能啊。"随从人员礼貌地回答,"印度航空是民航部门的财产。"





"去把blah blah部门给我买下来。"





为此,随从人员再次表示无能为力,称民航部门是印度政服的财产。





"去把印度政服给我买下来,不惜一切代价也要把她搞到手。"





殊不知,印度政服当时已经被卖给了博福斯。




Satpal Jabbal (U K) replies to yawikiller
LOL, Now we know why Bofors went Bust.




LOL,才知道博福斯为何会破产。



karim (london)
what a shame on saudis, don't they have any ethics, shame upon you and your culture. you saudis are a big disgrace to humanity.
Agree (17)Disagree (1)Recommend (10)



沙特人太无耻了,难道他们一点道德也没有,这令你们和你们的文化蒙羞,沙特人是人类一大耻辱。




Noor (KSA) replies to karim
You stupid and ignorant. Have you ever been to Saudi? Women here live comfortably with out any fear.. They lead luxorious and safe life.....
Agree (4)Disagree (19)Recommend (4)




你个傻蛋,真无知。去过沙特没?女人在这里过得很舒适,无所畏惧,她们过着奢侈和安全的生活......



aarupadaiappan (Chennai)
Does this barbaric act is allowed in their religion...
Agree (10)Disagree (2)Recommend (5)



他们的宗教是否允许这样的野蛮行为.....
overlooking our own biggest sin (islamic country)
as a muslim, the same question arising in my head again, is this why they say: all muslims are not child molestors but all child molestors are muslims?
Agree (11)Disagree (0)Recommend (5)



作为一名穆斯林,同样的问题浮现在我脑海里,这就是为什么他们会说:并非所有穆斯林是儿童猥亵者,但所有儿童猥亵者是穆斯林?
smitha (chennai)
we hindus support child marriage, we are not better either
Agree (13)Disagree (24)Recommend (2)



我们印度教徒支持童婚,我们也好不到哪里去。
Mustafa Azim (Mumbai)
She is 15 means she must have received her first period which in turn makes her old enough to get married. Quran says so and thats the word of allah himself. Even a 90 years old muslim man would be potent enough to consummate the marriage. You impotent, cowards and skeleton looking hindoos are no match to a muslim man's power. Thats why all your bollywood heroines marry muslim men since only muslim men are strong, powerful, you hindoos are not. You may hate us for that but you cant deny the fact that even hindoo women like mardana muslim men.
Agree (0)Disagree (14)Recommend (0)



她15岁了,意味着她肯定来了第一次月经,所以可以结婚了。古兰经是这样说的,这是真主说的话。即便是90岁的穆斯林男人也有能力让婚姻完美。你们这些无能、懦弱、骨瘦如柴的印度教徒无法和穆斯林男人的能力比,所以你们的宝莱坞女星都嫁给穆斯林男人,只有穆斯林男人才是强大的,你们印度教徒不强大。你们或许会因此而讨厌我们,但不能否认这样的事实,即印度教女教徒喜欢穆斯林男人。
三泰虎1月8日译文,印度时报原题《沙特少女新婚夜藏起来,躲避90岁的"丈夫"》。据报道,沙特一名90岁男子起诉15岁小新娘的家庭,因小新娘新婚之夜躲在卧室里。新婚之夜,为了不让新婚丈夫进来,受惊吓的少女把自己反锁在房间里。两天后,她逃回了父母家里。这名男子现在想要回其支付给女方父母的10767英镑彩礼(大约17500美元)。据半岛电视台报道,这名男子称其向女孩的沙特妈妈和也门爸爸支付了彩礼,让这门婚姻变得"合法和正当"。