原文标题:Saudi Arabia threatens to quit Olympics
原文链接:http://timesofindia.indiatimes.com/world/uk/Saudi-Arabia-threatens-to-quit-Olympics/articleshow/15209533.cms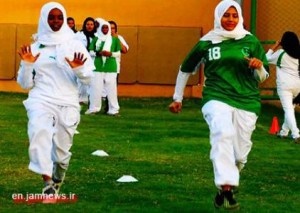 LONDON: Saudi Arabia has threatened to withdraw from the Olympics unless a female judo athlete was allowed to wear her headscarf in competition, The Telegraph reported on Friday.

The Saudis said the women could compete only if they were allowed to wear appropriate Muslim clothing.

On Thursday night the International Judo Federation president Marius Vizer said Wujdan Shahrkhani could not fight with a headscarf.



伦敦:每日电讯星期五报道,沙特发出威胁,除非柔道女运动员被允许戴头巾参加比赛,否则将退出伦敦奥运会。





沙特表示,只有在被允许穿合适的穆斯林服装的情况下,这名女运动员才能参加比赛。





星期四晚上,国际柔道联合会主席马吕斯·维泽尔称莎赫卡尼不能配戴头巾参赛。



He said the decision was a result of safety concerns and also "according to the principles and spirit of judo".

Judo spokesman Nicolas Messner said the hijab could be dangerous because the sport involved strangleholds and chokeholds.

However, judo federations in Asia have allowed Muslim women to wear hijabs.



他称这个决定是出于安全考量,此外也是"根据柔道的原则和精神"做出的。





柔道发言人尼古拉斯称比赛戴头巾是危险的,因为这项运动涉及绞技。





然而,亚洲柔道联合会已经同意穆斯林女运动员佩戴头巾。




以下是印度网民的评论:




ak (USA)
this is insane, they still seems to be living in 15th century
Agree (2)Disagree (0)Recommend (0)



这是不理智的,他们似乎仍然生活在15世纪。
rafique (Houston) 4 hrs ago
They can leave right now! The world is not going to miss hijabis and the enslavement of women!
Agree (5)Disagree (0)Recommend (0)



他们可以马上离开!世界不会去想念头巾维护者和奴役妇女!
Wadhwani (India) 6 hrs ago
Why doesn't Saudi want its sports men to wear their traditional, long clothes in Olympics, too?
Agree (5)Disagree (0)Recommend (4)



为什么沙特不也要求男运动员穿着传统长袍参加奥运呢?
Himmat (India) 8 hrs ago
Let saudi quit Olympics and start Islamic Olympic only for muslims, where women will participate in hijab and scarf.
Agree (15)Disagree (0)Recommend (4)



让沙特退出奥运会,自己去组织只允许穆斯林参加的伊斯兰奥运会。女性将佩戴头巾和围巾参赛。
Arun (Bangalore) 9 hrs ago
they say their prophet banned idol worshipping, but they worship even the dress they wear, hypocrites.
Agree (12)Disagree (3)Recommend (3)



他们说先知禁止偶像崇拜,但是他们甚至崇拜自己的穿着,伪善者。




mk (india) replies to Arun 5 hrs ago
they don worship dresses they rather respect women. a rare quality that doesn't exist today.
Agree (1)Disagree (4)Recommend (0)




他们不是崇拜衣着,而是尊重妇女,这是如今社会所缺失的稀有品质。



ps (uk) 9 hrs ago
Don't understand what is the objection to this - they are asking their women be allowed to wear a headscraf and not asking for all women to do so. Why should anyone have an objection to that ! Respect other peoples culture .



不理解有什么好反对的。他们是要求自己的女运动员被允许佩戴头巾,不是要求所有女性这样做。为什么大家会反对呢!尊重别人的文化吧。




Anderson (USA) replies to ps 9 hrs ago
They expect people visiting their nations to respect their culture and religion. Time they learnt to do the same.
Agree (10)Disagree (0)Recommend (4)




他们期望访问他们国家的人尊重他们的文化和宗教。现在该他们学会尊重别人了。



Sheik MehBOOB (Ajmer) 10 hrs ago
Let them withdraw else they will start sending men wearing burkha and will win all the medals in female category
Agree (26)Disagree (7)Recommend (6)



还是让他们退出比赛吧,否则他们会派男运动员穿着罩袍去赢得所有女性项目的奖牌。
arab (middle east) 10 hrs ago
hello jerusalem hindu, here are the inventions of arabs to the world. 1.coffee 2.chess 3.medical instruments 4.gun powder 5.pin hole camera 6.earth as spherical 7. world map 8.shampoo 9.windmill 10.distillation refer to 1001 inventions of arab on google, u will have answer to ur comment.
Agree (8)Disagree (24)Recommend (1)



你好,印度教徒,以下是阿拉伯人贡献给世界的发明:





1、咖啡





2、国际象棋





3、医疗仪器





4、火药





5、针孔摄像机





6、发现地球是圆的





7、世界地图





8、洗发水





9、风车





10、蒸馏法





可以在谷歌上参考下阿拉伯人的1001个发明。你们会得到答案的(译文来源:三泰虎)。




mangy (blr) replies to arab 4 hrs ago
Sorry buddy arabs invented lies,devils, Jihad, terrorism,burqa & Osama Bin Laden.You will get the olympic medal for those inventions.You don't need to google ask a new born kid in a hospital he will tell you this.
Agree (2)Disagree (0)Recommend (1)




抱歉,哥们,阿拉伯人发明了谎言、魔鬼、圣战、恐怖主义、罩袍和本拉登。你们会因为这些发明而获得奥运会奖牌。不需要用谷歌搜,去问医院里的新生儿吧,他们会这样告诉你的。




Anderson (USA) replies to arab 9 hrs ago
Chess is an Indian invention. Shampoo is also an Indian first. "Arab Numerals" the one the world uses today too are actually Indian in origin. The reason they were called "Arab Numerals" is because Europeans learnt them from the Arabs who learnt them from the Indians
Agree (8)Disagree (1)Recommend (4)




国际象棋是印度人的发明。洗发水也是印度人首先发明的。今天世界上使用的"阿拉伯数字"实际上是印度人原创。之所以被称为"阿拉伯数字",是因为欧洲人从阿拉伯人那里学习了这些数字,而阿拉伯人是从印度人那里学来的。



Mohammed AbdulRasheed (This Planet)
My friends in Saudi Arabia around one million Hindus are working and sending 550 Crore rupees to India to feed their families and now you are spitting venom on Saudi Arabia? It is very strange you are commenting in hate. If Saudi Arabia terminates these on million Hindus then how much it will effect on their families? My friend doesn't comment like that again. Due to you like mentality people in our Indian politics no single neighbor country is maintaining friendship and all neighbors of India directly or indirectly enemies including Sri Lanka a Buddhist country.
Agree (13)Disagree (21)Recommend (4)



朋友们,大约有100万印度教徒在沙特工作,他们寄55亿卢比回印度养活家人。你们现在却恶意攻击沙特?你们带着仇恨来评论真是太奇怪了。如果沙特终止100万印度教徒的工作,那么会给他们家人带来多大的影响?我朋友不再那样评论了。我们印度政治里正是因为有你这样心态的人,所以没有一个国家与印度保持友好关系,全部都是直接或者间接的敌人,包括佛教国家斯里兰卡。




Logical (Cuttack) replies to Mohammed AbdulRasheed 9 hrs ago
Saudi Arab is not doing charity by inviting workers from south asia. They dont have enough population to produce oil or gas or even to work on their infrastructure. That does not make them a great nation. Thats just mutual benefit for Saudi and Indians or pakis, srilankans, Philipinos, Bangladeshis etc.
Agree (17)Disagree (1)Recommend (3)




沙特邀请南亚工人,可不是在做慈善工作。他们没有足够多人来生产石油、天然气或者修建基础设施。这并没有让沙特成为一个伟大国家。对于沙特人和印度人,或者巴基斯坦人、斯里兰卡人、菲律宾人等,这只是互惠互利而已。



Khanyo (Cape Town) 11 hrs ago
why did Saudi Arabia sent the athletes then ? Do the saudis expect the whole world to bow to them because they have petroldollars ? Saudis believe that all what is not islamic is haram: let them go back to their place .
Agree (20)Disagree (4)Recommend (9)



那沙特当时为什么要派女运动员?沙特人是期望整个世界会因为石油美元而顺从他们?沙特人相信一切非伊斯兰的东西都是非法的。让他们回到自己的地方去吧。
Vinay Dixit (Dallas, Texas)
Let them withdraw from Olympics and stick to their 14th century principles.
Agree (25)Disagree (4)Recommend (10)



让他们退出奥运会,让他们信守14世纪的原则吧。




Saudi (KSA) replies to Vinay Dixit 9 hrs ago
& you adopt the 21st centuries by sending your mother, sister & wife in biknis, I am sure every one there will enjoy this 21st century except you lolzzzz
Agree (3)Disagree (4)Recommend (0)




你采纳21世纪的做法,派你妈妈、妹妹和妻子穿着比基尼去参加奥运会吧。我确信除了你之外,每个人会享受这个21世纪的盛宴,笑。



aloknanda87 (Old Delhi)
This barbarians should immediately get kicked out from the Game.
Agree (16)Disagree (0)Recommend (5)



这些野蛮人应该被立即踢出奥运比赛。
aakashverma1090 (Bangalore)
Height of hypocrisy !!!! You are most welcome to quit. Anyway you don't win anything, simply crowd the place. Get lost!!!
Agree (22)Disagree (0)Recommend (9)



伪善之至!你们退出比赛是再欢迎不过了。不管怎么说,你们什么也赢不到,只是来凑热闹而已。滚开吧!




ABDULLAH (DUBAI) replies to aakashverma1090 10 hrs ago
THIS HYPOCRATS HAVE BETTER OVERALL MEDAL TALLY THAN YOUR 1.3 BILLIONS IMPOTENTS
Agree (6)Disagree (13)Recommend (2)




这些野蛮人的总奖牌榜排名比你们有13亿无能者的国家更高。




George (usa) replies to ABDULLAH 9 hrs ago
As of Jan 2012 Saudi Arabia (KSA) has competed in 9 Olympic games, winning 0 gold medals, 1 silver medals, and 1 bronze medals for a total of 2 medals. 2 medals in the summer Olympics India have 20 medala total
Agree (5)Disagree (0)Recommend (4)




截止2012年1月,沙特角逐了9届奥运会,获得了0枚金牌、1枚银牌和1枚铜牌,总共是2枚奖牌。印度在夏季奥运会总共获得了20枚奖牌(译文来源:三泰虎)。



lol (India) 13 hrs ago
Will Saudi men also cover their heads?
Agree (55)Disagree (4)Recommend (9)



沙特男子也会遮住头部吗?
Unknown (india) 14 hrs ago
Saudi people must have gone crazy, let them quit, what's a big deal
Agree (12)Disagree (3)Recommend (4)



沙特人肯定疯了,让他们退出吧,没什么大不了的。
abdullh (london) 14 hrs ago
when you are in their country, they force you to obey their rule, like no other worship is allowed and no eating in Ramadan, But when they are in another country they are not ready to obey another country's rule!!!!!!!!!!!!!!!!!!!!!!!!!!!!!! what a hypocryte they are . Better they don't participate in olympics on the goodness of sports. allah can't save them!!
Agree (49)Disagree (4)Recommend (22)



当你在他们国家时,他们迫使你尊重他们的规定,比如不允许其他信仰崇拜,不能在斋月吃东西;但是当在其他国家时,他们不准备服从其他国家的规定!他们是伪善者,最好别来参加奥运会...
Abdullah (Bahrain) 15 hrs ago
Hello beggars like deepak.. population of india is high compared to saudi .. i think u live in a different world... atleast we live in Huge villas or palaces n u, sure gotta be slum
Agree (8)Disagree (41)Recommend (4)



你好,deepak等众乞丐,印度人口相比沙特可高了...我认为你们生活在一个不同的世界里...我们至少住大别墅或者宫殿,而你们肯定是住在贫民窟里。




SJ (Bharath) replies to Abdullah 15 hrs ago
Technology of west and hard work of people of India, Philipians and Bangaladesh got you Villas and other palaces. Let us see what will happen to you after 40 years, back to Camel??
Agree (16)Disagree (5)Recommend (5)




西方技术和印度人、菲律宾人、孟加拉人等这些人的勤劳工作让你们拥有了别墅和宫殿。40年后,让我们看看你们会怎么样吧,回到骆驼时代?




Gurvinder (Delhi) replies to Abdullah 15 hrs ago
You could affoard to live in villa because you are exploting the labors. Pay them as per international standard as they are being paid in the west then we will see how many of you live in villa.
Agree (10)Disagree (1)Recommend (5)




你之所以住得起别墅,是因为你们在剥削劳工。按照西方的国际标准来支付他们的工酬,然后我们就能看到你们中有多少人能住上别墅。



Optimistic Choo T'Ya (Phoren Land) 16 hrs ago
There is no end to this.....Next they will say it is Ramzaan time (Ramadan in Arab world) and so all their events should be held after sunset and Iftaar.......and so on........This is what happens when you have locals heading the sports administration, lack of proper thought process in planning for the event and then crying in the last minute. It is quite simple for anyone - The schedule of events has been out there for months, if not years. You send a participant or team to compete per that schedule or just withdraw and let some other country represent theselves in that sport. No point making a fuss and in the process make of fool of oneself!
Agree (12)Disagree (2)Recommend (6)



这还没有结束呢...他们下一次会说,现在是斋月期间,所以一切赛事必须在日落之后举行...等等...当缺乏合理赛事规划的本地人掌管体育局时,这些事情就会发生,他们会在最后一刻大呼小叫。其实很简单,赛事安排表就是没有出来几年,那也出来几个月了。你或者派运动员按照日程表参赛,或者放弃并让其他国家的代表参加该项运动。吵吵闹闹没有意义,在这一过程中你是在愚弄自己。
RAJESH (Bangalore) 16 hrs ago
Saudis have just proved that they are not only idiots but complete hypocrites
Agree (20)Disagree (16)Recommend (10)



沙特人只是证明了他们不仅是傻瓜,而且是十足的伪善者。
Deepak (Bangalore)
Are these Mullahs so dumb!? Why dont they have some sporty spirit!? These rules are there since decades. Knowing this why the Saudi's sent their female athletes to Olympics!?. Better let them keep them in Saudi and produce more children and that will be better than Olympics!
Agree (26)Disagree (11)Recommend (15)



这些毛拉真这么蠢吗!?为什么他们不能有一些体育精神?几十年前就开始有了这些规定。这些沙特人知道这些,却为什么要派女运动员参加奥运会?最好让她们呆在沙特生更多的孩子,这样会比奥运会来得更好!
AJ (Bali) 16 hrs ago
Judo is sports in which their is lot of pulling of clothes, my concern is if someone pulled out hijab from saudi girl face than local mulla will issue a fatwa in no time and both women will be stoned in next few hours by pious muzzies.
Agree (27)Disagree (7)Recommend (14)



柔道是一项涉及大量拉扯衣服的运动。我的担忧是如果一些人把沙特女孩的头巾扯掉了,那么当地的毛拉是否会立即签发追杀令,两个女人是否会在几小时内被虔诚的穆斯林用石头砸死。
yogesh (Banglore)
conservative thinking in a rich country .
Agree (5)Disagree (1)Recommend (3)



一个富国的保守想法。




oddone (blr) replies to yogesh 14 hrs ago
A dog with a golden crown will be called still a dog.
Agree (5)Disagree (0)Recommend (2)




一条戴着金皇冠的狗仍然会被称为一条狗。



Darwin (India)
I am pretty sure that god doesn't exist. If he had existed, he would have given some brains to Arabs and their slaves
Agree (20)Disagree (10)Recommend (7)



我确信真主是不存在的。如果真的存在,那么他会给阿拉伯人和他们的奴隶一些智慧。
anup (W B)
Why one has to be rigid in sports also in the name of religion? In Ramadan, certainly they are not fasting while participating in the games. No big deal.
Agree (10)Disagree (0)Recommend (2)



为什么要以宗教的名义在体育里如此刻板?现在是斋月,他们肯定不会在比赛期间禁食。没什么大不了的。
syed hafiz (KSA)
Olympic games is not the sole property of the Western world. The authority should respect the tradition and the norms of others.What is the harm if the participants have their Hijab(head cover).If they do not allow it then they should withdraw from the Olympics in protest.
Agree (11)Disagree (32)Recommend (7)



奥运会比赛不是西方世界的独有财产。当局应该尊重其他让人的传统和规范。运动员配戴头巾有什么害处呢。如果不被允许,那么他们就应该以退出奥运会作为抗议(译文来源:三泰虎)。
homer (uk) 18 hrs ago
Nobody force them to stay. Go away and stop being nuisance.
Agree (34)Disagree (1)Recommend (8)



没有人强迫他们留下来。走吧,别胡闹了。
Sanjay (US) 19 hrs ago
Wait if Saudi Arabia is leaving olympics then I am not watching it. I mean who wants to watch Japan, US, Germany and all these good competing countries? What a joke!
Agree (35)Disagree (0)Recommend (23)



如果沙特退出了奥运会,那我就不看比赛了。我意思是说谁会想看日本、美国、德国和其他竞技强国的比赛?真是笑话!
teja (london) 19 hrs ago
what abour ramadan fast, would be interesting to see all muslim (true not kafirs) observe fast and compete. or maybe as well enjoy london, drink and eat pork that is more like modern day muslim (at least in india and bollywood)..
Agree (19)Disagree (1)Recommend (8)



那斋月禁食呢,看到所有穆斯林禁食情况下参赛是有趣的,或者在伦敦吃吃喝喝享受,做一名现代的穆斯林(至少在印度和宝莱坞电影里是这样的)...
由于当地的宗教信仰,沙特此前是从来不派女运动员参加奥运会的国家,但本次伦敦奥运会上,沙特阿拉伯首次派出了女性运动员参赛,分别是参加柔道的莎赫卡尼和田径的莎拉·阿塔。然而国际柔道联合会主席马吕斯·维泽尔表示莎赫卡尼不能配戴头巾参赛,称这个决定是出于安全考量,此外也是"根据柔道的原则和精神"做出的。沙特对此发出威胁,称除非柔道女运动员被允许佩戴头巾参加比赛,否则将退出伦敦奥运会。