原文标题:China rolls out red carpet for Putin as US's Leon Panetta arrives in Delhi
原文链接:http://timesofindia.indiatimes.com/world/china/China-rolls-out-red-carpet-for-Putin-as-USs-Leon-Panetta-arrives-in-Delhi/articleshow/13852251.cms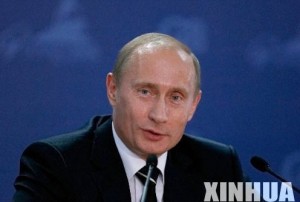 BEIJING: As US defence secretary Leon Panetta arrived in New Delhi to firm up military ties, a wary China today rolled out red carpet for Russian President Vladimir Putin in a bid to court Moscow to counter the big US naval push into Asia Pacific to checkmate Beijing.

Not since the 1961 Sino-Soviet spat which vertically split the Communist movements all around the world, the visit of a Russian leader made such a buzz in China as that Putin's even though this is his eighth tour to Beijing ever since he first came to power in 2000.

As Putin arrived this morning on a state visit to hold talks with Chinese leaders and to participate the 12th Shanghai Cooperation Summit, (SCO) the state-run CCTV virtually covered the event live.



北京:美国国防部长帕内塔抵达新德里加强印美军事关系。谨慎的中国今天铺红地毯欢迎俄罗斯总统弗拉基米尔·普京,试图让莫斯科反制进入亚太、围攻北京的美国庞大海军。





自从1961年垂直分裂全世界共产主义运动的中苏口角发生以来,俄罗斯领导人的访问首次在中国引起如此大反响。普京2000年首次执政,这是他第8次访问北京。





普京今天早上到达中国进行国事访问,将和中国领导人举行会谈,并参加上合组织峰会。CCTV实际上进行了现场直播。



The two countries pledge to prioritise their relations, state-run Xinhua news agency reported after the meeting between Putin and President Hu Jintao.

The discussions reportedly focussed on the two countries to strengthen their, political, economic and military ties besides coordinating their stand on international issues like Syria and Iran.

"President (Putin) and I have agreed to continue treating the development of bilateral relations as a diplomatic priority," Hu said after a closed-door meeting with the Russian leader.

"China-Russia relations have maintained positive, healthy and stable development in recent years through the joint efforts of both sides," Hu said.

Hu said he is sure that Putin's visit will further promote the two countries' comprehensive strategic partnership of coordination.



中俄首脑会谈后,新华社报道称两国保证重视彼此关系。





据称,除了在叙利亚和伊朗等国际问题上协调立场外,两国还集中讨论如何加强双方的政治、经济和军事关系。





在和俄罗斯领导人举行秘密会议后,胡称:"普京和我已经同意继续把双方关系的发展当做外交要务。在双方的共同努力下,中俄关系最近几年保持了积极、健康和稳定的发展。普京的访问将进一步促进两国全面的战略合作伙伴关系。"



Russia and China share extensive common interests, Putin said, highlighting bilateral cooperation in addressing international affairs.

Putin said the two countries' comprehensive strategic partnership of coordination has reached an unprecedented level through the efforts of both sides.

The two countries are expected to sign a host of agreement and look to firm up their energy cooperation.

Last year Russia supplied 15 million metric tonnes of crude oil through exclusive pipelines and the two countries are in talks to reach a similar agreement to supply Russian natural gas to energy hungry China.

Beijing also looks to clinch agreements on high end military technology which Moscow withheld so far, according analysts.

Chinese analysts appearing on the state television said the two countries looked forge a more dynamic and strategic relations in view of their reservations over US domination.



普京说,俄罗斯和中国拥有广泛的共同利益。在解决国际事务方面,他强调了中俄双方合作的重要性。他称,在双方的努力下,两国全面的战略合作伙伴关系已经达到了前所未有的高度。两国可望签署许多协议和加强能源合作。





去年,俄罗斯通过专属管道向中国供应了1500万公吨原油。两国正在谈判,以达成类似协议,为急需能源的中国供应俄罗斯天然气。





分析家称,北京也寻求在军事高科技上敲定协议,不过莫斯科迄今为止对此保留。





中国分析家在国家电视台称,鉴于中俄对美国霸权持保留看法,两国寻求打造更具活力的战略关系。



While Russia has concerns over the US missiles defence shield, China is wary about US forays into South China Sea as well its efforts to forge close alliance with India and Japan.

Chinese analysts are also arguing that China should make serious efforts to deepen ties with India too as New Delhi shares a close relationship with Moscow.

"India and Russia have a history of close relations and Russia and China are also becoming very close. In geo-political interactions, both sides should work hard to increase mutual trust and also take care of each other's misgivings", a write up in the state-run Chinese edition of the Global Times said yesterday.



俄罗斯对美国导弹防御系统表示关注。中国对美国进军南海,以及同日本和印度打造密切联盟表示警惕。





中国分析家也在争论,由于新德里和莫斯科之间的关系密切,中国也应该努力加强中印关系。





环球时报昨天的一篇评论称:"印度和俄罗斯拥有亲密关系的历史。俄罗斯和中国也走得很近。从地缘政治互动来看,双方应该努力增加互信和照顾彼此的疑虑"。




以下是印度网民的评论:




pgangadharanpulingat nair (kanhangad)
The summary of the report that India and china should work hard for mutual trust and friendship for the betterment of the two giant Asiatic countries together with the world powers.
Agree (15)Disagree (2)Recommend (7)



报告的总结是:为了两个亚洲巨人和世界大国的关系能够得到改善,印度和中国应该努力增加互信和友谊。
geredharrao (chennai)
These development should be worry Pakistan as they cannot dictate like to US in the past with either Russia or China.
Agree (0)Disagree (0)Recommend (0)



这些进展应该会让巴基斯坦忧虑。因为巴基斯坦不能像过去命令(或者说讹诈)美国那样对待俄罗斯或者中国。




TERA BAAP (PAKISTAN) replies to geredharrao 12 hrs ago
Why does Pakistan penetrates you so often? Just don't worry Pak China relations, they are very special and limitless. They don't need analysis by baboons like you.
Agree (4)Disagree (5)Recommend (0)




为什么巴基斯坦会经常穿透你的心灵?你就别担心中巴关系了。这个关系非常特殊和无止境,不需要你这样的狒狒来分析。



RAKESH SEHGAL (Chandigarh)
INDIA MUST BALANCE ITS RELATIONS WITH CHINA, RUSSIA AND US.
Agree (13)Disagree (1)Recommend (3)



印度必须平衡自己同中国、俄罗斯和美国的关系。




Vijay (Delhi) replies to RAKESH SEHGAL
Right but without sacrificing its national interests in South China sea, as China calls it.
Agree (1)Disagree (1)Recommend (0)




对,不过不能按照中国所要求的那样做,不能牺牲印度在南海的国家利益。



Sami (Multan) 12 hrs ago
US defence secretary Leon Panetta and his forebears were probably expelled from medieval Spain in 1492. (The Muslims were also expelled). Later many Jews settled in Europe and in many Islamic countries. Again they migrated to the United States, where the wandering Jews confiscated the country. Now they want to sell the Americans and their state. Now the US defence secretary wants to sell a golden war with total destruction to India. LOOK: the India is being being compelled to make war with neighbours (Pakistan and China). Thank you Mr Panetta for this excellent marketing strategy. The old Romans said: "If you want to make peace - then let us make a war!". Donkey Indians are now following this proverb. Remember: India would NEVER recover from the repercussions of the war. THIS WOULD NOT BE A CONVENTIONAL WAR. THIS WOULD BE A WAR WITH ABC WEAPONS.
Agree (12)Disagree (3)Recommend (5)



1492年,要是美国国防部长帕内塔和他的祖先在中世纪的西班牙,可能会被驱逐。(穆斯林也被驱逐了)。后来,许多犹太人定居在欧洲和伊斯兰国家。他们随后移居到美国。流浪的犹太人没收了那个国家。他们现在想出卖美国。美国国防部长想要向印度人兜售会彻底摧毁印度的战争。看看,印度正在被强迫同领国(巴基斯坦和中国)发生战争。帕内塔先生,谢谢你这个很棒的营销策略。古罗马人说过:如果你想要和平,那么让我们挑起战争吧!愚蠢的印度人现在遵循这个谚语。记住:印度永远不会从战争影响中恢复过来。这将不是一场常规战争,而是一场原生化战争(三泰虎注:原生化即原子、生物、化学武器)。
Subramanian Raj (Chennai)
India should have good relationship with US and Russia not with China, unless China accepts its mistake of occupying Indian territory and give it back to India. Anyhow China is not a trustworthy nation to be believed fully.
Agree (12)Disagree (6)Recommend (3)



除非中国承认自己占领了印度领土并归还印度,否则印度不应该和中国,而是应该同美国和俄罗斯建立友好关系。不管怎么样,中国不是个值得完全信任的国家。
suriya kumar (Tirupur) 13 hrs ago
India should act on its own policy of non-alighnment.But should be friendly with all the countries and not allowing any country to dominate our own India.
Agree (7)Disagree (1)Recommend (0)



印度应该恪守自己的不结盟政策,应该同所有国家建立友好关系,不允许任何国家统治印度。
SMV (Mumbai) replies to suriya kumar
non alignment? such concepts never existed and will not exist either. This is a term for who does not want to take a stand one way or the other and manifestation of inability to make decisions
Agree (0)Disagree (0)Recommend (0)



不结盟?这样的概念压根就没存在过,以后也不会出现。这是为那些不想要采取立场或者做决定时表现出无能的人而准备的术语。





原创翻译:三泰虎 http://www.santaihu.com
Jak (Tx) replies to suriya kumar 12 hrs ago
Haha non-alignment, get life dude and face reality, there is nothing called allignment in current world.
Agree (1)Disagree (0)Recommend (0)



哈哈,不结盟,别扯了。当今世界没有什么叫做(不)结盟的东西。
KILLA THOKU (PAKISTAN) 13 hrs ago
American India relation can be termed as the hungry person screwing the other hungry person and both finally faint and land up in the hospital. Both India and America are directionless after the American defeat by Taliban and they don't know what to do.
Agree (8)Disagree (10)Recommend (2)



美印关系可以被看做是一名饥饿的人缠上另一名饥饿的人。两个人都最终晕倒,结果来到医院。美国被塔利班打败后,印度和美国都没有方向感。他们不知道要做什么。
Narayanan Chidambaram (Chennai) 17 hrs ago
The coming together of Russia and China is a natural outcome of the United States trying to bulldoze the world into its orbit in the name of democracy and human rights in the wake of the Western media invention of the Arab Spring.Libya and Syria have sounded a great deal of alram bells in Moscow and Beijing.Panetta being in Delhi is only incidental.
Agree (7)Disagree (1)Recommend (2)



随着西方媒体催生"阿拉伯之春"而来的是,美国试图以皿煮和人泉的名义强迫世界步入其轨道。俄罗斯和中国走在一起只是其必然产物。利比亚和叙利亚给莫斯科和北京频繁敲响了警钟。帕内塔出现在德里只是偶然事件。
Dinesh (USA)
NOSTRADAMUS Prediction says :- US - RUSSIA would go on WAR with CHINA !!!
Agree (7)Disagree (3)Recommend (2)



诺斯特拉德马斯的预言称:美国、俄罗斯将会和中国开战!





(三泰虎注:诺斯特拉德马斯是法国占星家)




ashis (kolkata) replies to Dinesh 17 hrs ago
Definition of war has changed since Nagasaki.
Agree (1)Disagree (1)Recommend (0)




自从长崎(被投核弹以来),战争的定义已经改变。



abpant111 (Mumbai)
It is hugely necessary for China to have strong ally like Russia to counter any threat or to have more say in UN resolution's as they are largely about how much bullet or ballot you have in your control.
Agree (0)Disagree (0)Recommend (0)



为了反制威胁,或者在联合国决议中更能说上话,中国相当有必要拥有俄罗斯那样的强大盟友,因为它们很大程度上取决于你控制了多少子弹或者选票。
checker47 (Pakistan) 17 hrs ago
The header to this story is to show India's importance vis a vis China. India should realise that US and western countries will discard India like a soiled toilet paper once China is mollified.
Agree (8)Disagree (5)Recommend (3)



这篇报道的标题是为了说明印度相对中国的重要性。印度应该认识到,一旦中国软下去,美国和西方国家就会把印度当做肮脏的卫生纸丢掉。
Zio (india) 17 hrs ago
Vladimir Putin is the great GENTILE hope against the ROTHSHILD STATES USA and Israel
Agree (8)Disagree (1)Recommend (3)



弗拉基米尔·普京是非犹太人对抗著名的犹太财团国家美国和以色列的伟大希望
bala srinivasan (saginaw.mi.USA) 17 hrs ago
With EU as an entity on the decline the FOUR pillars of importance in EURASIA is USA,RUSSIA,CHINA&INDIA. Of this four except china others do have common interest to contain china but the old coldwar animosities still linger between USA&RUSSIA which INDIA should help RESOLVE for the BETTERMENT of these three.INDIAN global stature will enhance with this move After all both RUSSIA&USA do acknowledge our diplomatic&soft power CREDENTIALS.
Agree (1)Disagree (2)Recommend (0)



随着欧洲作为一个实体正在走下坡路,欧亚的四大重要支柱是美国、俄罗斯、中国和印度。在四个国家中,除了中国之外,其他国家在遏制中国方面有共同利益。但是旧有的冷战敌意仍然萦绕着美国和俄罗斯。为了三个国家的更好福祉,印度应该帮助消除敌意。印度的全球地位将因此得到提高。毕竟,俄罗斯和美国都会承认我们的外交软实力。
ganapathy (adadmbakkam)
a good development, hope it will reduce the armament race in Asia leading to overall prosperity in the region.
Agree (0)Disagree (1)Recommend (0)



不错的进展。希望它能有助于减少亚洲的军备竞赛,给该地区带来全面繁荣。
Brown American (USA)
Panetts should demand that India should accelerate Purchase of USA weapons so that India can stand up to China. Panetta should also push for accelerated purchase of Nuclear Technology and Power Plants. India should show some loyalty to USA after taking away 4.6 Million Jobs from USA.
Agree (4)Disagree (18)Recommend (1)



帕内塔应该要求印度加快购买美国武器,以便勇敢面对中国。帕内塔还应该努力争取印度加速购买核技术和发电厂。在从美国那里抢走460万份工作后,印度应该对美国表示一些忠诚。




Ram-Ram (United States of Pakistan) replies to Brown American 11 hrs ago
This in ideed true what you said. Let us lick the A$$ of WHITE Americans.
Agree (1)Disagree (0)Recommend (0)




你所说的确实是真的。让我们舔美国白人的屁股吧。



Hard Truth (Earth) 17 hrs ago
India must utilize the situation and try to take maximum advantage .
Agree (1)Disagree (1)Recommend (0)



印度必须利用这个形势,努力获得最大好处。
ashis (kolkata) 16 hrs ago
Red carpets in China? It must be soaked in the blood of Tib...!
Agree (14)Disagree (12)Recommend (3)



中国的红地毯?这个地毯肯定是在.....的血中泡出来的!




Banlas (SEA) replies to ashis 16 hrs ago
Kashmiris and the Indian poors are either massacred or died of starvation many times over.
Agree (3)Disagree (1)Recommend (1)




被屠杀掉或者死于饥饿的克什米尔人和印度穷人相比之下是许多倍。



Brown American (USA)
Ideological and strategic lines are taking shape. It is USA-India-Japan on one side. It will be China-Russia and Central Asian Republics forging an alliance to counter India-USA collusion.
Agree (0)Disagree (5)Recommend (0)



意识形态和战略阵线正在成形。也就是美印日是一方。中俄和中亚国家形成反制印美合谋的联盟。
Cause of worry is something else not China, Pakistan or any other country (India) 16 hrs ago
Tell the US defence secretary clearly that we will not sour our relations with our mighty neighbour for the sake of America and India needs to balance itself between these two superpowers. Also both India and China need to check ever growing Christian population because this is a very serious concern. Even Indira Gandhi said "NE India will run on Bible if Congress candidates win elections from those states". See and nobody has ever said that Islamic sharia law will be imposed even hardcore pseudo-seculars.
Agree (5)Disagree (1)Recommend (2)



应该明确告诉美国国防部长:我们不会为了美国的利益而破坏我们和强大领国的关系。印度需要在这两个超级大国之间找到平衡。此外,印度和中国需要遏制不断增长的基督徒人口。这是个非常严重的关切。英迪拉·甘地甚至说:"如果国大党候选人赢得东北部各邦的选举,那么这些邦将奉行圣经。"看看,都没有人说过要施行伊斯兰教律法...




Rana (Lahore) replies to Cause of worry is something else not China, Pakistan or any other country 12 hrs ago
The Islamic Sharia is NOT applicable in India, because Hindus are in majority. Moreover, the Sharia needs comprehensive reforms. Do not believe what Mr 10 per cent or Mullahs in Pakistan say. They have no viable solutions to solve the plight of people in Pakistan.
Agree (0)Disagree (0)Recommend (0)




印度教徒在印度占多数,所以伊斯兰教律法在印度不适用。更重要的是伊斯兰教教法需要全面改革。不要相信巴基斯坦的毛拉所说的话。他们没有可行的方法来解决巴基斯坦人民的困境。



Vivek (New Delhi)
INDIA should not leave Russia. They are the ultimate partner without selfishness.
Agree (8)Disagree (3)Recommend (4)



印度不应该离开俄罗斯。它是无私的终极伙伴。
Hindian (mumbai) 16 hrs ago
Beware of the Americans... where ever they went they made a mess. Iran, Iraq, Pakistan, Egypt.. you name it. They are ruthless.. all they want is 'protecting their interests. They would do anything to sell their arms. Use them... but don't let them involve in our politics
Agree (10)Disagree (1)Recommend (5)



要小心美国人...他们去哪里,哪里就一团糟。伊朗、伊拉克、巴基斯坦、埃及...凡是你说得来的都是。他们无情...只想要保护自己的利益。为了卖武器,他们什么事都做得出来...不要让他们干涉我们的政治。





原创翻译:三泰虎 http://www.santaihu.com
VSGR (Bangalore)
India should not unnecessarily get into the cold-war between US and China. We should have priorities in mind when taking decisions
Agree (4)Disagree (1)Recommend (0)



印度不应该不必要地介入中美冷战。我们在做决定的时候,头脑里应该有优先考量。
Savio (India) 19 hrs ago
Its very import for India to work closly with China & Russia and welcome USA.... not to forget while China & Russia are exchanging oil & gas. US as asked to limit our oil intake from Iran. I dont see the western powers want to see India, China or Russia grow & prosper. While China has taken a stand to tackle any country who hurts their growth or sovereignty India bows to western pressure... sad but true
Agree (8)Disagree (1)Recommend (4)



与中国和俄罗斯密切合作,对美国持欢迎态度,这些对于印度来说是非常重要的...别忘了中俄在做石油天然气买卖。美国要求我们限制从伊朗进口石油。我不觉得西方大国想要看到印度、中国或者俄罗斯发展和繁荣。中国对伤害他们发展或者主权的国家已经采取了立场。印度则屈服于西方压力...伤感,不过是真的。
Swami Vas (Hong Kong)
Your readers are perhaps aware that there is already a common security strategy between China, Russia and India and US entry is somewhat late and unreliable too! Russian leader Putin's next visit will in all likelihood be India to cement that understanding between the three countries - Russia, China and India!
Agree (4)Disagree (2)Recommend (1)



你们的读者可能意识到中国、俄罗斯和印度之间已经有了共同的安全战略。美国的进入有点迟了,也不可靠!俄罗斯领导人普京下一个很有可能访问印度,以加强俄罗斯、中国和印度等三个国家之间的理解!
Rohan Suley (Mumbai)
US diplomats coming to India , Nothing will happen , better we strengthen our relationship with China and form a triangle ..Russia - India - China ..The most Powerful in terms of Military we will be . But this to happen is just in dreams . As somebody said above US , Russia will go on war with China as per the predictions of Nostra . . But as per his predictions China will capture Russia and Finally US will lose . India wont feature in world war directly. Now God knows when it will become true or it will not. Time will tell .
Agree (4)Disagree (2)Recommend (0)



美国外交官来印度,什么也不会发生。我们最好加强同中国的关系,形成中俄印铁三角...我们在军事上将是最强大的。不过这个只停留在梦里而已。就像上面有人说了:诺斯特拉德马斯预言美国、俄罗斯将会和中国开战...不过他还预言中国会夺取俄罗斯,美国最终会失败。印度不会在世界大战中起直接的重要作用。天晓得它是否会或者什么时候会变为现实。时间会证明。
Rohan Suley (Mumbai)
Second good reason to improve our relationship with China is to handover them Dalai Lama . I might sound stupid to many of them but today his shelter in India has spoiled our relations with dragon and that is costing us in terms of land which they have captured and also supporting pakistan in terms of defense. " I dont know what good Dalai Lama has done to India or his presence has helped India and Indian People " . I would like people to respond on this issue .
Agree (4)Disagree (5)Recommend (1)



我们改善中印关系的第二个原因是把达莱交给他们。许多人可能听起来觉得愚蠢,不过他在印度的庇护破坏了我们和中国龙的关系,给我们造成的代价是他们夺取了我们的土地,还在国防方面支持巴基斯坦。我不知道达莱给印度带来了什么好处,或者说他的存在帮了印度和印度人民什么忙。我希望有人回答这个问题。
srmhn (hyderabad)
India and pakistan atleast should realize now that both US and USSR are using both countries and take advantage for their benefits .
Agree (7)Disagree (1)Recommend (0)



印度和巴基斯坦现在至少应该意识到美国和苏联(俄罗斯)是在利用他们,以服务于自身利益。
Rabin Banerjee (Dhangadhi)
China is busy to get markets of it's low standard products as well as hanker after Russiun energy
Agree (1)Disagree (1)Recommend (0)



中国忙于为自己低标准产品获得市场,以及热切希望获得俄罗斯能源。
&Mohammed Ansari (Mumbai)
India is caught into traps of war monger Americans:(((
Agree (9)Disagree (1)Recommend (3)



印度陷入了战争魔鬼美国的陷阱
Devendra Shishodiya (London)
China is the spoiler. They cannot be trusted as our experience has with them otherwise three countries put together can do wonders. Russia, China & India (RUCHIN) have technology, man-power and resources but China lost confidence by trying to act BIG-BROTHER. Their act of capturing land, sea and resources have spoiled all chances of trust and co-operation and USA is taking full advantage of this mistrust between Ruchin. China will be biggest looser as Russia & India have improved its relation with NATO block yet China is yet not short of playing Big-brother with India. Be it with their attitude of boundary problem, arms race, strategic deployment of missiles, business co-operation with our neighbours or sea exploration they have always played big-brother role with India. No wonder whole world never trust China.
Agree (0)Disagree (2)Recommend (0)



中国是捣乱者。从我们和他们交往的经历来看,他们不值得信任,否则中俄印三个国家加起来可以创造奇迹。中俄印有技术、人力和资源。但是中国失去了信心,试图当老大哥。他们夺取土地、海洋和资源的行为让信任和合作的机会丧失殆尽。美国正充分利用中俄印之间的不信任。因为俄罗斯和印度改善了同北约阵营的关系,而中国仍然在对印度耍老大哥行为上乐此不疲,所以中国将成为最大的失败者。不管是在边界问题的态度,还是军备竞赛、导弹的战略部署、商业合作或者海洋开发等方面,他们总是在印度面前耍老大哥架势。难怪全世界从来都不信任中国。
Deepak Kumar (Kabul, Afghanistan)
It is good to see that China and Russia are moving closer. Since Russia and India are already enjoying good and historical relations with each other, these geo-political interactions between the two nations shall definitely help India in the long run. In this background, in geo-political interactions between the two nations, India shall stand to gain and misgivings between China and India shall be taken care of.
Agree (4)Disagree (1)Recommend (0)



很高兴看到中国和俄罗斯走得更近。俄罗斯和印度已经彼此享有历史上就不错的关系。从长远来看,两国之间的地缘政治互动对印度肯定有帮助。印度在此背景下肯定获利。中国和印度之间的疑虑应该被消除。
srinivasan (chennai) 18 hrs ago
US is coming to India to dump their high tech junk military hardware with fancy price with 1000 conditions. since pakistan ditched in the afgan wars secretly supporting OBL. US is pressuring to reduce purchase oil from Iran.China is affecting India's core interest in kashmir,& arunachalapredesh. India should deal carefully both countries.don't be victimised by the temptation . wait & watch with concern
Agree (4)Disagree (0)Recommend (1)



美国来印度是要以高昂的价格倾销他们垃圾的高科技军事装备,而且还有1000个前提条件。在阿富汗战争中,巴基斯坦由于秘密支持本拉登而遭抛弃。美国施压印度减少从伊朗购买石油。中国在克什米尔和阿邦威胁印度的核心利益。印度应该小心对付两个国家。不要成为诱惑的牺牲品。静观其变吧。
Pronoy Kumar Ghose (Silchar)
India is a close Friend of Russia and now becoming a close friend to US, so the China should raise its hand of friendship to India in order to establish its supremacy not only in Asia but Also in the other parts of World. Indo-Sino-Russia together may become an unassailable, unbeatable force as well as economy in this Globe
Agree (10)Disagree (1)Recommend (1)



印度是俄罗斯的亲密朋友,现在成为了美国的亲密朋友。所以,为了在亚洲和世界其他地方建立霸权,中国应该向印度伸出友谊之手。中俄印合起来可能成为全球无懈可击和无以伦比的力量,在经济上也是如此。




Albert (UK) replies to Pronoy Kumar Ghose 3 hrs ago
Since the founding of SCO on June 15, 2001, the SCO has made ??a series of important achievements. First of all, a mature philosophy of cooperation has been forming, such as emphasizing the "Shanghai Spirit" of mutual trust and benefit, equal consultation; nations large and small are equal in decision-making negotiation model; and the Non-Aligned, not for another country's security cooperation.This should be the model organisation of all are equal regardless of small or large countries.
Agree (0)Disagree (0)Recommend (0)




自从2001年6月15日成立以来,上海合作组织已经取得了一系列重要成就。首先,成熟的合作理念已经形成,比如强调互信互利、平等协商、大小国家在决策时一律平等、不结盟、不针对第三方等"上海精神"。这应该成为所有组织的模范,不管国家大小,一律平等。



Chandrika (Chennai)
A good snub to the US! China knows how to tackle the Americans well unlike India that dances to their tunes. Both Nations are in the claim for supremacy and hence at logger heads. But the Americans have their evil eye on Asia as the economies of India and China are growing at a rapid pace.And India needs to be wary of the US having ideas of docking their fleet in Bangladesh as well. It is bound to affect the strategic advantage that India enjoys over the Bay of Bengal with a long coast line in the east. So time India stopped being servant of the US and lodged strong protests over this very thought of the US. And India and China must join hands to silence the Americans else it will prove dangerous to India. After all US isn't our neighbour, China is. So India must act as per our geo political interests and stop being a chamcha of US that has hidden agendas.
Agree (11)Disagree (2)Recommend (3)



好一个对美国的冷落!中国知道如何对付美国人,而印度只会随之起舞。两国都追求霸权,因此彼此在较劲。印度和中国在快速发展,所以美国人邪恶的盯着亚洲。印度需要担心打算在孟加拉湾部署舰队的美国。它肯定会影响印度在孟加拉湾享有的战略利益。所以印度是时候停止仆从美国,应该就美国的这个想法提出强烈抗议。印度和中国必须联手压制美国人,否则对印度是危险的。毕竟美国不是我们的邻居,而中国是。所以印度必须按照地缘政治利益来行动,不要成为拥有幕后动机的美国的...
PS! (Bharat)
The US is a declining power. Europe is absorbed in itself. China's ambitions are rising, Russia feels vulnerable as they are not as strong as before. India has a hostile neighborhood and even countries like Nepal have come under increasing Chinese influence. Increasing instability in Pakistan and their testing of missiles in the last few weeks are not very encouraging signs.
Agree (5)Disagree (1)Recommend (0)



美国是个衰退中的大国。欧洲自身受困。中国的雄心在上升。俄罗斯不像以前那样强大,所以感到脆弱。印度有一个敌视的领国。连尼泊尔那样的国家都处于不断上升的中国影响力之下。越来越不稳定的巴基斯坦和他们过去几周的导弹试验并不是非常鼓舞人心的迹象。
应国家主席的邀请,俄罗斯总统普京5日上午抵京开始对中国进行国事访问,并将出席6日至7日举行的上海合作组织成员国元首理事会第十二次会议。印度时报称中国铺红地毯欢迎俄罗斯总统弗拉基米尔·普京,试图设法让莫斯科反制进入亚太、围攻北京的美国庞大海军。在报道普京访问中国的同时,印度时报还提到了美国国防部长帕内塔对新德里的访问,称帕内塔的印度之行旨在加强美印军事关系。