原文标题:Russia, China must pay for supporting Syria: US
原文链接:http://timesofindia.indiatimes.com/world/europe/Russia-China-must-pay-for-supporting-Syria-US/articleshow/14717981.cms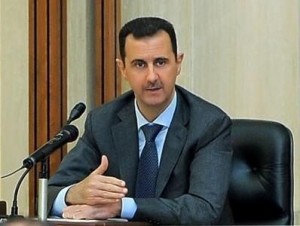 MOSCOW: Russia and China should be told that they will pay a price for their support to Syrian President Bashar al-Assad, US Secretary of State Hillary Clinton has said at a meeting on Syria.

"I ask you to reach out to Russia and China and to not only urge, but demand that they get off the sidelines and begin to support the legitimate aspirations of the Syrian people," Clinton said on Friday at a Friends of Syria meeting in Paris, attended by delegations from over 100 countries.

"I don't think Russia and China believe they are paying any price at all, nothing at all, for standing up on behalf of the Assad regime," Clinton said.

"The only way that will change this is if every nation represented here directly and urgently makes it clear that Russia and China will pay a price, because they are holding up progress."



莫斯科:美国国务卿希拉里·克林顿在有关叙利亚的一个会议上表示,应该告知中俄,即他们将为支持叙利亚总统巴沙尔·阿萨德而付出代价。





"我要求你们同中俄接触,不仅仅是催促,而且是要求他们不再作壁上观,开始支持叙利亚人民的合法愿望。"希拉里在巴黎召开的"叙利亚之友"大会上同100多个与会国家表示。





"我想中俄可能以为他们不会为站在叙政权一边付出代价。唯一能够使其改变的是与会的每个国家直接和迫切地清楚表明,即中俄将会付出大家,因为他们阻碍了进程。"



Russia and China, which were not represented at the meeting, have twice vetoed UN resolutions against Syria. Moscow said the resolutions betrayed a pro-rebel bias and would do nothing to stop the violence that has claimed over 10,000 lives since an uprising against Assad began in March 2011.

Russian President Vladimir Putin has also made it clear that the Kremlin will not sanction UN military intervention to stop what Western powers term as brutal suppression of the revolt.

Foreign Minister Sergei Lavrov, however, said last month that Russia had no special interest in seeing Assad remain in power, and that continuing weapons deliveries to Syria were of an "exclusively" defensive nature.



中俄没有出席这场会议,已经两次否决联合国针对叙利亚的决议。莫斯科表示该决议偏袒反对派,对阻止暴力毫无帮助。自从2011年3月爆发反阿萨德的起义以来,暴力已经夺走了1万多人的生命。





俄罗斯总统普京也明确表示,克里姆林宫不会批准联合国军事干预,西方将军事干预定义为阻止叙利亚残酷镇压叛乱。





然而,俄罗斯外长拉夫罗夫上月表示,俄罗斯对阿萨德继续掌权没有兴趣,继续向叙利亚交付武器仅仅是出于防卫需要。




以下是印度网民的评论:




HC (Home) 16 hrs ago
There you, Clinton trying to take to the high moral ground. Why doesn't US do the same against Israel.
Agree (14)Disagree (9)Recommend (6)



又来了,希拉里试图占领道德制高点。为什么美国对以色列不如此这般。
THIRUMALAIBHUVARAGHAVAN (CHENNAI)
Come on US, now it is time to see who is to pay. Shameless US apologising to Pakistan for its drone, now at the loggerheads.
Agree (12)Disagree (4)Recommend (4)



拜托,美国,该是看看谁会付出代价的时候了。无耻的美国就其攻击向巴基斯坦道歉,现在正处于相持不下的阶段。
BharatK (Bharat) 16 hrs ago
Does Koran mentioned anywhere that killing muslims by muslims is a crime? Does any muslims enlighten us?
Agree (1)Disagree (7)Recommend (1)



古兰经是否有提到穆斯林杀穆斯林是犯罪?有穆斯林可以开导下吗?
Toni Law (Germany) 16 hrs ago
The west and Nato have to stop interfering and providing arms to terrorists to topple gevernments they don′t like. Why is India so silent?????? Or does India consider itself such a minor power.
Agree (15)Disagree (3)Recommend (5)



西方和北约必须停止为了推翻他们不喜欢的政服而干涉和向恐怖分子提供武器。为什么印度要如此沉默?还是印度认为自己是个小伽?




FEDUP (india) replies to Toni Law
As long as the Media is owned by the Americans it does not matter. People cannot think on there own.
Agree (1)Disagree (0)Recommend (0)




只要媒体掌握在美国人手中,一点都不要紧。人们无法独立思考。



ahk (orissa)
neither USA ,SYRIA, CHINA ,RUSSIA are heaven . the nasty politics is to interfere others territory .when USA interfere IRAQ ,AFGANISTAN and looted the oil resources ,nobody was asking or challenging USA for this day time robbery . again USA looted LIBYA ,still all are silent . but my dear , how long world will remain dumb and deaf ? at last some one will come up to halt these nasty ,inhumane drama . so finally thanks to CHINA and RUSSIA for their effort to keep the balance proper .
Agree (16)Disagree (4)Recommend (4)



美国、叙利亚、中国和俄罗斯都不是什么天堂。下流政治是为了干涉别国主权。当美国干涉伊拉克和阿富汗并掠夺石油资源时,没人出来质问或者挑战美国的抢劫行为。美国又掠夺了利比亚,大家仍然保持沉默。亲爱的,世界要装聋作哑多久?最终会有人出来中止这些下流和不人道的闹剧。多亏了中国和俄罗斯为保持适当平衡而做出的努力。
Swapnil (Bangalore) 15 hrs ago
Says america which unshamedly supported Hosni Mubarak during Egypt revolution.
Agree (15)Disagree (2)Recommend (4)



在埃及七月革命期间,美国无耻地支持穆巴拉克。
rahul (Delhi) 15 hrs ago
USA who killed lakhs of innocent people of Hiroshima and Nagasaki is now worried about the killing of few thousands of syrian people. Really is that it want to dominate Arab countries and inturns whole world.
Agree (20)Disagree (4)Recommend (3)



美国杀死了广岛和长崎的数十万人,如今却为被杀的几千叙利亚人操心。美国的真实目的在于统治阿拉伯国家,进而统治整个世界。




ss (ujjain) replies to rahul 14 hrs ago
if Japan was not nuked world would still be fighting second world war.




如果日本没有吃核弹,那么世界仍然会在打第二次世界大战。




lachman (Mumbai) replies to rahul
look at Japan today and look at your country
Agree (2)Disagree (5)Recommend (0)




看看今天的日本,看看你们的国家。




rameshk (Japan) replies to lachman 13 hrs ago
India is has 10 times more population than Japan. US should drop at least 20 nukes on India. I will be sooo happy at the thought of India becoming another Japan. Hip hip horray!




Then I can come back home to our rich and prosperous Bharat. I cannot wait for the day. By the way, should I go and celebrate with my friends now?




印度人口是日本的十倍。美国应该在印度至少投20枚核弹。想到印度会变成另一个日本,我会非常高兴。




然后,我会回到富裕和繁荣的印度。我等不及这一天了。顺便说下,我现在就可以和朋友一起庆祝吗?



lachman (Mumbai)
russia and china are the only 2 countires who know how dirty and bad the muslims are the two know less muzzies would help the world and have declared a war against the muslims by letting the muslims kill muslims
Agree (1)Disagree (14)Recommend (0)



俄罗斯和中国是知道穆斯林有多么肮脏和恶劣的仅有两个国家。两国知道穆斯林减少对世界有帮助,通过让穆斯林杀穆斯林来向其宣战。
praveen.goenka (Kolkata)
And the US must pay for screwing Iraq, Afghanistan and Vietnam.
Agree (18)Disagree (2)Recommend (6)



美国必须为搞垮伊拉克、阿富汗和越南而付出代价。
Prof. V. Ghosal (Kolkata) 15 hrs ago
Russia a loyal people and country is genuinely saving the Syrian leadership. While China which is linked to Israel is trying to act as a spy for Israel and the USA. This is plain global politics.
Agree (2)Disagree (9)Recommend (1)



俄罗斯是个忠诚的民族和国家,真正地在保护叙利亚领导层。中国和以色列有关联,试图充当以色列和美国间谍。纯粹是全球政治而已。
Indian4ever (Ahmedabad) 15 hrs ago
America is a nation that is formed on Occupation,Brutality,lies,Deception and ethnic cleansing of native Red Indians. Every American by default is a invader and criminal
Agree (16)Disagree (4)Recommend (5)



美国是一个建立在占领、残酷、谎言、欺骗和对当地印第安人的种族清洗上的国家。每个美国人都是默认的侵略者和罪犯。




aSDFG (ny) replies to Indian4ever 14 hrs ago
STILL INDIA'S MASTER.




美国仍然是印度的主子。




Dipankar (Delhi) replies to Indian4ever 14 hrs ago
Excellant! This is the plain truth. Their hands are red, covered with blood. Why they invaded Iraq telling lie to the world? How many died in in Iraq? Who is responsible for these deaths?
Agree (4)Disagree (0)Recommend (0)




棒极了!这是明摆着的事实。他们的手是红色的,沾满了血。为什么他们要向世界撒谎并入侵伊拉克?伊拉克死了多少人?谁为这些死亡负责?



Salisane (Canada) 15 hrs ago
That is why Russia and China will remain where they are... The facts at the ground in Syria are clear like white and black. It is a deliberate suppression of legitimate uprising. Russians and Chinese are similar to Syria. They will do the very same to their own people like Assad.
Agree (5)Disagree (7)Recommend (2)



这就是俄罗斯和中国仍然停滞不前的原因...叙利亚的根本事实正如黑纸白字那样明显,是对合法起义的蓄意镇压。俄罗斯和中国类似叙利亚。他们也会像阿萨德一样如此对待自己人民。
Kattackal Tomsan (Bangalore)
US needs not to pay for supporting Israel.
Agree (9)Disagree (5)Recommend (3)



美国必须为支持以色列付出代价。
Aaaa (India)
Kudos to Russia and China. Atleast still some countries are there who can challenge USA. Their time is of being superpower is coming to end both economically and militarily. USA is doing all this to divert attention from its dire economy state. It did the same thing during world war 2 when their economy condition was worsening. To fool their country man, Roosevelt continuously created a scenario in USA regarding Germany as a threat to their country to divert their attention from economical crises and unemployment. Japan and Germany were forced by USA to declare war on it when USA naval forces started shooting down German and Japan Submarines and Mercantile ship or illegally capturing them by going against international laws that existed during those time.

There were some people who always benefitted by war in USA and Britain. Germany didnt declare war on Britain, it was Britain and france that declared war on it. So, if history has teach anything, then never trust USA and Britain. They can make profit on the death of other as well as their own countrymen. Since when USA started to count the dead bodies in other country. It own action has been responsible for the death of so many people all over the world. Look at their hypocracy, they have defence deal with both India and Pakistan. One should use them as much as they can but never count them as friends.



向俄罗斯和中国致敬。至少仍然有一些可以挑战美国的国家。在经济和军事上,其超级大国的地位行将结束。美国是为了转移人们对国内糟糕的经济状态而这样做的。第二次世界大战期间美国经济状况在恶化时,美国也是这样做。为了愚弄国民,罗斯福在国内持续制造德国是个威胁的假象,以转移人们对经济危机和失业的注意力。当美国海军开始击落或者非法俘获德国和日本的潜艇和商船时,日本和德国被迫对美宣战。





美国和英国有一些人总是能从战争中获利。德国并没有对英国宣战,是英国和法国对德国宣战。所以,要说历史能带来什么教训,那就是永远不要信任美国和英国。他们可以在其他人甚至是自己国民的死亡上谋利。美国什么时候会开始数数其他国家的人的尸体。它的行为导致世界上许多人死去。看看他们的伪善,他们同印度和巴基斯坦都有防卫协议。人们应该尽量利用美国,但是永远不要把它当做朋友。




Pi (Us) replies to Aaaa 14 hrs ago
Do not worry about USA. Worry about India. They have the technology, power, allies and wealth to take care.
Agree (3)Disagree (1)Recommend (1)




不要担心美国,担心印度吧。他们有技术、实力、盟友和财富



Ghoda (Murshatpur)
Isn't the world paying for the follies of the 'Super Powers' ?
Agree (1)Disagree (0)Recommend (0)



世界不正为"超级大国"的罪恶付出代价吗?
Arjun (India) 15 hrs ago
I humbly urge Russian and Chinese leadership to reconsider their support for dictatorial regimes. Everyone in any country should have equal opportunity to lead a good life and to some day lead the destinies of their people by popular vote, they should not be subject to the whims and fancies of some royal or hereditary presidential family like Assad's. This also goes against the egalitarian ethos of the Russian and Chinese nations.
Agree (2)Disagree (6)Recommend (2)



我谦恭地督促俄罗斯和中国领导层重新考虑其对独裁政权的支持。每个国家的人应该有过上好生活的平等机会,进而在某天通过公众投票来决定人民的命运。他们不应该受制于阿萨德那样的王室或者总统世袭家庭的私心杂念。此举也违背俄罗斯和中国的平等主义思潮。
Davendra Naik (Rajkot (Gujarat, a Proud BJP State)) 14 hrs ago
"Russia, China must pay for supporting Syria: US" Whereas Pakistan must be paid billions of dollars for supporting terrorists that kill Indians. Hypocrites!
Agree (5)Disagree (1)Recommend (1)



"美国:俄罗斯和中国必须为支持叙利亚付出代价"。然而,巴基斯坦必须为支持杀害印度人的恐怖分子而支付数十亿美元。伪善者!
Zio (india) 14 hrs ago
Wont somebody teach this hidden jewess a lesson? Why is her ostensible boss Barry Sotero aka Barack Obama letting her run riot like a crazy woman shooting off her mouth
Agree (2)Disagree (0)Recommend (1)



有人可以教训一下背后的犹太人吗?为什么她的名义老板奥巴马让她像一名信口雌黄的疯狂女人一样胡闹。
ab (bang) 14 hrs ago
real sympathy for innocent syrians ..especially women n children !!!!..United states of Amenesia..pls stop shedding crocodile tears.. u killed so many innocent ppl without ne reason..b it vietnam..iraq...u want to dump u r bombs every 10 yrs b4 they'lll expire.. wr nxt ...
Agree (3)Disagree (1)Recommend (0)



真的很同情无辜的叙利亚人...特别是妇女和小孩!...美利坚合众国,请不要猫哭耗子

...不管是在越南、伊拉克...你们毫无理由地杀了许多无辜人...你们想在炸弹过期之前每十年就倾卸炸弹一次...下一次是在哪...
rohan (satara) 14 hrs ago
why us always expect all countries support and follow them? .



为什么美国总是期望所有国家都支持和跟从它?
checkmate (India) 14 hrs ago
The master plan of US is to destabilize the whole of middle east. It started with Iraq, then Syria, Yemen, Egypt, next Iran and side effects these are affecting other small neighboring countries like Lebonan, Turkey, etc. Slowly it will engulf all oil producing countries too. Till now they think it will not affect them but definitely US has some plan for them too and this will be known at a later stage after destabilizing Iran. Now the US needs the petrol dollars of these oil producing countries to destabilize other countries. Very near future suddenly the middle east oil will be less important for others and price of oil will fall and then US will put some sort of conditions on these countries. This is all my prediction and hope and pray God not many more innocent lives are lost of this big political game of US.
Agree (2)Disagree (1)Recommend (0)



美国的总体规划是破坏整个中东的稳定,开始是伊拉克,然后是叙利亚、也门、埃及,下一个是伊朗,还影响到了其他小邻国,比如黎巴嫩、土耳其等。慢慢地,它会吞下所有产油国。迄今为止,这些国家认为不会影响到自己,但是美国肯定有针对他们的计划。在颠覆伊朗后的稍后阶段就能为人所知。美国现在需要这些产油国的美元来颠覆其他国家。在不久的将来,中东石油对其他国家不那么重要,石油价格会下降,美国会对这些国家附加上诸多条件。这些都是我的预测。向上帝祈祷,希望不会有太多无辜生命在美国政治游戏中消失。(文章来源:三泰虎)
FEDUP with Wahhabis (india)
what is confusing me about this Americans are they support Pakistani and the Arab countries whose people are hardcore wahhabis that want to kill every living thing that is NON-MUSLIM and at the same time they are behind Iran and Syria. they really want to destroy Syria and IRan, the only strong supporters of China and Russia and the whole world is theirs . Then we will have our one Govt and One World and NO RELIGION!
Agree (2)Disagree (0)Recommend (1)



令我困惑的是美国人支持巴基斯坦和阿拉伯国家。这些国家的人是强硬瓦哈比派,想要消灭一切非穆斯林的生物。与此同时,他们在背后支持伊朗和叙利亚。美国真的很想摧毁叙利亚和伊朗。两国是中国和俄罗斯的强有力支持者。然后整个世界就是美国的。我们将只有一个政服、一个世界、没有宗教!
maitra.gautam (Kolkata)
Who will make America pay for atom bomb attack on Nagasaki-Hiroshima or its Vietnam carnage?
Agree (42)Disagree (6)Recommend (11)



谁会让美国为其在广岛和长崎投下原子弹或者越南大屠杀而付出代价?




John (Taiwan) replies to maitra.gautam 14 hrs ago
TheJapanese deserved it.Anyway,after the Abomb,the two became friends and have been living happily as close friends ever after.
Agree (2)Disagree (2)Recommend (0)




日本罪有应得。不管怎么说,在原子弹轰炸后,两国变成了朋友,并如亲密朋友般快乐生活。




paitra.gautam (Not Kolkatta) replies to maitra.gautam 15 hrs ago
Did you read history or did you wake up from sleep now! US entered WW II because Japan bombed Pearl Harbour and the entire Harbour, port and fleet were destroyed!! Finally US is not India where a citizen's life has no value
Agree (4)Disagree (2)Recommend (0)




你有读历史吗,或者你现在还没有睡醒!美国是因为日本轰炸珍珠港才参加二战的。整个港口和舰队被摧毁!印度公民的生命没有价值,美国可不是印度。



IndianAmerican (USA) 16 hrs ago
What price will USA pay for financing and supporting Pakistan, the Mother of Terrorism. All the 9/11 culprits were trained in Pakistan. I am pi**ed that Obama is using the taxes paid by me for supporting terorrist Pakistan.
Agree (35)Disagree (4)Recommend (20)



美国将会为资助和支持"恐怖主义之母"—巴基斯坦付出什么代价。所有的9/11罪犯都是在巴基斯坦训练。奥巴马用我交纳的税收支持恐怖主义国家巴基斯坦...




Thomas (USA) replies to IndianAmerican 16 hrs ago
Then why you are paying taxes.Go Back to India.You dirty and Narrow Minded Indian.Earning In USA and complaining about USA mother fu**er.
Agree (3)Disagree (9)Recommend (1)




为什么你要纳税。回到印度去。你肮脏和狭隘的印度人。在美国赚钱,却来抱怨美国...



zeyaalam (Varanasi)
Asad's regime in Syria must go.
Agree (7)Disagree (12)Recommend (4)



叙利亚的阿萨德政权必须离开




Manish (London) replies to zeyaalam 14 hrs ago
Why? US wants all govts in oil rich countries to be their puppets. When they refuse US tries to fue;l tension & supply arms. How good is that? It's utter nonsense. I am sure they will use Turkey as an excuse to attack Syria & topple Assad. hope they dont succeed.
Agree (2)Disagree (1)Recommend (0)




为什么?美国想让所有产油国的政服成为其傀儡。如果遭到拒绝,美国就会制造紧张形势和提供武器。这真是何等美好!荒谬。我确信美国会利用土耳其当做攻击叙利亚和推翻阿萨德的借口。希望他们不会成功。



Jerry Xiang (Hongkong) 16 hrs ago
United States is messing around with the wrong guys , if China and Russia decide they can nuke US to Stone Age times within no time.
Agree (13)Disagree (25)Recommend (7)



美国是在与错误的对手浪费时间。如果中俄下决心,他们可以核平美国,立刻让其回到石器时代。




Jerry Screwiang (Kingkong) replies to Jerry Xiang 15 hrs ago
Haha! Try it - China will be back to pre-historic time!! Ching-Ching Chu
Agree (3)Disagree (2)Recommend (1)




哈哈!试试看,中国会回到史前时代!




raj (india) replies to Jerry Xiang 16 hrs ago
If US stop importing cheap products from china it will be finish without war.
Agree (8)Disagree (2)Recommend (2)




如果美国停止从中国进口廉价产品,那么中国会不战而完蛋。



Agnel Pereira (Goa)
Russia & China are responsible for the disaster in Syria, the people of Syria will never forgive the two countries for the progress and blockade.
Agree (7)Disagree (11)Recommend (1)



中俄对叙利亚灾难负有责任。叙利亚人民永远不会原谅两国对进程的阻碍。
pawan_g_gupta (Vietnam)
China and Russia have always exploited their VETO power and created ugly situations for the whole world to suffer in long run be it Afghanistan, Iran or Syria. India-Iran Pipeline could have been a reality long ago if he had not had to go with the world voice against them!
Agree (9)Disagree (10)Recommend (1)



不管是在阿富汗、伊朗或者叙利亚等问题上,中俄经常利用其否决权让整个世界长期处于尴尬局面。印度要是没有附和世界反伊朗的声音,印伊管道可能已经成为现实!
据《印度时报》7月6日报道,美国国务卿希拉里在巴黎召开的"叙利亚之友"大会上同100多个与会国家表示,应该告知中俄,即他们将为支持叙利亚总统巴沙尔·阿萨德而付出代价。希拉里说:"我要求你们同中俄接触,不仅仅是催促,而且是要求他们不再作壁上观,开始支持叙利亚人民的合法愿望。我想中俄可能以为他们不会为站在叙政权一边付出代价。唯一能够使其改变的是与会的每个国家直接和迫切地清楚表明,即中俄将会付出大家,因为他们阻碍了进程。"