原文标题:Plane hijacking foiled in China's troubled Xinjiang: Report
原文链接:http://timesofindia.indiatimes.com/world/china/Plane-hijacking-foiled-in-Chinas-troubled-Xinjiang-Report/articleshow/14496655.cms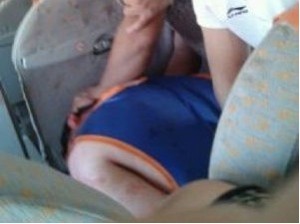 BEIJING: Chinese airline passengers helped foil on Friday an attempt to hijack a plane in the western region of Xinjiang, state media said, the latest incident of instability in a part of China where the government says its is facing violent separatists.

Passengers and air crew subdued six people who attempted to hijack a flight 10 minutes after it took off from an airport in Hotan, an ethnic Uighur area that has been hit by recent bouts of violence, the official Xinhua news agency said.

The Tianjin Airlines plane was flying from Hotan to the regional capital Urumqi when the attackers were overpowered, Xinhua said, citing police.



北京:星期五,国家媒体称,中国航空乘客在xj帮助挫败了一起劫机案。这是中国所面临的最新一起暴力分裂分子所制造的不稳定事件。





新华社称,6歹徒在飞机从和田机场起飞10分钟后企图劫机,遭到机组人员和乘客的制服。和田是维族地区,最近遭受暴力袭击。





新华社援引警方的话称,当劫机者被制服时,这家天津航空公司的飞机正从和田飞往自治区首府乌鲁木齐。



The aircraft returned to Hotan where six people were taken into custody, it said without giving further details. Calls to Xinjiang regional government and police offices went unanswered.

Xinjiang is home to the mainly Muslim Uighur people who speak a Turkic language. Many of them chafe at Chinese government controls on their culture and religion.

The government, wary of instability and the threat to the Communist Party's grip on power, often blames what it calls violent separatist groups and religious extremists in Xinjiang for attacks on police and other government targets.

In September, courts in Xinjiang sentenced four people to death for violence in two cities last year in which 32 people were killed.



飞机随后返回和田。6歹徒在那里被拘留。进一步细节有待公布。拨往xj自治区政服和警察局的电话无人接听。





xj主要是维族穆斯林,说的是突厥语。许多人对中国政服控制他们的文化和宗教感到愤怒。





政服唯恐不稳定和威胁到权利掌控,经常指责暴力分裂组织和宗教极端分子攻击警察和其他政服目标。





9月,xj法庭因4人去年在两个城市里造成32人死亡的暴力事件而判决其死刑。



The government blamed the incidents in Kashgar and Hotan - both in the majority Uighur southern part of Xinjiang - on Muslim hardliners who want to establish an independent state called East Turkestan.

In January, authorities said that seven people killed by police in Xinjiang had been trying to leave the country to wage "holy war".

China is concerned about Uighur activists linking up with Islamist militants over the border in Pakistan.

Activists in exile and human rights groups say China overstates the threat posed by militants in energy-rich Xinjiang, which sits astride south and central Asia.



政服将喀什和和田的事件归咎于力图成立所谓的"东突"的穆斯林强硬分子。





1月,当局称被警察击毙的7人当时试图离境发动"圣战"。





中国对维族活动分子与巴基斯坦边界的伊斯兰武装分子的关联表示担忧。





流亡活动分子和人泉组织表示,中国夸大了武装分子给能源丰富的xj带来的威胁,该地区横跨南亚和中亚。




以下是印度网民的评论:




Anil (California)
It will not take long before China tastes the true colour of terror nursery being nurtured by it's Neighabour and all weather friend.
Agree (7)Disagree (0)Recommend (4)



要不了多久中国就会尝到其领国和全天候朋友培养的恐怖分子所带来的真正滋味。
Asaf Ali Chutiya (Islamabad) 1 hr ago
I am eagerly waiting to see 9/11 kind of or 26/11 Mumbai terrorist attack kind of terrorist attack by Porkistani Islamic terrorists in China so that this maathercho... Porkistan is sandwitched with nuclear bombs from all sides by U.S., China, India, Russia.
Agree (4)Disagree (0)Recommend (3)



我正急切等着看到巴基斯坦伊斯兰恐怖分子在中国制造9/11或者11/26孟买恐怖袭击那样的事件。要是那样的话...巴基斯坦就会受到来自美国、中国、印度和俄罗斯的核弹的夹击。




raghu (hyderabad) replies to Asaf Ali Chutiya
well said




说得好



Dibyojit Dutta (New Delhi, India)
That's the reason why people should learnt martial art and physically fit. Such resistance would never happen in India due to low fitness level.
Agree (3)Disagree (1)Recommend (1)



这就是人们应该学习武术和保持身体健康的原因。由于健康水平较低,这样的抵抗在印度是永远不会发生的。




Mukesh (Bangalore) replies to Dibyojit Dutta 31 mins ago
and you think that everyone in China is a Bruce Lee? No mate it is not the martial arts but it takes courage to tackle such situation.
Agree (2)Disagree (0)Recommend (0)




你认为中国每个人都是李小龙吗?不是的。不在于武术,而是需要勇气来处理这种情况。




baba (india) replies to Mukesh 7 mins ago
Courage and physical strenght.. without strenght you will be crushed by people who are stronger than u, stop daydreaming and be practical.




勇气和身体力量都需要...没有力量,你会被比你更强壮的人击垮的。别做梦了,实际点。



Purush Vichaar (New York)
China has all along been supporting Pakistan when Pakistan has been indulging in all sorts of nefarious activities and terrorist activities. This gives China a taste of the same medicine. It is law of nature that such things catch up with you one day or the other. Now China will know what it means to have a seperatists movement on hand to control.
Agree (4)Disagree (0)Recommend (0)



中国一直支持巴基斯坦,而巴基斯坦沉迷于各种不法活动和恐怖活动。此举让中国尝到了同样的滋味。总有一天这种事情会发生在你身上,这是自然规律。中国现在知道有分裂活动有待控制意味着什么。
RAKESH (JAUIPUR) 1 hrs ago
China will not hesitate to kill 1000 innocent people to kill 1 muslim terrorist.... this country is not like india where KASAB type people are eating biryani...i believe china will handle islamic terror in a very firm way
Agree (6)Disagree (0)Recommend (0)



为了杀一个穆斯林恐怖分子,中国会毫不犹疑地杀死1000个无辜的人...这个国家同印度不一样。在印度,卡萨布那样的人吃香喝辣的...我相信中国会非常坚决地对付恐怖活动。
Rajguru (delhi)
Chinese are just lucky else another Kndahar type drama would have taken place giving Islamists great Media coverage for free.
Agree (2)Disagree (0)Recommend (0)



中国人只是走了运而已,否则鉴于伊斯兰教徒伟大的免费报道,另一个ΧΧ悲剧将上演
Saurubh (Mulund) 58 mins ago
The demon is sleeping on mother earth's chest and raping it for 1500 years!!
Agree (1)Disagree (0)Recommend (0)



这个恶魔休憩在地球母亲的胸膛上,强奸了地球1500年!
Sabyasachi Kar (Cotonou, Benin)
China is still untouched from terrorist activities. They have some special political understanding with Pak to keep it tame. It is to be seen how long it continues.



中国仍然没有受到恐怖分子的困扰。他们与巴基斯坦有一些特殊的政治默契,从而压制了恐怖分子。这样的情况能够持续多久还有待观察。





原创翻译:三泰虎 http://www.santaihu.com
Ramesh Sargam (Bangalore, India)
"China is concerned about Uighur activists linking up with Islamist militants over the border in Pakistan. " - GOOD. NOW CHINA WILL UNDERSTAND THE PAIN OF INDIA AND INDIANS FACING FROM ISLAMIST MILITANTS. At least will they learn a lesson from this incident?
Agree (2)Disagree (0)Recommend (0)



"中国对维族活动分子与巴基斯坦边界的伊斯兰武装分子的关联表示担忧"。不错,中国现在理解了印度和印度人在面对伊斯兰武装分子上的痛苦了。至少他们会从此事件中吸取教训。




zeeshan (karachi) replies to Ramesh Sargam 3 mins ago
China will never concerned about Paki borders as china believes in Pakistan.Also china is not a child who believes in TOI fake news ........Pak China will always be a good friend...........................GAY HIND ....MERA SHAITAN BHARAT......CHAK DE LONDIA IN INDIA
Agree (1)Disagree (0)Recommend (1)




中国永远不会担心巴基斯坦边界,因为中国相信巴基斯坦。此外,中国不是会相信印度时报假新闻的小孩子...中巴永远是好朋友......



Alok Singh (Mumbai, Maharashtra, Ind)
Good work by civilian passengers.... United they stood... Divided they would have looked like India....
Agree (4)Disagree (0)Recommend (0)



乘客做得很棒...团结他们就成功...分裂他们就会像印度那样...
Kat (KL)
Lucky escape for the flight. God save my world.
Agree (2)Disagree (0)Recommend (1)



好在避开了这家航班。上帝保佑了我。
ranjit (Angul)
China knows better than India :how to crush the separatists! There leaders r more patriotic than the leaders of India who r gradually selling the country thru CORRUPTIONs: Patriotic point of view, India is not in the race with China. But Corruptions point of view, India is competing China!
Agree (2)Disagree (0)Recommend (0)



中国比印度更知道如何粉碎分离主义分子!他们的领导人比通过腐败逐渐出卖国家的印度领导人更爱国。爱国的观点是:印度不是在与中国竞争。腐败的观点是:印度正与中国竞争!





原创翻译:三泰虎 http://www.santaihu.com
Fact (India Unshining) 12 mins ago
No doubt China will give their own style special biryani to these jihadi scum, unlike India where they are given royal guest treatment.
Agree (1)Disagree (0)Recommend (0)



毫无疑问,中国会给这些圣战分子吃点"特色菜",印度则不一样,给他们的可是皇家般的贵宾待遇。
Mohammed PBUH (jannat, doing honeymoon with 72 hoors) 39 mins ago
Muslims must not live under the Kaffirs and demand their own separate State. The State of pakistan will give 'moral and terrorist-ical( i.e., Jihadi) support to all the Separatist movements founded on the followinf of Quran and Islam.
Agree (3)Disagree (9)Recommend (1)



穆斯林不能生活在卡费勒的统治下,必须要求独立建国。巴基斯坦会向所有基于可兰经和伊斯兰教的分离主义运动提供道义和圣战支持。
Wang Lee (Beijing)
We Chinese are really brave
Agree (5)Disagree (2)Recommend (1)



我们中国人是真正勇敢的。




victor (delhi) replies to Wang Lee 10 mins ago
dont u think u need freedom, if ur govt does not understand the pain of people ,mayb the chinese not momdens will do a revolt like britishers did in early 1700's by cutting the head of their king




难道你不认为自己需要自由吗。如果你们的政服不理解人民的痛楚,或许中国人会像英国人18世纪早期一样把国王ΧΧ掉一样。



Sushil (Lucknow)
China is also facing the Islamic terrorism on a large scale now.They are also aware of the place where these people are receiving the training as well as shelter.Therefore it is expected from the Govt. in China to cooperate with India to fight this cancer & further put pressure on Pakistan to desist from sheltering fundamentalists & their ideology.



中国现在也面临大规模伊斯兰恐怖主义。他们也知道这些人在哪个地方接受训练和庇护。因此,希望中国政服与印度联合抗击这个癌症,进一步施压巴基斯坦,以让其停止庇护原教旨主义者及其意识形态。
dimukh (Bangalore) 16 mins ago
Just wait for few days to find the involvement of some neighboring country with Xinjiang. Uighurs are going to pay a heavy price for messing with China as they did couple of years ago. Unlike India, Chinese really mean business when they are provoked.
Agree (1)Disagree (0)Recommend (0)



只要等几天就会发现一些染指xj的周边国家。就像几年前那样,维族将为自己同中国的胡搅蛮缠付出沉重代价。同印度不一样,中国要是受到挑衅,可是会动真格的。
maharaj (UK) 1 min ago
China teach this crooks a good lesion, Not like in india VOTE BANK politicians.



中国给这些坏蛋很好地上了一门课。印度则不一样,这里尽是些票仓政治。
avtar chauhan (usa)
A few of the responses get astrayed from the real subject matter! Not a good civic sense. It is good that the high-jackers were over powered & any catastrophe was avoided by the timely successful action of the crew & passengers. Security checks seem to have been compromised . Terrorist activities must be condemned by all,irrespective of any nationality,race,religion or ethnic commune .They have no religion. Thank God it is all safe !



一些回复偏离了真正主题!不是一个好的公民意识。好在劫机者被制服。机组人员和乘客及时的成功行动避免了一场灾难。安检似乎出了些漏洞。不管是什么国籍、种族、宗教或者民族等,所有人都必须谴责恐怖活动。他们没有宗教信仰。感谢上帝,一切都安全!
Indian (Bangalore, Karnataka) 27 mins ago
China will now realize the blind support it has given to pakistan is paying back....with the terrorist groomed in paki and exported globally is also effecting China... henceforth china will see the worst side of fear that the rest of the affected countries globally...
Agree (2)Disagree (0)Recommend (1)



中国现在意识到其对巴基斯坦的盲目支持最终得到了报应...巴基斯坦豢养的恐怖分子出口到全球,也影响了中国...今后,中国将会看到其他受影响国家经历过的最恐怖一面...
psp (blr)
Rahman malik would have issued a statement by now that they have nothing to do with this... and they dont harbor terrorists.. I think they should make this Pakistan's national motto...
Agree (1)Disagree (0)Recommend (0)



拉赫曼·马利克现在会发表一个声明,即他们与这件事无关...他们没有庇护恐怖分子...我认为他们应该把这句话当做巴基斯坦的法定箴言...





(三泰虎注:拉赫曼·马利克是巴基斯坦总理内政顾问)
Anand Sawant (Mumbai) 14 mins ago
When i read the headline, i was 101% sure that this must be the work of muslims. And i was not wrong. Hats off to chinese people for their bravery and courage. And that's why they are superpower. I wish chinese govt officials should visit Modiji and take his advice to break this rebellion. Jai Hind.
Agree (1)Disagree (1)Recommend (1)



当我看到这个标题时,我101%确信这个肯定是穆斯林的"杰作"。我没有说错吧。向勇敢的中国人致敬。这就是他们成为超级大国的原因。我希望中国政服官员能够拜访Modiji,向他咨询粉碎叛乱的建议。胜利属于印度。





原创翻译:三泰虎 http://www.santaihu.com
Mubeen (Pune) 12 mins ago
The pakistani terrorists using made- in -china weapons to hit chinese, What an irony!



巴基斯坦恐怖分子使用"中国产"的武器袭击中国人。多么一个讽刺啊!
bhardwaj (Noida) 19 mins ago
See , it is a matter of time when Suicide bombing will start all over China by these Muslims And then China will realize like US realized last decade, earlier India kept telling US that Pakistan is a terrorist state but US didn't gave any heed
Agree (5)Disagree (0)Recommend (2)



看看,这些穆斯林在中国到处搞自杀性爆炸只是时间问题。中国到时会像美国十年前那样意识到这些。印度早前一直告诉美国,即巴基斯坦是个恐怖主义国家,但是美国没有留意。
CA Satish Shetty (Mumbai) 3 mins ago
The virus named as Islamic terrorism has not spared China.Now Pakistan got a new customer for exporting terrorists trained by their military and ISI.



伊斯兰恐怖主义病毒没有让中国幸免。巴基斯坦现在有了一个新客户,可以向其出口军队和情报局训练的恐怖分子。
SJ (UK)
A Uighur leader living in West says China has massacred tens of thousands of Uighur Muslims. Why are Islamic republic of Pakistan its friend?



居住在西方的维族领导人称中国ΧΧ维族穆斯林。为什么巴基斯坦伊斯兰共和国是中国的朋友?

(三泰虎注:持续关注中...)

6月29日,天津航空公司由xj和田飞往乌鲁木齐的GS7554航班于12:25分起飞后被6名嫌犯暴力劫持。劫匪冲击驾驶舱企图劫持飞机,但被机组与机上乘客共同制服,目前航班已安全返回和田,6人被抓。在制服劫匪过程中,有机组人员和乘客受轻伤。有的印度网民称赞机组人员和乘客制服劫机分子;有的印度网民表示中国一直支持巴基斯坦,而巴基斯坦沉迷于各种恐怖活动,此举让中国尝到了同样的滋味。