原文标题:China: Pilot failed to locate runway before crash
原文链接:http://news.yahoo.com/china-pilot-failed-locate-runway-crash-115518200.html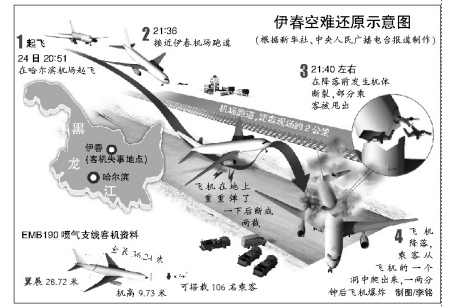 BEIJING (AP) — A commercial airline pilot failed to locate the runway before landing and abandoned the plane after it crashed in northeastern China two years ago, the government said Friday and called for the chief pilot to be prosecuted.

The 2010 crash of a Henan Airlines plane killed 44 people and injured 52 and was China's first major commercial air disaster in nearly six years.

The State Administration of Work Safety also suggested in its investigation report that the airline should be fined 5 million yuan ($795,000) for lax safety management.

The agency's investigation said chief pilot Qi Quanjun violated aviation rules during the descent, did not locate the runway before landing and abandoned the crashed aircraft.



两年前中国东北地区,一位商用航空公司的飞行员在着陆之前没有正确定位跑道,并且撞地之后放弃了飞机,星期五,政服呼吁对该首席飞行员提出指控。





国家安检总局同时在调查报告里建议,该航空公司应该为其松懈的安全管理处以500万RMB的罚款。





调查显示首席飞行员齐全军在下降过程中违反了飞行条例,着陆前没有定位跑道,并放弃了损毁的飞机。



The Embraer E-190 jet hit the ground 690 meters (2,260 feet) short of the runway at the Lindu airport in Heilongjiang province's Yichun city, then burst into flames. Media reports at the time said fog shrouded the runway during the landing.

The Civil Aviation Administration of China has said that a 2008-2009 investigation had found that 200 pilots falsified their flying histories, with more than half of them working for Henan Airlines' parent company. It said airlines desperate for staff had been hiring pilots whose resumes had been faked. The most recent report didn't say if Qi was among those who doctored his resume.



在黑龙江省尹春林都机场,巴西航空公司 E-190喷气式飞机在离跑道690米的地方撞击到地面,并燃起了大火。媒体报告说,着陆当时跑道上弥漫着雾气。





中国国内飞行管理局曾经说,一个2008-2009的调查发现,200名飞行员对他们的飞行记录造了假,超过一半人为河南航空公司的母公司工作。据说,航空公司对雇佣伪造简历的雇员毫无办法。最近报告没有说齐全军是伪造简历者的其中之一。



The report said Qi should have his pilot's license revoked, be removed from his post and expelled from the Communist Party, and should also face criminal charges though it didn't specify what they would be.

State media said in 2010 that Qi was a former People's Liberation Army pilot and had been unable to speak after the crash due to severe injuries to his face.

Full-tilt expansion of Chinese air traffic in the 1990s led to a series of crashes that gave China the reputation of being unsafe. The poor record prompted the government to improve safety drastically, from airlines to new air traffic management systems at airports.

Prior to the Yichun disaster, the last major passenger jet crash in China was in November 2004, when a China Eastern airplane plunged into a lake in northern China, killing all 53 on board and two on the ground.



报告称,应该取缔齐全军的飞行员执照,将其撤职,开除党籍,而且应该收到犯罪指控,虽然现在不清楚犯了什么罪。





官方媒体在2010年时称,齐全军是一个前解放军飞行员,空难事故后脸部严重受伤,至今无法正常讲话。





1990年代中,疯狂扩张的中国民航业导致了一系列空难事故,让人充满安全忧虑。糟糕的记录促使政服急剧提高安全条件,从航空公司到机场空中交通管理。





先于伊春空难,中国最近一次是在2004年12月,东方航空公司的一家飞机栽进华北的一个湖里,机上死了53人,地面上2人。




以下是美国雅虎网民的评论:




MLB ? 1 day 14 hrs ago

There's no reason to become alarmed, and we hope you'll enjoy the rest of your flight. By the way, is there anyone on board who knows how to fly a plane?



没有理由变得张惶失措,我们都希望你们享受后面的飞行,飞机上有人知道怎么飞行吗?
Lester ? 1 day 7 hrs ago

As pilots say, "any landing you walk away from is a good landing", and since he left the aircraft it must have been a good landing for him. Little rough on some of his passengers.



就像飞行员说的,"任何降落后能够走着离开飞机的着陆都是一次好着陆",既然已经离开飞机了,那肯定是一次成功的着陆。对他的乘客来说不算过分。
Billy ? 17 hrs ago
if the pilot had located the runway before he crashed that would have been better?



如果飞行员坠毁前定位到了跑道,是不是结果会更好?
Bob ? 18 hrs ago
He didn't locate the runway but he did land dead center the crash site and he got there before the emergency crews so what's the problem?



他没有找到跑道,但他成功滴着陆在致命的坠毁地点,他在急救人员到达前到了那里,有啥问题吗?
G ? 1 day 9 hrs ago
Yes, missing the runway generally tends to cause a crash.



是滴,找不到跑道一般会导致坠机事故
Michaelc ? 14 hrs ago
PILOT FAILED TO LOCATE RUNWAY BEFORE HE CRASHED----Did he manage to locate the runway AFTER he crashed? In 'aviation speak' this is known as ' controlled flight into terrain'. In other words, he put it down, just not in the right place!



坠毁后他成功找到跑道了吗?在飞行语言中是"控制航线到地面"。换句话说,他降落了,只是没有降到正确的地点
Rickyfontane07 ? Harker Heights, Texas ? 1 day 6 hrs ago
"Missed it by that much"......



误差那么大
SoWhat! ? 1 day 7 hrs ago
They'll execute him.



他们会把他枪毙了
Wow ? 1 day 19 hrs ago
And yet the pilots survived the crash!?



坠机后飞行员活下来了吗?
4-Square ? 16 hrs ago
I guess some of the landing lights were dim sum.



我猜一些着陆灯光太昏暗了
MeMeMe ? New York, New York ? 17 hrs ago
I understand revoking his license, and facing criminal charges, expelled from the Communist Party ? I think that's a bit overboard ? That's his only pride he got left, well maybe not..lol



我能理解取消他的执照、面临违法指控、开除党籍?是不是有点过头了?这些是他唯一值得骄傲的内容,也可能不是.....笑
GOD ? 1 day 8 hrs ago
What was the tip off that he "doctored" his resume - The burning carcass of the Embraer E-190, or the fact that under employment he wrote "1 billion, gagillion, fafillion, shabolubalu million illion yillion" hours of flight time, working for Dr. Evil.?



是什么泄露他篡改简历的? Embraer E-190燃烧的骨架,还是飞行记录中写"10亿、1万亿..."小时的飞行记录,为恶魔的工作?
O ? Cleveland, Ohio ? 1 day 14 hrs ago
do you expect him to burn in the wreckage if he was lucky enough to survive? ofcourse he got out of there and didn't go back in. its different than a ship's captian who must wait to get off till all the passengers have gotten off. a plane crash is alot more violent and involves fires.



如果他幸运地逃生,你期望他在废墟中烧死吗?当然如果他成功滴逃出来,他不会再回去。这和轮船船长必须等乘客全部离船不一样。飞机坠毁惨烈得多,还引发火灾
E W ? 19 hrs ago
After two years they determined that the pilot failed to find the runway.
I think that the first clue was that the plane never made it to the runway, but I'm no rocket scientist.........



2年后,他们才确定飞行员没有找到跑道。我认为第一个线索就是飞机从没有进入跑道,但是我不是火箭专家....
Quint ? 1 day 13 hrs ago
"failed to locate runway before crash"...Hence the word "CRASH"



坠机前没有定位到跑道...... 因此这个"坠毁"用词.....
Frosty Dallas ? 1 day 14 hrs ago
"PILOT ERROR" would be an understatement! This guy's family may be facing a bill for the bullet to his head!



"飞行员错误"说得很隐晦!这哥们家可能脑门上要顶着买子弹的账单了
以下部分由三泰虎补充
CommonSense ? Newark, New Jersey ? 4 days ago

Undoubted he went to the same flight school as the Muslim terriorists....landing isn't a requirment



毫无疑问,他接受训练的飞行学校同穆斯林恐怖分子所接受的是同一家...学习降落并不是必须的。
djh ? 4 days ago

Oh no he's to be expelled from the Communist Party.....OH the HORROR!!!



哦,不,他将被开除党籍...哦,恐怖!
Obama, the Illinois Idiot ? 4 days ago

Sounds like a typical Chinese pilot to me. Can't find the runway? No biggie.



听起来是一个典型的中国飞行员。找不到跑道?没什么大不了的。
Zaporozhye Reader ? Kansas City, Missouri ? 4 days ago

The plane crashed and burned, but the pilot survived and is charged with abandoning the plane. What is he supposed to do, stay in there and be burned to death too. Maybe that wouldn't be as bad as being expelled from the Communist party!!!!



飞机坠毁并烧了起来,飞行员活下来了,被控告放弃飞机。那么他应该怎么做。也在那等着被烧死吗。也许那样没有与被开除党籍一样那么糟糕!
Tony ? Bethany, Oklahoma ? 4 days ago

Moral of the story, don't fly on any chinese air line unless you have death wish.



这个故事的寓意:除非你想死,否则不要乘坐任何中国航班。
GH ? Cranbury, New Jersey ? 4 days ago

He landed the plane 1/2 a mile before reaching the runway and still manage to "abandoned the plane", and most passengers survived? That's pretty good.



他离跑道半英里处降落飞机,仍然能够设法"放弃飞机",并且大多数乘客活下来了?那很不错啊。
Mike ? 4 days ago

The pilot fled the scene of the crash, changed his name, and became a cruise ship captain.



飞行员逃离坠毁现场,改名换姓,然后当上一名巡航舰舰长。
Dave ? 4 days ago

ohh no no no no me no see runway.



哦,不,没有看到跑道
Jmax ? 4 days ago

He didn't look out or look down to see if the runway was there or not ? That's really strange. I wonder what he was doing at the time of touch down !?! Maybe he was blinded by the bright sun or something.



他没有注意或者向下看是否有跑道吗?那真是太奇怪了。我纳闷的是着陆的时候他在做什么?也许明亮阳光或者其他什么让他看不见了。
silent majority ? Los Angeles, California ? 4 days ago

Chinky-eyed chinese no good driver, handicapped 50% visibility, dangerous.



鸡眼中国人没有好的飞行员,是能见度只有50%的残疾人,危险。
Larry ? 4 days ago

Made in China. That includes the pilot.



中国制造,包括这名飞行员。




William J ? Southfield, Michigan ? 4 days ago




yeah, American pilot never crashed.




耶,美国飞行员从来不坠机。



Geo ? 4 days ago

Asian = bad drivers and possibly bad pilots



亚洲人=糟糕的司机,可能还有糟糕的飞行员。
xiao ? Bacau, Romania ? 4 days ago

It's not bad enough that Chinese can buy their driving license... they can also fly commercial planes without proper training. It's a wonder there aren't more plane crashes.



中国人可以购买驾照,这倒不是太糟糕...他们也可以不经过合理训练就开商业飞机。没有出现更多飞机坠毁真是奇迹。
Greg ? 4 days ago

Another pilot texting while flying.



又一名飞行员在飞行中发短信
Gaston ? Richardson, Texas ? 4 days ago

He was obviously trying to impress somebody with his survial skills.



他明显是试图用其生存技能来让某些人留下深刻印象。
Cyclonus ? Millersville, Pennsylvania ? 3 days ago

I guess the pilot forgot to open their eyes.



我猜飞行员是忘记睁开眼睛了。
Ling ? 3 days ago

Runway too Narrow!



跑道太窄了!
Tom Foolery

Hey! At least he found the airport. A story in the news not long ago, about an american commerical flight landing at the wrong airport. As Agent 86 would say "missed it by that much"



嘿!他至少发现了机场。不久前的一条新闻说的是一架美国商业飞机降错机场了。就像特工86所说的"误差那么大"。
John O. ? 3 days ago

Chinese people can't drive automobiles and they certainly shouldn't be piloting planes!!!!



中国人不会开车,他们当然不应该去开飞机!
2010年8月24日21时38分,河南航空有限公司E190机型B3130号飞机执行哈尔滨至伊春VD8387定期客运航班任务时,在黑龙江省伊春市林都机场进近着陆过程中失事,造成机上44人死亡、52人受伤,直接经济损失30891万元。河南航空伊春空难事故调查报告已经公布。据美国雅虎报道,调查显示首席飞行员齐全军在下降过程中违反了飞行条例,着陆前没有定位跑道,并放弃了损毁的飞机。国家安检总局同时在调查报告里建议,河南航空公司应该为其松懈的安全管理处以500万RMB的罚款。