原文标题:Pigs, ducks and now bodies in China river
原文链接:http://timesofindia.indiatimes.com/world/china/Pigs-ducks-and-now-bodies-in-China-river/articleshow/19333203.cms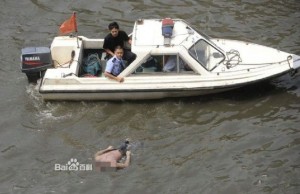 BEIJING: A city government in northwestern China has said it fishes out 100 human bodies every year from the Yellow River, a major source of irrigation and drinking water across a large part of the country. Most of the bodies flow downstream and get stuck near a local hydropower station, municipal authorities in Lanzhou in Ganshu province said.

The statement by Lanzhou authorities comes within days of 16,000 dead pigs being found in a river near Shanghai, and 1,000 dead ducks fished out of another river in China's Sichuan province.



北京:甘肃省兰州市政当局称每年从黄河打捞出100具尸体,该条河流是中国大片区域的灌溉和饮用水来源,大多数尸体飘向下游,并在一座水电站卡住。





几天前,上海附近的一条河流发现了16000头死猪,中国四川省的另一条河流打捞出1000只死鸭子。



As with authorities in two other cities, Lanzhou officials said human bodies do not affect the quality of the water in the river, and this was borne out in monthly inspections on the city's drinking water supply. These are mostly bodies of swimmers who drown or people committing suicide, it said.



跟前两起事件的当地政服一样,兰州官员称尸体并未影响河流水质,这是根据每月的城市饮用水检测而得出的。据称,浮尸中大多数是溺水者或自杀者。



Shanghai authorities have also taken a similar stand saying the pigs found floating in the river died of a disease that does not affect human beings. But questions are being raised about how the water remained unaffected by decomposing bodies.

The civil affairs bureau said it will stop the use of private divers who help families of the deceased to take out the bodies for a fee. The standard procedure is deploying staff members for this work and help the family members identity it, the bureau said.



上海当局也采取类似的立场,称河流里漂浮的死猪死于一种并不影响人类的病。但人们对此提出质疑称河水怎么会不受腐烂尸体的影响。





民政局称将阻止私人捞尸者有偿帮助逝者家属打捞尸体,已经安排专业的打捞队员负责此项工作,并帮助家人辨认身份。




以下是印度网民的评论:




译文来源:三泰虎博客 http://www.santaihu.com




HeeHee (Varanasi)
Maybe they should rename the river as "Ganga".



也许应该把河流改名为"恒河"。
ash (uk)
dead bodies in river ? breed aligator there and they can eat all dead bodies problem solved
Agree (4)Disagree (2)Recommend (1)



河流浮尸?可以在那里养一些短吻鳄,它们会吃掉所有尸体,问题解决。




hsa (ind) replies to ash
Alligators will become man eaters then. They will prey on villagers who depends upon the river.




短吻鳄会吃人,将会猎食依赖这条河的村民。



Krish (Delhi)
It happens all around the world where there are huge Dams....humans & animal bodies are a regular issue.



这事在全世界各地的大坝都有出现.....河流里漂浮着人尸和动物尸体是常见问题。
SOM NATH SHARMA (New Delhi,India)
China does everything on gigantic scale. Consequences are also gigantic. Is it environment disaster or a routine Chinese puzzle, we are going learn in due course of time.
Agree (2)Disagree (5)Recommend (0)



中国做什么事情都声势浩大,结果也是不同凡响。这是环境灾难还是中国常见的难解之谜,我们在适当时候会了解到的。
Sheikh (Khag Budgam Kashmir)
Billions of population 100 is very ok as compered to pollution
Agree (1)Disagree (2)Recommend (0)



就污染而言,相比十亿之众的人口,100具浮尸真心不多。
badegg (US)
This news is very misleading. The dead bodies should be the people who drowned in the river and have only be blocked by the dam. They are not thrown into the river as in Ganges. If you go to Yangtze river, there could be much more.
Agree (12)Disagree (1)Recommend (4)



这个新闻很会误导人。浮尸应该是溺水者,在大坝处卡住,跟被扔进恒河的尸体是不一样的。如果去长江看,你可能会发现更多。




Thomas George (Goa) replies to badegg
100 would be like the number of bodies floating in the Ganges near Varanasi every week. Let us not count those in the rest of the river or those already eaten by the turtles. The appearance and magnification of this article in India was expected.
Agree (10)Disagree (1)Recommend (4)




100具尸体可能相当于瓦拉纳西附近恒河每周出现的浮尸数量,这还不包括其他河流的浮尸和被乌龟吃掉的浮尸。




Suk Ma Cok (Shangay) replies to Thomas George
Chinks supporting the official govt view! What a surprise!
Agree (2)Disagree (5)Recommend (0)




中国佬支持政服的观点!真想不到!



EndOfTheLastEra (HellOnEarth)
All the ingredients for Chinese Soup...



中国人的汤里什么配料都有了......
Rob (New Delhi)
What about over hundred bodies of still born babies and Saints ( Sadhus ) disposed in Indian Rivers on DAILY basis !!( Especially at Haridawar , Varanasi , Allahabad etc !! Why are we talking about others when our water bodies are beyond repair ??
Agree (9)Disagree (1)Recommend (0)



印度河流里每天抛下的几百具死婴和苦行僧的尸体又怎么说!特别是在Haridawar 、瓦拉纳西、阿拉哈巴德等地!我们的河流都没法治理了,为什么要去对别人的河流说三道四?




Vasoo (TN) replies to Rob 4 hrs ago
............................................ bcos we are Indians. We only point fingers.




因为我们是印度人,我们只对别人指指点点。



Priyanka Bhinde Salunkhe (Netherlands)
How can not dead bodies pollute water? I am sure Indian river dead bodies number would be way higher than China's. However water purification projects should be started. No water is worth drinking if it had dead bodies in it, may it be of Humans or Animals! One can have alligators or vultures near the banks to ensure proper disposal of dead.
Agree (4)Disagree (1)Recommend (1)



尸体怎么不会污染水质了?我敢肯定印度河流漂浮的尸体要比中国的多得多。净化水项目该启动了。不管是人的尸体还是动物的尸体,如果河流里有浮尸,水就不能饮用!人们可以在河边上饲养短吻鳄或秃鹰来确保尸体得到合理处理。
Surya Mohan (Allen Texas USA)
Heights of ignorance and heights of carelessness of keeping source of drinking water free of decomposing of even human bodies besides pigs, ducks etc. How irresponsible have been some of the answers that it does not affect drinking water? Shame Shame to the authorities
Agree (2)Disagree (7)Recommend (1)



此乃无知之极、粗心之极,应该确保饮用水来源不受死猪、死鸭子甚或腐烂尸体的污染。官方居然说并未影响饮用水,此举多么不负责任!




Sameoldass (Alabama) replies to Surya Mohan
You would find more bodies in the Mississippi every year. So learn to think rationally in your white home.
Agree (9)Disagree (1)Recommend (5)




你每年能在密西西比河找到更多尸体,先学会理智思考吧。




Taurus (california) replies to Sameoldass
Find more bodies in Mississippi river than you find in the river at China. What is your source of information. In your case, ignorance surely is a bliss and befits your name..
Agree (4)Disagree (7)Recommend (2)




"在密西西比河发现的尸体比中国河流里发现的更多。"




你的信息是从哪来的。就你而言,无知肯定是一种幸福,非常切合你的名字....



Mr. Bernard Wijeyasingha (Clinton, USA)
At least these are accidents. but in the Ganges river it is reported that it is not that uncommon to see bodies or body parts partially cremated, floating down the river. Flesh eating turtles and crocodiles have been introduced into the river in the past but the lack of sufficient wood leaves many dead bodies partially cremated before they are dumped into the Ganges.
Agree (12)Disagree (2)Recommend (5)



至少这些是事故导致的,而据称在恒河不难看到漂浮着的尸体或者部分火化的尸体。过去有引入一些食肉的乌龟和鳄鱼,由于缺乏足够的木材,有些尸体未完全火化就抛入恒河。




Taurus (california) replies to Mr. Bernard Wijeyasingha
If they already have flesh eating turtles and crocodile, then why even bother to cremate. Just dump the bodies in the river and let the crocodiles have a feast. The river is already polluted. This sure will help reduce both the water and air pollution and save the wood. That will help with the deforestation also.
Agree (5)Disagree (2)Recommend (2)




如果有食肉的乌龟和鳄鱼,为何要火化,直接抛入河流里不就行了,让鳄鱼美餐一顿。反正河流已被污染了,此举可以帮助减少水质污染和空气污染,还能省下木材,还能减少滥砍滥伐。



印度人看中国:继死猪事件和死鸭子事件后,中国又出现了黄河浮尸事件。据报道,甘肃省兰州市政当局称每年从黄河打捞出100具尸体,该条河流是中国大片区域的灌溉和饮用水来源,大多数尸体飘向下游,并在一座水电站卡住。几天前,上海附近的一条河流发现了16000头死猪,中国四川省的另一条河流打捞出1000只死鸭子。跟前两起事件的当地政服一样,兰州官员称尸体并未影响河流水质,这是根据每月的城市饮用水检测而得出的。据称,浮尸中大多数是溺水者或自杀者。