原文标题:China to build world's biggest mega city
原文链接:http://www.rediff.com/business/slide-show/slide-show-1-china-to-build-worlds-biggest-mega-city/20110127.htm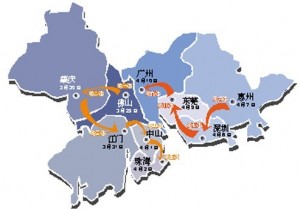 I

n six years, China is set to build world's biggest mega city developing nine cities around the Pearl River Delta. The new mega-city will cover China's manufacturing base from Guangzhou to Shenzhen, including Foshan, Dongguan, Zhongshan, Zhuhai, Jiangmen, Huizhou and Zhaoqing, acounting for a tenth of the Chinese economy, according to a report in The Telegraph.



T

he 'Turn The Pearl River Delta Into One' scheme will build a 16,000 square mile urban area that is 26 times larger than Greater London, or twice the size of Wales, says The Telegraphreport.

By 2025, China will have 219 cities with more than one million inhabitants - compared with 35 in Europe today - and 24 cities with more than five million people, according to a Mckinsey report.



在6年内,中国力争将珠三角9个城市发展成世界最大的城市(群)。每日电讯的一份报告称,新的巨型城市将覆盖从深圳到广州的制造基地,包括佛山、东莞、中山、珠海、江门、惠州和肇庆,总共占中国经济的十分之一。





每日电讯的报告称,"珠三角城市一体化"将建设1.6万平方英里的城区,比大伦敦大26倍,是威尔士的两倍大。





麦肯锡报告称,到2025年,中国将有219座人口超过一百万的城市——欧洲今天是35座——24座人口超过五百万的城市。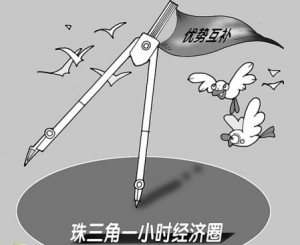 C

onnecting these cities would be 150 major infrastructure projects costing a whopping 190 billion pounds.

The project would bring about a reduction in phone bills and improve hospitals and schools in the area.



C

hina which has a well-connected rail network with further build 3,100 miles of railway to be laid to connect the cities. The proposed infrastructure projects in sectors like energy, water and telecommunications will create millions of jobs.



T

he Pearl River Delta is one of China's leading economic region with a huge manufacturing base.

The regions have thousands of factories manufacturing electronic products, toys, garments and textiles, plastic products, and a range of other goods.



150项主要基础设施项目将把这些城市连接起来,耗资高达1900亿英镑。





(城市一体化)项目将在该地区降低电话费,改善医院和学校。





中国已经有四通八达的铁路网,将进一步修建3100英里的铁路,用于连接这些城市。能源、水资源和电信等部门规划的基础设施项目将创造数以百万计的工作。





珠三角是一个巨大的制造业基地,是中国领先的经济区之一。





该地区有无数家生产电子产品、玩具、服装和纺织品、塑料制品和其他一系列产品的工厂。




以下是印度网民评论




A lesson to learn
by aftab (View MyPage) on Jun 17, 2011 03:37 PM | Hide replies

We are not able to complete even a bridge with proper connecting road in 6 years wheras china is making 26 times bigger than london in 6 years. It is time for us to tighten our belt and accelerate the time of completion of project without sacrificing the quality.



我们甚至不能在6年里修完一座桥,而中国在6年里建设一个比伦敦大26倍的城市(群)。我们是时候该勒紧腰带,在不牺牲质量的情况下,加快工程完工时间。




Re: A lesson to learn
by kumar kumar (View MyPage) on Jun 20, 2011 11:25 AM
We have already lost the game.....Other than IT we have no other story. China's is a manfacturing backyard for the whole world.




我们已经输掉比赛...除了IT,我们没有其他说得过去的产业...中国是全世界的制造基地。



it looks gr8 but...
by Gajanan (View MyPage) on Jan 28, 2011 11:27 PM | Hide replies

chinese growth looks gr8, it's more facinating to ears. about 10% chinese are surely benefited by the growth of chinese economy. but the gap between other 90% population and this 10% in wide-wide enough to bring unrest in future.. may be 30-40 yrs or so..

surely chinese ppl will want their basic rights, to express themselves, to speak their mind etc.. etc.. whether they get it or not.. they will want to experiment with it for sure..

as one old chinese saying goes.. all that glitters is not gold



中国的发展看起来伟大,听起来更动听。大约10%的中国人在中国经济发展中获利。但这部分人和其他90%的人之间的差距在扩大,未来足以引起动乱...可能是30-40年左右...





中国人肯定会要求表达自己和说出自己想法的基本权利...不管是否成功...他们肯定将尝试...





就像一句中国古话所说的...并不是所有发光的都是金子。





原创翻译:三泰虎 http://www.santaihu.com




Re: it looks gr8 but...
by SaneIndian (View MyPage) on Jan 29, 2011 02:07 AM
If everyone was given freedom to speak, then no development ever happens and china would have still been like India.




In India no project ever gets started because some idiot does not like it. Because he has the freedom of speech, he will go to court along with his useless goons and will stall the project and no development ever happens in India...




There goes your freedom of speech. You see how far it has taken India?




如果每个人都有言论自由,那就不会有任何发展。中国可能会仍然和印度一样。




在印度,由于某些傻子并不喜欢,没有工程能开工的。由于有言论自由,那些傻子和没用的暴徒一起去法庭起诉,从而阻止工程。所以,印度没有出现任何发展...




你们有了言论自由,可你看看它把印度带往何处了?



Yes concentrate
by Steve Andrews (View MyPage) on Jan 28, 2011 10:51 PM | Hide replies

Yes concentrate all Chinese at one place so that it is easy to destroy them. Drop bomb at one place rather than 10 places.



是的,把所有中国人集中到一个地方。这样可以轻易摧毁他们。只要在一个地方扔一个"蛋",而不用在10个地方扔。
Chinese Chinese all the way
by shashi sharma (View MyPage) on Jan 28, 2011 07:42 AM

One hand India is down with environment concerns at the cost of FDI & infrastructure,the Chinese are going all out to build infrastructure like
-fastest train in the world
-huge road to Nepal
-Biggest Hydro Dam in the world
-and now biggest city in the world.
Learning will be too late if we delay it .China has very strong anti powerty schemes and they do not give too much stress on GDP growth.We clap on GDP growth with 40 % population as poor.
India needs less democracy and practical environment laws.



一方面,由于印度关注环境问题而丧失FDI和基础设施,所以印度落后了。(另一方面,)中国人全力以赴修建基础设施,比如世界最快的火车、通往尼泊尔的公路、世界最大的城市(群)等。





如果我们再不向中国学习,那就太迟了。中国有强大的反权利机制,并不过度依赖GDP增长。我们40%的人口是穷人,却为GDP增长鼓掌欢呼。





印度不需要那么多皿煮,需要的是实用的环保法律。
China has been building city clusters for long time
by Raj Gupta (View MyPage) on Jan 27, 2011 08:24 PM

The metro cluster of Pear river delta, the metro cluster of Yangtze river delta, Beijing-Tianjin metro cluster, Bohai Bay metro cluster are just examples.

The metro cluster of Yangtze river delta could be much bigger, where there are cities of Shanghai, Nanjing, Hangzhou, Ningbo, Suzhou, Wuxi, Changzhou. Other than the high-spped railways of the national high-speed network are connecting the cities, China is also building inter-city high-speed railways.;



(中国打造城市群很久了)。珠三角城市群、长三角城市群、京津城市群、环渤海城市群就是例子。





长三角城市群应该会大得多,包括的城市有上海、南京、杭州、宁波、苏州、无锡、常州。除了用国家高铁网将这些城市连接起来外,中国也在这些城市之间修建城际高铁。
CHINA has the biggest debts to international community
by SURESH MANJALAGIRI (View MyPage) on Jan 27, 2011 05:16 PM | Hide replies

CHINA's mass prodn. dumping approach and giving so much impetus to growth with highest borrowings has resulted with the "BIGGEST MESS".

Also Unlike India where produce is for more "Internal consumption" China has a story of having US as there biggest dump yard and US Economy is on a complete decline.Result CHINA will be in the biggest crisis,bigger then what US or DUBAI saw in recent times.

No problem,let them build big cities....One does hope they don't become "Ghost cities" with Financial Mess CHINA has GOT INTO



中国大规模生产、大规模倾销和通过高额借贷来强力推动发展的做法导致了"相当大的混乱"。





此外,印度的生产更多是用于"国内消费",而中国将美国当做最大的倾销基地。美国经济正在崩塌。结果是中国将陷入最大的危机,比美国或者迪拜最近发生的危机更大。





没问题,让他们建最大的城市群吧...希望它们不会因为中国已发生的金融危机而变成"鬼城"。





原创翻译:三泰虎 http://www.santaihu.com
Shanghai is one of the most fanciest cities in the world
by prasad kulkarni (View MyPage) on Jan 27, 2011 05:02 PM

you would never find a crack in any building in Shanghai. the infrastructure that they build is un comparable. our ministers went there and i believe just enjoyed the stuff. we simply need to work for 100 years to come near to SH



上海是世界上最迷人的城市。你在上海的任何大楼都找不到一条裂缝。我们的部长去过那里。我相信他们很享受。我们简直需要努力100年才能接近上海。
stop bluffy
by simple jack (View MyPage) on Jan 27, 2011 04:59 PM | Hide replies

Every one starts criticizing india when there is comparision with china.

Every one should first think what they have contributed to country faithfully before criticizing the country..

Every body wants to flee to america and most of the people who comment are lazy software engineers who does not have any love to country but have the goal of earning pennies and fleeing to america.

They just comment blah blah .. beacause they have internet conn in office and they want to timpe pass...

building mega cities doesnot indicate development, destructing environment. what it only matters is dignified and peaceful life



当印度和中国比较的时候,大家开始批评印度。在批评国家前,每个人应该首先想想自己为国家做了什么忠诚贡献。





每个人都想要逃往美国。大多数发表评论的人是懒惰的软件工程师。他们并不热爱国家,而是以赚取卢比和逃往美国为目标。





他们办公室有连通网络,他们需要打发时间,所以就评论个不停...





修建巨型城市会破坏环境,这并不象征发展。唯一重要的是尊严和安宁生活。




Re: stop bluffy
by shrikanth (View MyPage) on Jan 27, 2011 05:30 PM
OK. Tell me, what is the average salary you draw for the education you have done. It is never recognised in india. The never recognise the talent. Everywhere there is corruption. Except Bank, 90% of the govt. offices are corrupt.




好的。告诉我,你受到的教育给你带来多少工资。学历在印度从来不受认可。他们从来不认可人才。到处都是腐败。除了银行,90%的政服办公人员是腐败的。




Re: Re: stop bluffy
by tamil (View MyPage) on Jan 28, 2011 02:52 AM
except bank..lol.come live in india..bank is most corrupted in india..also cheating indians with highest interest rates in the world...




除了银行...哈哈,来印度住一下看看...银行在印度是最腐败的...以世界最高的利率欺骗印度人...



AND We
by Nayak Nayak (View MyPage) on Jan 27, 2011 04:44 PM | Hide replies

live in a Country where Ruling party is shy of disclosing names of the traitors who stocked black money in foreign Banks and Opposition party is more interested in hoisting flags than taking up the problem of common man how to face inflation. What is that we can expect from these politicians and their respective blind supporters!



我们居住在这样一个国家:对那些在外国银行存钱的叛徒,执政党对披露他们的名字抱有戒心;而反对党对高举反对大旗更有兴趣,而不是解决老百姓面临的通货膨胀问题。我们能对这些政客和他们的盲目支持者抱什么期望!
BIG DEAL!!!
by P R (View MyPage) on Jan 27, 2011 04:33 PM | Hide replies

China can only build cties, our Con party can loot entire nations with a straight face and then file an affidavit in SC saying it doesnt know anything.



中国只能修建城市。我们的国大党可以面无笑容的抢劫整个国家,然后在最高法院宣誓,称自己什么也不知道。




Re: BIG DEAL!!!
by madhu madhu (View MyPage) on Jan 27, 2011 04:45 PM
Looting is much easier in India now days, with all necessary legal support.




所有必要的法律支持都有了,如今在印度抢劫变得简单多了。



.

by

Cow

(View MyPage) on Jan 27, 2011 03:45 PM | Hide replies

I want to settle down in china.
Seems to be a colorful city.



似乎是个多姿多彩的城市,我想要在中国定居。




Re: .
by vikrant reddy (View MyPage) on Jan 28, 2011 12:34 PM
and u too r a colorful cow..




你也是个多姿多彩的公牛...




Re: .
by Santosh Vijayan (View MyPage) on Jan 27, 2011 04:40 PM
China is not a city lol




中国不是一座城市,哈哈




Re: Re: .
by Arun Kumar (View MyPage) on Jan 27, 2011 04:59 PM
please go to china. they are biggest beef lovers in the world




请去中国。他们是世界上最大的牛肉爱好者。




Re: .
by Nayak Nayak (View MyPage) on Jan 27, 2011 04:51 PM
They will slaughter you within no time as Beef is their staple food.




由于牛肉是他们的主食,他们会很快将你屠宰。



mega citiy
by sunny India (View MyPage) on Jan 27, 2011 01:55 PM | Hide replies

Mega city for tiny people.
What will big (africa) people build?



为小个子修建巨型城市。那(非洲的)高个子将修建怎么样的城市?




Re: mega citiy
by Ravi Khatana (View MyPage) on Jan 27, 2011 02:21 PM
thn you have some misunderstanding, I am in China for some project and in my office most of guys are taller thn me. FYI my height is 5' 10".




你有一些误区。我在中国做某个工程。在我办公室里,大部分人比我高。供你参考,我身高 5' 10"。




(三泰虎注: 5' 10"是177.8厘米)




Re: Re: mega citiy
by JAKE (View MyPage) on Jan 27, 2011 03:27 PM
Oh! are you that tall? i am taller than you by another 2 inches.




哦!你有那么高吗?我比你高两英寸。




(三泰虎注:5' 10"加上2英寸,即182.88厘米)



China to build world's biggest mega city
by Ghanshyam Pasari (View MyPage) on Jan 27, 2011 01:46 PM | Hide replies

when will India wake up to these type of statements?? China will do it if they claim thast they will do anything!!!!!!!!!!



对于这类声明,印度什么时候会觉醒呢?中国说到做到,他们将办成任何事!




Re: China to build world's biggest mega city
by Narakasur (View MyPage) on Jan 27, 2011 01:54 PM
Have you heard about Ordos. That is a big ghost town which China built.




你听过鄂尔多斯吗。那是中国建设的一个大"鬼城"。




Re: China to build world's biggest mega city
by shrikanth (View MyPage) on Jan 27, 2011 04:37 PM
NEVER




永远不会




Re: Re: China to build world's biggest mega city
by shrikanth (View MyPage) on Jan 27, 2011 04:39 PM
I mean, India will never wake up. we are yet to match a small city a china in terms of development and infra structure




我意思是印度永远不会觉醒。在发展和基础设施方面,我们还无法比拟中国的小城市。



中国未来力争打造三个城市群:长三角城市群、京津唐环渤海城市群和珠三角城市群。印度媒体对珠三角城市群规划进行了报道,称中国力争完成"珠三角城市一体化",打造一小时经济圈,建成世界最大的巨型城市。印度人如何看中国珠三角城市一体化呢?让我们看看印度网民的评论。