原文标题:Pak's nukes might fall into hands of terrorist: Panetta
原文链接:http://timesofindia.indiatimes.com/world/pakistan/Paks-nukes-might-fall-into-hands-of-terrorist-Panetta/articleshow/15503071.cms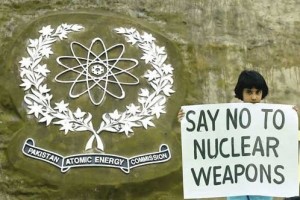 WASHINGTON: US defence secretary Leon Panetta fears that there is a danger of Pakistan's nuclear weapons falling into the hands of terrorists if terrorism is not controlled in the country.

"The great danger we've always feared is that if terrorism is not controlled in their country, than those nuclear weapons could fall into the wrong hands," Panetta told reporters at a Pentagon news conference here on Tuesday.

Panetta was responding to questions on a recent congressional report which said Pakistan is increasing its nuclear capabilities, which are mainly targeted towards India.



华盛顿:星期二,在五角大楼的一场新闻发布会上,美国国防部长帕内塔告诉在场的记者,如果巴基斯坦没有控制好国内的恐怖主义,那么巴基斯坦的核武器有可能落入恐怖分子手中。帕内塔的此番谈话是回答记者有关最新一份国会报告的提问。该份报告称巴基斯坦正加强核能力,目标主要针对印度。



"When I talk to the Pakistanis, I've always stressed the fact that we should have common cause with regards to confronting terrorism; that terrorists not only represent a threat to our country, terrorism represents a real threat to their country as well," he said.

"A lot of Pakistanis have died as a result of terrorism. A lot of members of their military have died as a result of terrorism. And it's important for them to recognize that threat and to act against that threat. And in particular, it's important because they are a nuclear power," Panetta said.

In a recent report, the Congressional Research Service had said that Pakistan is increasing its production of nuclear weapons and improving the delivery mechanism of nuclear weapons, which is mainly targeted towards India.

The multiple attacks on Pakistani military facilities in recent years by terrorists heightened the fears in the West that nuclear weapons can fall into the hands of of terrorists.



帕内塔称:"当我和巴基斯坦人会谈时,我总是强调这样一个事实,即面对恐怖主义是我们共同的事业,恐怖主义不仅威胁我们国家,而且也威胁他们国家。许多巴基斯坦人死于恐怖主义。他们的许多士兵也死于恐怖主义。重要的是他们认识到这个威胁并行动起来。特别地,他们拥有核武器更突显了这个重要性。"





美国国会研究服务处在最新一份报告中称,巴基斯坦正提高核武器产量和改进核武器投送装置,主要目标是印度。





最近几年,恐怖分子针对巴基斯坦军事设施的多次进攻,让西方更担忧巴基斯坦核武器可能落入恐怖分子手中。




以下是印度网民的评论:




Susnatha (Silchar)
Now US is realizing the ground reality which is a matter of great concern.
Agree (6)Disagree (0)Recommend (2)



美国现在认清了颇值得关注的现实。
India (India) 4 hrs ago
If it falls in the hands of terrorists then the danger will be on pakistan itself. They can not operate them properly . Some fools will try to open the seal of devices by blasting them & radiation will come out locally which will kill all in pakistan itself . If no is more then it is good for pakistan to be self destructed. India need not worry. The fool & brainless terrorists will kill pakistanis first & then themselves.
Agree (9)Disagree (1)Recommend (3)



如果核武器落入恐怖分子手中,那么只有巴基斯坦自身会面临危险。他们不会操纵核武器,一些傻子会试图通过爆炸来打开密封装置,放射性物质会外露并杀死所有巴基斯坦人。巴基斯坦自我毁灭是好的。印度不需要担心。愚蠢和无脑的恐怖分子会先杀死巴基斯坦人,然后再杀死自己。




CalmBuddha (US) replies to India 4 hrs ago
Don't worry, they come with instructions.
Agree (2)Disagree (0)Recommend (1)




别担心,他们配有说明。




rana Jee (pakistan) replies to India 4 hrs ago
your comments show how fool india and hindus are. they still think that atomic bomb works like grenades. Lol
Agree (4)Disagree (8)Recommend (0)




你的言论尽显印度教徒的愚蠢,你们仍然认为原子弹工作原理类似手榴弹,笑




Madrassa Boy (Pisslamabad) replies to rana Jee 2 hrs ago
I'm not worried, paki. Chemistry and physics are not taught in madrassas.
Agree (3)Disagree (0)Recommend (1)




巴基佬,别担心,宗教学校没有教化学和物理。



SAA (mumbai) 4 hrs ago
Ha Ha Ha... What a joke. On one hand the US calls Pakistan a terrorist state and now is fearful of neclear weapons in the hands of the terrorist. If we go buy the US .. the weapons are already with the terrorists!!! Useless reporting.
Agree (9)Disagree (3)Recommend (1)



哈哈哈...真是一个笑话。一方面,美国称巴基斯坦是恐怖主义国家,如今又担心核武器落入恐怖分子手中。如果我们按照美国所说的来看,那么核武器已经落入恐怖分子手中了!一无是处的报告...
srinivasan (chennai) 3 hrs ago
so world war III will be soon between Muslim countries with non muslim countries. Very good, thanks for china for their nukes technology and thanks for the support and finance aid for US in the name of economic aids & their certificate during 80"s as non nuke nation which was given by American president. Thank you lot america for creating world war III
Agree (3)Disagree (1)Recommend (1)



所以第三次世界大战会在穆斯林国家和非穆斯林国家之间爆发。非常好,谢谢中国提供技术,谢谢美国为非核国家提供的经济援助。非常感谢美国制造了第三次世界大战。
Gaby (chd) 3 hrs ago
Don't worry uncle sam these chines toys will not do any harm...that's a another story if you want to capture them on this base...also don't worry about India we know how to deal with these Pigs...Our supersonic Agni 5 missiles are ready to fire and destroy just wait for 2014 when this congress govt. is out from power....
Agree (0)Disagree (2)Recommend (0)



别担心,山姆大叔,这些中国玩具不会伤人...如果你想在基地中夺取,那么就另一回事了...此外,别为印度担心,我们知道如何对付这些猪...我们的超音速烈火5导弹正在准备就绪中,就等到2014年国大党政服下台的时候吧...




Rajesh (Kolkata) replies to Gaby 2 hrs ago
There is no winner in Nuclear war. The present day Nuclear bombs are 1000 times more lethal than the toys used in Hiroshima/Nagasaki. 10 Nuclear would be enough to wipe out the whole of India and 2-3 would be enough for Pakistan.
Agree (4)Disagree (0)Recommend (0)




核战争没有赢家。在当今时代,原子弹的威力是投在广岛/长崎原子弹的1000倍。10枚核武器就足以抹掉整个印度,2至3枚就足以毁掉巴基斯坦。



Psychopath (Bangalore) 3 hrs ago
Pakistan is a terrorist state and Pakistani Government is a terrorist Government. The nukes are already in wrong hand. The dumb yankees will need another century to realize this. Hahahahahahaha......
Agree (10)Disagree (0)Recommend (1)



巴基斯坦是恐怖主义国家,巴基斯坦政服是恐怖主义政服。核武器已经落入了恐怖分子手中。愚蠢的美国佬还需要一个世纪才能认识到这点,哈哈哈...
eskuma (India) 3 hrs ago
What happens if ISI "handover" the nuclear weapons to terrorists on purpose to use against India? It can happen. Do we have any early alert this to counter this?
Agree (5)Disagree (0)Recommend (0)



要是巴基斯坦三军情报机构故意将核武器"移交"给恐怖分子以对付印度,那会怎么样?这种情况是可能发生的。我们是否有预先准备好的应对措施?




Anil Gupta (Vadodara) replies to eskuma 2 hrs ago
I think those terrorists are more likely to use the nukes against USA in Afgan - to get them out. And maybe in USA itself as a punishment. Most terrorist groups do not have a direct problem with India. The Pak/India tensions are generated by the ISI - so they can fill their own pockets (All big wigs in ISI have become multi - millionaires)
Agree (1)Disagree (0)Recommend (1)




我认为恐怖分子更可能把核武器用于在阿富汗对付美国,为的是把美国人赶出去。可能在美国使用以对其惩罚。大多数恐怖组织并没有和印度有直接瓜葛。印巴紧张关系是巴基斯坦三军情报局制造出来的,目的是填满自己的口袋(巴基斯坦情报局的所有大佬都是百万富翁)。



V.O.S (Shillong) 3 hrs ago
It does not matter much. The Pak Govt. is no better than the Taliban and so is the US who armed Pak.
Agree (5)Disagree (1)Recommend (2)



并不要紧。巴基斯坦没有比塔利班好到哪里去,武装巴基斯坦的美国也是。
Prof Ramesh C Mamghirmalani (Paris) 3 hrs ago
Sooner or later with help of American , Israel and Indian sharp shooters we should kill all Pakistani General, including retired ones including Hamid Gul
Agree (6)Disagree (4)Recommend (2)



总有一天,在美国的帮助之下,以色列和印度的神枪手会杀掉巴基斯坦所有将军,包括已退役的哈米德·古尔。
Ajit Thakur (pune)
So, USA, you know now where the billions of dollars given to Pakistan by your administration are used. Aren't you financing terrorism indirectly?
Agree (8)Disagree (0)Recommend (5)



所以,美国现在知道美国当局给巴基斯坦的数亿美元花在哪里去了。你们是否在间接资助恐怖主义?




R Patel (UK) replies to Ajit Thakur 2 hrs ago
Good point you make - if the USA didn't give Pak so much money - then PAK would be bankrupt; and wouldn't be able to build so many nukes. The USA must accept some responsibility here.
Agree (4)Disagree (0)Recommend (5)




说得很好。如果美国没有给巴基斯坦那么多钱,那么巴基斯坦就会破产,就会无力制造那么多核武器。美国必须负一些责任。



Zain (巴基斯坦奎塔) 2 hrs ago
yawn...
Agree (2)Disagree (0)Recommend (1)



打哈欠...




R (L) replies to Zain 46 mins ago
don't sleep. See your wife is having fun with a kafir.




别睡了,看,你老婆正在和一名卡费勒玩得开心呢



homer (uk) 2 hrs ago
If, the USA was sincere to check Pakistan nuclear and terrorism. It could have declared Pakistan a terrorist state long time ago .
Agree (6)Disagree (1)Recommend (4)



如果美国真的想遏制巴基斯坦的核武器和恐怖主义,那么老早就该宣布巴基斯坦是恐怖主义国家。
Raghav (London) 2 hrs ago
1. This is a propaganda by US. By scaring the world with this, United States provides enormous funding to Pak to "secure" their nuclear sites. This only improves Pak's nuclear infrastructure. 2. Pak's entire nuclear arsenal is only meant for India anyway. So nuclear weapons falling into the hands of terrorists is not going to cause any further damage to us. If fact, we will have few less warheads targeting us. 3. If it does fall into the hands on terrorists, US and its allies in AF-Pak are more likely to be the targets than India. This is because, not all terrorists are anti-Indian. There are different groups with different agendas and Hakkani group and Taliban are stronger of all these groups and ani-american. So the real risk of this happening is only to the US.
Agree (2)Disagree (1)Recommend (3)



1、这是美国的宣传伎俩。通过让世界恐慌,美国向巴基斯坦提供巨额资金,以确保核基地的安全。此举只会改进巴基斯坦的核基础设施。





2、不管怎么说,巴基斯坦的整个核武库只针对印度。所以核武器落入恐怖分子手中不会对我们造成任何进一步危害。事实上,瞄准我们的核弹头会因此减少。





3、如果核武器落入恐怖分子手中,由于并非所有恐怖分子反印,所以美国及其在阿富汗和巴基斯坦的盟友比印度更可能成为袭击目标。不同的恐怖组织有不同的计划,塔利班等反美之流是其中较强的组织。所以,真正面临威胁的只是美国。





原创翻译:三泰虎 http://www.santaihu.com
WW III (World) 2 hrs ago
Lets stop delaying the inevitable. Its time for WW III. Muzzies vs Kafirs. Settle this terror issue once and for all. Either muzzies win and fulfill their fantasy of a world full of pigs or non-muzzies win and we live without terrorism, burqas, camel and goat f******.
Agree (7)Disagree (2)Recommend (4)



既然不可避免,那就别让其耽搁。第三次世界大战也该来了,穆斯林 VS 卡费勒。一劳永逸地解决恐怖主义问题,或者穆斯林获胜并建立充满猪的幻想世界,或者非穆斯林获胜,然后我们生活在没有恐怖主义、罩袍、骆驼和山羊的世界。
donut.dodo (mumbai)
this should actually happen.. one bomb on usa and other bomb on indian parliament. this will ensure 2 objectives. first usa will wipe out pakistan. second- india will clean of all filthy politicians and can make a new beginning. cheers to the paki terrorist.
Agree (4)Disagree (0)Recommend (0)



这个确实可以有...一枚原子弹扔在美国,另一枚扔在印度议会。能确保达到两个目的:首先美国会消灭巴基斯坦,其次印度能清除所有肮脏政客,可以重新有个好的开始。为巴基斯坦恐怖分子欢呼吧。
JCMI (INDIA)
Pakistan govt has to definitely eradicate those terror groups from their soil... else this is inevitable! And falling in to wrong hands means a huge disaster for themselves and others too.
Agree (2)Disagree (0)Recommend (0)



巴基斯坦必须消灭国内滋生的恐怖组织..否则核武器落入恐怖分子手中就不可避免,会给巴基斯坦人和其他人带来巨大灾难。
Deen Kumar (Hyderabad)
forget terrorists; what happens if the present elected govt in Pakistan is overthrown and a very religious general takes over; military rule is quite common place there. If a quirky army general becomes a president of Pak, will he nuke India?
Agree (2)Disagree (1)Recommend (0)



别提恐怖分子了,如果巴基斯坦现任民选政服被推翻,取而代之的是信仰虔诚的将军,结果会如何?军事统治在巴基斯坦很常见。如果一名古怪的将军成为巴基斯坦总统,他会核平印度吗?
SAMI (New Delhi) 1 hr ago
Hoax!!!! Just a pressure game of America.
Agree (0)Disagree (2)Recommend (0)



骗局!只是美国的施压游戏而已。
Ashok Krishnatry (USA)
It was open secret ,why so late reaction/ thinking? USA should act immediately .
Agree (0)Disagree (1)Recommend (0)



这是公开的秘密,为什么反应那么迟?美国应该立即行动。
8月14日,在五角大楼的一场新闻发布会上,美国国防部长帕内塔告诉在场的记者,如果巴基斯坦没有控制好国内的恐怖主义,那么巴基斯坦的核武器有可能落入恐怖分子手中。帕内塔的此番谈话是回复记者有关最新一份国会报告的提问。该份报告称巴基斯坦正加强核能力,目标主要针对印度。帕内塔称,面对恐怖主义是我们共同的事业,恐怖主义不仅威胁我们国家,而且也威胁他们国家。许多巴基斯坦人死于恐怖主义。他们的许多士兵也死于恐怖主义。