原文标题:Pakistanis eye China jobs, take Mandarin lessons
原文链接:http://timesofindia.indiatimes.com/world/pakistan/Pakistanis-eye-China-jobs-take-Mandarin-lessons/articleshow/18872781.cms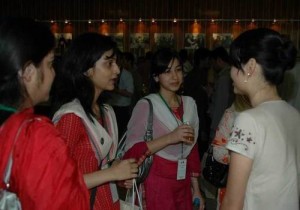 ISLAMABAD: When Misbah Rashid taught Chinese 30 years ago, few signed up. Today her department has more than 200 Pakistani students, increasingly attracted by the prospect of an affordable education and a job.

For decades, a foreign education was the preserve of the richest who could afford the stratospheric expense of sending their progeny to Oxford or Harvard to mingle with an international Westernized elite. But Rashid's pupils are mostly middle class.



伊斯兰堡:拉希德30年前教中文时,很少人报名。如今,在能负担得起教育和有工作机会的前景的日益吸引下,他所在的系有了超过200名巴基斯坦学生。





数十年来,留学教育是富人的特权,他们能承担得起将后代送往牛津或哈佛去与西方精英一起相处的高昂费用,而拉希德的学生大多出自中产阶级。



Ambitious and academic, they lack the means to afford an American or British education and so they sign up for Mandarin Chinese at the National University of Modern Languages in Islamabad.

Some of them hope to get a job with a Chinese company in Pakistan. Others will go on to further studies in China, which offers around 500 scholarships a year and cheaper fees. A course in China costs a few thousand dollars a year, compared with the tens of thousands of dollars US and British universities charge.



尽管雄心壮志和有学者派头,但他们缺乏负担得起美国或英国教育的方法,所以报名伊斯兰堡的国立现代语言大学中文系。





他们中的一些人希望在中国在巴公司获得一份工作,其他人则将去中国深造,每年有500个奖学金名额,留学费用也更便宜。中国一年的课程只要几千美元,相比之下,美国和英国的大学一年收费数万美元。



What is more, some Pakistanis say their great northeastern neighbour makes them feel more welcome. "Nowadays as Pakistanis, you may not be as welcome in all other countries," says 18-year-old Ali Rafi, who applied to study economics at Shangdon University. "But when we went to China. We were always welcomed and honoured." He studies at City School, one of the private schools in Islamabad that has started to offer Chinese lessons to children as young as 12. If everything goes well, the classes will be rolled out across the school's other 200 branches in Pakistan. And other private schools are doing the same.



更重要地是,一些巴基斯坦人说,伟大的东北邻国使其觉得自己更受欢迎。"现今作为巴基斯坦人,你或许并非在所有其他国家都受欢迎。"申请去山东大学读经济学的18岁Ali Rafi说,"但我们去中国时总是受欢迎和尊敬。"他在伊斯兰堡一所叫城市学校的私人学校读书,该校已经开始为小至12岁的孩子提供中文课程。如果一切顺利,该课程会推广到该校在巴基斯坦的其他200个分校。其他私人学校也是在这样做。




以下是印度网民的评论:




Appa Durai (Coimbatore)
If China supports the move, it will be an Islamic nation soon!



如果中国支持此举,那么自己很快会变成伊斯兰国家!
GANGNAM STYLE (S.Korea)
THIS COULDN'T HAVE GOT ANY BETTER!.30 percent of POK given to China and a port written off to china,Now, the people of Pakistan are learning Chinese too,, Good!!!.....Soon Pakistan will be called CHINKISTAN!!...After all, its good for a change, from all the bumm- bl@sts !!
Agree (2)Disagree (0)Recommend (2)



这再好不过了!巴基斯坦把30%的巴控克什米尔给了中国,还有一个港口也划给了中国,巴基斯坦人现在学习起了中文.......好样的!巴基斯坦很快会被称为中国斯坦!毕竟,这种改变是好的!
rk ny (NY USA)
hahhaaaaa.....whatever the pakis do to suck up to the chinese..the chinese know exactly what kind of jobs to offer to the paki slaves....
Agree (3)Disagree (0)Recommend (0)



哈哈.....不管巴基佬如何巴结中国人,中国人非常清楚要提供给巴基奴隶何种工作.....
Arjun (India)
Soon Chinese will kick them out as well, pakistanis simply arent civilised enough to live any where, couple of years ago I was on a visit to the US, when a pakistani man was caught tyring to bomb Time Sq in NY, guess what soon after that incident every pakistani started calling themsleves Indian or Hindu when inquired by an American. When the need arise they hide behind the Hindus.
Agree (4)Disagree (0)Recommend (3)



中国人很快也会把他们踢出来的,巴基斯坦人不文明,到处不受欢迎。我几年前去美国访问,一名巴基斯坦人试图炸纽约时代广场时被抓,猜猜此事发生后怎么了,当美国人询问时,巴基斯坦人纷纷自称印度人或印度教徒。必要时,他们会冒充印度教徒。
sushil (Lucknow)
Good to note that someone is really worried to give education to Pakistanis other than what typical Madrasa's are doing.China has eye on natural sources in Pakistan& Afghanistan.
Agree (2)Disagree (0)Recommend (0)



很高兴注意到有人急着给巴基斯坦人一些典型宗教学校所授以外的教育。中国盯上了巴基斯坦和阿富汗的自然资源。
saakg4 (Duniyan)
I know it, soon, Pakistan will be a province of China. Pakistanis are being taught Chinese so they can assimilate into Chinese culture easily. Hope Bangladesh will not follow....



我知道巴基斯坦很快会成为中国的一个省。巴基斯坦人接受中文教育,是为了更容易融入中国文化。希望孟加拉国别效仿。




sanjeeb (Chennai) replies to saakg4
Bangladesh is already following .... my many Bengali friends studied in Chinese unis.....But problem is west do not recognise it.......now Srilankans are planning so......these r the provinces of China....




孟加拉国已经在效仿了......我的许多孟加拉朋友在中国大学读书,问题是西方不承认其学历......斯里兰卡人也这样计划做.....这些国家都是中国的省.....



ag (usa)
Now they can spread more terror in Xinjiang province to their north with their chinese knowledge.



他们现在可以凭借中文知识在xj扩散更多恐怖事件。
Rangeela Rasool (India)
Now we will have some 26/11 or 9/11 in China too.
Agree (3)Disagree (0)Recommend (1)



我们也将在中国看到类似26/11或9/11的事件。
Shiv Kumar (India)
Beggar country is now begging China for jobs. No jobs and prospects in their country. Porkistan should learn lessons from hindustan's economic miracle/progress instead its begging chinese monkeys.



乞丐国家现在向中国乞讨工作了,他们国内没有工作,没有前景。巴基斯坦应该学习印度斯坦的经济进步和经济奇迹,别去向中国猴子乞讨。




Frank (UK) replies to Shiv Kumar
Beggars are beggars. They will never learn any thing except begging tricks because they got the taste of free eating and not working hard for it. China is short of women so they can have free ladies too.If don't work why a lady will stay with you. Am i wrong?Pakistani men are 90% not willing to work at all they just want free money and luxury life and drug.
Agree (2)Disagree (0)Recommend (1)




乞丐就是乞丐,除了乞讨伎俩,永远学不到任何东西,他们一旦尝到免费吃喝的滋味后就不会努力工作。中国缺少女人,这样可以免费得到女人。如果不工作,女人为什么要和你呆在一起。我错了吗?90%的巴基斯坦男人不愿意工作,只想免费拿钱,过奢侈生活,嗑毒品。



sdas (usa)
What happened to their claim that they are descendants of Arabs !! I thought Saudi Arabia was their homeland and it would be fitting for them to work there. Pakistani's truly lack identity.
Agree (8)Disagree (1)Recommend (5)



他们说自己是阿拉伯后裔,难道有变!我还以为沙特是适合他们工作的祖国。巴基斯坦人实在是缺少身份认同。
以下评论来自:http://timesofindia.indiatimes.com/world/pakistan/Pakistan-middle-class-fixes-sights-on-China/articleshow/18861815.cms
Ismail Khan (Dubai)
Porkis should not get excited with this illusion. Everyone knows Chinese are master traders and they will praise you to the sky when you are their client. I noticed that during our group's recent visit to Shanghai and Beijing. We were very welcome guests. Why will they not praise you when they can make money out of you.

It is incorrect impression the Porkis carry that getting visa for China is easy. I remember when I went to apply for a visa at Chinese consulate in Dubai, while being Indian I had no problem but I saw Porkis were turned away with a frown on the Consular staff face and aggressive response that they do not give visas to Porkis. I dont understand how Porkis claim that they are welcome in China. I think if Porkis believe that being literate in Chinese language will bring them jobs in China, they should re-think and stop wasting their money and time. It may be different thing with proficiency in Chinese language will bring them jobs in their own country with Chinese companies.
Agree (22)Disagree (6)Recommend (13)



巴基佬不应该对这个错觉感到激动。人人皆知中国人是贸易大师,如果你是他们的客户,他们会把你捧到天上去。我在我们团队最近去上海和北京访问时注意到了这个,我们当时是非常受欢迎的客户。当他们可以从你身上赚钱时,为什么不夸你呢?





巴基佬可以轻易获得中国签证的观念是不正确的。我记得有次在迪拜领事馆申请签证时,作为印度人的我没有遇到麻烦,但我看到领事馆工作人员皱着眉头拒绝向巴基佬颁发签证。我不理解为何巴基佬宣传自己在中国是受欢迎的。如果巴基佬认为精通中文就可以给其在中国带来工作,那么他们应该重新考虑下,别浪费时间和金钱了。如果说是给其带来中国在巴公司的工作,那情况可能不一样。
Murali (Bangalore)
What else can the poor children do when all you can get inside Pakistan is Madrassa education?
Agree (10)Disagree (7)Recommend (4)



这些穷孩子在巴基斯坦国内只能接受到宗教教育,还有其他什么是他们做得来的?
Genghis Khan (HINDU Republic Of INDIA)
China should be beware of Bombers. Right Now China is a Peaceful Country except that bloody musallas majority province called XINXIANG.
Agree (28)Disagree (9)Recommend (17)



中国应该小心扔炸弹的人,该国总体上是安宁的,穆斯林占多数的xj除外。
MP Abraham (Chennai)
Pak students agree that they are not welcome in the West like before. Anyway students opting to study in China are a lot more safer than in their own country were street violence is a daily affair.
Agree (9)Disagree (6)Recommend (3)



巴基斯坦学生认可他们在西方不像以前一样受欢迎的这一说法。不管怎样,学生选择在中国读书总比在街头暴力是家常便饭的国内要安全得多。
thakur (earth)
Very good. Now Talibanis will make a base in China & eat pork which they really miss in Paki land. Its good move to counter China's influence over Asia. Now these Pakis will first build mosks in China where they can easily make bombs-knives-RDX inside them. Let China suffer, poor chinese.
Agree (17)Disagree (4)Recommend (7)



非常好。塔利班会在中国建立基地,以及吃那些在巴基斯坦吃不到的猪肉。此举能很好遏制中国在亚洲的影响。这些巴基佬会首先在中国建清真寺,然后在那里制造炸弹、刀具、旋风炸药等。让中国遭殃去吧,可怜的中国人。
JayG (delhi)
Pakistan has a middle class? Really?
Agree (25)Disagree (4)Recommend (9)



巴基斯坦有中产阶级?真的吗?
babafateh (Mumbai)
The day is not far when we'll find Pakistanis with small eyes and pale skin...
Agree (23)Disagree (4)Recommend (6)



我们看到小眼睛和苍白肤色的巴基斯坦人的那一天不会远了......
Sagar (Pune)
China will realize it hard way. China has not yet witnessed human bombs in its country. Now since they have welcomed Pakis, its only a matter of time few of the brainwashed Pakies will blow themselves up in China. A pest is a pest. There is nothing like a good pest.
Agree (18)Disagree (5)Recommend (8)



中国将会艰难地认识到其错误,他们还没有在国内目睹过人弹。既然欢迎巴基佬,那么少数受洗脑的巴基佬在中国自爆只是时间问题。害虫就是害虫,没有什么好的害虫。
Rajguru (delhi)
Birds of a feather flock together !!! These countries together with North Korea are Axis of evil. If third world war ever starts (Very much likely ) these countries will be the culprits.
Agree (7)Disagree (3)Recommend (4)



物以类聚人以群分!这些国家加上朝鲜是邪恶轴心。如果第三次世界大战爆发,这些国家(很可能)是罪魁祸首。
JCMI (Hindustan)
China will definitely realize one day in the near future that Pakistan is nothing but trouble for them!
Agree (22)Disagree (2)Recommend (15)



中国会在不久未来的某一天认识到巴基斯坦只会给他们带来麻烦!
Goldman (Goa)
For survival of Pak for Forex they are planning the only one commodity for Export, Paki Girls to Chinkies which are short of one child policy in China!
Agree (16)Disagree (4)Recommend (5)



为了生存、为了外汇,他们计划向中国佬出口唯一的商品——巴基斯坦女孩,独生子女政策导致中国缺少女性!
K.S.Rao (BANGALORE)
There are many jihadi elements in middle class,of Pakistan,they should be encouraged to learn Mandarin in China,so that there will be pause in terror activities.A rogue contry attracts another rogue country,so,there is no surprising.
Agree (9)Disagree (3)Recommend (5)



巴基斯坦中产阶级有许多圣战分子,应该鼓励他们去中国学习中文,这样他们就会暂停恐怖活动。一个流氓国家吸引另一个流氓国家,没啥好意外的。
ert12Sr (India)
CHINA must remain very careful... these Paki will call Chinese first to Pak.. will take money and help from China.. then they will start infiltrating in China and after some time the world will have to tackle a new Organization CHINESE TALIBAN
Agree (12)Disagree (3)Recommend (8)



中国得非常小心......这些巴基佬会先征召中国人去巴基斯坦,从中国带入资金和援助......然后开始在中国渗透。一段时间后,世界将不得不对付一个叫做中国塔利班的新组织。
Whats in a name (Krypton)
Porkis you don't have to move to China for a job or learn Chinese. In few years time China will take over your country then you can continue living in your country and work for the Chinese. Maybe chances are that Chinese people are going turn your country into worlds biggest toilet, thereby setting a Guinness record. :) Cheers to you morons.
Agree (16)Disagree (9)Recommend (9)



巴基佬没必要非得去中国找工作或者学习中文。几年后,中国会接管你们国家,你们可以继续在自己国家为中国人工作。中国人有可能会把你们国家变成世界最大的厕所,从而创造一个吉尼斯纪录 :)



译文来源:三泰虎 http://www.santaihu.com



Record keeper (Guinness Record) replies to Whats in a name
Pakistan becoming world's biggest toilet? That will never happen. Currently, India tops the world with 58% of its 1.2 billion population defecate in the open ( that is a whopping 700 million people!), and in comparison, only 4.5% of Pakistan's 180 million population do likewise (that's only 8 million people). Even if every Pakistani stop using the cubicle and sh!ts in the open, that dubuous Guineness Record will forever be yours. Congratulations, sh!thole!
Agree (14)Disagree (8)Recommend (6)




巴基斯坦成为世界最大的厕所?决不可能!印度12亿人中有58%的人在户外方便(也就是惊人的7亿人),高居世界榜首。相比之下,巴基斯坦1.8亿人中只有4.5%的人(也就是800万人)在户外方便。即便每一名巴基斯坦人不使用小隔间(方便),而是去户外拉,这个吉尼斯纪录也永远是你们的。




Whats in a name replies to Record keeper
Point is not us. Chinese are going to take over Porkistan very soon, and they will defecate on your country making it the biggest sh it iest (which already is) country in the world. F** k you c u n t h oles which needs to beg to survive.
Agree (5)Disagree (3)Recommend (3)




问题不在我们,而是中国人很快将接管巴基斯坦,他们会在你们国家随地大便,使得你们国家成为世界上最肮脏的国家(已经是了)。你们这些人TM的要乞讨才能生存下去。




Whats in a name replies to Record keeper
Porkis, don't waste time commenting here. Isn't it about time to beg from the Chinese? or else how will you people eat? Hahaha beggars.
Agree (1)Disagree (1)Recommend (1)




巴基佬,别浪费时间在这里评论了,向中国人乞讨的时间到了?否则你们吃啥?哈哈,乞丐。



Peace hope (India)
China is a place for hardworking. They will not allow Pakistani people to visit mosques between working hours. I have seen Muslims in my office visit Mosque in every friday and every day during Ramazan. And they wash their legs in office basin (YUUK!). The chinese will not allow that.
Agree (12)Disagree (3)Recommend (6)



中国是要求勤劳工作的地方,他们不会允许巴基斯坦人在工作时间去清真寺的。我办公室的穆斯林每周五或者斋月的每天都会去清真寺,他们会在办公室洗脚,中国人不会允许这样做的。
ashis (kolkata)
This is the Pakistani side of the story. As Pakistan is a free country when compared to China, I do not doubt its authenticity. What about the Chinese view of Pakistan? No Chinese can frankly speak his mind. Still I guess, the Chinese people serving in Pakistan are happier than their Pakistani counterpart serving in China. If at gun point, I am given two options - Islam and communism, I would opt for the former (but desert at the first opportunity).
Agree (3)Disagree (6)Recommend (2)



这是巴基斯坦方面的报道。相比中国,巴基斯坦是一个自由国家,我不怀疑其真实性。中国人对巴基斯坦的看法呢?没有中国人能坦诚说出自己看法,所以我猜在巴基斯坦工作的中国人比在中国工作的巴基斯坦人要更快乐。如果被枪指着,给我两个选择——伊斯兰和共产主义,我会选择前者。
Kartikeya Singh (Gurgaon)
If it weren't for the Pakis, China would have an even greater trading surplus. Now at least China imports terrorists!
Agree (1)Disagree (0)Recommend (1)



要不是巴基佬,中国的贸易剩差可能会更大,现在中国至少有进口恐怖分子!
Gautam (Patna)
No wonder Buddhism is on rise in Pakistan
Agree (6)Disagree (0)Recommend (1)



难怪佛教在巴基斯坦抬头。
confess (slimy mosque)
I want to sht in a chinese persons rice basket
Agree (0)Disagree (2)Recommend (0)



我想在中国人的米篮子里拉屎。




A K Gupta (Bangalore) replies to confess
Yukkk!! Now I cant eat Rice for one week.




啐!我现在一个星期吃不下饭了。



印度人看中文热。三泰虎3月9日译文,据《印度时报》报道,拉希德30年前教中文时,很少人报名。如今,他所在的系有了超过200名巴基斯坦学生。数十年来,留学教育是富人的特权,他们能承担得起将后代送往牛津或哈佛去与西方精英一起相处的高昂费用,而拉希德的学生大多出自中产阶级。他们中的一些人希望在中国在巴公司获得一份工作,其他人则将去中国深造,每年有500个奖学金名额,留学费用也更便宜。中国一年的课程只要几千美元,相比之下,美国和英国的大学一年收费数万美元。