版权所有:http://www.santaihu.com
原文标题:Pakistan, China have non-strategic nukes
原文链接:http://www.rediff.com/news/slide-show/slide-show-1-pak-china-have-non-strategic-nukes-india-doesnt/20120925.htm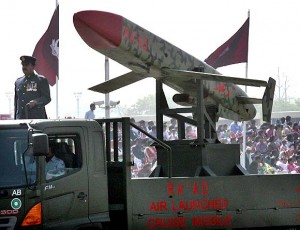 T

o enhance its nuclear capability, Pakistan is developing non-strategic nuclear weapons and thus joining the ranks of countries like the United States and Russia, a leading American think-tank has said.

India is not listed among five of the nine-nuclear weapons powered countries that has or is developing non-strategic nuclear weapons, said Hans Kristensen, director of the Nuclear Information Project, and Dr Robert S Norris, senior fellow for Nuclear Policy, in a new edition of Nuclear Notebook.

"Today, at least five of the world's nine nuclear weapons states have, or are developing, what appears to meet the definition of a non-strategic nuclear weapon: Russia, the United States, France, Pakistan, and China," they concluded in the latest issue of Bulletin of the Atomic Scientists.



美国一家智库称,为了加强核能力,并加入美国和俄罗斯等国家之列,巴基斯坦正在开发战术核武器。





在《核记事本》的一个新版里,核信息项目主任克里斯腾森和研究核政策的高级研究员称,在9个拥有核武器的国家中,有5个已经拥有或者正在开发战术核武器,印度并没有跻身5个国家的名单之列。





在《原子科学家公报》的最新一期里,他们得出结论:"今天,在9个核国家中,至少有5个已经拥有或者正在开发似乎符合非战略核武器定义的战术核武器,分别是俄罗斯、美国、法国、巴基斯坦和中国。"




以下是印度网民的评论:




Futile for Pakistan to build nukes
by Aniruddha Kaul

No matter how many nukes Pakistan builds, they will anyway eventually land into hands of terrorists.



不管巴基斯坦制造多少枚核武器,最终都会落入恐怖分子手中。
Nuke is a Nuke
by ratanlal purohit

SRRATEGIC OR NON STRATEGIC IT IS ALWAYS TRAGIC. CRAZY TO HANDLE BY MONKEYS.



不管是战略核武器还是非战略核武器,都会带来悲剧。疯狂的猴子才会使用。
i am surprised to see the murders..
by Golden

who amass and pile up the weapon of mass destruction, how much they cry when others do the same..



我吃惊地发现,那些囤积大规模杀伤性武器的刽子手,对效仿他的人是如何强烈地咆哮...




Re: i am surprised to see the murders..
by some one
Indians do not see the writing on the wall, perhaps because of a tradition of mass illiteracy. The false hypothesis that nuclear weapons are the ultimate, and therefore cannot be used in normal warfare, has been rejected by all countries except India, which prefers to live in fool's paradise regarding their national security.




One day the countries like India will find themselves at a loss when the enemy strikes a tactical nuclear weapon. It might well become too late to save their freedom.




印度人大字不识一个,可能是公众普遍文盲的缘故。除了印度之外,所有国家均否认了这样的一个虚伪假设,即核武器是终极武器,不能在常规战争中使用。在有关国家安全问题上,印度人喜欢做黄粱美梦。




总有一天,当敌人动用战术核武器时,印度等国家会茫然不知所措。要想保住自由,或许已经为时已晚。




原创翻译:三泰虎 http://www.santaihu.com



NON - STRATEGIC NUKES NOT REQUIRED !
by benny franklin

We don't need it, if they use any non-strategic nukes on it be ultr light,light,mild or whatever.We will use stragetic nukes to finish the job FULL STOP ! No first does not mean one can use low yield non strategic nukes... END OF STORY...



我们不需要战术核武器。如果敌人使用战术核武器,不管当量多大,我们就用战略核武器彻底结束战争!一个国家不首先使用核武器,并不意味着可以使用低当量的非战略核武器...




Re: NON - STRATEGIC NUKES NOT REQUIRED !
by lankapat
so says a man from a country that couldn't even defeat the LTTE. Our brave Lankans completely crushed the LTTE. So weak India can use anything it wants, you know you will lose.




你们国家连泰米尔猛虎组织都打败不了,你却在这里耍嘴皮子。我们勇敢的斯里兰卡人彻底粉碎了泰米尔猛虎组织。软弱的印度不管用什么方法都会遭受失败。




Re: Re: NON - STRATEGIC NUKES NOT REQUIRED !
by Mas
That is true to some extent. But at what cost? How many presidents got killed by LTTE? How many ministers got killed, how many people got killed?




Finally, do you think, you guys defeated LTTE without any help from India?
Yes, India is now politically weak country, but there is NO - I repeat NO shortage of brave soldiers in India.




某种程度上是对的。但代价呢?多少总统被泰米尔猛虎组织杀掉?多少部长被杀,多少人民被杀?




难道你们认为自己在没有印度帮助的情况下打败了泰米尔猛虎组织?是的,印度现在是政治软弱的国家,但印度并不缺少勇敢的士兵。




Re: Re: NON - STRATEGIC NUKES NOT REQUIRED !
by Endangered Indian
Dear Srilankan brother, please do not consider out restraint as a weakness. Believe me with the kind of neighbours India is surrounded with, if we didnot show restraint for the last three decades...Indian sub-continent would have been obliterated by now including Srilanka. So thank India for being a responsible and level headed nuclear power and don't mock its patience and understanding attitude towards it's neghbours who have done nothing but inflicted damage on us. Period




亲爱的斯里兰卡兄弟,请不要把我们的克制当做软弱。相信我,就凭印度周围那些国家的货色,如果我们在过去三十年里不保持克制,包括斯里兰卡在内的印度次大陆可能已经被毁灭。所以,感谢印度是一个负责任的核大国,印度对只会给我们带来伤害的领国很有耐心,并抱着一种理解的态度,请不要嘲笑。




Re: NON - STRATEGIC NUKES NOT REQUIRED !
by some one




If an enemy tactical nuclear weapon lands in a village district and kills only 50000 Indians, will the them Prime Minister be sure to fire India's strategic nuclear weapons, knowing that the toll would be in the neighborhood of 700 million people if it is fought with full force by either side ?




What is the level of attack at which all future PMs will fire the strategic nuclear weapons ? No one has an answer with proof.




It is this human psychological property that those countries wish to make use of to launch say a 26/11/2008 type attack with a few tactical nuclear weapons kept inside the Bags.




One need not fight the enemy if one can make him unwilling to fight, goes the saying.




如果敌人的战术核武器落在农村地区,并造成5万印度人死亡,总理确定会下令发射战略核武器吗,他可深知全面核战会造成邻近地区7亿人丧生。




印度遭受什么程度的攻击,会让未来的总理下令发射战略核武器?没有人答得上来。




人类的心理特性使那些国家希望把一些战术核武器装在袋子里,并发起类似孟买11/26那样的恐怖袭击。




有句俗话,不战而屈人之兵才是上策。



So what
by Mas
Our prince is itself a strategic weapon. Prince will go to border and fart , vaporizing enemy soldiers.



我们的王子本身就是战略武器。王子去边界上放一个屁,就能让敌人士兵蒸发。
India should take steps before someone in pakistan decide to nuke
by Such jano

india.

but do we have the GMD required to do that?

India need to invest in developing GMD.



在巴基斯坦的某些人决定核平印度之前,印度应该采取措施。





我们有必要的陆基中段防御系统(GMD)吗?





印度应该投资开发这个系统。




Re: India should take steps before someone in pakistan decide to
by Golden
loundia got foked by UK for long and then gotSodomisedBy USA for long, still there is not GaandMeiDam(GMD). when will it come then...




印度被英国虐待了很久,随后又被美国虐待,如今仍然没有GMD系统,什么时候会有呢...



mad
by ravi s

what else do we expect from a country that is gonna bring doomsday to this world....surely they will one day be ruled by a mad man who will nuke india...



我们还能从将给世界带来末日的国家那里期望什么呢...那些国家总有一天会被下令核平印度的疯子统治...




Re: mad
by Golden
loundia should have been nuked long back. Zionists would have lost one loyal slave and have not found any substitute in the subcontinent...alas it did not happen..




印度早就应该被核平。犹太复国主义者会失去一个忠诚的奴隶,并在印度次大陆上找不到替代者...唉,没有发生...



Becuase
by Sunil Kumar

Because we have bombshells in Bollywood that will take care of everything and we have an addiction to TV, which will lead us to heaven without pain.



我们有可以解决一切问题的宝莱坞大片,我们沉迷于电视,可以让我们毫无痛苦地升天堂。




Re: Becuase
by some one




India got free without much fighting.




印度没怎么战斗就获得了自由。



Does not matter
by Chris Martin

It does not matter if they have hundreds of nukes or they have strategic or non strategic nukes. Only one nuke is enough to destroy the world forget pakistan or china. And India has more than one.



不管他们是否拥有数百枚核武器,不管拥有的是战略核武器还是战术核武器,都不重要。只要一枚核武器就足以摧毁世界,更遑论摧毁巴基斯坦或者中国。印度可不止有一枚核武器。





原创翻译:三泰虎 http://www.santaihu.com
Strategic or non-strategic : one and the same thing
by abhi ganguly

As long as India have nukes which give strong deterrence value to our overall defence response then what is the need to categorise them as non-strategic assets? In any case, a "non-strategic nuke" is not going to be more frequently used compared to a "strategic nuke", so what practical difference does it make to categorise them into multiple sub-heads? Even the most basic nuclear weapon would be used by a nation under rarest of situations and only as a weapon of last resort.

To bring an analogy(proper or improper), I have really never understood the differentiation marketers try to make between a male fairness cream and female fairness cream. It does the same " strategic job" of lightening the skin which is important to get chosen for marriage purpose for many.:)



只要印度拥有具备强大威慑力的核武器,那么有必要把核武器列入非战略资产吗?不管怎样,相比"战略核武器","非战略核武器"并不会更经常被使用。所以,把核武器分成多个子弹头有什么意义呢?即使是最基本的核武器,也是一个国家在罕见情况下最后付诸的武器。





打个比方,我一直没有理解市场营销者努力在男用美白霜和女佣美白霜之间所做的差异化营销,不都是用于美白皮肤吗。在许多人的婚姻择偶中,白皙皮肤能发挥重要作用。 :)




Re: Strategic or non-strategic : one and the same thing
by Bharat Bhushan
'Strategi" is code for battlefield nukes, and for short-distance nukes, as against ICBM--Inter-Continental Ballistic
Missile-launched warheads, which would target cities across India's North, West and South.




"战术核武器"意思是战场核武器和短程核导弹。相比较而言,洲际弹道导弹瞄准的是印度北部、西部和南部的各城市。




Re: Re: Strategic or non-strategic : one and the same thing
by bigben bigben
True. But use of tactical nukes (battlefield nukes) will result in response using strategic nukes (city destroyers). So if Pak uses a tactical nuke on a Army Division, India can wipe out Islamabad with a strategic nuke. Pakis will be m0r0ns to even think of using tactical nukes.




正确,但使用战术核武器(战场核武器)会招致战略核武器(城市摧毁者)的报复。如果巴基斯坦对印度一支军队使用战术核武器,那么印度可以用战略核武器把伊斯兰堡抹去。即便是怀有使用战术核武器的想法,那么巴基佬就是傻瓜。



non-strategic nukes
by Pappu Nuni

I think USA is planing to sell some more defence product to India.



我认为美国计划向印度出售更多防卫武器。
We are peaceful
by Ashish Sharma

We don't believe in war. We don't believe in killing. We don't believing in weapons of mass destruction. We don't believe in using nuclear weapon first on our enemies. We believe in friendly relations with our neighbors. We belive in forgiving enemies who attach us annd set them free. We follow in Ganndh1an principle of allowing our enemy to slap us again on the second cheek. Unfortunately we have only two cheeks (on our face), we wish we had more cheeks and show our peaceful intentions by allowing other to slap us. I don't understand what's the need for such a peaceful nation to even have defence forces.



我们不主张战争,不主张杀戮,不主张使用大规模杀伤性武器,不主张对敌人首先使用核武器。我们主张与邻国友好相处,主张原谅和释放攻击过我们的敌人,遵从允许敌人在另一面脸上给我们留下一记耳光的甘地主义原则。不幸地是,我们只有两面脸,要是有更多脸就好了,可以让敌人再扇我们耳光,以表达我们的友好意图。我就不理解了,如此爱好和平的国家需要防卫力量干嘛。
dear rediff...
by Ashish Sharma
What these moron ministers don't understand that old days are over when wars were fought by people with swords in hand. one nuclear attack at a curucial target can cripple the entire defence.



这些白痴部长们怎么就不理解呢,靠士兵用剑来打仗的古老时代已经一去不复返了。对一个至关重要的目标发起一次核袭击,就可以瘫痪整个防卫力量。





版权所有:三泰虎 http://www.santaihu.com
Indian politics
by meerazherali

Indian politics is based on caste and creed.
Politicians do all scams and eataway countires natural resources and when general public asks about it they simply divert it to caste or nieghbouring countries threat. It is a sorrow story of our indians.



印度政治建立在种姓和信仰之上。





政客们干尽一切丑闻,还吞掉国家的自然资源。当公众问起来时,他们就把人们的注意力转向种姓问题或者领国带来的威胁。这是印度人的悲哀写照。
so what ?
by A M

so what if Pakistan, China have non-strategic nukes and India doesn't....India has 2G, CWG and Coalscam i bet Pakistan, China doesn't



巴基斯坦和中国有战术核武器,印度没有,那又怎么样...印度有2G丑闻、英联邦运动会丑闻和煤炭丑闻,我敢打赌巴基斯坦和中国没有。
Politicians least bothered.
by prasad

Our politicians are least bothered. They are always fighting for power. National security must be given atmost importance. Rouge states like pakistan doesnt hesitate to do anything, They are physcopaths.



政客们漠不关心,老是为了权利而斗争。国家安全必须被赋予第一重要性。巴基斯坦等流氓国家什么事情都做,毫不含糊...
美国一家智库称,为了加强核能力,并加入美国和俄罗斯等国家之列,巴基斯坦正在开发战术核武器。在《核记事本》的一个新版里,核信息项目主任克里斯腾森和研究核政策的高级研究员称,在9个拥有核武器的国家中,有5个已经拥有或者正在开发战术核武器,印度并没有跻身5个国家的名单之列。在《原子科学家公报》的最新一期里,他们得出结论:"今天,在9个核国家中,至少有5个已经拥有或者正在开发似乎符合非战略核武器定义的战术核武器,分别是俄罗斯、美国、法国、巴基斯坦和中国。"