Rahul Gandhi gets 2 years in jail for 2019 Modi remark; his future as MP at stake
拉胡尔·甘地因2019年诽谤莫迪被判2年监禁;议员资格岌岌可危
SURAT: Congress's Wayanad MP Rahul Gandhi faces possible disqualification from Lok Sabha and a six-year bar on contesting elections after a district court in Gujarat's Surat on Thursday sentenced him to two years in jail in a 2019 criminal defamation case filed by a BJP MLA over his remark at a poll rally in Karnataka's Kolar: "How come all thieves have the Modi surname?"
Chief judicial magistrate HH Varma, who held Rahul guilty of criminal defamation under sections 499 and 500 of the IPC, granted him bail against a bond of Rs 15,000 and suspended the sentence for 30 days to allow him to appeal the verdict in a higher court. Sources in Delhi said that at a late-evening huddle, legal experts advised Rahul to appeal against the setback in the sessions court at Surat.
苏拉特:国大党议员拉胡尔·甘地现在面临着丧失国会议员资格,且6年不得参与竞选的可能。古吉拉特邦苏拉特地方法院周四判处拉胡尔·甘地有期徒刑两年,该诉讼案是由人民党议员提起的,称拉胡尔曾在卡纳塔克邦科拉尔的一次投票集会上说:"为什么所有的小偷都姓莫迪呢?"
首席法官HH Varma根据IPC第499条和第500条判处拉胡尔犯有刑事诽谤罪,批准他缴纳1.5万卢比的保释金获得保释,并将刑期缓期30天执行,拉胡尔可向更高一级法院提出上诉。德里消息人士称,法律专家建议拉胡尔对苏拉特法院提出上诉。
Many experts said, kicks in as soon as a member of Parliament or a state legislature is convicted of an offence punishable with a sentence of two years or more. This puts Rahul at risk of eviction from the electoral arena if the higher courts don't overturn CJM Varma's order.
许多专家表示,一旦议会或邦立法机构的议员被判有罪,将被判处两年或两年以上的监禁。如果高级法院不推番CJM Varma的判决,拉胡尔就将面临被驱逐出选举舞台的风险。
Petitioner Purnesh Modi, who is the MLA of Surat West, had said in his 2019 complaint that Rahul insulted crores of people with his remark.
Rahul's lawyer Kirit Panwala pleaded for a milder sentence on the ground that his client didn't intend to insult anyone. "The complainant has not suffered any kind of pain or loss, and the accused has never been found guilty of any crime before." he told the court.
After his conviction, Rahul told the court that he had delivered the speech at Kolar in line with his duty and in public interest.
起诉人普尔内什·莫迪是西苏拉特的议员,他在2019年的诉状中称拉胡尔的言论侮辱了亿万人民。
拉胡尔的律师基里特·潘瓦拉请求从轻判决,理由是他的当事人并无意侮辱任何人。他在法庭上说:"原告并未遭受任何痛苦或损失,被告以前也从未被判犯有任何罪行。"
被定罪后,拉胡尔对法庭表示他在科拉尔发表的演讲符合他的职责和公众利益。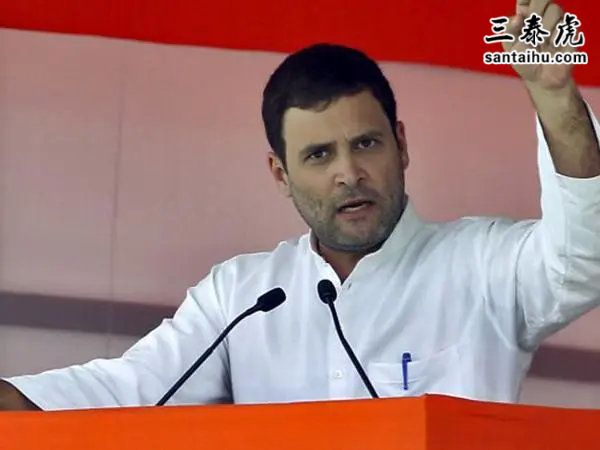 以下是印度时报读者的评论:
Justin• Justin•Las Vegas•4 days ago
Now BJP needs to be worried about 2024 elections, as RG usually gets them the max seats :)
现在人民党得担心2024年的选举了,拉胡尔总会给他们最多的席位:)
dsv•30256• Justin•3 days ago
Please don't worry RaGa will be released just before the elections, and he will howl louder once he's out. That will automatically give BJP it's biggest ever election win! Inshallah!
别操心拉胡尔了,他在选举前肯定会被释放的,一旦获释他一定会叫得更大声。这会给人民党带来有史以来最大的选举胜利!
Exaltedman•33733• Justin•USA•4 days ago
Per dumb RaGa India has no de ocracy now-a-days, but plenty of Z level free security, free salary, free bungalow, free food and plenty of corrupted money looted from public coffers and stashed at various secret locations around the globe !!!
按照拉胡尔这个蠢蛋的说法,印度现在没有皿煮,但有人身安全、免费工资、免费平房、免费食物,还有大量从国库中贪污的赃款窝藏在全球各地的秘密地点!!
Smiling Buddha•30008• Justin•Bengaluru•4 days ago
This News it-self shall serve the purpose!! Any ways Pseudo-secular parties have done enough damage to national interest; who all failed to do even simple common civil codes for secular country
这则新闻本身就足以达到目的了!!伪世俗政党已经对国家利益造成了足够大的损害;没有人为世俗国家制定过哪怕是简单的民法典。
Rajeev Kumar• Rajeev Kumar•4 days ago
Italian thugs must be taught lesson for humiliating us Indians
意大利暴徒羞辱了我们印度人,必须给他点教训。
Abraham Jacob•843• Rajeev Kumar•4 days ago
Mr. Rajeev Kumar. May I kindly request you could highlight how italian thugs have humiliated us?
Rajeev Kumar,我恐怕得请你再说说意大利暴徒是如何羞辱我们的?
arun kesavan•5059• Abraham Jacob•Bangalore•4 days ago
By going around the world and insulting India itself is enough for him to be thrown out of country let alone the financial crimes conducted in india
他在世界各地侮辱印度,光凭这一点就足以让他被驱逐出境了,更不用说他在印度实施的金融犯罪了。
Exaltedman•33733• Rajeev Kumar•USA•4 days ago
In the end if he loses his status as an MOP, then we would request GoI to remove any security provided to him at taxpayers' cost !!!
如果他最终失去议员身份,那么我们可以要求政府不再用纳税人的钱为他提供安全保障!!
Jules•530• Rajeev Kumar•4 days ago
what to do with the desi thugs in power
对这种有权有势的暴徒,我们该怎么办?
Ravi Sharma•602• Ravi Sharma•4 days ago
No fan of Congress, or the Gandhis... but come on, that's hardly a remark worth sending someone to jail over. I am sure more people (myself included) have called the Gandhi family as thieves....
我不喜欢国大党,也不喜欢甘地家族。但拜托,就凭这句话根本不值当把人送进监狱。我相信更多人(包括我自己在内)会把甘地家族称为小偷....
Ruchir Goyal•17417• Ravi Sharma•Delhi•4 days ago
Calling Gandhi family a thief or Modi a thief is different... But saying everyone with name Modi is a thief is a big offense... We never say that everyone with surname Gandhi is a thief...
称甘地家族为贼,和称莫迪为贼是不一样的…但是说所有姓莫迪的人都是小偷?这就是一种严重的冒犯…我们从来没说过所有姓甘地的人都是小偷这种话…
cha•11• Ravi Sharma•3 days ago
If one is not held accountable, then theres no end to this nonsense and hes repeatedly doong this which even tue court said. And Gandhi family has criminal cases under trial against them.
如果不追究责任,那么这种无稽之谈就永远没有尽头,他一而再、再而三地诽谤。甘地家族还背负着刑事案件呢。
Varun Verma•16084• Ravi Sharma•4 days ago
Calling Gandhi family thieves is one thing but calling everyone with surname Gandhi a thief is another thing altogether....
称甘地家族为贼是一回事,但称所有姓甘地的人都是贼则完全是另一回事了....
sachin n•17461• Ravi Sharma•Location•4 days ago
Can I try to give another perspective. This is a verdict for Rahul's London speech.
我能不能试着换个角度来说两句。这是对拉胡尔在伦敦演讲的判决。
abundantstockp•9100• Rajiv Chadha•4 days ago
They say so many things that are straight-out twisted lies. In-fact that's how all politicians are irrespective of parties. So, putting Rahul in jail for 2 years for a comment like that is nothing but scaring the opposition gimmick. In fact, nothing will come out of this. The higher court will stay this judgment. But for sure BJP will accomplish what they want with it. Creating fear. I think this is just the begng of public outcry.
他们说过太多彻头彻尾、歪曲事实的谎言了。事实上,所有的政客都是如此,不分党派。所以,光凭这样的言论就把拉胡尔关进监狱2年,不过是吓唬反对派的噱头罢了。这么做是不会有任何结果的。上级法院会维持这一判决。但人民党肯定会得偿所愿。创造恐惧。我认为这只是公众抗议的开始。
Rohit Pande Troll Hunter•18984• Utkarsh Jhala•4 days ago
With Rahul out of picture, other options will look significantly better.
拉胡尔不参与竞选的话,会好太多了。
Arun Kumar•233•4 days ago
This guy does not know what is right and what is wrong. I think he should be sent to juvenile jail.
这家伙分不清对错好坏。我觉得他应该被关进未成年人看守所。
User Joshi•14417• Arun Kumar•4 days ago
EVEN AGRA MENTAL HOSPITAL. RANCHI & SHAADRA HOSPITAL WANT NAME A NEW DISEASE AFTER SWAMEE PAPPOO
或者阿格拉精神病院也行。Ranchi & shaadra医院刚好想为一种新疾病起名SWAMEE PAPPOO以示纪念。
User rd•4572• User rd•4 days ago
bjp is sacred of rahul ghandi for 2024 election as main opposition leader SHAME ON AMIT SHAH
人民党这是害怕拉胡尔作为主要反对党的党首参加2024年的选举呢,真是不要脸。
Raj•48893• User rd•4 days ago
Yeah, BJP is sacred. That part is agreed boss
没错,人民党吓尿了。我同意你的这句话。
tom sawyer•22359• User rd•4 days ago
Yeah bjp is very sacred
If pappu goes to jail who will campaign for Modi
对对,人民党太害怕了。
如果拉胡尔入狱,谁能给莫迪陪跑呢。
User Balkur•21474• User rd•4 days ago
what nonsense. this verdict is given by a judge in court. now, those who cry about demorasy lost faith in courts ?
荒唐,这个判决是法院的法官裁定的。现在这些哭哭啼啼的人对法院失去信心了吗?
aryan ray•58• User rd•US•4 days ago
Ha ha, nice joke! Even Mamta begum, and other party leaders from SP, RJD etc do not accept Rahul Gandhi as opposition leader.
真是太好笑了。社会党、印度人民党等其他党派的党首都不接受拉胡尔这个反对党党首的身份。
Pratap Rd•63674• User rd•4 days ago
BJP triumph card is Rahul Gandhi. Because of him they have nore chance of wng elections .
人民党的王牌就是拉胡尔·甘地。因为拉胡尔,人民党赢得选举的可能性更大了。
arun kesavan•5059• User rd•Bangalore•4 days ago
Scared of pappu ...what a joke... He has been ensuring BJP gets all votes by just opening his mouth for 2 mins as whatever comes out of his mouth is lie
害怕拉胡尔…真是个天大的笑话……他只要开口说话2分钟,就能让人民党稳拿所有选票,因为从他嘴里说出来的全都是谎言
Suddhasatya Samanta•16226• User rd•Kolkata•4 days ago
live in Yr dream world
你是活在自己的幻想世界中了吧。
Medini Rai•13528• Medini Rai•4 days ago
This Italian Catholic and his family are staying in India only to carry out Pope's mission of converting Indians to Christianity
这位意大利天主教徒和他的家人留在印度只是为了执行教皇的教令,让印度人皈依基督教。
ASHISH• Medini Rai•Delhi•4 days ago
What has religion got to do with this you M Oron . That's all bhakts think . Since Independence Christian population was 2 percent and still is almost the same. Most prominent people were educated in Christian schools. Do you actually think that this Jumla government would have ever done that?
All they care about are Mandirs, statues and looting and fooling people like you. Grow up!!
这跟宗教有什么关系。这是全体印度人的想法。自独立以来,基督教人口仅占2%,现在基本上仍然保持不变。大多数知名人士都在基督教学校接受过教育。你真的认为真拉政府能做到吗?
他们只关心寺庙,雕像,掠夺和愚弄像你这样的人。成熟点吧。
Viswanath K•18483• ASHISH•4 days ago
People convert and they don't inform govt. Because they loose the reservation benefits. Actually it's more than 2% now.
人们皈依基督教并不会通知政府。因为他们会失去预留制的恩惠。实际上现在基督教人口已经超过2%了。
mjs514•12430• Medini Rai•4 days ago
Anybody converted, you can take them back. Dare you, no one will come back to Hindu caste. That's why they left Hindu.
对那些皈依了基督教的人,你大可以把他们劝回去。但没有人会回归印度的种姓制度。这就是他们叛别印度教的原因。
Abraham Jacob•843• Medini Rai•4 days ago
There is a fine line between insulting a religion and mixng with politics. Medini Rai, nothing good comes out of a remark like this. Why would some one of your stature, maturity and education need to stoop low.
在侮辱宗教和谈论政治之间有一条微妙的界线。Medini Rai,你发表这样的评论是一点好处都没有的。为什么像你这样有名望、成熟且受过高等教育的人变得如此堕落呢?