The best country for high speed rail? | India's High Speed Rail Sy em Expned
印度是最适合修高铁的国家?
High Speed Rail Expned is back! India might still be building its very first high speed rail line, but its network will develop quickly in the next decade, and the country's unique layout means that the network has the pential to be one of the most used in the world! Enjoy.
印度仍在修建第一条高铁,印度高铁网络将在未来十年快速发展,该国独特的布局意味着印度高铁有潜力成为世界上最繁忙的高铁之一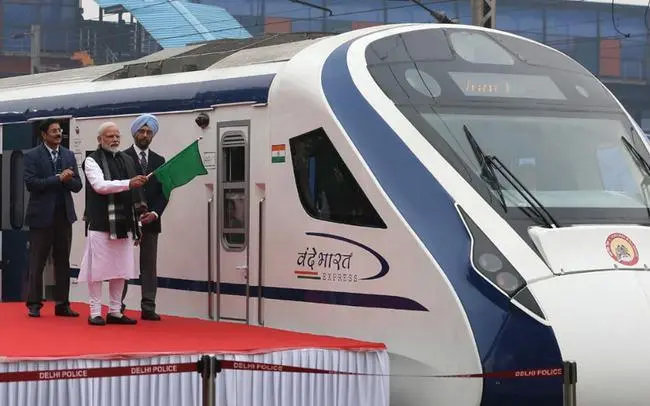 以下是Youtube网友的评论:
Light Yagami
The previous Indian Girder Launching machine (machine which helps in building elevated corridors) d 1 and half a girder every week, far slower when compared to the Chinese machine which d 2 girders a day! However recently, L&T has successfully developed the technology putting India into the list of Norway, Italy, China and South Korea who possess such machines. HSR is hel India innovate, these machines are said to be used on metro construction as well, boosting up the already progressive metro sy ems' construction.
印度以前的吊梁机(帮助建造高架走廊的机器)每周铺设1根半横梁,中国每天铺设2根横梁,印度的速度慢得多
然而,L&T公司最近成功开发了这项技术,使印度跻身挪威、意大利、中国和韩国的行列。
修建高铁,推动印度创新,据说这些机器也被用于地铁建设,加速了地铁系统的建设。
Nagendra Mishra
Go nment is trying to reduce air-traffic between cities
Ahmedabad and mumbai has very High amount of air-traffic
印度政府正努力减少往返城市间的航班,艾哈迈达巴德和孟买的空中交通非常繁忙
Spectre
Already a lot of progress has been made in the MAHSR line.
印度高铁已经取得了很大进展…
Kartik sinha
The go nment here is very focused on building rail based transit sy ems from metros to HSR and slowly upgrading the presencture for higher speeds ( I mean 120-160kmph coz many routes can not even handle 100kmph.)
But the problem is that it is very difficult to upgrade esting track, trains and signalling sy ems.
印度政府大力建设铁路系统,从地铁到高铁,并慢慢升级到更高的速度(我指的是120-160公里每小时,目前许多线路跑不到100公里的时速)。问题是,要升级现有的轨道、列车和信号系统是非常难的。
Nitin Gadkari
This is new India
More than 12 high speed corridor under planning
这是新印度,超过12条高铁走廊正在规划中
Fals3Agent
High-speed aside, india also has developed significant amounts of indigenous train technology that are capable of higher-speed express service (180kph) on their esting rified track infrastructure, but it's been subject to po itical sabotage and cost austerity measures.
除了高速之外,印度还研发了大量的国产列车技术,能够在现有的电气化轨道基础设施上提速(180公里/小时),但一直受到政治破坏和成本紧缩措施的影响。
Mr Daksh
So happy to finally read a video about high speed rail in india on RMTransit, there are plan to introduce 16 car train on the Mumbai-Ahemdabad with a train every 7.5 mins.
很高兴终于看到了关于印度高铁的视频,计划在孟买至艾哈迈达巴德引入16节车厢的高铁列车,每7.5分钟一班。
Master Singleton
High Speed rail is zing and Australia should really build an HSR network linking the East Coast from North to South and the East Coast to the West Coast.
高铁太棒了,澳大利亚应该建一个连接南北海岸、东西海岸的高铁网络。
Satyaki Sil
I would really love to see broad gauge hsr. A very unique sy em. Sadly, the Ahmedabad-Mumbai sector would not be broad gauge.
我真的很想看看宽轨高铁,一个非常独特的系统。遗憾的是,艾哈迈达巴德-孟买的高铁不会是宽轨的。
9
If India introduces high speed Sleeper trains at 300kmph, it will become a huge hit
如果印度推出时速300公里的卧铺高铁,将会引起巨大轰动
Cantrada
And yet here in Canada, one of the world's richest nations, we're still debating the possibility of considering the option of whether to maybe build a dedicated passenger line
然而在加拿大,世界上最富有的国家之一,我们仍在讨论是否有可能修建一条客运专线
Anton Wong Video
Do the trains remind anyone else of dragon heads of east Asian mythology?
Sorry if that's already a well-know fact; I'm a train noob. Just thought it was cool
火车是否让其他人想起了东亚神话?
抱歉,如果这已经是众所周知的事实,我对火车不了解,只是觉得很酷
Ayush Ghosh
Even though I live in India, I really still haven't go the full idea of what and where the lines are go.
我住在印度,不过我没有完全搞清楚这条高铁路线是怎么走的。
Abhinav Mankotia
I have to say for myself that the extent to which connectivity has improved for the rail network is simply astounding. I recently travelled alone for the first time to my home in Gurgaon after visiting some family in Chandigarh and after boarding the train at the station there, it was a non stop uninterrupted journey to the Huda City Centre metro station drop me off barely 10 minutes from my home. I can't believe how easy it has become to travel such long distances in India. Hopefully it will become even more easier in the future.
不得不说,铁路网络的改善程度是惊人的。最近我第一次独自出行,在去昌迪加尔探亲之后登上火车回我在古尔冈的家,中间不停站,我在离家不到十分钟的地方下车。我不敢相信在印度走这么远的路如此方便。希望将来会越来越便捷。
Apoorv Chauhan
RRTS project construction site is like 5mins from my home.
Ngl but during pandemic period, Govt has really pushed the infra construction and lot of progress has been made
项目施工现场距离我家大约5分钟路程。在疫情期间,政府确实推动了基础设施建设,取得了喜人的进展
TobiasM
I really like how India is finally picking up speed with rail developement in recent years. The only thing I dislike about many of these plans is how they opted for standard gauge instead of broad gauge.
近年来,印度终于加快了铁路发展的速度。我唯一不喜欢的是选择了标准轨道而不是宽轨。
PK
Yup India is the best country for HSR but I dont think we can built it as fast as China. It will take 2-3 decades to connect every major city in India.
是的,印度是最适合修建高铁的国家,我们修建高铁的速度不会像中国那样快。需要20 - 30年的时间才能让高铁连接印度的每个大城市。
Renjith Thandapral
I would like to bring to your attention about one more semi high speed rail network coming up soon in India , in the state of Ker, known as SilverLine , 530 km SHSR, connecting the entire length of the state.(It is currently in the planning stage).
我想提请大家注意,印度喀拉拉邦即将建成的一个半高铁网络,被称为银线,全长530公里,连接整个邦。(目前正处于规划阶段)。
FlightMate
Anyway, exciting to see India get into the high speed rail race!
无论如何,看到印度加入高铁竞赛令人兴奋
AFoxGuy
Florida is the best place for HSR in the USA
佛罗里达是美国最适合修高铁的地方
Prithvi raj Singh
In de acy it take time to complete a project. Especially in a country like India where land acquisition process is extremely slow and change in go nment leads to constant policy changes . A lot of time projects started by previous go nment doesn't get prioritised by new go nment and gets shifted to the end of the priority list.
在敏煮国家,完成一个项目是需要时间的。尤其是在印度这样的国家,征地极其缓慢,政府的更替导致政策的变化。很多时候,上届印度政府启动的项目并没有被新政府优先考虑,而是被放在了次要的位置
Avionic7779x
I go to India every year, and although I adore Indian Railways, the service and speed is so abysmal I just vastly perfer flying.
我每年都去印度,虽然我喜欢印度铁路,但速度太慢了,服务太糟糕了,我还是更喜欢坐飞机。
keiming227
India's High Speed Rail should use to retired E4 Shinkanshin, because it has double-deck
印度高铁应该使用退役E4新干线
Kevin Love
In spite of what was said at the 0:50 mark, Canada's rail sy em is a lot older than 100 years.
加拿大的铁路系统已经有100多年的历史了。
Anindya Acharyya
BrilliantActually a high-speed rail network was planned in India since 2008
But first the railway focused on new railway connections to cities and towns, comfort and service of passengers, rification etc.
And then see the sudden stonks of subscribers
事实上,自2008年以来,印度就计划建设高铁网络。首先,重点是连接城市和城镇的新路线,提高舒适度和改善服务,电气化改造等。
Applechomper
At this rate we're going to see Indonesian High speed rail before we see US high speed rail
照这样下去,我们会先看到印尼通高铁,然后是美国通高铁
Abhi Muk
Land acquisition is a major problem in India for Rail and Road infrastructure development. As major population still depends on agriculture and given the dense population it delays many project and costs huge losses on the projects
征地是印度铁路和公路基础设施建设的一个主要难题。由于大部分人口仍然从事农业,加之人口密集,许多项目延误,损失巨大