Musk, Bezos set to offer broadband in India
马斯克、贝索斯将在印度提供宽带服务。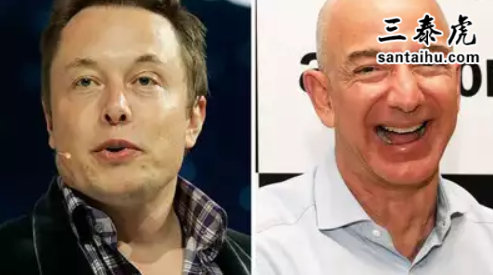 NEW DELHI: Jeff Bezos and Elon Musk, the world's two richest businessmen, are set to take on Airtel's Sunil Mittal and Reliance Jio's Mukesh Ambani in the high-speed broadband and internet space as they have approached the Indian go nment with separate plans to offer satellite-based internet connectivity.
新德里:世界上最富有的两名商人杰夫·贝索斯和埃隆·马斯克,准备在高速宽带和互联网领域挑战Airtel的苏尼尔·米塔尔和信实Jio的穆克什·安巴尼,他们已与印度政府接洽,各自提出了提供基于卫星的互联网连接的计划。
Sources said that Musk's satellite internet venture, Starlink, and Amazon have held separate consultations with the telecom ministry – as well as the Department of Space – for starting satellite-based internet services in India, "though they are yet to apply for a license through the formal route".
消息人士称,马斯克的卫星互联网企业Starlink和亚马逊已经分别与印度电信部和太空部就在印度启动基于卫星的互联网服务进行了磋商,"尽管他们还没有通过正式途径申请许可证"。
"Consultants representing the companies have had discussions with us, and have indicated that they are keen to offer internet services in India using a constellation of satellites. We expect them to apply for the licence very soon," a telecom department source said.
一位电信部门的消息人士说:"代表这些公司的顾问已经与我们进行了讨论,并表示,他们希望利用卫星群在印度提供互联网服务。我们预计他们很快将申请牌照。"
Currently, OneWeb – where Mittal's Bharti Global holds the largest stake and has partners such as the UK go nment – has publicly announced plans of launching satellite-based services in India by next year (also launching across other global geographies). OneWeb has received a national long distance (NLD) license from the telecom department.
目前,OneWeb已经公开宣布,计划明年在印度推出基于卫星的服务(还将在全球其他地区推出)。米塔尔的Bharti Global持有OneWeb最大的股份,并拥有英国政府等合作伙伴。OneWeb已经从电信部门获得了全国长途(NLD)许可证。
The plan of the companies is to offer large swathes of bandwidth – with speeds as high as 1 GBPS and even more – through low-earth orbit (LEO) satellites that would be deployed at a distance of around 1,000km from Earth.
两家公司的计划是通过部署在距离地球约1000公里的近地轨道(LEO)卫星,提供大范围带宽——速度可达1gbps甚至更高。
The bandwidth would then be sold to a variety of users/customers that will include business enterprises, railways, ship companies, defence establishments, airlines, and telecom companies, thus directly competing with the likes of Airtel and Jio.
然后,带宽将出售给各种用户/客户,其中将包括企业、铁路、航运公司、国防机构、航空公司和电信公司,从而直接与Airtel和Jio等竞争。
以下是印度时报读者的评论:译者:Jessica.Wu
Pkm Pkm
Good job India… we are progressing as a nation
印度干得好,我们国家正在进步
Anik Chowdhury
Good move ,if they play by the Go nment rules there is better competition in market and the end user benefits,Welcome aboard guys
干得好,如果他们按照政府的规则来,市场竞争多了,终端用户将受益,欢迎外国企业加入
Sangeet Kumar Jain
We already have lots of good broadband services providers. Please bring real technologies, and produce them here, in India.
我们已经有很多好的宽带服务供应商。请带来真正的技术,并在印度生产。
Desi
Modi may have to refer the matter to Mukesh Ambani for approval.
此事莫迪可能需要穆克什·安巴尼首肯。
Surya
They can never compete with Indian players when it comes to pricing
在定价方面,他们永远无法与印度同行竞争
Quhesobi
Excellent! Feku can no longer shut down the internet to shut up critics. Just imagine how many lives could have been saved in the second wave of the pandemic if people still could use Starlink to post their SOS tweets begging for oxygen, plasma donors and hospital beds on twitter. #ResignModi
太好了!莫迪再也不能关闭互联网,不能让批评者闭嘴了。想象一下,如果人们仍然可以使用Starlink在推特上发布求救信息,请求提供氧气、血浆和医院床位,那么在第二波疫情中可以挽救多少生命。莫迪辞职吧
Sanjoy Pandey
Speed is now the greatest problem of all broadbands in India. Will it be resolved ?
速度是印度所有宽带中最大的瓶颈。问题会得到解决吗?
Ab
you won't get approval if ur competing with Reliance. or will be heavily taxed to make u uncompetive
如果和信实竞争,你就无法获得批准,或者会被征收重税,使你们失去竞争力
dorro
Not happening. Jio will not allow.
不可能的,Jio不会允许的。
Proud Bhakt
For 70 years under KHANgress we had no computers., Smartphones or internet. Thanks to honorable PM Shri Modiji , now all indians are able to enjoy broadband internet. Modiji has single-handedly transformed India in just 7 years.
国大党统治的70年里,我们没有电脑、智能手机或互联网。多亏了尊敬的莫迪总理,现在所有印度人都能享受宽带互联网了。莫迪只用了7年就改变了印度。
Jack Sparrow
After the failure of make in India, feku will sell indian economy to Americans.
"印度制造"失败后,莫迪将把印度卖给美国人。
MUFC Fan
already requested refund from starlink coz they are not going to reduce prices for india. 100 dollar per month and 500 dollar intial investment is too much for home internet.
已经要求starlink退款了,他们不打算为印度降价。装家用宽带要500美元,每月100美元,太贵了,
User Star
Very good, it will be very helpful specially for reme location. Country is progressing
很好,这对偏远地区非常有帮助。这个国家在进步啊
Mukund Dandavate
So far the telecom and internet services in India are one of the chest in the world. If they are going to increase the tariff by following the American model the sorry we are not interested.
到目前为止,印度的电信和互联网服务是全世界最便宜的。如果他们打算按照美国的模式提高收费,对不起,我们不感兴趣。
Poosie Liquor
It crazy the way these corporations like Google, Reliance Jio FB Google, Amazon, MSFT are dominating nearly every aspect of our lives. This is scary. Soon they will have predictive data for every aspect of our lives - how we will shop ,when we will shop, what we will shop, what price are we likely to pay, what we want to watch, what we have been watching, what will we pay for watching it, bespoke deals etc etc.
谷歌、Reliance Jio、Facebook、亚马逊、MSFT这些公司主宰了我们生活的几乎每一个方面,这太疯狂了,太可怕了。不久他们将掌握我们生活方方面面的数据
Sachin Gupta
SELLING THE NATION, ITS DATA, ITS NATIONALS PRIVACY TO MNC's, ESPECIALLY AMERICAN MNC's IS GOING TO PROVE VERY VERY DANGEROUS IN FUTURE.
HOPE TELECOM MINISTRY IS NOT PUTTING NATION AT STAKE IN THE NAME OF MAKING REVENUE.
向跨国公司,特别是美国的跨国公司出售数据,国民隐私,是非常非常危险的。
希望电信部不要以赚取收入的名义把国家置于危险之中。
Guest
This technology will help make India free from millions of cables hanging in the trees and roads!
这项技术将帮助印度摆脱悬挂在树上和路上的数百万条电缆!
RAVI RAMASWAMY
Go nment will wait till the investments are made and services are operational. Then they will change rules, tax retrospectively and force losses on them.
政府等待投资完成,服务开始运作。然后,他们将改变规则,追溯征税,迫使他们承担损失。
HappyTimes User
It's good to have more players in the internet space. Competition may further bring down the prices n at the same time there would be enhanced quality. Also feku will not be able to shut down internet services at will. However the big big question is will Ambani allow all this.
在互联网领域有更多的玩家是件好事。竞争可能会使价格进一步下降,但同时质量会得到提高。莫迪也不能随意关闭互联网服务。然而,最大的问题是,安巴尼会允许这一切发生吗?
rahul singh baghel
Still a huge part of the country is devoid of the 4G internet or is suffering from poor internet speeds. A huge setup of Armed Forces deployed at border regions is the one organisation badly in need of good internet infrastructure. This comes as a glimmer of hope.
印度仍有很大一部分地区没有4G网络,或者网速很慢。部署在边境地区的军队急需好的互联网基础设施。这是一线希望。
Guest
In Tier 2 and Tier 3 cities , we surely need better broadband infra …something badly missing now
在印度二线和三线城市,我们肯定需要更好的宽带设施,这是目前严重缺失的