China begins constructing its first smart energy nuclear power plant
中国开始建设首个智能核电站
A model of constructing the country's first nuclear power smart energy program was showcased at the 14th China International Exhibition on the Nuclear Power Industry. It incorporates clean energy technology such as photovoltaic energy and offshore wind power to produce nuclear heating, water desalination, and hydrogen power. It can generate over six million kilowatt-hours of ricity every year once completed and in operation
第14届中国国际核电工业博览会展示了中国首个核电智能能源建设
这个核电站结合了清洁能源技术,如光伏能源和海上风力发电来生产核供暖、海水淡化和氢能源。建成投产后,每年可发电600多万千瓦时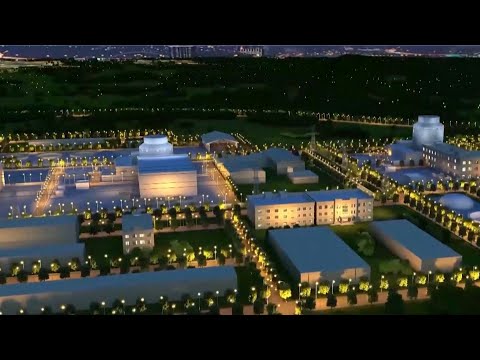 以下是youtube网友的评论:
wit plaas boer
In the meanwhile we have blackouts all over America.
与此同时,美国各地都在停电。
arie sandal
i thought only texas
不是只有德克萨斯州停电吗
Chy Na
China is skilled at taking Western inventions and making improvements!
中国善于借鉴西方的发明并加以改进
Dasher Little
Smart county don't brag and compn, just do it.
聪明的国家不吹牛和抱怨,干就是了。
Max Superbus
While Japan dumps radioactive water into the ocean.
而日本则将放射性水倒入海洋
Lu5ck
Every nuclear plant does that.
每个核电站都这样做的啊
Blue Logix
@Lu5ck Sad - But very True. Time will tell but the facts point to the Soviet Union as to the leaders in both Fusion tech & Nuclear Tech.
非常真实。时间会告诉我们真相,事实证明苏 联是核聚变技术和核技术的领导者。
Yup nidalee
@Lu5ck No, it's not the same. A level-7 accident happened to the Japanese one, and the wastewater released is way more radioactive than other normal nuclear plants.
不一样。日本核电站发生了7级事故,排放的废水比其他普通核电站的放射性要强得多
Yup nidalee
@Lu5ck I know Japanese go nment has a budget of 2 billion yen (or dollars?) to whitewash this whole thing. You work very hard. But simply one question: Do you dare drink it after the so called clean treatment? Obviously no
我知道日本政府拨出了20亿日元(或美元?)的预算,粉饰这整件事。
不过,有一个问题:经过所谓的清洁处理后,你敢喝吗? 显然不敢!
Steven X
This could be the addition to China's Generation IV nuclear reactors in Shan province. The construction of China's 200mw Generation IV nuclear reactor was completed in 2020, and it is supposed to put into operation in 2021. China will build a 1000mw grade Generation IV nuclear reactor soon.
这可能是对山东的第四代核电站的补充,
中国200兆瓦的第四代核反应堆的建设于2020年完成,预计2021年投入运行。
中国很快会建成一个1000兆瓦的四级反应堆。
Munaf Ghori
Bertrand Russell predicted that America will be powerful for a hundred or some more years but then china will rise and it's rise will remain.
伯特兰·罗素预言,美国将在未来一百年或更长的时间里保持强大,而中国将崛起,而且这种崛起将持续下去
misty cloud
Chinese kids are the future of the world
中国孩子是世界的未来
AWESOME Panda
Another AWESOME initiatives from China!
中国的又一个令人惊叹的工程
Buzzwin r
they will start dumbing Nuclear waste
他们会开始倾倒核废料的
EMH GallyYeung
@Buzzwin r Nope, that's Japan
倾倒核废料的是日本
Danish Afridi
Marvelous work
了不起啊!
Anarghya Sumanth
Don't turn it into the next Fukushima, or foreign media will be all over it
不要让它成为下一个福岛,否则外国媒体会铺天盖地报道
Sterling W
So, they put it next to a waterway. I hope it isn't near a fault line as well.
所以要建在一条水道旁边。我希望不是建在断层附近。
Buzzwin r
China has poor ifrastruture
中国的基础设施很差
David
Super cool sound!
超级酷
empty_01
at this point the growth and development of china is just pure entertainment for me, I'm hooked, I'm always wondering what's the next thing they accomplish or build
it's exciting to see
中国的发展把我吸引住了,我想知道他们下一步要做什么,要建造什么,很令人兴奋
Awan Wulan
Stay ahead of everyone else as usual!
跟往常一样,中国又走在了别人前面
shah m
Very impressive.
非常震撼
Hans M
Awesome, peace in this world.
真棒,世界和平。
Okonkwo Kingsley
Impressive
厉害啦
Mohammad Salim Hossain
Very Nice China
中国,非常不错
asif
China will become no.1 superpower in the world very soon. I always pray and hope. Love china from bangladesh
中国将成为世界第一,很快就会成为全球超级大国。我一直在为中国祈祷。来自孟加拉国的爱
R-ODD
I wonder why
为什么你要这样做
EMH GallyYeung
@R-ODD Because China is a peaceful force that bring good to human future. I'm not kidding.
中国是一支爱好和平的力量,为人类的未来创造美好。我不是在开玩笑。
Teong Beng Ang
China's smart and energetic, always making progress.
中国人很智慧,很有活力,总是在进步。
A a
Dead investment at this time when the common man runs for bread and butter.
普通人为了生计而疲于奔命!
Humgarchaun Lor
cool
酷毙了
Anthony Ocran
Yet America is planning about aircraft carriers and fighter jets
对比之下,美国正在计划建造航空母舰和战斗机
Dhruv Kumar
Nuclear needs more R&D in the world
世界应该加大核能的研发
Blue Logix
Overdue by 50 years but one can only hope China builds it and more.
50年前就该造了,希望中国多造一些
Discover China
China's nuclear energy development is slower than the western world but will surely be more advanced than theirs after the rampant development in the past few years
中国核能的发展虽然比西方国家慢,但经过几年的迅猛发展,肯定会比西方国家先进
Konga
Like high speed rail.
就跟高铁一样
Alavez
It already on par but still lacks the number to country like France for example.
Also China can freely advance nuclear energy without having to deal with idiots who think nuclear energy is dangerous, no one will object a plant construction in China.
已经赶上了法国等国家。此外,中国可以自由发展核能,而不用去应对那些认为核能是危险的笨蛋,没有人会反对在中国建设核电站
Melanin Magdalene
Maybe Iran should do nuclear deals with China
也许伊朗应该和中国做核交易
EMH GallyYeung
Wonderful achievement by China! Very environment friendly power plant
中国取得了伟大的成就,非常环保的发电厂
Aarohe Singh Indians
Chinese guys are so tall. Indians guys are too short
中国人太高了,印度人太矮了
Sterling W
Boy, i hope you don't make Japans mistake and put it by a major water way.....Crap, i just saw the last half.
我希望你们不要犯日本人的错误,
DJ Pomare
China leads the world in 5G and infrastructure engineering while the US want you to stop teasing them about having NO high speed trains.
中国的5G和基础设施工程领先世界,而美国希望你们不要再嘲笑他们还没有高铁。
Csaba Kovacs
Way to go China!!!! Once again, China is leading the world in technology, innovation, and saving the environment. China is the wave of the future. China is not perfect. And China recognises this; that is why China keeps improving. China keeps getting better and better. By supporting China, you are supporting the world economy. The world will be a better place. It's okay to love China.
中国加油!中国再一次在技术、创新和保护环境方面引领世界。
中国是未来的潮流。中国并不完美。中国也认识到了这一点。这就是中国不断进步的原因。
中国越来越好了。支持中国就是支持世界经济。
世界将会变得更美好。爱中国
SandeepV Nair
Very innovative
非常有创新
Arthur Lincoln
Fantastic. Wheres the radioactive waste going to be dumped?
太棒了。放射性废料将倾倒在哪里啊
Shaheb Khan
Bangladesh should buy nuclear power plants from china.
孟加拉国应该从中国购买核电站。
Bung Kusi
No wonder USA is very jealous to China. China is more advance than USA now.
难怪美国非常嫉妒中国。中国现在比美国更先进
Jerry's Tech Corner
Lol tesla is building a road that can charge ric cars while driving!
哈哈,特斯拉正在修建一条可以给电动汽车充电的道路
Chy Na
China is skilled at taking Western inventions and making improvements! Never forget China invented fireworks.
中国擅长吸收西方的发明并进行改进!别忘了是中国发明了烟花。