How India can become a major tech hub amid US- tensions
在美中关系紧张之际,印度如何成为个主要的技术中心?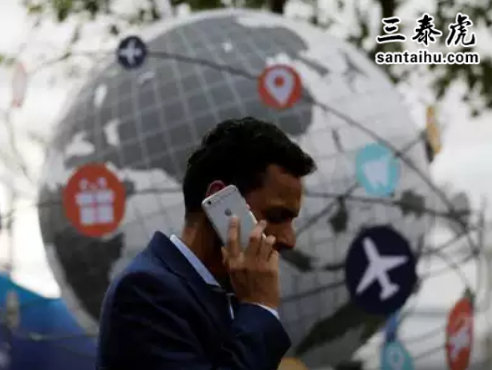 NEW DELHI: India faces a historic opportunity to transform into one of the world's major technology hubs, a report by Asia-based Hinrich Foundation said on Tuesday.
新德里:总部位于亚洲的辛里奇基金会周二发布的一份报告称,印度面临成为世界主要技术中心之一的历史性机遇。
As the country aims to build up its local manufacturing capabilities, it is focusing on develo smartphones and other digital hardware. Besides, it is also looking to spawn a new crop of national unicorns.
印度的目标是增强本土制造能力,目前正专注于开发智能手机和其他数字硬件。此外,印度还希望孵化一批新的国家独角兽。
This, the go nment believes, will transform India into a technology export hub, the report nes.
政府相信,印度将借此发展成一个技术出口中心。
Here are some factors working in India's favour:
以下是一些有利于印度的因素:
US- spat
According to the report, friction between the United States (US) and could give India the boost it needs to become a global tech hub.
A recent executive order signed by US Presi nt Joe Biden called for the creation of "-free" supply chains in strategic industries, such as pharmaceutical and bio-pharma products, batteries, rare earths, and semiconductors.
Tech giants like Apple, Amazon and Samsung that have relied on for years are shifting production to India and Southeast Asia
中美争端
根据这份报告,美国和之间的摩擦可能会推动印度成为全球科技中心。美国总统拜登最近签署的一项行政命令呼吁在制药和生物制药产品、电池、稀土和半导体等战略性行业建立"去"的供应链。
多年来一直依赖的苹果、亚马逊和三星等科技巨头,正在把生产转移到印度和东南亚
Quad membership
India's growing importance as a Quadrilateral Security Dialogue (Quad) member, grou with the US, Australia and Japan is also significant.
As an Indo-Pacific security partner to the US, it covers a wide range of issues from joint military strategy to vaccine diplomacy, the report said.
四方成员
作为与美国、澳大利亚和日本组成的四方安全对话的成员国,印度的重要性与日俱增,这也具有重要意义。
报告称,作为美国的印太安全伙伴,它涵盖了从联合军事战略到疫苗外交等一系列广泛的问题。
Least expensive internet access
Internet users in the country enjoy the world's least expensive internet services. In 2016, Reliance Jio started virtually free 4G internet access for all it users.
Not only has this doubled the mobile subscriber base but also widened internet access. By 2020, almost 50 per cent of the population had access to internet, up from 10 per cent in 2010.
Subsequently, the e-commerce market also witnessed a surge in users. The industry is now expected to increase to $200 billion by 2027, from $64 billion at present.
最便宜的互联网接入
印度的互联网用户享受着世界上最便宜的互联网接入服务。2016年,信实 Jio开始为所有用户提供几乎免费的4G互联网接入。
Investment in tech sector
The US, European Union (EU), T and Japan are India's largest foreign investors in the tech sector, the Hinrich report ned.
Services, computer hardware, software and telecommunications represent the top categories of investment.
科技投资
报告指出,美国、欧盟和日本是印度科技领域最大的外国投资者。
服务、计算机硬件、软件和电信是最主要的投资类别。
Smartphones: The heart of tech manufacturing plan
Under the production-lined incentive scheme, the go nment aims to produce one billion smartphones in the country by 2025.
India recently surpassed Vietnam to become the world's second largest manufacturer of smartphones. However, by far remains the world's largest.
The report suggests that low-cost hand phone brands would seem the logical choice as partners for Indian firms.
This would enable Indian firms to eventually breakaway as indigenous brands and compete directly with their former partners, at home and abroad.
智能手机:科技制造计划的核心
根据生产激励计划,印度政府计划到2025年,在本土生产10亿部智能手机。
印度最近超过越南,成为全球第二大智能手机生产国。然而,到目前为止,仍然是世界上最大的手机生产国。
New manufacturing incentives
In the past few years, the Centre has introduced many policy-driven changes to improve and strengthen the country's business landscape.
In the last 3 years, India's Ease of Doing Business ranking has improved from 100th position to the 63rd spot.
新的生产激励
在过去几年中,中央引入了许多政策驱动的改变,以改善印度的商业环境。
过去3年,印度的营商环境排名从第100位上升至第63位。
印度时报读者的评论:译者:Jessica.Wu
Talk Less, Work Smart & Transform.
少说,多做,才能实现转变。
Shanky
Only if we had 20 crore less people who are eating up all developmnt money
除非我们减少2亿人口,这些多余的人,正消耗掉所有发展资金
Jose De
India DOES NOT KNOW HOW TO BECOME A TECHNOLOGY HUB. TOO MUCH OF RED TAPE AND CORRUPTION. NO CLEAR POLICY AND TO MANY CONTROLS. REMOVE CORRUPTION BY THE POLITICIANS AND ALL WILL BE OK... GOD SAVE INDIA
印度不知道如何成为技术中心。太多的繁文缛节,太过腐 败,没有明确的政策。消灭腐 败,一切都会好起来的…愿神保佑印度
kSingh
Indians go overseas and shine in R&D. But in india they are zero. Because india doea not have the environment which is created by the govt. usa welcomes talent from all over the world.
印度人去了海外,在研发领域大放异彩,硕果累累。但在印度却一事无成,因为印度没有那种环境,美国欢迎来自世界各地的人才。
kSingh
India has so far not able to take advanrage of the world looking for alternative to in their supply chain. Its not even close. India does not have the eco sy em and work culture.
到目前为止,印度还没有抓住全世界要在供应链中寻找替代品的机会。还差得远呢,印度没有建立完善的生态系统,也没有敬业的工作文化。
Futuristic
First learn to treat your own citizens as equals regardless of re gion. Why should foreign companies invest in an unstable country? There is a reason why in spite of all the previous talk about , none of those big tech companies have moved to India. Add to all that is the cheating, bribing of ministers, tax laws changed on a whim, unions, poor infrastructure, logistics, no IP prection, roads, water ricity and a poorly skilled labor force which will take decades to train.
首先,要学会平等对待自己的公民,不论宗教如何。为什么外国公司要在一个不稳定的国家投资?
尽管之前有很多关于的讨论,但那些大型科技公司都没有搬到印度,这是有原因的。
Captain Bose
90% scoring students goto USA. The wealthy guys goto UK. The millionaires leave the country. While 50% scoring students get go nment jobs through reservations. While the average guys just join the rat race.
成绩优异的学生去了美国,有钱人都去了英国。百万富翁离开了这个国家。
而成绩差的学生则通过预留名额获得了政府工作。
而普通人只得加入了激烈的竞争。
kSingh
India makea not much of value in high tech. It is zero in semi conductor technology the heart of high tech. Even in software no earth shattering software app or package has come from india.
印度在高科技方面没有创造多少价值,在高科技的核心——半导体技术上创造的价值为零,就连在软件领域,也没有一款惊人的软件应用程序或软件包出自印度。
kSingh
First learn to make world class toys. Even that needs high tech manufacturing.
首先要学会制造世界一流的玩具。即便是制造玩具,也需要高科技制造业的加持。
Sam
Too much co ption and po itical interference in india for these foreign companies liking.
这些外国公司不喜欢来印度,印度的腐 败现象严重,还面临政治干预的风险
Abhijit Sharma
Nothing will happen. US and Japan shout ag inst . But all major US mnc have their factories in . Japan gave huge incentives to their companies to shift from but almost all Japanese companies stayed in . Just hear from Elon Musk, he will tell why is the best country.
什么都不会发生。美国和日本口头上大声反对,但所有的美国大型跨国公司都在设有工厂。日本为撤出的日企提供了大额激励,但几乎所有的日本公司都留在了。听听埃隆·马斯克的说法,他会告诉你为什么是最好的。
Indian
You write such article everytime when US hav tensions.. last time u said India can be major development hub.. but due to our govt focus more on wng ion.. those chances went more to Bangladesh and Indonesia..
每次中美关系紧张就写这样的文章。上次说印度可以成为主要的研发中心…但由于我们的政府更关注赢得选举…更多的机会流向了孟加拉国和印度尼西亚。