We went for covid testing again. Guests came for lunch
我们再次接受新冠病毒检测。客人来家吃午饭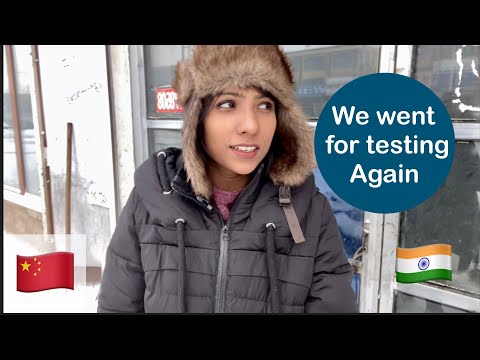 以下是youtubew网友的评论:
Saket Kewate
Ruchi u are respected and treated well. Thanks to ODIN
如琪啊,你在那里受到了尊重和善待,多亏了奥丁
Harleen Kaur
Please make a blog where you are having an actual conversation with your husband. Know he is shy but still would love to hear you both talk to each other.
都没看到你和丈夫说话。
我知道他很害羞,不过还是想听你们俩说话。
Mayuri Khanikar
Love from Assam
来自阿萨姆邦的爱
no plan travel ya
63 degrees Chinese baijiu!!!! Omg your father in law is really really a drinker !!!
63度的白酒啊!
哦天啊,你公公是个酒鬼啊
Payal Sharma
It feels like Chinese houses are just like Punjabi and Gujarati
感觉中国的房子跟旁遮普和古吉拉特的房子有点像啊
Nabeen Thapa
Watering my mounth by seeing delicious dishes.. I want to visit there to eat chinees dishes and to see beautiful places of china
看到美味的菜肴,我都流口水了。我想去吃中国菜,想去看中国的美景
rahul sinha
Great video, Never saw china from Indian point of view.
视频很不错。以前从来没有从印度人的角度来看过中国。
Muzammal Gujjar
I am living in China since 2014 I used to see your videos I am living in an city Central China
我从2014年起就住在中国,我以前经常看你的视频,我现在住在中国中部的西安
Niko Fong
I found u r good looking in all kind of outfit because ur good looking~
你长得好看,穿什么都好看
no plan travel ya
Ruchi is more like east Asian beauty style . i think that's why her husband got attracted by her !! Blessings!
如琪散发着东亚之美。这就是她丈夫被吸引的原因
Nisha bhumbak
I wish u could post 2-3 vlogs a week..I really enjoy the vedios...
希望你一周上传2-3个视频,真的喜欢看
Soni Arora
itss so good to see a diff culture n food...real life n not a made yp...fancied version of life...love frm Delhi
能了解不同的文化和食物真是太好了
Ankita Jain
You should cook some south indian food like idly dosa aapam for your hubby and inlaws . Its very healthy and they would like it i am sure
你应该为你的丈夫和婆家做一些印度南部的菜,比如印度薄饼。吃得很健康,我相信他们会喜欢的
Shrabani Deb
Chinese dishes looks so yummy
中国菜看起来很好吃
Subway group of learning
Thanks a lot Ruchi for showing us China through your videos..
非常感谢如琪向我们介绍中国
S. Arvind
Wah Ruchi. Very happy for u. Love u and China. Very advanced country.
如琪,为你们感到高兴,我爱你,也爱中国,非常先进的国家。
big fan of- propaganda lol
heavy snow. looking cool.
大雪纷飞啊,看起来很酷
alka sangar
Pls make Indian cuisine to your in-laws to enjoy Indian food...lots of blessings
请为你的婆家做印度菜,让他们尝一尝印度菜
Candida P
Ruchi..please learn Mandarin. You will enjoy China more. In fact my daughter is learning Mandarin in Mumbai. So it is not difficult. All the best and keep vlogging.
如琪,建议你学习中文,这样你会更喜欢中国的。我女儿正在孟买学习中文,并不难。祝你一切顺利,希望继续发视频。
W. Choegyal
Next time please show the date of your beautiful vlog, it's wondering !!
下次能说下录视频的日期吗!
Ruchi in China(播主)
Good idea. I will include the date. Thanks for the suggestion!!
好主意,下次安排,谢谢建议
Poonam Parikh
Your husband reminds me of my client kevin chan from Singapore, why don't you take your hubby to India and show our beautiful india and make him taste our indian food as well, he will enjoy
看到你的丈夫,让我想起了我新加坡的客户kevin chan,你为什么不带你的丈夫回印度看看我们美丽的国家,让他尝尝我们美味的印度菜,他会喜欢的
Ruchi in China(播主)
He has visited India 3 times already.
他已经来过印度3次了
Lalita Ukil
Where did u learn Chinese? Any good places in India to learn
你的中文是哪里学的啊?
我们印度哪里有学习中文的地方
Nighat Noor
Why don't u cook indian food for your family.I m sure they will love it.
为什么不给你的家人做印度菜呢?他们肯定会喜欢吃的。
y x
She must be born in super rich if you have watched all her vlogs. She may not know cooking though.
如果你看了她所有的视频,你就知道她一定是出生在富豪家庭。她可能不会做饭
gwhlin
Frankly speaking, it's acceptable to eat Indian food once or twice, but if you eat more than once, no Chinese can accept it. You know, China is a food kingdom
坦率地说,吃一两次印度菜是可以接受的,如果经常吃,没有中国人能接受。你知道,中国是一个美食王国
vikas mourya
Everyone in your family are good in making dish
你的家人都是大厨啊
GolonaWailus
I really want to learn Hindi
我想学习印地语
le e arbres
Where about in Chiina? Looks like a small town at north.
这是中国哪里啊,看起来像是北方的一个小镇
Ruchi in China(播主)
Yes Jilin
是的,这里是吉林
le e arbres
@Ruchi in China Can't believe it. A small town in China give a false sense of the mid-size city. Amazing. If not watching the older video, I would have thought you're somewhere in Northern America
难以置信! 中国这么一个小镇,给人的感觉是一座中型城市啊。真棒
如果不看你以前的视频,我还以为你在北美的某个地方呢
Ruchi in China(播主)
Ironically, Jilin is one of the poorest provinces in China. When my parents visited this small town in Summer, they felt it looked like London smh and they have travelled to London a couple of times so they were not kidding
具有讽刺意味的是,吉林是中国最贫穷的省份之一。
我的父母曾经夏天的时候来到吉林这个小镇,他们觉得这个小镇看起来像伦敦的,他们已经去过伦敦好几次了,他们不是在开玩笑的
Urban Delights
Im from Pakistan. Here covid test fee is 4500 rupees
我来自巴基斯坦,我们这里的新冠检测费用是4500卢比
R M
were u a vegetarian before since ur from.rajasthan so..... yes learn mandarin....its.important
你以前是素食主义者吗,毕竟你来自拉贾斯坦邦啊
是的,学习中文很重要
Nikhil
Ruchi in one of her earlier videos did mention that she has been non-vegetarian since childhood.
如琪在之前的视频提到过,她从小时候就不是素食者了
Bhupesh Singh
China is heaven for foodies
中国是美食天堂啊
Sani Kumari
Ruchi di I want a husband like you who is from China because I love China so much I want to go there and spend my life but this is seems impossible for me because now I am not gratuate and also I don't have so much money for go there so now I am waiting for someone who will come India and letting me go there........ please give me some tips for how can go there as an Indian I was seched on net for this but there not any way to live in China for lifetime as an Indian citizen
如琪啊,我希望跟你一样,能嫁给一位中国丈夫。我太喜欢中国了,我想去中国定居,想一辈子呆在中国。
但这对我来说似乎是不可能的,现在我还没毕业。而且我没有钱去中国啊。作为印度人,如何去中国啊。请给我一些建议。
我上网查了下,作为印度公民,是不能在中国生活一辈子的
Ruchi in China(播主)
You should live for a short term first to see if you like it. Cultural shock can be serious. I have also adjusted a lot . There are lot of advantages and disadvantages. Away from Indian people, Indian celebrations and culture. But the plus points are that it is extremely safe for women and Children and cher than indian in most things. Also, the sries are very high.
你应该先来中国生活一段时间,看看你喜不喜欢。文化冲击可能比较大。我也调整了很多。有很多优点和缺点。
远离印度人,远离印度庆典和文化。
优点是,在中国,妇女和儿童非常安全。而且,中国的工资也很高哦
Sani Kumari
@Ruchi in China yeah I totally agree with you hope one day I will also go there and imagine to meet you
希望总有一天能去中国看到你
abdullah ismail
India will be like china in not too distant future So stay put in india and you enjoy all the traps of a developed country
在不久的将来,印度会是下一个中国,还是好好待在印度吧,享受发达国家的一切福利
Ruchi in China(播主)
@abdullah ismail I hope so but it is impossible. There can't be another country like China and there are a lot of factors behind it including a lack of diversity in re gions and languges which makes it more unified
希望如此,但这是不可能的。不可能有下一个中国,原因有很多,比如受宗教束缚和语言太多,很难协调一致
Ben W
you can apply for university and study , see how it goes from there, i'm sure you can find a lovely boy if you want to
你可以去留学啊,肯定能找到中国男朋友的
Sani Kumari
@Ben W I am trying for a scholarship in China but it's more hard to get and also there is so many rules for indians to get a scholarship and yeah maybe if I get this golden opportunity then I will definitely find my dream boy
我申请中国奖学金,比较难,印度人申请奖学金有很多条件
也许如果成功,我一定会找到我梦想中的白马王子的
punam purple girl
@Ruchi in China i indian but i consider myself i am chinese bcuz i m look likhe chinese nd korean girl
我是印度人,不过我认为自己是中国人,我长得像中国女孩和韩国女孩
视频:https://www.youtube.com/watch?v=qzcDElz_7PY&t=288s