Last day in Guang. Society tour
我们在广州的最后一天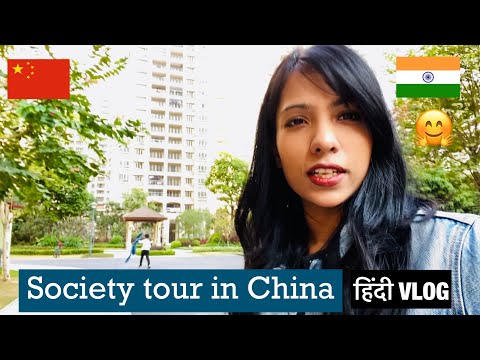 以下是youtube网友的评论:
译文来源:三泰虎 http://www.santaihu.com/p/51837.html
Dilip Yakkha
You are one of the most beautiful Indian women i seen. I also love Indian women.
I love both India and China.
nste from Nepal
你是我看过的最美的印度女人之一,我也喜欢印度女人
我爱印度,也爱中国
SASANKAJYOTI SHARMA
U will miss the place. It has been a lovely place.
你会怀念这个地方的,很不错
ashwin ingle
guang is my dream city
广州是我梦想的城市
Ind P
Destiny brought you and your husband together so they say marriages are made in heaven
命运让你和你的丈夫走到一起,人们说婚姻是天造地设的
Pixmosphere
What's the next destination? Don't leave China it's a safe place to be now.
你们打算去哪里?别离开中国啊,中国现在是最安全的地方
Singh
She is moving to Shanghai
她要搬到上海去了
Vinod Kumar
Shanghai is best no one country compared with Chinese cities because chinese cities are another level.
上海很棒,没有哪个国家的城市能和中国城市比,中国城市是另一个级别的
Capricorn Star
Hi Ruchi , you must be in Shanghai by now. Can't wait to see your life in the super mega city that is Shanghai. I went there when I was 18. It was very developed then. I bet it's even more developed and has changed a lot by now . The traditional Hutong neighborhoods are so beautiful. I hope you make a video on them, if Shanghai has such traditional neighborhoods.
如琪,你现在肯定在上海了
迫不及待想看到你在超级大城市上海的生活。我18岁的时候去过上海。当时的上海就非常发达。我敢打赌上海现在更发达了,翻天覆地的变化。传统的胡同非常漂亮。如果上海有这样的传统社区,我希望你制作一期相关的视频。
Deepesh Choudhary
Why are you leaving Guang?
I remember Odin is a freelancer but all of a sudden you are leaving...is everything al?
为什么你们要离开。记得奥丁是自由职业者
现在要突然离开了,出了什么问题了吗
Rftgch Klkik
China is an zing country...
中国是一个神奇的国家
Dinesh Truth
India is 150 years behind China, truth is always sad to be digested
印度落后中国150年,虽然难以接受,不过是真的
Vinod Kumar
@Dinesh Truth we know China is much more developed than India but 150 lol.
India is also improve a lot. Love china
中国比印度发达得多,这点我们都知道。不过要说领先150年,我就呵呵了
印度进步也很大啊
Sonika Gera
So NOBODY is wearing face mask ...Hmm surprising
居然没有人戴口罩呢,好意外
RAJ NAIK
Ruchi is getting India and China together. Nste Nihau. Hindi Chini Bhai Bhai.
如琪这是在团结中印呢。印中亲如兄弟
JAI TIWARI
Good to see Ruchi . Never saw any Indian hel or shop or Indian. Why???
如琪啊,怎么从来没有看到一家印度酒店、商店,也没有看到印度人啊,为什么?
Ruchi in China(播主)
They are mostly in the city centre. Btw I have shot a video with an Indian girl. Will be editing soon!
这些主要在市中心。我和一位印度女孩拍了一段视频。还没编辑好呢。
Muskan khan
Where r u heading now??? Why you left this society. Answer me. I'm just too curious??
你们这是去哪里啊?为什么要离开广州,我很好奇
TOXIC ARROW
Shanghai
她们要去上海
kellysos z
Many southerners think it's colder winter of the north , but in fact it's more intolerable in the south. Although the temperature in the north is lower,but it's dry,u feel comfortable to have heating inside house.But It's cold and humid in the south such as Shanghai, it's more harsh,there's no heating installed in southern cities(I dont mean AC), so I guess it's wiser for u to go back to Jilin during winter
许多南方人认为北方的冬天更冷,实际上南方的冬天更难以忍受。
虽然北方的温度较低,但是很干燥,室内有暖气,很舒服。
而上海这样的南方又冷又潮湿,南方城市没有暖气(我不是指空调),
我觉得你冬天回吉林过会比较明智
Ruchi in China(播主)
Exactly. Shanghai homes usually don't have heating installed. It is very annoying. People wear thick jackets at home.
是啊,上海人的家里通常不安装供暖设备。这很烦人。人们在家里还穿厚厚的夹克
Joe ExtraKnow
@Ruchi in China that is true. In Shanghai traditionally no heating sy ems are installed in resi ntial areas, although they all have AC. In northern like Jilin or beig, etc, heating sy ems are required all resi ntial area. So actually in winter, northern parts of China are better than in Shanghai. In Shanghai you do need to wear coat inside of house, unless your AC has an option of heating.
在上海,虽然家里都有空调,不过没有供暖气。
在北方,如吉林和北京等,所有住宅区都有安装供暖系统。
在冬天,中国北部地区比上海更舒服。在上海,你在家里还得穿外套,除非你的空调有制暖的功能
Jeevan Shrestha
Quality living hai China mein. Superpower ho gaya hai Abhi to Apke maje hai rucchi ji
如琪,中国人的生活水平很高啊。超级大国中国越来越有趣了
Plasma Boy
hope india catches up someday
希望印度能尽快赶上
Srishti Singh
@Plasma Boy yeah but no hope currently
是啊,不过目前是没有希望哦
Plasma Boy
@Srishti Singh not only currently , not even in long time according to the things working out in our country
从我们印度的国情来看,不仅现在没有希望赶上,以后很长一段时间都很难赶上
Srishti Singh
@Plasma Boy yeah it would take at least 50 years for India to be completely developed....the biggest problem is overpopulation with huge economic disparity
印度至少需要再发展50年才能算是发达。目前,最大的问题是人口过剩,贫富差距巨大
Plasma Boy
@Srishti Singh Agree with you but there is nothing much we can do.
完全同意你说的。我们现在是无能为力啊,哎
J
I was telling my Canadian co-workers that Chinese apartment complex are built like Carribean resort
我跟我的加拿大同事说,中国小区建得都像加勒比海的度假胜地。
Gary Chen
Ruchi is the cultural ambassador of India
如琪是印度的文化大使
Nitansh Agarwal
It looks there's no Corona in China anymore. No one is wearing a Mask.
似乎中国的疫情已经结束了啊,怎么没有看到有人戴口罩
lucy Yean
Shanghai is more modern and expensive than Guang, but also more cold than Guang
上海比广州更现代化,更发达,天气也比广州更冷
Ritu Gehlot
Why don't u wear mask is it not mandatory
为什么你不戴口罩,难道不是强制性要求戴口罩的吗
Tanush Yadav
Where are you moving?
你们这是要搬去哪里
Ruchi in China(播主)
Shanghai
去上海
Abhishek Upmanyu Fan Club
Guang economy is almost equal to India
广州的经济规模几乎相当于印度了啊
enzhus
Not true at all. First, I think you are talking about Guang province, not Guang city. Second, even Guang GDP is just over half of India GDP, I don't think that is almost equal to!!!
没有啦。你说的应该是广东省吧。
即便是广东GDP,也只有印度GDP的一半!
Yash sharma
It's half of Indian gdp. And even if it was equal it would have been fine because Chinese gdp is five times of India.
是达到印度GDP的一半。广东GDP即便赶上了印度也正常,毕竟中国GDP是印度GDP的5倍呢
y x
Guang gdp is equal to Russia gdp or half of Indias gdp
广东GDP相当于俄罗斯GDP,是印度GDP的一半
Arindam Saha
U moving Shanghai permanently.ur socity zing
你们准备定居上海吗。
这个小区很不错
Ruchi in China(播主)
Every society here is like this. You can check my previous house vlogs also. So there is nothing to lose
这里的小区都是这样的。去看我之前分享的视频就知道了。
Ravi Kumar
Ruchi,
Hamesha ki tarah yah bhi outstanding blog hai, iska koi mukabla nahi ho sakta. Par
Ruchi , I would like to request you to please make a blog over village of China.
I want to see the real China that's situated in China's village life.
如琪啊,能不能介绍下中国的农村
我想看真实的中国,真实的中国农村生活
Dilip Basumatary
Chinese cities are so beautiful..... deserves the best.
中国的城市很美