Rajasthan man 'gifts' wife a piece of land on Moon on wedding anniversary
拉贾斯坦邦男子在结婚纪念日"赠送"妻子一块月球土地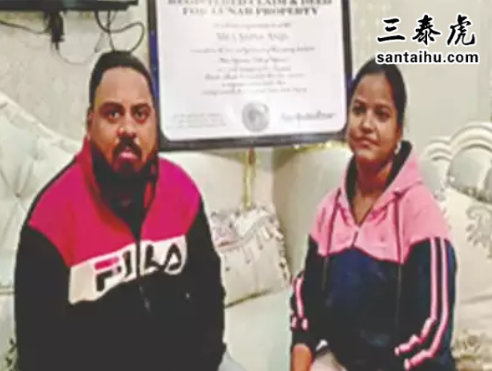 JAIPUR: Believe it or not, a man in Rajasthan's Ajmer has 'gifted' his wife three acres of land on the Moon on their eighth wedding anniversary. Dharmendra Anija's wife, Sapna, has now joined the likes of Shah Rukh and late Sushant Singh Rajput, who too had "bought" a piece of land on the Earth's natural satellite.
斋浦尔:拉贾斯坦邦阿杰梅尔的一名男子在结婚8星期年纪念日"赠送"给妻子3英亩月球上的土地。Dharmendra Anija的妻子Sapna现在加入了Shah Rukh和已故的Sushant Singh Rajput等人的行列,在月球上"购买"了一块土地。
Dharmendra "bought" the land through Luna Society International, a firm in New York City, and "gifted" his better half a 'chand ka tukda' on their wedding anniversary on December 24. It took him a year to complete the process of "buying the property" on the Moon. "Everyone gifts earthly possessions like cars and jewellery, but I wanted to do something different. Therefore, I bought the land on the Moon for her," he said.
Dharmendra通过纽约的Luna Society International公司"购买"了这块地,并在12月24日结婚纪念日"赠送"给了妻子。他花了一年时间完成"购买月球土地"的程序。"每个人都会送一些俗世的礼物,比如汽车和珠宝,但我想送点特别的东西。所以我为她买了月球上的土地。"
Can you buy a piece of land on the Moon?
你能在月球上买地吗?
But how valid are these property certificates bought from such realty websites that are offering land on Moon and other celestial bodies? When TOI did a reality check, it found India is among the 104 countries that have signed an international treaty that makes it impossible for a person to legally lay cm on a piece of land in space or celestial bodies. "The Treaty on Principles Governing the Activities of States in the Exploration and Use of Outer Space, including the Moon and Other Celestial Bodies", popular as "The Outer Space Treaty", which came into effect on October 10, 1967, states that "outer space, including the Moon and other celestial bodies" are the 'common heritage of mankind' and can't be owned by any country or an individual.
从出售月球和其他天体土地的房地产网站上购买的房产证书的有效性如何呢?
当《印度时报》进行核查时发现印度是104个签署了一项国际条约的国家之一。条约于1967年10月10日生效,规定"外太空,包括月球和其他天体"是"人类共同遗产",不属于任何一个国家或独立的个体。
印度时报读者的评论:译者:Jessica.Wu
Sham Shastry
This man may not have proper toilet in his house but wants to buy land on moon. You will find all sorts of idiots in India.
这个人家里可能没有像样的厕所,却在月球上买地。在印度,你会看到各种各样的白痴。
Sudarshan Bhardwaj
Probably he dreams of landing on the moon building a toilet there, lol
也许他做梦都想登月,在月球上建个厕所,哈哈
Dr Vidyadhar Yellutla
How the ownership is established on moon? Next time Probably, Robber Vadra will gift it to Priyanka Robber Vadra.
月球土地的所有权是如何确立的?下回瓦德拉可能会把月球送给普里扬卡
Sudarshan Bhardwaj
Forget moon, he would have already booked on Mars
忘了月球吧,他早就预定火星了
Boycott
Anyone can get it for 100$. Its a scam.
只要花100美元就能买,这是一个骗局。
Rene Fernandez
I have gifted a acre of the sun to my wife as she loves to bake cakes and cook too . She said she wanted solar energy !!!
我把太阳上的"一亩地"送给了我的妻子,她喜欢做蛋糕、做饭。她说她想要太阳能!!
Sudarshan Bhardwaj
Lol, completely roasted
哈哈,烤焦了
Sham Shastry
You will find many IDIOTS in India who indulge in all sorts of nonsense. If he really loves his wife he should have provided her with amenities which are useful in day to day life.
在印度,你会碰到很多白痴。如果他真的爱妻子,就应该送她实用的东西。
Kiran Patel
.....as the saying goes ...fool and his money will always part.
俗话说得好,傻瓜和他的钱很快就会分开
Ramprasad Tellakula
idiotic gestures which have no meaning, and also proof of fake love
毫无意义的礼物,说明不是真爱,
Pream
Emotions at times leaves many Mindless.
感情有时会让许多人失去理智。
Ovais Alam
what a Moron....? he needed a mental treatment on urgent basis....
白痴…他需要立即接受精神治疗....
Agnostic atheist
its a thought that counts.
这是一个有意义的想法。
Muralidhar M S
Just like Bitcoin, people sell the moon. Bitcoin has no strong legal standing. But when there is a persistent demand for Bitcoin, driving up the price of 1 Bitcoin to 20k USD, and when online sellers start accepting Bitcoin payments, Go nment has now decided to charge Bitcoin transactions at 18% GST. This gives a semi legal recognition to Bitcoin. Just like that this Moon land will get some legal standing in future.
就像比特币一样,人们开始卖月亮了。比特币是不合法的,对比特币的需求却持续增长,将1比特币的价格推高至2万美元,网上卖家开始接受比特币支付时,政府决定对比特币交易收取18%的消费税。这给了比特币部分法律认可。购买月球上的土地,未来或许会获得法律认可。
Deep Sharma
Can some send the link of this article to that man. Owner of the Fake land
谁能把这篇文章的链接发给那个人?那块假土地的持有者
Rahul Gandhi
One day, My Jija ji will buy whole land of earth. then humans have to ultimately go to moon
总有一天,我会买下整个地球,其他人将不得不去月球
Siddhesh Desai
You should have good marketing skills. Then you can sale any impractical things.....
掌握了很好的营销技巧,你就能卖出去任何不实用的东西.....
Krishnamurti Narrainen
A LUNATIC. SO MANY IN INDIA
疯子,印度太多疯子了
Oleti Vijay
Some thing looking like fishy to buy land in moon
在月球上买地,不对劲啊
Tsr The Urbanist
Heights of idiocy
愚蠢至极
Nikhil Mittal
junk news
垃圾新闻