Take an objective view on Chinese-Pakistan air force drills, China tells India
中国希望印度客观看待中巴空军演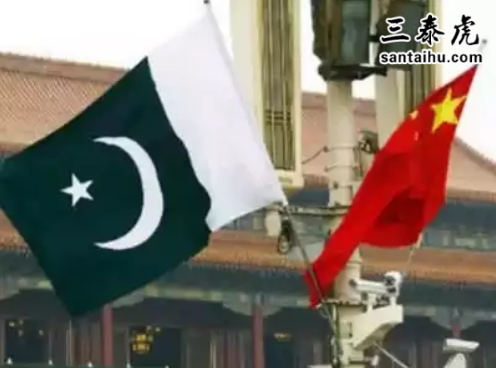 BEIJING: China on Monday defended the ongoing joint exercises of its air force with that of Pakistan, saying the drills were not directed ag inst any third country and India should view them objectively.
北京:周一,中国为正在进行的中巴联合空军演进行辩护,称演不针对任何第三国,印度应客观看待。
The Air Forces of China and Pakistan are holding their annual exercises "Shaheen (Eagle)-IX" since the second week of December in Pakistan's southern Sindh province.
自12月第二周起,中巴空军在巴基斯坦南部信德省举行一年一度的"雄鹰-9"联合军演。
The exercises followed the recent visit of China's Defence Minister General Wei Fenghe to Pakistan during which the all-weather allies signed a new memorandum of understanding, details of which were not disclosed.
在此次演之前,中国国防部长最近访问了巴基斯坦。在访问期间,这两个全天候盟国签署了一份新的谅解备忘录,但未透露备忘录的细节。
Asked whether the exercises between two air forces were aimed at conveying a message to New Delhi, Chinese Foreign Ministry spokesman Wang Wenbin told a media briefing here that drills were part of "routine arrangement".
当被问及两国空军之间的演是否旨在向新德里传递信息时,中国外交部发言人在新闻发布会上表示,演是"例行安排"的一部分。
"As all-weather Strategic Cooperation Partners, China and Pakistan have friendly exchanges and cooperation in many areas including politics, economy, military, and security," he said.
"We are committed to jointly upholding regional peace and stability. The relevant cooperation is a routine arrangement between the two militaries," he said.
"It is not targeting any third . We hope that (the) relevant Party can view this in an objective manner," Wang said, without directly naming India.
"作为全天候战略合作伙伴,中国和巴基斯坦两国在政治、经济、军事、安全等广泛领域开展了友好交流与合作,致力于共同维护地区和平与稳定。你提到的有关合作是中巴两军间例行安排,不针对第三方。希望各方客观看待。",但未提及印度。
印度时报读者的评论:译者:Jessica.Wu
Muhad Asghar
Thank heavens that there is the China-Pakistan solid as ag inst the loose RSS-BJP mafia chest-thum around the borders and colonially te roring the Kashmiri Nation In the IIOK.
印度人民党黑手党,在边界上虚张声势,在印控克什米尔进行殖民,谢天谢地,有中巴轴心对付他们。
Venkatarn Jagadesan
If we are going to believe as to what they say then when the Naval exercise Mbar took place when many countries took place which was ag inst China and pakistan were they got scared? Sheer non sense and what china and its Te rort friend are talking, we are not scared of any one and we know what we have to do and we will do. Jai Hind.
那"马拉巴尔"军演的时候,他们害怕了吗?
有很多和他们敌对的国家参与了。中国和它的朋友在说什么,完全是无稽之谈,我们不害怕任何人,我们知道自己要做什么。印度必胜!
Amit Kulkarni
Yes understand objectives and act wisely to defeat plans of Corona spreader people.
了解他们的目的,采取明智行动挫败他们的计划。
Ram Gaur
Pakistan is Chinese cars paw!
China uses Pakistan as a strategic asset, in the same manner Pakistan uses Taliban or other te rort groups!
巴基斯坦是中国的爪牙!
中国把巴基斯坦当作战略资产,就像巴基斯坦利用塔利班或其他组织一样!
Sandeep Parmar
. Over 60% of Chinese territory is territory China has annexed, occupied and forcibly taken from other countries. India must build an Asian NATO like military structure with USA for its own sovereign national security to counter China.
中国60%以上的领土是抢来的。为了自己的国家安全,印度必须与美国建立一个类似于亚洲版"北约"的军事组织,以对抗中国。
Mubashir Bukhari
India is instead a rouge state under RSS.
民族志工组织统治下的印度才是国家。
russ budd
Chinn eats bats cats and RATS.
Pakis are next after RATS.
中国人吃蝙蝠、猫和老鼠
Mubashir Bukhari
World should know what poor farmers are presting for in India today.
世界应该知道贫穷的印度农民在抗议什么。
Marimuthu Kaliyamoorthy
CHINESE HAVE BECOME FOX AND THEY THINK THAT INDIANS ARE ONLY FOOD EATERS HAVING NO SENSE.
中国人已经变成狐狸了,他们以为印度人是草包,没有常识。
Mubashir Bukhari
I condemn this negative propaganda.
我谴责这种负面宣传。
Poke Mail
The time has come to smash and dispose off the Hindu Nazis and liberate the Dalits, Christians, Muslims, and Skikhs. China and Pakistan will be doing the humanity a huge favour.
是时候除掉印度教纳粹分子,解放达利特人、基督徒、slm和锡克教徒了,中国和巴基斯坦将帮人类一个大忙。
kalvinali
India is a cancer, biggest aide taker of the world with highest unemployment humans on planet.Probably the only country on planet which has problems with all its neighbors! We wish we had monkeys in our neighborhood than Indians!
印度病入膏肓了,是世界上失业率最高的国家。印度可能是地球上唯一一个与所有邻国都存在纠纷的国家!
我们宁愿邻居是猴子,也不希望是印度人!
John Craft
The biggest mistake Germany made in WW2 was underestimating everyone. India needs to stay rational. Pakistan is not a cake walk and China is very strong. let's prepare for that.
德国在二战中犯的最大错误是低估了所有人。印度应当保持理性,巴基斯坦不容小觑,中国非常强大。我们要做好准备。
True Pakistani
liars get together
骗子勾结在一起
ASHOK IYER
Joint defense exercises between countries is a routine procedure & India is perfectly aware of the hostile intentions of both Pakistan & China. Nevertheless, as compared to India, it's China that should be more worried about its defence cooperation with Pakistan. India has defense partnerships with countries like the US, Australia, France, Japan etc., all of which are respected military powers with strong economic backgrounds as compared to Pakistan whose economy is in shambles
国与国之间的联合防御演是惯例,印度完全了解巴基斯坦和中国的敌对意图。
然而,中国更应该担心与巴基斯坦的防务合作,印度与美国、澳大利亚、法国、日本等国家有国防合作伙伴关系,
这些国家都是受人尊敬的军事强国,有着强大的经济背景,相比之下,巴基斯坦的经济一团糟。
G A Regoo
It is common procedure among friendly countries to conduct joint military drills across the globe. This is to gauge the preparedness of their defence forces. Our Country has been conducting such drills with friendly countries like the US, Australia, Russia etc. annually. None of our neighbours raise an eyebrow. Why our Political and Military Leadership is scared when it comes to China, Pakistan and other foe countries. So it is our Leadership demoralising our brave jawans and common masses.
举行联合军事演是友好国家之间的惯例,这是为了衡量防御准备情况。印度每年都与美国、澳大利亚、俄罗斯等友好国家举行此类演。
我们的邻国对比都不感到惊讶。为什么我们的政治和军事领导层一提到中国、巴基斯坦和其他敌对国家就会害怕,他们挫伤了勇敢的印度士兵和普通民众的士气。
Ram Eshwar
Both these rouge countries can NEVER be trusted!!!
Remember, 'Once Bitten, Twice Shy'?
"一朝被蛇咬,十年怕井绳",我们永远不能信任这两个国家!