Apple, Wistron admit to lapses in payments to workers in Karnataka facility
苹果和纬创承认卡纳塔克邦工厂拖欠工人工资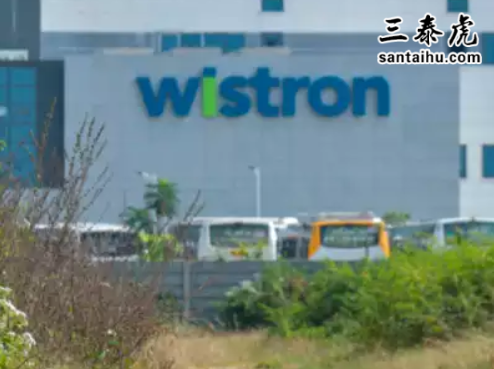 BENGALURU: Apple and its Tese contract manufacturer Wistron on Saturday issued separate statements acknowledging that there were lapses in payments to workers in its Narasapura facility near Bengaluru in October and November. The facility, which employs 12,000 people, saw large-scale violence and destruction of company assets last Saturday.
班加罗尔:苹果和代工制造商纬创资通分别发表声明,承认10月和11月拖欠班加罗尔附近纳拉萨普拉工厂工人的工资。这家工厂有1.2万名员工,上星期六发生了大规模暴 力事件,公司财物遭到破坏。
Apple said it was very disappointed with what happened and its preliminary findings indicate violations of its Supplier Code of Conduct by failing to implement proper working hour management processes. "We have placed Wistron on probation and they will not receive any new business from Apple before they complete corrective actions," it said.
苹果公司表示,他们对所发生的事情感到非常失望,初步调查结果表明,苹果公司未能实施适当的工时管理流程,违反了供应商行为准则。该公司表示:"在完成纠正措施之前,纬创将处于试用期,苹果公司不会给予新业务。"
Sources told TOI that Wistron has sacked Vincent Lee, vice-presi nt of the innovation business group in Wistron Infocomm Manufacturing India. Lee, who is based in T, had called upon Karnataka chief minister BS Yediyurappa earlier this month when he visited Bengaluru.
消息人士向《印度时报》透露,纬创已经解雇了纬创信息通信制造印度公司创新业务组副总裁Vincent Lee。本月早些时候,他去班加罗尔时拜访了卡纳塔克邦首席部长BS Yediyurappa。
They further told TOI that Wistron has settled the pending payments.
消息人士称,纬创已经结清了拖欠工资。
Wistron, which makes iPhones and other products, said in its statement that the Narasapura facility is new "and we recognise that we made mistakes as we expanded." It said that some of the processes put in place to manage labour agencies and payments need to be strengthened and upgraded. "We are taking immediate action to correct this, including disciplinary action. We are removing the vice-presi nt who oversees our business in India. We are also enhancing our processes and restructuring our teams to ensure these issues cannot happen again," it said.
纬创在其声明中表示,纳拉萨普拉工厂是新厂,"我们认识到在过程中犯了错误"。该公司表示,管理劳动中介机构和支付工资的一些程序需要优化。"我们正在采取行动纠正这种情况,包括纪律处分。我们将撤换负责印度业务的副总裁。我们也正在加强流程、重组团队,以确保这类问题不会再次发生。"
The Karnataka labour department's investigation is said to have found that Wistron was not maintaining proper appointment and employment details, it was not maintaining up-to-date sry and attendance records, and it was asking workers to do 12-hour shifts.
卡纳塔克邦劳动部的调查发现,纬创没有适当的任命和雇佣细节,没有最新的工资和出勤记录,而且要求工人轮班12小时。
印度时报读者的评论:
译文来源:三泰虎 http://www.santaihu.com/p/51585.html 译者:Jessica.Wu
Rinku Singh
Thats good Wistron agreed. There is no shame in admitting lapse. Thoght violence was not needed.
纬创承认了,这很好,承认过失并不可耻。但这种暴 力行为是不可取的。
Rekha Joshi
It's nice to see company acknowledging gaps and looking for correction.
很高兴看到这家公司意识到错误并主动纠正。
mseham
it is monumental blunder. please ensure you do not repeat it. also ensure workers are properly paid and shift hours are followed . do not exploit workers
这是严重的错误,请确保不要再犯。确保按时支付工人的工资,轮班时间合理,不要剥削工人
RCP C
It is the duty of Gt. to ensure proper wages getting to the workers.
政府有责任确保工人拿到工资。
Subu Subrnian
What happened at Wistron is the result of poor management where employees welfare was totally ignored.
纬创发生这一切是管理不善的后果,员工福利完全被忽视了。
Ranjith S
The gt must impose heavy fines on wistron like how usa imposed fine on infosys.
政府必须对纬创处以重罚,就像美国对印孚瑟斯罚款一样。
Raju Narasimha N
First of all, why these companies can't give full time employment, why are they hiring thru contractors...people need job and companies need people to work, no one is making in charity or hel anyone here, treat employees in dignity
首先,为什么这些公司不招聘全职的,为什么他们要通过劳务派遣公司招聘工人?
人们需要工作,公司需要工人,公司应当尊重员工
anup verma
had the in dent been in western countries, company would have had to pay millions in labour extortion. ?
如果事件发生在西方国家,该公司将不得不向工人支付数百万美元的赔偿?
Sridhar K1
Apple will rectify any anomolies for now. However will be reluctant to expand or ivest more. once the world situation normalise it is back to business in for Apple and will not take further risk having tasted the violent nature of Indians.
苹果会纠正违规行为,不过以后会不愿意在印度扩大投资。一旦世界局势正常化,苹果就会回到,不会再冒品尝印度人暴 力本质的风险。
Gautam Singh
no point buying the garbage products of this garbage company.
不要买这个垃圾公司的垃圾产品。
Vijayakumar Bhosale
Modi is responsible for this.
莫迪应当对此负责。
lonleytom
Indian companies will never accept their mistake. This is an example of how USA company works with integrity. Hope Apple take action on wistron and respect workers.
这是美国公司诚信正直的一个例子,然而印度公司永远不会承认自己的错误。希望苹果对纬创采取行动,尊重员工。
Mahendra Patel
Can we please honestly admit as Apple that lapses in payments have occurrd but on our part can we appologuises our violent actions as our follies
苹果已经承认错误,那我们能不能承认暴 力行为是我们的错
Chetan Gadi
This is a huge setback for a company like Apple
对苹果这样的公司来说,这是一个巨大的挫折。
shashank bhide
these workers work with full dedication at possibly one tenth the pay in western countries
这些工人尽心尽力地工作,工资可能只有西方国家水平的十分之一
prem
This is just one example. Business houses and MNCs violating labour laws of the country. Go nment ignores knowingly in the name of providing employment.
商业机构和跨国公司违反印度劳动法,这只是一个例子。政府为了保住就业,故意视而不见。
johny
C'mon Apple and Wistron you sl ve drivers you knew that you were paying low wages and exploiting third world countries labor.
苹果和纬创,你们这些苛刻的公司,知道自己发放的工资很低,剥削第三世界国家的劳动力。
Deviprasad Nayak
Dont blame workers all the time,there is a lapse in employers side.Good they accept it.Hope normalcy will come back
不要总是责怪工人,雇主方面有错。很好,他们承认了。希望一切会恢复正常