What country is the hardest to drive in for a foreigner?
对外国人来说,在哪个国家开车最难?
以下是Quora读者的评论:
Peter Wade, visited 79 countries, all 7 continents
Based on the nearly 80 countries I've visited, and the 23 in which I've driven, here is my personal assessment.
我去过近80个国家,在23个国家开过车,我来说说心得体会吧。
1.India - This country is just pure chaos. Cities of over a million people with practically no stoplights, traffic that allegedly drives on the left but freely utilizes the wrong lane for a risky pass at any moment, city buses with people clinging to the outside, their weight causing the buses to lean at such an angle it defies gravity (sometimes they even tip over), everything from speeding motorcycles to slow-moving ox-drawn carts and cows are thrown together on the same road, and many streets are still made of dirt.
1.印度—这个国家简直就是一团糟。人口超过一百万的城市也几乎没有红绿灯,车辆本该靠左行驶,但实际是车辆会随时随意变道占道行驶,险象丛生,人们扒在城市公交外蹭车,他们的重量使得公共汽车严重倾斜(有时甚至会翻车),从飞驰的摩托车到缓慢移动的牛车还有牛匹,都在同一条路上穿行,许多街道还依然是土路。
2.Egypt - There are laws, but my tour guide said they simply aren't enforced. Cars speed at 90 mph just inches past people walking on the roadways.
2.埃及—埃及是有法规的,但导游说这些法规根本没有得到执行。时速90英里的汽车也只能以龟速超越路上的行人。
3.Vietnam - There is a system, I just don't get it. But it sure is fascinating to stand back and watch a four-way intersection in a major metropolis with traffic coming from all four directions but no stoplight and no stop sign. Somehow, without any direction of traffic stopping, the motorbikes, vans, bicycles, and tuk tuks all flow through the intersection without hitting each other! And it's perfectly normal for someone to make a left turn right through oncoming traffic. The vehicles just flow around them like water!
3.越南—有自己的交通系统,但我就是搞不懂。但在大都市里,看着前方十字路口四个方向的交通同时行进,没有红绿灯,也没有停车信号,这真的让人眼晕。任何方向都没有停车信号,摩托车、货车、自行车和嘟嘟车同时驶过十字路口,但却没有相撞!迎面驶来的车流中,有车右转变道也是很正常的。各种车辆就像水一样在他们周围自游地流动!
4.China - As soon as I landed in Beijing for the first time and was attempting to leave the airport, I crossed a one-way bridge only to see another car backing up toward me at about 30 mph! My friend said it was a very typical maneuver. After all, the bridge was new and most people weren't familiar with where it took them. So why not back up against traffic? Much like Vietnam, the vehicles simply flow together just inches from each other, except at least China has stoplights.
4.中国—我第一次降落在北京,想要离开机场时,我穿过了一座单向桥,却看到另一辆车以每小时30英里的速度朝我倒车而来!我的朋友说这很典型。毕竟,这座桥是新的,大多数人并不熟悉前方的路。所以为什么不倒车呢?跟越南一样,这些车辆贴得很近,相距仅有几英寸,但至少中国是有红绿灯的。
5.Scotland - I tried this last summer. Wow! Narrow roads, driving on the left (sometimes), cars drifting into your lane, cows and horses in the road, and small towns where everyone parks and obstructs traffic on both sides, so the car that gets through the narrow avenue between the parked cars is the driver with the most bravado. The other one has to back up.
5.苏格兰—去年夏天我在这里开过车。哇!道路有够狭窄的,有时靠左行驶,汽车会并入你的车道,牛和马在路上漫步,小镇道路两侧随处停车,阻碍交通,所以,在两侧停满汽车的狭窄道路开车的司机无敌了。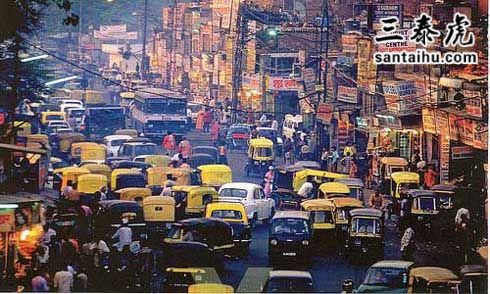 (Traffic in New Delhi, India)
印度新德里的路况
Chris Ebbert, Innovation Advisor at Government of Sweden
I'll vote for China.
I have lived in China for a few years, and never drove, but took taxis and cars that had drivers, not only because it is not so easy for a foreigner to get permission to drive in China, but also because the dynamics of driving in China are very hard to get your head around if you aren't Chinese.
The main thing to understand is the general, Chinese approach to negotiation. If you have been to China, or met Chinese people, you will have observed that it is different from the way of us westerners.
Let's say the situation is one where two strangers walk towards each other on a sidewalk:
我会选中国。
我在中国生活了几年,从不开车,但会搭乘出租车和带司机的营运车辆,不仅因为外国人在中国不易申请到驾照,还因为如果你不是中国人,在中国的道路上开车非常困难。
最重要的是要了解中国人之间打交道的方法。如果你去过中国,或者跟中国人接触过,你就会发现这和我们西方人的方式是不同的。
假设一下,两个陌生人在人行道上迎面相遇:
1.in a western country, one of the two pedestrians would be the first to slightly change course, so as to permit both to pass by each other with ease;
2.in China, it works like this: one pedestrian slightly changes course, which will cause the other pedestrian to also change to the same side; since this aggravates the situation, the second pedestrian will then quickly make a maneuver that accommodates the first pedestrian's space requirements.
1.在西方国家,两人中有一人会主动调整路线,以便彼此轻松通过;
2.在中国则是这样的:一人略微调整路线,另一人也会向同一个方向让行;而因为这个举动,第二个行人将很快再次调整,让第一个行人有通行的空间。
As weird as that sounds, it has to do with politeness, and being courteous enough to give people options.
And then, you get a whole lot of other things that just don't work, mentally, for guys like me:
这听起来很奇怪,但其实是因为礼貌,而且要足够礼貌,为人们提供选择。
然后,还有很多其他对像我这样的人来说没有意义的事:
1.double lane hogging; if you aren't certain where to go, try to occupy as many lanes at the same time as you can so as to have as many options as you may need; you will see cars driving on the markings, solidly;
2.high intensity crawling; every now and then, in the middle of a twelve lane, Shanghai freeway, there is that Porsche Cayenne, lugging along at 3 km/h, with a driver clenching the wheel in a posture of absolute fixation on something nobody else can see.
3.stopping for no reason; many Chinese drivers drive as if they were walking through a supermarket. "Oh, look, almond milk! Shall we stop and get some?" And they will just stop, anywhere, without recognisable reason. I would probably rear-end a car a day.
1.双车道占道;如果你不确定该往哪里走,会在同一时间占用尽可能多的车道,以便有尽可能多的选择;你会看到有些车会一直在车道标线上行驶;
2.龟速行驶;在上海一条12车道的高速公路中间,不时会有一辆保时捷卡宴以3公里/小时的速度龟速行驶,司机紧握着方向盘,全神贯注地盯着别人看不见的东西。
3.随意停车;许多中国司机开车就像在超市里散步一样。"哦,看,杏仁奶!我们停下来买点吧?"他们会毫无理由地在任何地方停车。我可能每天会追尾一辆车。
The only place in China I ever enjoyed driving in was this one:
在中国,我唯一能享受驾驶的地方就是这里: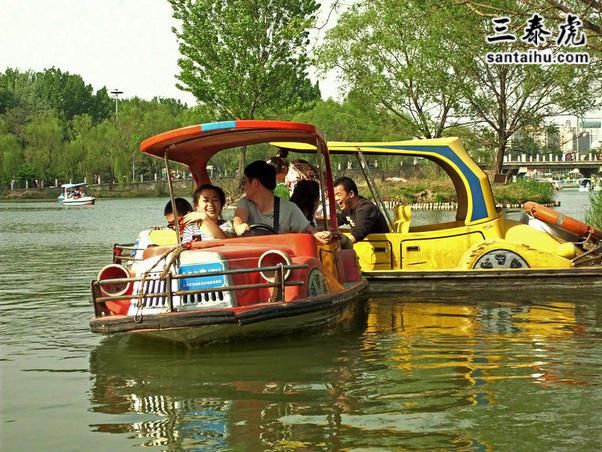 Musavvir Mahmud, lives in Dhaka, Bangladesh
Bangladesh. Not only for foreigner but also for Bangladeshis as well.
Here are two images of the capital Dhaka:
孟加拉国。不仅对外国人,对孟加拉本国人也一样。
以下是首都达卡的两张照片: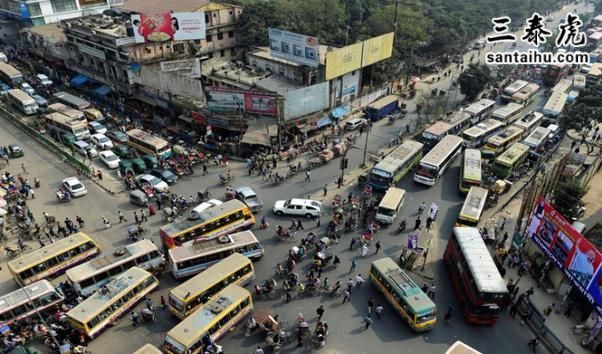 Just see, buses, cars, motorbikes, rickshaws (three wheeler manual vehicle) and even pedestrians on road. I guess 90% drivers have no idea what is the function of lanes on road. They change lanes just they wish. Cars from left lane turns right in an intersection (we drive on left) or vice versa. From nowhere rickshaws come in front of buses and slows down all the traffic behind it.
Buses take and drop passengers any place they want, even middle of the road, in the middle lane. If you are driving beside a bus, you have to be a cautious more than a pilot engaged in a dog-fight because you don't know when someone will get down from a running bus in the middle of a street.
Highways are more dangerous. Most highways are two lanes both ways, no divider. Buses and trucks sometimes drive like they are on F1 competition, particularly at night. In the day time, you will face lots of local manual or semi-auto vehicles on highways coming from nowhere. Motorbike accidents are common because cows, goats, dogs jump in front of your bike.
看看,马路上有公共汽车、小汽车、摩托车、三轮车(三轮车),甚至还有行人。我猜90%的司机都搞不清各个车道到底有什么用。他们随心所欲地变换车道。左车道的车在交叉路口右转,反之亦然。人力车会突然出现在公共汽车的前面,堵塞后面的交通。
公共汽车可以把乘客载到他们想去的任何地方,甚至是路中间的中间车道。如果你在公共汽车旁驾驶,你必须比空战中驾驶飞机的飞行员更为谨慎,因为你压根不知道什么时候会有人从马路中间车道行驶的公共汽车上下车。
高速公路就更危险了。大多数高速公路是双向双车道,没有车道分隔线。公交车和卡车有时开起来就像F1赛车一样,尤其是晚上的时候。白天,你会在高速公路上看到很多本土的手动或半自动汽车。摩托车事故屡见不鲜,因为牛、羊、狗会突然蹿到你的自行车前。
Sam Ava, lives in Syracuse, NY (2016-present)
INDIA definitely takes the cake:
Poorly designed intersections with no lane system
印度绝对傲视全球:
设计蹩脚的十字路口,没有车道系统;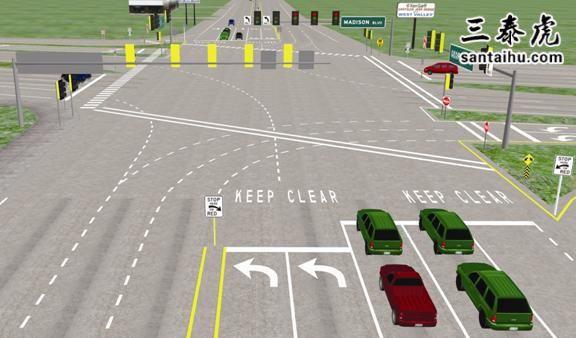 As you can see, In many countries, intersections are separated by lanes, the two lanes on the left are left turn only in the first picture, and others go straight. In India, quite often people who want to make a turn are at the opposite end of the traffic cutting across people wanting to go straight. It's very dangerous and I personally saw many accidents because of this.
正如你所看到的,在很多国家,十字路口都是由车道分隔的,在第一幅图中,左边的两条车道只能左转,其他车道直行。在印度,想要拐弯的人往往会在车流的另一侧,拦截想要直走的车辆。这是非常危险的,我亲眼目睹了许多事故,就是因为这一点。
Random vehicles such as bullock carts, Rickshaws, etc coupled with numerous animals such as cows, bulls, goats etc. You must take care to never hurt or hit a cow. They're the kings and queens of Indian roads.
Lack of stop, yield signs and no right of way rules at smaller intersections. You go in and hope everybody else slows down for you.
各种车子比如牛车、人力车等,加上公牛、山羊等许多动物。你必须小心翼翼,不能伤到或撞到牛。他们是印度道路的绝对王者。
小型十字路口没有停车、让路标志,也没有通行规则。你只能一边走,一边指望其他人为了你减速。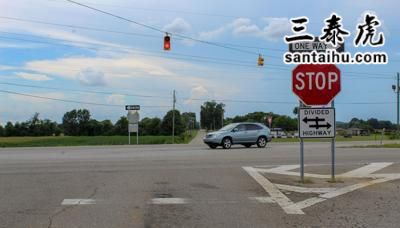 The go nment doesn't give a crap about the quality of roads, driving is an absolute nightmare in the rainy(monsoon) season, most of your time will be spent dodging the potholes.
政府不关心道路的质量,在雨季开车绝对是场噩梦,大部分时间都要花在躲避坑洞上。
Incessant honking, no adherence to traffic signals, lack of lane system, roads filled with potholes and a complete lack of civic sense and courtesy for fellow drivers make it incredibly hard to drive in India.
此起彼伏的鸣笛,不遵守交通信号,缺乏车道系统,路面坑坑洼洼,对其他司机完全没有公民意识和礼仪,这些都让在印度开车变得异常困难。
Badari Panuganti
India for sure.
I was born there and lived there for 28 years(but never drove as I could not afford a scooter, motor cycle etc). But, I saw how the traffic has been evolving for the last 50 years and it is crazy.
After doing some thinking, I think it is the way it should be(as long as they are not doing any drastic infra development; which does not seem to affect change). If they tried to impose all traffic rules, then the whole country will come to a halt. For example, when someone comes from a side street onto a main street, he does NOT look to see how the traffic is coming at him on the main street. He BLINDLY just turns.
绝对是印度。
我出生在印度,在印度生活了28年(但我从来没有在印度开过车,因为我买不起小型摩托车和摩托车等)。但是,我看到了过去50年里交通状况里是如何演变的,这太疯狂了。
在进行了一些思考之后,我认为这样才是正确的方式(他们没有做大规模基础设施开发,似乎不会影响变化)。如果他们试图强制执行所有的交通规则,那么整个国家将陷入瘫痪。举个例子,当一个人从小街走到主干道时,他不会观察主干道上的车辆是不是冲他行驶而来的。他想怎么转弯就转弯。