6.6 mn white collar professional jobs lost during May-August: CMIE
印度经济检测中心:5 - 8月期间,印度减少了660万个白领岗位
An estimated 6.6 million white collar professional jobs, including engineers, physicians, teachers, were lost between May and August, bringing their employment to the lowest level since 2016 and wi out the gains made over the last four years while five million industrial workers were out of work during the period, the Centre for Mon oring Indian Economy (CMIE) said.
据估计,在5月至8月间,660万个白领岗位被裁,包括工程师、医生、教师等。印度经济监测中心(CMIE)表示,这使得就业率降至2016年以来的最低水平,抹去了过去四年取得的成果,同时在此期间有500万产业工人失业。
According to CMIE weekly analysis based on the data from the 20th wave of CMIE's Consumer Pyramids Household Survey released every four month, the biggest loss of jobs among sried employees was of white-collar professional employees and other employees.
根据CMIE每星期根据每四个月发布的第20轮消费者金字塔家庭调查数据进行的分析,工薪阶层失业最多的是白领和其他员工。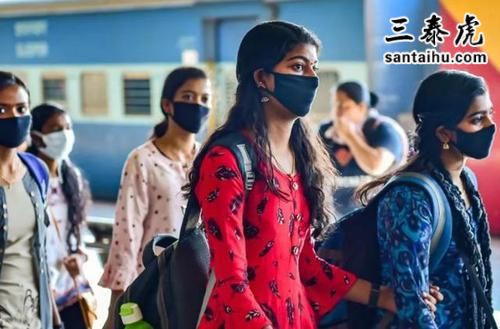 These include software engineers, physicians, teachers, accountants, analysts and the type, who are professionally qualified and are employed in some private or go nment organisation. This, however, does not include qualified self-employed professional entrepreneurs'.
岗位包括软件工程师、医生、教师、会计师、分析师等,他们具有专业资格,受雇于一些私人或政府机构。然而,这并不包括自雇职业企业家。
"From a peak of 18.8 million white collar workers employed in the country during May-August 2019, their employment fell down to 12.2 million in the May-August 2020. This is the lowest employment of these professionals since 2016," CMIE said, adding all the gains made in their employment over the past -four years were washed away during the lockdown.
CMIE表示:"在2019年5月至8月期间,白领就业人数达到了1880万的峰值,到2020年5月至8月,这一数字下降到了1220万。这是自2016年以来这些专业人员的最低就业率。过去四年在就业方面取得的所有成就都在封锁期间被葬送了。"
According to CMIE, the next biggest loss was among industrial workers. "By a similar year-on-year comparison, they lost five million employees. This translates into a 26% fall in employment among industrial workers over a year," it said. .
根据CMIE的数据,第二大失业群体是产业工人。与去年同期相比,今年有500万产业工人失业。这意味着在一年多的时间里产业工人的就业率下降了26%。
"However, the decline in employment of industrial workers is likely to be largely in the smaller industrial units. "This reflects the distress in the medium, small and micro industrial units in recent times," CMIE analysis shows.
CMIE分析显示:"然而,产业工人就业率的下降很可能主要发生在较小的工业部门。这反映了中小微工业单位近期的困境。"
The lockdown, however, did not impact white collar clerical employees which largely includes desk-work employees ranging from secretaries and office clerks to BPO/KPO workers, data-entry operators and the types.
然而,这次封锁并没有影响白领文员,主要包括从秘书、办公室职员到BPO/KPO人员、数据录入操作员等。
"Possibly, their work shifted to the work-from-home mode," it said. CMIE daya shows this category of workers has not been seeing any growth since 2016. "In fact, it has slid quite sharply since 2018 from about 15 million to less than 12 million by 2020. Interestingly, it did not slide any further during the lockdown," it added.
"有可能,他们的工作模式转变为在家班公,"CMIE称。CMIE的数据显示,自2016年以来,这类员工没有任何增长。"事实上,自2018年以来,这一数字急剧下降,从大约1500万下降到2020年的不到1200万。有趣的是,在封锁期间,并没有进一步下滑。"
CMIE had earlier estimated that 121 million jobs were lost in April but most of it recovered by August, but with continued deteriorating conditions of sried jobs.
CMIE曾估计,4月有1.21亿人失业,到8月大部分就业机会恢复,但工薪阶层的状况持续恶化。
印度经济时报读者的评论:
译文来源:三泰虎 http://www.santaihu.com/p/50846.html 译者:Jessica.Wu
SkyWalker
Be it highest unemployment, Negative GDP, rural distress, Agrarian crisis, water harvesting and totally devastated economy ; Modi has failed miserably in resolving these issues , for the good of the nation he should quit
高失业率、GDP负增长、农村困境、农业危机,经济彻底被摧毁了,莫迪没能解决这些问题,为了国家的利益,他应该辞职
Rajesh Dharia
I T IS BOOMING, HIGHEST GROWTH RATE
印度经济正在蓬勃发展,增长率达到最高水平了
Robin Chowdhury
We are heading to disaster under this Go nment. Now our country lost all pential. Wonder if this ruled for 70 years after independence then imagine the situation.
在印度政府的领导下,我们正走向灾难。我们的国家失去了所有的潜力。独立后,要是由人民党政府统治70年,后果不堪设想。
Gopkrishnan Krishnan
This only reflects failure of the Go nment and the greed of the employers to save money at the cost of humanity.
这反映了印度政府的失败,雇主没人性,为了省钱而裁员。
Bilu
Oh no worry, We have an Old gentle man Mr Minister named Mr Mo** he will soon make India a Japan full of bullet trains and why work?
不用担心,我们有莫迪,他很快就会让高铁贯穿印度,就像日本一样。还要什么工作?
Dominator Force
Hey Hey Hey... FEKUCHAND is living up to his promise of ATMANIRBHAR as job seekers and d offs of this nation are left to fend off on their own.
莫迪正在履行"印度自力更生"承诺,这个国家的求职者和下岗人员只能靠自己谋生了,而不是依靠政府来创造就业。
Guest
US has been printing trillions of money since the outbreak of pandemic and that dollars landed in Indian stock markets. beware prepare for the worst. only a wise man take good decision at the place time.
自疫情爆发以来,美国一直在印美元,数以万亿计,这些美元进入了印度股市。大家要小心,做最坏的打算。只有聪明人才能在正确的时间和地点做出正确的决定。
Sacheesh Sharma
Under the garb of Covid-19, all major corporations silently implemented job automation, creating large scale redundancies across sectors
在新冠疫情的笼罩下,所有大型企业悄然实施了自动化,造成了各行业大规模裁员。
Dev Nayak
Job loss, start selling pakodas and chai
失业了,去卖炸丸子和印度茶吧
Praveen
Go nment should act dynamic and bring in stimulus and reforms to create demand.
印度政府应该积极行动,通过刺激和改革来创造需求。
Avinash Yadav
This is the new era of de acy called populist de acy whose only concern on populist issues other than real issues.
这就是所谓民粹主义的新时代,只关心民粹主义问题,而非真正的问题。
Hemant Pisat
Job losses have started long ago, when MSMEs were struggling now almost dead, Covid19 situations have worsened the scenario further debilitating the so called reforms imposed by Niti Aayog's intellectuals. Various promises related to economic package were hollow and meagre that didn't reflect the true sensitivities of the go nment but were lip service that achieved applause from bhaktaganas.
失业很早以前就开始了,当时中小微企业还在苦苦挣扎,现在已经奄奄一息了,疫情更是恶化了形势,进一步削弱了推行的所谓改革。
各种与经济一揽子计划有关的承诺都是空洞贫乏的,只是赢得了掌声的口头承诺。
Pravin Kamble
Blame Neharu and Gandhi's and Congress.
把责任推到尼赫鲁、甘地家族和国大党头上。
Soumya Panda
The Current Gt lacks spirit for Economics Reforms and execution. I get disappointed with the policies and their practice.
印度政府不推经济改革,缺乏执行效率。我对他们的政策和做法感到失望。
Hari Krishna Johri
Economy doesn't seem to be a cup of tea for this gt.
They are preoccupied with their own agenda which public can easily notice.
经济似乎不是印度政府关心的,他们专注于自己的议程,这些议程是公众很容易注意到的。
Snrj Investment Academy
Rich become more Rich and middle class and poor struggle .That is the ultimate reality after each economic crisis
富人越富,中产阶级越穷,穷人苦苦挣扎,这就是每次经济危机后的终极现实。
King Nifty
POST CORONA AMBANI HAS CLIMBED WORLDS RICHEST.AMBANIS MONOPOLY IS KILLING EVERY SECTOR AND CAUSING HUGE ECONOMIC LOSS & EMPLOYMENT. HOW MANY TELECOM COMPANIES HAD SHUT DOWN AFTER JIO LAUNCH AND THE JOB LOST WAS NEVER REPLACED..JAI HO BJP AMBANI PARTNERSHIP
疫情过后,安巴尼将爬上世界首富的宝座。安巴尼的垄断正在扼杀每一个行业,造成巨大的经济损失,创造了就业机会。