Good rainfall helps farm sector post record kharif crop acreage
雨水充足,印度秋收作物种植面积创新高
NEW DELHI: In what should spell good news for the rural economy, India has reported an all-time record acreage of Kharif (summer sown) crops this year despite the Covid-19 pandemic and flood situation in many states. The development indicates that the farm sector, which remained largely free of restrictions during lockdown, may continue to register growth despite a shrinking GDP.
新德里:对于农村经济来说,这应该是个好消息。报告称,尽管许多邦疫情肆虐,洪水泛滥,但印度今年的秋收作物(夏季播种)种植面积创下了历史新高。这表明,尽管GDP不断萎缩,但在封锁期间基本未受限制的农业部门可能会继续增长。
As on Friday, the total acreage was reported at 1,082 lakh hectares ag inst 1,010 lakh hectares during the corresponding period last year – an increase by over 7%. Sown areas of mainly paddy, oilseeds and pulses contributed to this increase. Barring dge due to inclement weather, several crops will benefit from the go nment's procurement policies. During the lockdown period, the Food Corporation of India (FCI) had launched a massive operation to complete procurement and make payments to farmers.
截至星期五,播种总面积为10820万公顷,而去年同期为10100万公顷,增幅超过7%。主要是水稻、油籽和豆类的播种面积增加。除了由于恶劣天气造成的损害,一些作物将受益于政府的采购政策。在封锁期间,印度食品公司(FCI)发起了一项大规模行动,以完成采购并向农民付款。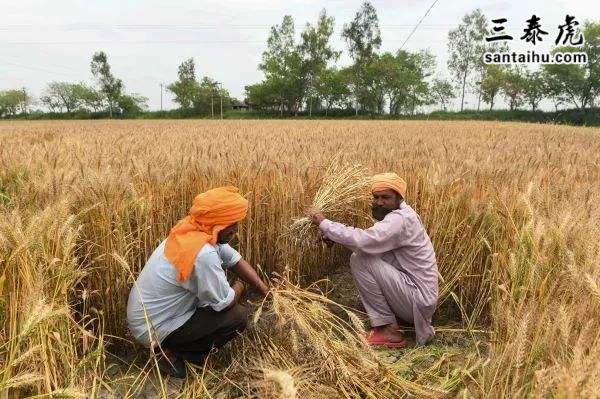 India had reported its previous record for Kharif crop sown area in 2016 when the acreage was 1,075 lakh hectares. The country's average sown area in the past five years has been 1,066 lakh hectares. The higher acreage can be attributed to a good monsoon rainfall and proactive measures, taken by farmers and go nments during the lockdown period, to beat the impact of Covid-19 on agriculture.
2016年,印度的秋收作物播种面积创历史记录,当时的播种面积为10750万公顷。过去五年,平均播种面积为10660万公顷。种植面积提高主要得益于充沛的季风降雨,以及农民和政府在封锁期间采取的积极措施,以应对疫情对农业的影响。
"Exemptions given to the farm sector during the lockdown period helped farmers continue with their operations – first harvesting Rabi crops and then sowing Kharif crops – almost uninterrupted," said Agriculture Minister Narendra Singh Tomar.
农业部长纳伦德拉·辛格·托马尔表示:"在封锁期间给予农业部门的豁免帮助农民几乎不间断地继续作业——首先收割早春作物,然后播种秋收作物。"
Noting that there is little impact of the pandemic on the farm sector, Tomar said the Kharif acreage would increase further as sowing of paddy was still continuing in a few states. "We are confident that the 2020-21 crop year would report an all-time record output of food grains and cross our target of 298 million tonnes," he said.
托马尔指出,疫情对农业部门几乎没有造成什么影响,他说,秋收作物的种植面积将进一步增加,因为一些州邦仍在继续播种水稻。他说:"我们有信心,2020-2021年的粮食产量将创历史新高,超过我们设定的2.98亿吨的目标。"
The sown area under paddy, which occupies the highest acreage among all Kharif crops every year, has so far recorded an increase of over 35 lakh hectares as compared to last year. Higher area is reported from Telangana, Madhya Pradesh, Bihar, Jharkhand and West Bengal among others.
在所有秋收作物中,每年的水稻播种面积占最高的,到目前为止,与去年相比增加了350多万公顷。播种面积较高的地区为特伦甘纳邦、中央邦、比哈尔邦、贾坎德邦和西孟加拉邦等地。
Sowing operations of oilseeds, coarse grains and pulses have already been completed this season. Oilseeds (193 lakh hectares) and cotton (128 lakh hectares) have reported their highest acreage in the last five years.
本季度油籽、粗粮、豆类的播种作业已经完成。油籽(1930万公顷)和棉花(1280万公顷)的种植面积为过去五年来最高的。
印度时报读者的评论:
译文来源:三泰虎 http://www.santaihu.com/p/50677.html 译者:Jessica.Wu
K Mohan Twincities
If the farmer remains happy India can post good growth even in Industrial productions.
如果农民幸福,印度甚至可以在工业生产方面实现不错的增长。
Timir Ghosh
Farmers are always happy all along- without any extra demand from urban consumers decades after decades. It is the ugly urban folks have spoiled the Country's fortune in every respect. Only person has extended helps to farmers is PM Modi after 73 yrs of loera Congress sucked Billions in to their Tax heaven Countries for family of Nehru-Gandhi.
农民一直都很幸福,不像城市消费者有那么多要求。丑陋的城市人在各个方面破坏了这个国家的财富。73年来,国大党为尼赫鲁-甘地家族敛财数十亿美元,只有莫迪总理向农民提供了帮助。
Jagdish Madan
The better performance of farm sector will soon percolate to other sectors as well. Happy rural India means 70% population not affected by Wuhan Vir s to the extent the urban India has suffered!
农业部门良好表现,很快将渗透到其他部门。农民高兴意味着70%的人口受疫情的影响不像城市一样严重!
Ananya Lal
They have way better immunity than city dwellers too. Those migrants who went back home, those who got infected covered on a avg of 3 days! While us city people avg is much higher.
农村居民的免疫力也比城市居民更高。那些返乡后确诊的民工,平均3天就康复了!而城市居民的平均康复时间要长得多。
N Renganathan
good news . hope nature will be helpful hereafter too . does country have adequate storage facilities correspondingly ? sadly , No is the answer . regularly we come across news of harvested grains getting spoiled due to lack of adequate facilities .
好消息。希望以后天公也能作美。另外,国家是否有足够的粮食储存设施?遗憾的是,答案是否定的。我们经常看到收获的谷物由于缺乏足够的存储设施而变质的消息。
New
Proper storage of food items is most important
妥善储存粮食是重中之重
Hindustani
This is a good news for Indian economy. Rural prosperity is the key to India's success. It will play an important role to boost GDP no's.
这对印度经济来说是个好消息。农村繁荣是印度成功的关键,农业将在提高GDP方面发挥重要作用。
Subbu India
It will surely improve rural economy but urban eeconomy is on downstream as people are loosing jobs.
农村经济肯定会得到改善,但是城市经济在下滑,因为城里人都要失业了。
Guru
To many this may not be sensational news but to me this is great news. Food sufficiency is a great asset.
对许多人来说,这可能不是令人兴奋的消息,但对我来说,这是个特大好消息。充足的粮食是巨大的资产。
Venkat B
the worst affected are the border towns / villages of river banks, otherwise it is an opportunity for villagers to store rain water in the means of lakes
受影响最严重的是边境上的城镇/村庄,那里的村民本来可以把雨水储存在湖泊里的
Shekhar Shirali
Every dark cloud has a silver lining they say. And in this gloomy and dark Covid 19 pandemic environment this is extremely heartening news which will go a long way in boosting India's economic growth and development and alleviate the pain and suffering of people. Jai Hind Vande Mataram
乌云背后总有一线光明。在疫情笼罩的环境下,这是一个极其振奋人心的消息,将大大促进印度的经济增长和发展,并减轻人民的痛苦。印度必胜!
Bakulesh Dl
Go nment distributed food grain to crores of our population during this distressing period. God has taken ne and gave back more with interest . Good going with this Go nment for being people centric . My Congratulations to both the farmers and Go nment.
在这一痛苦时期,政府向数亿人口分发了粮食。神已经注意到了,赐予了回报,还给了利息。这个政府以人民为中心,很好。向农民和政府表示祝贺。
New
We need at least five lakhs cold storage units
我们至少需要五十万个冷藏存储设施
K Mohan Twincities
Annadatta sukhi bhava our farmers should remain happy without de ts and losses
农民应该保持快乐,没有债务和损失
Gautam Natrajan
This is god given gift to india and we need to convert into positive gains.
这是神赐给印度的礼物,我们需要把它转化为积极的成果。
Maya Mahant
Some b news on a rainy day. Farmers are our lifeblood. With a bumper crop, we hope to see a exponential effect in boosting our economy. Food in the stomach and money in the pocket there will be no stop the boost!
好消息。农民是我们的命脉,随着农作物丰收,我们希望看到促进经济发展的指数效应。肚子里有粮,口袋里有钱,没有什么能阻止我们前进!
Rajeeva Kumar
At least one good news.
终于有一个好消息了。
K Mohan Twincities
Even in the pandemic the farm sector was unaffected and the supply chain to farm was going on
即使在疫情期间,农业也没有受到影响,农场的供应链仍在继续运转
Sanjoy Pandey
With good monsoon, Kharif crop will be good, but how to control the Corona pandemic ?
降雨充沛,作物收成就好,但是要如何控制疫情呢?
Mehul Choksi
Farmers are roots of Indian Economy, if they are happy, all the economy will boost.
农民是印度经济的根基,如果他们幸福,整体经济就会繁荣起来。
Gaana User
But still the rates are rising in the retail market and we the common people are suffering
但是,零售市场的价格仍在上升,我们这些老百姓正在受苦