China rockets to Mars: Tianwen-1 launches on seven-month journey to the Red Planet in space race with US - three days after the UAE's first mission
中国"天问一号"开启为期7个月的火星之旅,与美国展开太空竞赛,3天前阿联酋开启首次火星任务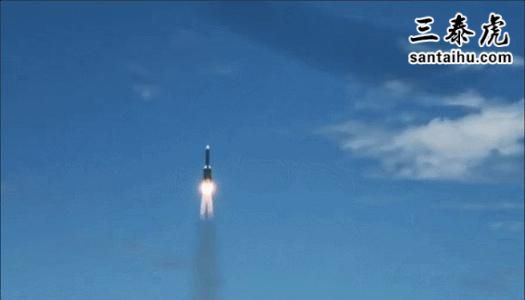 China has successfully launched its Tianwen-1 spacecraft to Mars, which is due to arrive on the Red Planet next February after a seven-month, 34-million-mile voyage.
中国成功发射"天问一号"火星探测器,该探测器将经过7个月、3400万英里的航行,将于明年2月抵达火星。
The unmanned space probe took off aboard a Long March 5 Y-4 carrier rocket at 12:41pm (04:41 GMT) from Wenchang Space Launch Centre on the southern island province of Hainan, China.
下午12点41分(格林尼治时间04:41),该无人驾驶的太空探测器搭载长征5 Y-4运载火箭从中国海南省文昌航天发射中心升空。
The craft, which consists of an orbiter, lander and rover, measures just over six feet in height (1.85m) and weighs 530 pounds (240kg).
该探测器由轨道飞行器、着陆器和火星车组成,高6英尺(1.85米),重530磅(240公斤)。
It will survey the composition, types of substance, geological structure and meteorological environment of the Martian surface, and look for signs of alien life.
它将调查火星表面的成分、物质类型、地质结构和气象环境,并寻找外星生命的迹象。
The launch comes three days after the UAE launched its own Mars orbiter and a week before NASA's scheduled launch of the Perseverance rover.
三天前,阿联酋发射了自己的火星探测器,一周后,美国宇航局计划发射"毅力"号探测器。
以下是英国每日邮报读者的评论:
译文来源:三泰虎 http://www.santaihu.com/p/50396.html 译者:Jessica.Wu
Dailymale, London, United Kingdom
Soon they will produce antimatter reactors and then power wont be a problem. Then they can travel the solar system and establish themselves on other planets. Its best to work with each other than against each other.
很快他们就会制造出反物质反应堆,这样能源就不再是个问题。然后他们可以在太阳系中旅行,在其他行星上安家落户。与其相互对抗,不如和中国合作。
dude, Caersws, United Kingdom
Nice to see just where the 71 million of British taxpayers money is being spent.
很高兴看到英国纳税人的7100万美元究竟花在了哪里。
MPD181818, London, United Kingdom
And we still give money to their go nment. Unbelievable
我们仍然给他们提供援助,真是难以置信
Sylviane47, Stevenage
Stop foreign aid to this country. Also we need to stop buying anything made in China and should check carefully everything we purchase to see the origin of the goods.
不要再援助中国了。此外 ,我们要抵制中国货,买东西之前要看清楚原产地。
savetheEUbuyBritish, mongrelnation, United Kingdom
And we STILL send them aid, madness or what ?
我们还在给他们送援助金,疯了吗还是?
Speakout, Exeter, United Kingdom
Not satisfied with having infected the whole World with their virus, they now want to infect the rest of the universe.
感染了整个地球还不满意,现在他们想感染整个宇宙。
OniRaw, Earth, United Kingdom
Perhaps if they had spent as much on personal hygiene and eating habits we wouldn't have a pandemic.
如果他们多花点钱改善个人卫生,改掉饮食习惯,就不会爆发疫情了。
SoFarSoHood, City, United Kingdom
Nice to see how they're spending our money... This is absolutely ludicrous! The same goes with India...
很高兴看到他们是怎么花我们的钱的…太荒唐了!
还有印度也是这样…
TheGhost, London
In the same year that we gave India over 50 million quid, they constructed the tallest statue in the world.
我们一年给印度5000万英镑,他们用我们的钱建造了世界上最高的雕像。
Mr Realistic, The real England, United Kingdom
Stop foreign aid now - make Britain great again...
停止援助外国,让英国再次伟大…
Southwest121, Exeter, United Kingdom
We give China foreign aid each year and they have a space programme that actively launches rockets into space...what a mess. We need to stop the aid immediately
我们每年援助中国,他们才能搞太空计划,向太空发射火箭……我们必须立即停止援助
bob_001, Leeds, United Kingdom
A lot of people commenting on here saying that Chinese things don't work still seem to be living in the 1990s. China is now a major industrial power and many of the things that you use that do work are made there, even if they have American name badges on them. We need to wake up to this or we will under-estimate the threat.
很多人在这里评论说,中国的东西不好,他们似乎仍然生活在90年代。但是,现在的中国已经是一个主要的工业大国,你们使用的很多东西都是在中国制造的,即使它们上面贴的是美国标签。
我们必须清醒地认识到这一点,否则我们将低估来自中国的威胁。
pingpong6, Melton Mowbray, United Kingdom
Seems as though we have 71m invested in it.
看来我们在这项目上投了7100万。
aberipon, Austin, United States
It's Chinese, therefore all plastic. It will break up before it's even halfway to Mars. Also, it's probably 80% stolen tech from SpaceX.
中国探测器都是塑料的,到不了火星,在半路上就会。而且,80%的技术是从SpaceX公司偷来的。
PageOne, UK, United Kingdom
That's the end of Life on Mars
这是火星生命的终结
MemeGogo, Hastings, United Kingdom
That poor planet is gonna be Corona ed !!!
可怜的火星要爆发疫情了!!
MattieBull, London, United Kingdom
It won't make it.
不会成功的
Darth n Vader, Massachusetts, United States
They are going to search for life on Mars ... and then eat it.
他们要去火星上寻找生命,然后吃掉它们。
Azorean, NH, United States
Space Race? That race ended in 1969 and the US won.
太空竞赛吗?这场竞赛于1969年结束,美国获胜。
Patrick, Kansas
It would be nice if China's Mars mission ended in failure.
如果中国的火星任务以失败告终,那就太好了。
Super Marrioooo, Mushroom Tip Kingdom, United Kingdom
It would be wonderful if the NASA Mars mission ended in an explosion too.
如果美国NASA的火星任务也以爆炸告终,那就太好了。
Darth n Vader, Massachusetts, United States
So the WHO's favorite country ... a "developing nation", puts a probe on Mars. They've really "developed" haven't they.
世界卫生组织最喜欢的国家,一个"发展中国家",要将探测器送上火星。他们已经是"发达国家"了,不是吗?
TaffyGirl, Cardiff, United Kingdom
It's time our Government stopped sending foreign aid to China? They're better off than us!
英国政府是时候停止向中国提供援助了?
他们过得比我们还好!
Duke Surfer, Waikiki Beach, United States
With technology stolen from the US.
靠从美国窃取的技术。
The_Great_Gordini, Louisville, United States
They are searching for tasty bats!
他们在寻找美味的蝙蝠!