原文标题:Over 20 states in power crisis as 3 grids collapse
原文链接:http://timesofindia.indiatimes.com/india/Over-20-states-in-power-crisis-as-3-grids-collapse/articleshow/15292417.cms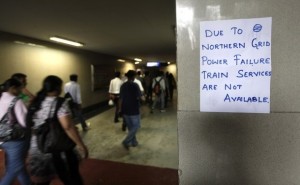 NEW DELHI: Triggering a major power crisis, three electricity grids connecting more than 20 states and the national capital collapsed on Tuesday.

While the northern grid failed for the second straight day, the eastern and north-eastern grids too collapsed. These three grids carry about 50,000 MW of electricity.

The collapse has left more than half of the country powerless. Essential services and public transport systems, including Railways and the Delhi Metro were also hit.

"Grid incident occurred at 1pm affecting the northern grid, eastern grid and north-eastern grid -- System Under Restoration," National Load Despatch Centre (NLDC), under the power ministry, said in an update.



新德里:星期二,连接20几个邦和首都的三个电网瘫痪,引发一场用电危机。





北部电网连续第二天瘫痪,东部电网和东北电网这次也瘫痪。三大电网的总负荷是5万兆瓦。





电网瘫痪导致全国超过一半的地方停电。基本服务和公共运输系统——包括铁路和德里地铁——都受到影响。





"电网瘫痪发生在下午1点,受影响的有北部电网、东部电网和东北部电网——系统正在修复中,"电力部下属的国家负载调度中心(NLDC)在更新的消息中表示。



About 22 states and union territories have been impacted by the failure of the three grids.

The northern grid covers nine regions -- Punjab, Haryana, Rajasthan, Delhi, Uttar Pradesh, Uttarakhand, Himachal Pradesh, J&K and Chandigarh.

At least six states are covered by the eastern grid. They are West Bengal, Chattisgarh, Bihar, Jharkhand, Orissa and Sikkim.

Meanwhile, the north eastern grid connects Arunachal Pradesh, Nagaland, Assam, Meghalaya, Manipur, Mizoram and Tripura.



大约22个邦和联邦属地受到三大电网瘫痪的影响。





北部电网覆盖了9个地区——旁遮普邦、哈利亚纳邦、拉贾斯坦邦、德里、北方邦、 北阿坎德邦、喜马偕尔邦、查馍克什米尔邦和昌迪加尔。





东部电网至少覆盖了6个邦。它们是西孟加拉邦、昌迪加尔、比哈尔邦、 贾坎德邦、奥里萨邦和锡金邦。





同时,东北电网连接阿鲁纳恰尔邦、纳格兰邦、阿萨姆邦、梅加拉亚邦、曼尼普尔区、米佐拉姆邦和特里普拉邦。



India has five electricity grids -- Northern, Eastern, North Eastern, Southern and Western. All of them are inter- connected, except the Southern grid.

All the grids are being run by the state-owned Power Grid Corporation, which operates more than 95,000 circuit km of transmission lines.

One circuit km refers to one kilometre of electrical transmission line.



印度有5大电网——北部电网、东部电网、东北电网、南部电网和西部电网。除了南部电网外,其他电网都是互联的。





所有电网都由国有电网公司运营,总输电线路超过9.5万电路公里。




以下是印度网民的评论:




Harsha (Delhi) 2 hrs ago
power restored in New Delhi just now
Agree (6)Disagree (4)Recommend (1)



新德里刚才恢复供电了。




Alka (Delhi) replies to Harsha 52 mins ago
only areas covered under New Delhi Municipal Corporation (read all bunglows of MPs, Govt. babus) and nothing for a common man




只有新德里市政公司下属的地区才恢复了供电,没有老百姓什么事。



Lak (Vishakapatnam) 2 hrs ago
What do you expect from a Zombie Congress government ?
Agree (28)Disagree (5)Recommend (7)



你还能从行尸走肉似的国大党政服那里期望什么?




som (Gurgoan) replies to Lak 2 hrs ago
What has this got to do with government ?? do you even know how power system works ???
Agree (7)Disagree (17)Recommend (0)




这个跟政服有什么关系?你知道电力系统是如何工作的吗?




uk (barain) replies to som 59 mins ago
you know very well.100% Government is responsible for this.Because this is corrupt system,should be cleaned.They donot take any precautionery measure.
Agree (3)Disagree (1)Recommend (0)




你知道得很清楚嘛!这个100%是政服的责任。因为这是腐败的系统,应该得到清理。他们没有采取任何预防措施。




Kunal (Pune) replies to som 1 hr ago
Sure Som! They pay you Rs. 500 to vote for congress. In turn they rip the country off Rs. 50,000 Cr. Is that how it works? By not adding enough power generation? Or by paying off voters?
Agree (3)Disagree (2)Recommend (0)




当然,Som!他们给你500卢比,让你投国大党的票。他们转而抢劫国家5000亿卢比。这就是他们的工作方式?不增加足够的发电量?或者说收买投票人?




som replies to Kunal 36 mins ago
Look, I am not a politician, and probably I am also frustated with the government, but all I am making a point is that , dont cover every thing with government and politics, sure the power generation is not up to the mark but it is the states who take up power more than what is allotted to them, hence the grid has failed. I am sure the government has failed in many areas, but stick to the point, dont un necessary pull everything towards the same point of hatred. Just three years ago the generation was around 1.3 L MW, but now it is more than 2.0 L MW. It is not enough, because still the requirement is about 2.4 L MW. So some development is there. I am not a fan of this government or politics for that matter, but I dont always blame the same people for everything that is happening wrong in this world.
Agree (1)Disagree (1)Recommend (1)




瞧,我不是政客,可能也对政服感到沮丧,但我想要表达的看法是不要一切都扯到政服和政治。当然,发电量没有达到标准,不过是各邦消耗的电力超过分配的电力,因此电网瘫痪了。我确信政服在许多领域做得不好,但是紧扣要点,别不必要地把一切归咎于同一个仇恨点。仅仅是3年前,发电量大约13万兆瓦,如今超过了20万兆瓦。这还不够,因为电力需求大概是24万兆瓦。所以还是有一些发展的。我不是政服迷或者政治迷,但是我不会把世界各地都可能出错的一切事情归咎于同样的人。



zinc (delhi) 2 hrs ago
how come it is related to congress??if in morning u didnt get potty than also u blame congress...
Agree (9)Disagree (34)Recommend (0)



这个怎么会和国大党有关呢?要是你早上找不到便壶,难道你也怪国大党吗?(译文来源:三泰虎)




Manoj (bangalore) replies to zinc 47 mins ago
Because they dont have contigency plan in place. hope you know the meaning of contigency plan. They have not analysed risks and mitigation plan in place.
Agree (2)Disagree (1)Recommend (0)




因为他们没有合理的应急计划。希望你知道应急计划的意义。他们没有分析风险,没有合适的风险规避计划。




rancho (Jaipur) replies to zinc 1 hr ago
Yes, becaus when there will be scarcity of water, then how will wash potty?




是的,如果缺水的话,那么如何洗便壶?



Santosh (Chennai) 1 hr ago
Hahahahahah...the whole country is a joke!!
Agree (12)Disagree (0)Recommend (3)



哈哈...整个国家是个笑柄!




Kay (India) replies to Santosh
N you are the joker!! :)
Agree (4)Disagree (6)Recommend (1)




不,你是小丑! :)



someswar rao (Bangalore)
Failure of power grid is NOT like an infection or illness -- it occurs due to lack of grid discipline like sudden drawing of xess power by some SEB and is therefore predictable and preventable. The country needs an xplntn. There is a Central Power Research Institute in Blr and it is not known what research it is doing either in forecasting such events or preventing xessiv 'line losses' which are often power thefts mostly in collusion with SEB stafferes. This can't go on.
Agree (13)Disagree (0)Recommend (5)



电网瘫痪不是什么疑难杂症。它是电网缺乏纪律规范导致的,比如某些地区突然过量消耗电力,所以是可以预测和预防的...某个地方有个中央电力研究所,不知道它是研究什么的,可能是研究如何预测这样的事件,或者可能是研究如何预防过量的"电力损失",这种损失经常是偷电导致的...
cheeku (New Delhi)
whom to blame and whom to trust ...... only god can bring some light in this country..........
Agree (6)Disagree (1)Recommend (0)



该责怪谁、该信任谁...只有上帝才能给国家带来灵光一现...




Bharat (Melbourne) replies to cheeku 1 hr ago
I could never understand why the hell we Indian cook God in everything. Learn to do your job right and leave GOD in heaven....India will be much better off.
Agree (5)Disagree (1)Recommend (1)




我一直不理解为什么我们印度人碰到什么事情都把上帝搬出来。学会正确处理自己的事情,就让上帝留在天上吧...印度的状况会好很多的。




cheeku replies to Bharat
because everything is ram bharose here ... government confused... powerless... corrupt.. fooling public... and public selfish.... not united.... helpless .... who is left .....only god to save
Agree (8)Disagree (0)Recommend (1)




因为一切都烂透了...政服混乱...力不从心...腐败...愚弄公众..公众自私...不团结...无助...还可以求助谁...只有上帝可以拯救我们了...



cheeku (New Delhi)
now why doesnt media asks government to apologise to the public of India for its poor planning... for its failure to provide basic infrastructure .......
Agree (4)Disagree (2)Recommend (1)



为什么媒体不要求政服向公众就其可怜的规划而道歉呢...政服未能提供基本的基础设施...
Patel (Baroda) 1 hr ago
Gujarat still enjoys the continue power supply. : ) Hope there is no effect on the government/private hospitals in the Black out areas !!!!!!!!!!
Agree (17)Disagree (0)Recommend (6)



古吉拉特邦仍然在享受持续不断的电力供应 :) 希望停电区域的国有医院和私营医院不会受影响!
Annaji sekhar (Hyderabad)
Its an incomplete article, why this is happened? Is there no substitutes for this kind of failures or there are no contengencies ?
Agree (6)Disagree (0)Recommend (0)



这是一篇不完整的文章。为什么这个会发生?就没有此类瘫痪的替代方案吗,或者本就没有应急计划?
indian (delhi) 1 hr ago
Except gujarat... Thanks to modis clean govt.
Agree (22)Disagree (5)Recommend (8)



古吉拉特邦是个例外...多亏了穆迪的廉洁政服...
BlueHorse (Canada)
Considering the consumption all grids should be smaller and an independent rather than inter-connected. By the way how come "Modi Grid" I mean Southern Grid is separate and an independent. Perhaps the "Lion" needs more power than ever before.
Agree (2)Disagree (8)Recommend (1)



考虑到电力消耗量大,所有电网应该整小些,应该各自独立以取代互联。顺便说下,"穆迪电网"——我意思是说南部电网怎么会是分开和独立的。可能这头"狮子"的电力需求比以前更大了。




Indian (India) replies to BlueHorse 59 mins ago
oh great one....u r so intelligent that u figured out Gujarat (Modi/lion's grid) is in Southern India....all stupid ppl were thinking its in Western India!!
Agree (7)Disagree (0)Recommend (1)




哦,很棒...你非常聪明,能够弄明白古吉拉特邦是在印度南部...好多傻瓜以为它在印度西部!



AKS (Delhi) 1 hr ago
I am in Chennai.I am watching the north Indians suffering in TV from the comfort of my AC living room. Its time to disconnect all the grids.
Agree (4)Disagree (12)Recommend (0)



我在钦奈。在空调客厅里,我从电视上看到北印度人在受苦。该把所有电网分离开来了。




Srinivas (Bangalore) replies to AKS 1 hrs ago
Dont be a sadist man. Y should you enjoy someone else's suffering? Technical suggestions are welcome (to disconnect the grids), but enjoying at other's suffering shows how low you can stoop.
Agree (14)Disagree (1)Recommend (1)




别当一个虐待狂。难道你要把快乐建立在其他人的痛苦上?你的技术建议是受欢迎的(即电网彼此断开),但是以其他人的受苦为乐表明你是多么低贱。



Sudhir Dhyani (Shimla) 1 hr ago
please tel me how much time will takes more to restore power in Shimla (h.p) ....
Agree (5)Disagree (0)Recommend (0)



请告诉我:(喜马偕尔邦的)西姆拉还要多久才能恢复电力供应...




sonia kanjri (italy) replies to Sudhir Dhyani 52 mins ago
sme time next year
Agree (3)Disagree (0)Recommend (0)




明年的某个时候。



UK (bahrain) 1 hr ago
ALL UPA MINISTERS AND MPS MLA MUST BE KICKED IN THE STREET.THESE SHAMELESS GUYS ARE FIT FOR THIS ONLY. F.....K THEM ALL.
Agree (14)Disagree (0)Recommend (0)



必须把UPA政服的部长们和议员们抓去游街。这些无耻家伙就只适合受到这样的待遇...
southie (India) 43 mins ago
"All of them are inter- connected, except the Southern grid. " THANK GOD
Agree (2)Disagree (1)Recommend (0)



"除了南部电网外,其他电网都是互联的"。





感谢上帝。
Puratchi Thalaivara (Thamizh Nhadu) 43 mins ago
South India lies indifferent to this. They don't have any interest if National Topics. Tamils are busy watching movies.
Agree (1)Disagree (5)Recommend (0)



南印度对这个漠不关心。他们对任何国家话题不感兴趣。泰米尔人正忙着观看电影。




IN (TN) replies to Puratchi Thalaivara 27 mins ago
Intelligence is not your forte. Stick to watching TV serials.
Agree (2)Disagree (0)Recommend (0)




智力不是你的特长。坚持看你的电视连续剧吧。



southie (India) 37 mins ago
If this is can happen in peace time imagine what can happen in war time when enemy country launches EMP strike?
Agree (1)Disagree (1)Recommend (0)



和平时代都能发生这样的事情,想象一下,如果敌国在战时发动电磁脉冲攻击,那么结果会如何?
bitter facts (India) 23 mins ago
Biggest threats to Indian lives are - lack of world-class infrastructure to deal with calamities and communal politics! In the last decade India bought 100 billion dollars of weapons and they're just rusting! Defence budget is getting unnecessarily big while infrastructure is unable to cope! Can we sustain a war with China without a great infrastructure???? Indian politicians/public as usual seem to be penny wise and pound foolish!
Agree (3)Disagree (0)Recommend (0)



印度人受到的最大威胁是:缺乏应对灾害和教派政治的世界级基础设施!印度过去10年买了1000亿美元的武器,这些武器只是放着生锈!国防预算过多,真心没必要,而基础设施却脆弱不堪,难以应付!在没有好的基础设施的情况下,我们能否与中国打持久战?跟往常一样,印度政客和公众似乎小事聪明大事糊涂!





原创翻译:三泰虎 http://www.santaihu.com
sdgvfg (India) 22 mins ago
This is a result of Centralisation. If the grids had not been interconnected this blackout could have been prevented.
Agree (1)Disagree (0)Recommend (0)



这是中央集权的结果。如果电网没有互联,那么停电就可以避免。
arjun37777 (UAE)
Most of us don't bother to go for voting. Why? We think it will not make any difference whether I go for voting or not. Those of go for voting, don't vote to right candidate but vote on basis of caste and religion. We never bother about issues like infrastructure, electricity, water, development, crime rates, pot holes etc. This is what we get in the end. NO ELECTRICITY, NO WATER, NO LAW & ORDER, NO PROPER ROADS, NO HEALTH SERVICE PLANS ETC. Would we wake up now and vote for right candidate?
Agree (3)Disagree (0)Recommend (0)



我们大多数人并不费心去投票。为什么?我们认为不管是否投票,对结果不会造成任何影响。那些去投票的人不去投给合适候选人,而是依据种姓和宗教来投票。我们从来不过问基础设施、电力、水、发展、犯罪率、路面上的坑洼等问题。这就是我们最终所获得的结果。没有电和水,没有法律和秩序,没有像样的公路,没有医疗健康服务计划等。我们现在能觉醒并给合适候选人投票吗?
BlueHorse (Canada)
I think this is best time for India to consider solar energy and should lean towards other alternatives including wind power.
Agree (2)Disagree (1)Recommend (1)



我认为现在是印度考虑太阳能的最佳时机,应该倾向包括风能在内的其他替代能源。
AB (Richmond, USA) 1 hr ago
Of Course. There are two movements in India (i) Do not let any Nuclear power plant be operational, (ii) Coal fired plants should be shut down because they contribute to climate change and increase pollution. The second issue is that most likely the coal fired plants operate at a very low rate of efficiency. So here we are. I am surprised that we do not have more trouble than what we have. We have a systematic failure on multiple fronts.
Agree (1)Disagree (0)Recommend (0)



当然,在印度有两项运动在推进:





1、不让任何一家核电厂投入运行





2、煤电厂应该关闭,因为加剧了气候变化,增加了污染。





第二个问题很可能是煤电厂的发电效率太低。我吃惊地发现我们没有出现更多的麻烦。我们在多个方面面临系统性失败。
Suresh Nair (Kearla)
20 states affected. what a strange situation in India. This shows the total irresponsibility of the Congress led upa govt. Two times in two days!! See india's face infront of the world. total mismanagement, irresponsible ministers, any new idea to raise the oil prices? 67 crores affected badly, 20 states, 60 5 of India's population. Congress and upa is interested in implimenting new taxes. Price hike no solution, This Govt cannot even manage the coming days.
Agree (4)Disagree (0)Recommend (2)



有20个邦受影响。多么奇怪的一个局面。这表明国大党领导的UPA政服完全不负责任。两天内停电两次!!看看印度在世界面前的脸面。彻头彻尾的管理不善,不负责任的部长,提高油价的新想法?6.7亿人严重受影响,20个邦,60.5%的印度人口。国大党和UPA政服对实施新税收感兴趣。物价上涨是个无解局面。这届政服甚至无法应对未来几天的挑战。
Southie (southIndia) 54 mins ago
All scientists and engineers are coming from South India and north Indians are simply just making problems,riots,killing peoples etc in the name of religion cast etc..Just one day before power grid was down in north India and still this stupid north Indian engineers couldn't find out the root cause??finally they will tel ISI/Pakistani/terrorists hands are there behind this power down..
Agree (2)Disagree (5)Recommend (2)



所有科学家和工程师来自南印度。北印度人只会以宗教的名义制造麻烦、暴乱、谋杀等。就在北印度电网瘫痪前的一天,愚蠢的北印度工程师找不出问题的根源?他们最终会说是巴基斯坦情报局或者巴基斯坦恐怖分子在背后捣鬼。




Caught (You) replies to Southie 19 mins ago
Indians do not think like that. But there is definitely a Paki hand behind your comments.
Agree (0)Disagree (1)Recommend (0)




印度人不会那样想的。但是你这条评论一定是出自一名巴基佬的手。



kuldeep rathore (Melbourne)
To be honest guys I want Mr Modi as our next PM now. He is the only one who can save our Country from Darkness.
Agree (4)Disagree (2)Recommend (1)



老实说,各位,我希望穆迪先生当任下一任总理。他是唯一能拯救我们国家于黑暗的人。



据《印度时报》报道,7月31日,连接20几个邦和首都的北方电网、东部电网和东北电网等三大电网瘫痪,引发一场用电危机,6.7亿人受影响。电网瘫痪导致全国超过一半的地方停电。基本服务和公共运输系统——包括铁路和德里地铁——都受到影响。印度有5个电网——北部电网、东部电网、东北电网、南部电网和西部电网。除了南部电网外,其他电网都是互联的。