译文来源:三泰虎博客
外文标题:Our troops didn't provoke border tension: China
外文网址:http://timesofindia.indiatimes.com/india/Our-troops-didnt-provoke-border-tension-China/articleshow/19726781.cms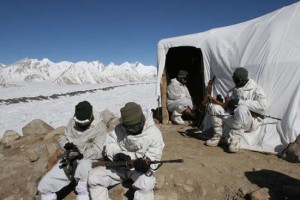 BEIJING: Sticking to its stand that Chinese troops have not caused any "provocation" by violating the Line of Actual Control (LAC) in Ladakh, China on Thursday said the incident will not affect bilateral ties or disrupt peace at the borders as both sides are trying to resolve it in a friendly manner.

"I do not agree with your allegation that it is the Chinese side that has caused the provocation between the border troops," Chinese foreign ministry spokesperson Hua Chunying said while replying to questions about the intrusion of Chinese troops at the Depsang Valley in Ladakh.



北京:4月25日,中国坚持其立场,称中国军队并未违反实际控制线进行任何"挑衅",鉴于双方均试图以友好方式解决,该事件将不会影响双边关系或者破坏边界和平。





在回答有关中国军队入侵拉达克达普桑谷地(Depsang Valley)的问题时,中国外交部女发言人华春莹说道:"我并不同意你有关中方导致了边界部队挑衅的指控。"



"China's troops have never crossed the (LAC) line. China and India are neighbours and the boundary is not demarcated yet.

"It is inevitable for problems to prop up in border areas. When there is a problem it should be resolved through friendly consultations though existing mechanisms and channels," she said.

"We believe this incident can also be handled and will not affect the peace and stability of the border areas as well as the normal development of China and India relations," she said.

Urging the media to be patient, she said, "We also believe that the two sides continue to solve the issue in a friendly manner and we will not let the issue affect border peace and security and normal development of China-India relations".



"中国军队从未越过实控线。中国和印度是邻国,边界还有待划定。边界地区出现问题是难免的。一旦出现问题,应该利用现有的机制和渠道,通过友好协商的方式解决。"





"我们相信该事件能够得到解决,将不会影响边界地区的和平稳定以及中印关系的正常发展。"





她督促媒体要耐心,"我们还相信双方将继续以友好方式解决这个问题,我们不会让这个问题影响边界的和平稳定以及中印关系的正常发展。"



"We hope relevant media can keep patience and create favourable conditions for the two countries to solve this issue through friendly consultations," she said.

The spokesperson said the situation on the Sino-Indian border is peaceful and stable.

"Just want to tell you that the current situation in the border area is peaceful and stable. Both China and India have the willingness to solve the dispute through peaceful negotiations and consultations.

"In the past three days I have repeatedly stressed China's point and now I would like to reiterate that Chinese troops have always acted in strict compliance to relevant treaty and protocol between the two countries regarding the protection of security of the areas around the LAC," she said.



"我们希望有关媒体能保持耐心,为两国通过友好协商的方式和平解决这个问题创造有利条件。"





这名发言人表示,中印边界局势是和平稳定的。





"只是想告诉你们,边界地区目前形势是和平稳定的。中国和印度都有意通过和平谈判与协商的方式解决这个争议。在过去三天里,我反复强调了中国的观点,现在我想再次重申一遍:在保护实控线周围地区的安全方面,中国军队一直恪守有关条约和协议。"



China is committed to peace and security of the border areas as well as the negotiated settlement of the boundary issue left over from history, she said.

Asked about reports that the Chinese troops were insisting on Indian army to remove certain fortifications in that area, she said "since I am not in the frontier, so I do not know the latest development of the situation...Both China and India have the willingness to solve the dispute through peaceful negotiations and consultations".

She acknowledged that the two countries are holding talks through existing mechanisms.

"The two countries had set up the consultation mechanism last year and have maintained simultaneous communication over relevant issues," she said.



她说,中国致力于边界地区的和平稳定,以及谈判解决历史遗留下来的边界问题。





在问及有关中国军队坚持印度军队拆除该地区的某些防御工事的报道时,她说:"由于我不在边境线上,我不知道最新进展.....中国和印度都有意通过和平谈判与协商的方式解决争议。"





她承认两国正在通过现有机制来举行谈判。





"两国在去年建立了协商机制,就相关问题保持着同步沟通。"




以下是印度网民的评论:




译文来源:三泰虎 http://bbs.santaihu.com/thread-6106-1-1.html




ALI GHIAS (MOON)
"Since the opposition parties of India are spineless, China is the best opposition to teach a lesson to Congress.
Agree (18)Disagree (0)Recommend (11)



由于印度反对党没有骨气,中国是能给国大党一个教训的最佳对手。
a (INDIA)
her comments are also like "made in china comments"
Agree (4)Disagree (0)Recommend (1)



她的评论也像是"中国产"的。
Prasant Kumar Mallik (Vellore)
Every mental say, they are not mental. Likewise every Pakistani and Chinese say, they did not cross the Indian border.
Agree (13)Disagree (1)Recommend (5)



每一个精神病患者都说自己不是精神病患者,类似地,每一位巴基斯坦人和中国人都说他们并未越过印度边界。




Pak-China Friendship Zindabad (Peshawer-Paksitan) replies to Prasant Kumar Mallik
OK, We always Cross ur border, Now what are you gonna do ??????? u mental ........LOlzzzzzz
Agree (4)Disagree (4)Recommend (1)




好吧,我们经常越过你们的边界,你现在想咋地?你个精神病患者......LOL.....




abhi (Manchester) replies to Pak-China Friendship Zindabad
Just wipe you both clean..




把你们统统消灭干净......



binnygc (Riyadh)
China is creating provocation to divert attention of local issues on the Violence in China's Xinjiang province. If once firing with India starts they can use Iron fist to suppress Xinjiang. So they are dragging India to fire the first shot.
Agree (5)Disagree (0)Recommend (1)



中国是在制造挑衅,以转移人们对xj暴力事件的注意力。如果中印交火,他们就可以铁腕镇压xj,所以他们拉印度开第一枪。
Sameer D (Kolkata)
This is hilarious...!!! They cross the LAC and still say that they did not provoke border tension.. LOL
Agree (5)Disagree (2)Recommend (1)



可笑.....!他们越过了实控线,却仍然说并未挑起边界紧张局势......LOL
Anil (Del)
See everytime chines are speaking lie, earthquake is hitting them
Agree (8)Disagree (0)Recommend (1)



瞧,每次中国佬说谎,地震就会来袭。
kk (uk)
if chinese are inside india then shoot few of them and then and only then they will find out that they went into india. chinese provocation will never stop. chinese want to take over as much land as they can. india is a soft target and they will continue to provoke. india need to take a tuf stand like the japanese who are prepared to use force to teach chinese to stay with in their limits.
Agree (10)Disagree (1)Recommend (4)



如果中国人进入了印度,那么毙掉几个试试看,他们到时就会发现自己已经进入印度。中国人的挑衅永不会停止,他们想尽其所能夺走土地。印度是一个软目标,他们会继续挑衅的。印度需要像日本一样采取强硬立场,准备用武力让中国人老实些。
scamnivas (Madras)
Yes. They just walked across 10 km and put up a tent!
Agree (5)Disagree (0)Recommend (2)



是的,他们只是越界10公里,然后支起一顶帐篷而已!
Tukaram Kumbar (Bidare, Karnataka, India)
During 1962 itself, the boundary is demarcated. now again they are violating the boundary. it is too much a provocative act.
Agree (3)Disagree (2)Recommend (0)



1962年时,边界已经划定了,他们现在又来违反边界,这个挑衅行为太超过了。
pcs18 (India)

u mean we provoked tension??? totally wrong!!! PM/DM 'chiti' ke G mein ungali kar hi nahi sakte, 'chini' to bahoot dur ki baat hai???



你意思是说这是我们挑起来的 ?完全错误!.........
sachin.softexpert (India)
Then who provked this issue? Even I do not agree with Chinese foreign ministry spokesperson said. it is the Chinese side that has caused the provocation between the border troops,
Agree (10)Disagree (0)Recommend (1)



那么这是谁挑起来的?就连我也不认可中国外交部发言人说的话。正是中方制造了挑衅。
Rajender (BAND WAGON)
If the intrusion by the Chinese is once or twice we can see it as an oversight. but its hundreds of times this kind of intrusions are happening, are the Chinese blind or are they are trying to provoke India for a war. The Chinese think they are superior to us after the 1962 war, times have changed, may be you have high quality defence armaments but our logistics to tackle them are much better. Let all Indians who are proud of country say yes we agree and let those who are yellow disagree.
Agree (7)Disagree (1)Recommend (1)

如果中国人的入侵就那么一两次,那么可以视为是疏忽,可是发生了数百次此类入侵事件,中国人是瞎了还是想挑起印度开战。1962年中印战争后,中国人认为自己比我们厉害,可时代已经改变了,也许你们有优质国防军备,但我们的后勤明显更占优。为国家感到自豪的印度人来说"赞",让那些黄肤色人不同意去吧。
Rudra (U.S.A)
Spit on their face and say we did not provoke them
Agree (16)Disagree (0)Recommend (5)



往他们脸上吐口水,然后说我们没有挑衅他们。
PKJ (DLi) 11 hrs ago
i AM GOING TO BOYCOTT CHINESE PRODUCT!!!!!!!!!!!!! DO U.............?? I can blindly trust on a python but I cant on china and his movement.........We indian take a serious step and boycott theMade in china" product. This is very very serious issue for our country......
Agree (40)Disagree (2)Recommend (17)



我将抵制中国货!你们呢?我宁愿盲信一条蟒蛇,也不会去相信中国.......我们印度人应当采取严肃举措,一起抵制中国货。这对我们国家来说是非常严重的问题.......
ks (Bhopal)
they will not leave...this is how they have been occupying India's land...little by little..and then straight denials to all the international press and bodies..soon we must get ready to be called citizens of China occupied India....
Agree (5)Disagree (0)Recommend (0)



他们不会离开的.......他们就是这样一点点占领印度领土的......然后直接否认所有国际媒体和机构的报道........我们必须很快做好被称为中属印度公民的准备.....
sudhakar (USA)
You are the one who occupied Indian territory and expect India to keep quiet. You can always say, we did not provoke any tension and all we are doing is occupy Indian territory Ban Chinese goods in India
Agree (2)Disagree (0)Recommend (1)



你们占领印度领土,然后希望印度保持沉默。你可以总是说:我们并未挑起紧张局势,我们只是占领印度领土。印度禁止中国货吧。
clvie (Kuwait)
At the moment you are already standing on my foot. Dont expect me to talk on for long, i feel like kicking you in your smiling face.
Agree (1)Disagree (0)Recommend (0)



你此刻已经踩在我的脚上了。别指望我长久谈下去,真想朝你笑脸上踹一脚。
Sandeep (BLR)
These Chinese are still living the 1962 dream. If they had some fri gging brains they would worry about all the shiny new infrastructure they have built. It doesnt take too many bombs to obliterate all that hard work done over the last few decades, does it?
Agree (4)Disagree (0)Recommend (3)



中国人仍然生活在1962年的美梦中。他们要是有些脑子的话,就会担心他们已经建好的崭新基础设施,将其过去几十年来的辛勤付出化为乌有并不需要太多炸弹,不是吗?
Sunil Menon (Mumbai)
Boundary is not demarcated means tomorrow they can reach Delhi as there is no border.Hindi-Chini one country in the offing!
Agree (7)Disagree (0)Recommend (0)



边界未划定意味着他们明天可以来到德里,印中共荣即将实现!
chinese reader (china)
No incursion, this is chinese territory, we come and we stay. That's it. It is now clear enough from the chinese foreign spokeswoman. Now what you can do about it, we will continue to come and stay. Where the chinese soldier is patrolling is where the LOC lies. That is already clear enough. So do not ask the question again, again and again. This is the third time (question raised by indian journalist) reported in chinese media. Try something new, e.g., sending your troops, that will be more interesting for chinese arm force, we need an execise.
Agree (2)Disagree (11)Recommend (1)



不存在入侵,那里就是中国领土,我们来了,我们留了下来,就这样。中国外交部女发言人已经说得够明白了。你们现在能咋地,我们还会再来,再留下,就这么一直下去。中国士兵巡逻到哪里,哪里就是实际控制线。这已经够清楚了,所以别再一而再再而三的问了。据中国媒体报道,印度记者已经第三次提起这个问题了,来点新鲜的吧,比如把你们的部队派过来,这样会更有趣,可以让中国军队练练手。




Rasesh (Mumbai) replies to chinese reader
By the way, I don't think you are Chinese. Your useage of the term 'LOC' is a dead giveaway. I bet you are a Pakistani masquerading as a Chinese. And, by the way, the term is LAC and not LOC. LOC is the term used with Pakistan and India whereas LAC is the term used by China and India.
Agree (2)Disagree (1)Recommend (1)




我认为你不是中国人。你使用"LOC"这个词暴露了你的身份。我敢打赌,你是伪装成中国人的巴基斯坦人。顺便说下,该用"LAC"这个词,不是"LOC",后者是巴基斯坦人用的,印度和中国用的是前者。




phoenix (mumbai) replies to chinese reader
lol. you are a pakistani. its clear the moment you said "LOC" instead of "LAC". Ignorant pakistanis like you don't know that the border between India and China is called LAC and not LOC.
Agree (2)Disagree (0)Recommend (1)




lol,你是巴基斯坦人,你说"LOC"而不是说"LAC"就可以明显看出来。你这样无知的巴基斯坦人不知道印度和中国的边界叫"LAC",不是叫"LOC"。




Rasesh (Mumbai) replies to chinese reader 10 hrs ago
Firstly, forget your troops. It looks like you need the exercise. You are welcome to visit us anytime and we'll settle the matter 'peacefully'. And, by the way, our troops are already facing your troops, eyeball to eyeball.




别提你们的军队了,看来是你需要练手。随时欢迎你们过来,我们会"和平"解决这个问题的。顺便说下,我们的军队已经和你们的军队面对面对峙了。




pkj (dli) replies to chinese reader
I don't knw why u ppl r always create Massiness in the world...nd ur relation with ur neighbhour is always nt gud...world can't trust on u....
Agree (1)Disagree (0)Recommend (0)




不知道为什么你们老是把世界搞得乱糟糟的......你们和邻国的关系向来不好......世界不能相信你们.......




kk (uk) replies to chinese reader
indian soldiers should capture the bast--- and shoot them for invading. chinese will soon learn their line of control.
Agree (4)Disagree (0)Recommend (0)




印度士兵应该把他们的皮剥下来,然后毙掉他们。中国人很快会认识到哪里才是他们的控制线。



Mehul (Ahmedabad)
If the border is not demarcated, how come Indians do not cross 10 kms and squat in Tibet. Why is that it is always the Chinese who are found in Indian territory.



如果边界未划定,那么印度人为何不越过10公里,然后在xz蜷伏下来呢。为什么总是在印度领土上发现中国人。
Bakasur (Paatal)
China tried to intrude India. Today they had earthquake. Bhagwaan sab dekhta hai
Agree (6)Disagree (1)Recommend (6)



中国试图入侵印度,结果来了场地震.........




karmasuTRA (delhi) replies to Bakasur
its KARMA brother... just like my name !!! :)
Agree (2)Disagree (0)Recommend (0)




兄弟,这就叫因果报应.....看我名字! :)



nationalist (bengaluru)
India has no border with China,present border is between India and Tibet, Chinese have no business
Agree (3)Disagree (0)Recommend (0)



印度没有和中国接壤,目前的边界是印度和xz之间的,没有中国什么事。
Sridhar (Chennai)
Anybody trusting the Chinese is digging his own grave.



相信中国人的人就是在自掘坟墓。
wakeupindia (hyderabad)
NO COMPROMISE...WAR IF NEEDED
Agree (7)Disagree (3)Recommend (1)



决不妥协,必要时开战。
AJAY RANJAN (India)
C for China , C for Corruption and C for Congress , 3C big headache for India
Agree (2)Disagree (0)Recommend (1)



中国一个C,腐败一个C,国大党一个C,这三个C让印度够头疼的。





【这三个英语单词都是以C开头】
三泰虎4月26日译文,印度时报原题《中国:我们的军队并未挑起边界紧张局势》。据报道,中国25日坚持其立场,称中国军队并未违反实际控制线进行任何"挑衅",鉴于双方均试图以友好方式解决,该事件将不会影响双边关系或者破坏边界和平。在回答有关中国军队入侵拉达克达普桑谷地(Depsang Valley)的问题时,中国外交部女发言人华春莹表示中国军队从未越过实际控制线。中国和印度是邻国,边界地区出现问题是难免的。一旦出现问题,应该利用现有的机制和渠道,通过友好协商的方式解决。